For new smoker users, propane can be a good option for learning how to smoke meats at the correct temperatures. The problem is, many smoker units claim to be good but leave a lot to be desired.
If you are new to this, it may be difficult to choose the top propane smoker, especially if you don't know what to look for. We've narrowed down the top ten propane smokers to get you started towards smoking perfection.
Editor's Choice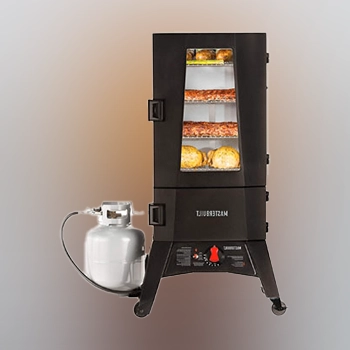 Masterbuilt
Check Current Price
#2nd Best Choice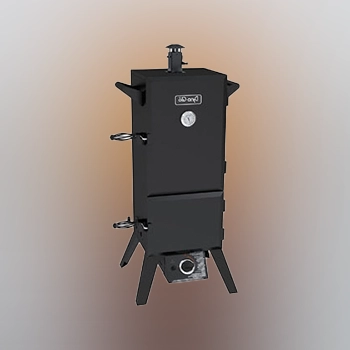 Dyna-Glo
Check Current Price
#3rd Best Choice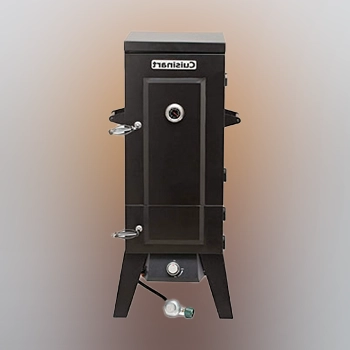 Cuisinart
Check Current Price
10 Best Propane Smokers in 2023
Who Are Propane Smokers For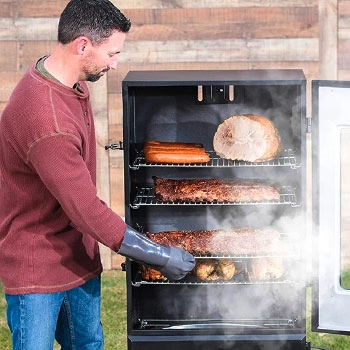 The best propane smokers are for people who want a solid smokey taste without worrying about the cleanup from charcoal.
These can also be good grills for newer smoker users who don't know how to regulate temperatures with charcoal grills yet.
The best gas smokers will typically have an easy-to-read temperature knob which makes temp control a bit easier for newer users.
The grills best for this that we reviewed included all of the Masterbuilt lines such as the 44-inch.
Pros and Cons of a Propane Smoker
Pros
Perhaps the best thing about gas smokers is how easy they are to use. Unlike charcoal, which requires you to start the coals and keep them going, with LP, you simply turn it on and ignite the burner. This makes these propane smokers much easier to use than charcoal.
When compared to an electric smoker, they also provide a more rich smoke flavor. This typically provides the best balance between ease of use and performance. They are also usually cheaper to operate than charcoal.
Cons
One of the main disadvantages of smoking with liquid gas is that you won't get the same smoke flavor as with charcoal. This can be mitigated by using wood pieces or a pellet tube to add extra smoke. However, for a more traditional flavor, charcoal is considered better by many smoking enthusiasts.
Another drawback of liquid gas is that you cannot cold smoke foods (1). With electric smokers and even charcoal smokers, you can get temps low enough for cold smoking. But, this isn't possible with a gas smoker without an extra cold smoking device.
Propane Smokers Compared To Other Smoker Types

Propane vs Electric Smoker
When compared to the best electric types, LP smoker units provide a richer smoke flavor with the ability to add additional smoke through wood chips. Many BBQ enthusiasts will use either charcoal or propane smokers for this reason, while few recommend electric.
Check out the following article if you wish to learn more about electric vs propane smokers.
Propane vs Charcoal
LP smoker units are considered the best of both worlds when compared to charcoal. Because charcoal can be difficult to get started and maintain temperatures, it can be difficult for new users to smoke meats correctly.
You can control the temperature better with gas grills.

- Cedars-Sinai Medical Center Staff (2)
However, with liquid gas, starting the smoker is as simple as turning a knob and pushing a button.  This makes LP units the best option for new users who want a smoky flavor but don't want to mess with starting charcoal briquettes.
How LP Smokers Work
Propane gas smokers work by using liquid propane gas as a fuel source to cook meat. This LP gas is connected to a burner through a hose regulated by a control knob. The best grills will have temperature readings for better control.
Be sure you know how to read a propane tank gauge so you don't run out of gas if you are using propane tanks.
An ignitor switch or button is located near this knob, and after turning on the gas, the switch is used to ignite the burner. The gas flows consistently through the burner, allowing the flame to burn at a constant temperature and cook food evenly.
The grills best suited for cooking have two-door setups. This allows for the changing and insertion of water trays and wood trays without opening the cooking chamber, causing major temperature fluctuations.
What to Look For In A Smoker

Dimensions and Weight
Ideally, the top propane smoker has larger dimensions yet less weight. This means that you will have a greater cooking area but also better portability. Unfortunately, many vertical gas smokers are quite large and can weigh over 50 lbs (22.67 kilograms). It's best to select grills that weigh 45 lbs (20.41 kilograms) or less and provide at least 800 square inches of cooking space.
Two Door Build
This is one of the more important factors to look for in propane smokers. Gas grills best suited for smoking will have two or more doors The purpose of this is to allow the cooking chamber to seal shut so that you don't have to open it to change wood chips and water. You also want cooking doors that have windows, which can also cut down on needing to open the doors to check the meat.
Build Quality
Smoker build quality can range greatly, and you must choose the best build quality to last longer. Brands like Smoke Hollow and Masterbuilt are known for using durable cast iron and stainless steel. These are ideal materials for their anti-rusting properties and sturdiness.
Cooking Area
As noted above, the top propane smoker should have a cooking area that has at least 800 square inches of cooking space (5161.22 square centimeters) for the average user. We're defining the average user as cooking regularly for a family of three or four and occasionally for larger groups.
One other thing to consider with the cooking surface is whether or not grates are adjustable. Just because you have the cooking area for a large turkey, for example, doesn't mean you have the height.
Number of Grates
When purchasing a new smoker, we generally like there to be three grates or more. Three to four is the general number, with some having a mix of two grates and a jerky rack or some similar combination. If you plan on cooking large numbers of small meats such as jerky, burgers, or sausage links, it's better to have more grates.
Grate Coating and Material
When it comes to cooking grates, we find the best to be cast iron or stainless steel. These both do a good job of conducting heat and are both durable and easy to clean (3). The best coatings are either chrome or, even better, porcelain. These can help the grates retain heat longer and spread more evenly.
Number of Burners
Most gas smokers will have a single burner in the center. However, if you can find one in your latest price range, the best propane smokers have two burners. Using two burners can allow you to have two wood and water trays, which can provide more smoke and more consistent burning temperatures.

Temperature Range
There are two factors you have to look at when it comes to temp range. The first is the thermometer range so that you can get a precise reading, and the second is the potential range you can get your grill to.  Ideally, the best propane smoker will have a range of between at least 50 and 550 degrees Fahrenheit (10 and 65.55 degrees celsius) for both (4).
When smoking, keep temperatures inside the smoker at 225°F to 300°F to keep meat a safe temperature while it cooks.

- United States Centers For Disease Control (5)
Extra Features
The main extra features you need to think about when it comes to choosing the best propane smoker are shelf storage and a rack for warming. You will probably want to set items like plates and cooking tools somewhere, and extra shelving is the solution. For pulling off meat that is done before the rest, a rack for warming is the solution to keep your food from going cold.
It can also be helpful if you find a model that has included meat probes. These can be used to measure meat's internal temperature, which will ensure you are cooking everything to a safe temperature.
"Use a food thermometer to be sure the food has reached a safe internal temperature."

 

- United States Department of Agriculture (6)
Ease of Assembly
The great thing about vertical smokers is that they don't always require as much in the way of assembly as a barrel smoker. But, you will still need to do some putting together for your new grill. Ideally, you want to check reviews to see what others have said about ease of assembly. Some units, such as a few from Smoke Hollow, have a reputation for being difficult to work with.
Ease of Cleaning
LP smokers are typically considered more straightforward to clean than their charcoal counterparts from brands like Smoke Hollow. However, there are still some considerations that can make one smoker easier to clean than others.
You want a smoker that has a removable water and wood chips tray. This will make it easier to clean everything overall. Also, consider that having two burners, while better for cooking, will make cleaning more of a chore.
Warranty
Warranty lengths can vary greatly when it comes to each smoker brand. Companies such as Smoke Hollow, for example, offer only a 1-year warranty. Some brands offer even less. We've seen as little as 90 days from the point of purchase.
The best warranty we have seen was for two years, but that was with only one company. Ideally, you want to find at least a year or more when you purchase a smoker.
Related Articles:
Getting The Most Of Your Smoker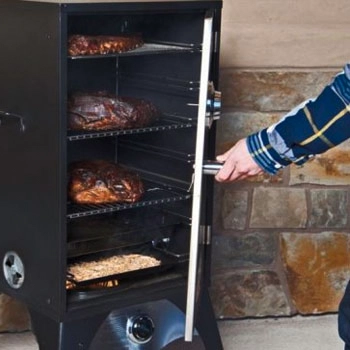 Whether you have a monster 44-inch smoker or a smaller gas smoker made for occasional cookouts, there are some tips that you can take into consideration for better cooking.
First, do not ever put charcoal inside of your LP smoker. The temperatures that charcoal burns at are different than liquid propane gas, which can damage the burner.
The ash can also cause damage and clog up the holes of your propane tank smoker.
Also, make sure you are regularly cleaning your smoker, preferably every three to five cooking sessions.
Many people complain of difficulties keeping internal temperatures high with gas smokers, but this usually boils down to poor maintenance.
Regularly check your smoker for leaks or other issues that could cause a loss in temperature. Also, make sure that you pay particular attention to details when you assemble your smoker. Minor overlooked details such as screws or seals that need to be tightened can lead to poor smoker performance.
Related Articles:
FAQs
Are propane smokers any good?
Generally, yes. Propane smokers are good if you are new at grilling and smoking meats. Gas smokers, and electric smokers, are often easier to operate and maintain temperatures than charcoal smokers. This can be helpful for less experienced users learning to safely smoke meats.
Can you use charcoal in a propane smoker?
No. You cannot and should not try and use charcoal in a propane-fueled smoker. The burner device in gas grills is made specifically to handle the temperatures that gas will burn at. Using charcoal can damage the components by clogging them with ash and requiring expensive repairs.
How often do you add wood chips to a propane smoker?
You should typically add wood chips every five to six hours for a propane smoker. There is no hard and fast rule to follow, but it's best to look at the quality of smoke you are getting. Thinner smoke generally means that it is time to replace or add wood chips.
Is propane healthier than charcoal?
Yes. Many studies have found that propane is healthier than charcoal due to fewer carcinogenic substances produced during the smoking process. Aside from just the health issue, a gas smoker typically emits 3 to 5 x less CO2, which causes pollution (7).
How much propane does a smoker use?
The amount of propane that a gas smoker uses will vary depending on how often you cook and what food you are smoking. The general rule is that a gas smoker will use 1 to 2 lbs of smoker per session. This equates to about 8 to 10 cooking sessions on one propane tank.
How hot does a propane smoker get?
A propane smoker will generally have a temp range between 50 degrees and 450 degrees Fahrenheit (10 degrees and 232 degrees celsius). More experienced users may be able to get temperatures higher than this, depending on the technology.
And the #1 Propane Smoker is...
After thoroughly reviewing ten of the best gas grills, we've narrowed down the Masterbuilt ThermoTemp XL as our top pick for a propane smoker on the market.
One of the things that stands out to us is the large window in the doors that allows for easy viewing of your food, something the runner-up doesn't have. It's also got ample cooking space, making it a good choice for heavy-duty smoking.
The burner device technology is also better than other units with more precise settings for set-and-forget cooking abilities. Click here to check out the latest price and purchase the Masterbuilt ThermoTemp XL.
Masterbuilt ThermoTemp XL
Our #1 Recommendation
Safety shut off valve
Temperature sensor control
Easy read tank fuel level gauge
15,750 BTU burner
Was this article helpful?