Let's face it - no grill is made equal. These days, gas grill products are rolling out left, right, and center, so we must know what to look for when we shop.
Weber is a staple name when it comes to grills, creating many models that we know and love today.
Ever since Weber came out with their Genesis II E-310, there has been quite a lot of skepticism surrounding this gas grill.
While some people believe it is one of the best grills Weber has ever produced, others are not so sure.
Today, we have decided to settle this rift once and for all, presenting to you a comprehensive Weber Genesis II E-310 review.
Then, it'll be up to you to decide if this gas grill is all it's made out to be.
What is Weber Genesis II E-310?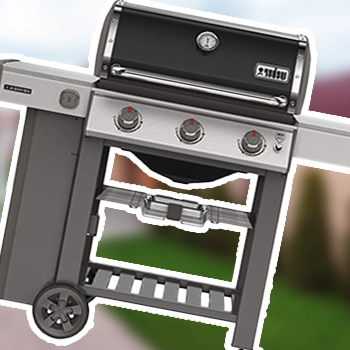 Since the early 1980s, Weber Genesis has been one of the most sought-after gas grill models in the US.
In 2017, Weber rolled out their Weber Genesis II line, and safe to say, not many people were impressed.
Weber didn't allow us too long to mope, however, releasing a new and improved Weber Genesis II line in 2019 - home to the Genesis II E-310.
This state-of-the-art grill has many features, including a three-burner heating system, cast iron grates, stainless steel flavorizer bars, and a brand-new grease management system.
One of the stand-out features of this particular propane gas grill is its compatibility with the iGrill 3 innovative technology.
This allows you to connect wirelessly to your grill, monitoring your cook while you catch the game inside. If that isn't innovative, I don't know what is.
With its attractive steel construction and 10-year warranty, the Weber Genesis II E-310 is famous for its sturdiness and reliability.
It's considered a serious upgrade from your average propane gas grill, great for replacing your current grill, or for pitmasters looking to expand their grilling options.
Specifications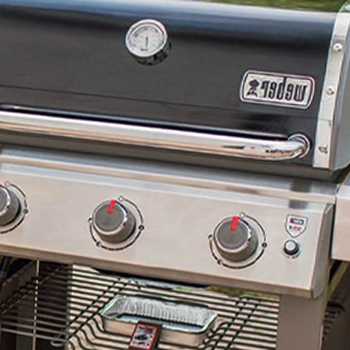 Here's what you can expect when purchasing the Weber Genesis II E-310:
Three stainless steel burners: 39,000 BTU/hr
Primary cooking surface: 513 square inches
Tuck-away warming rack: 156 square inches
Total cooking area: 669 square inches
Fuel type: 20lb. liquid propane (tank sold separately)
Side tables: 2
Tool hooks: 6
Warranty: 10 years [1]
Benefits and Features of the Genesis II E-310
If you do decide to take this premium gas grill home with you, here are some of the stand-out benefits and features you can expect.
1. Build and Design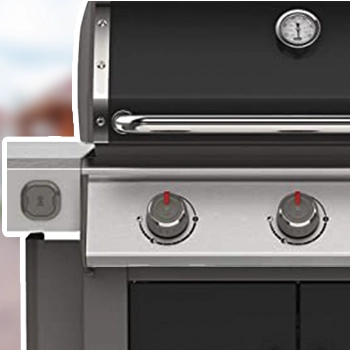 When you first set your eyes on the Weber Genesis II E-310, you can see how sturdy and solid the unit is.
The side tables and the lid of the grill are made from heavy stainless steel, while the grates are cast iron.
Both the lid and the grates are finished off with porcelain enameled cast iron, making for superior heat retention.
The Weber Genesis is also available in both natural gas and propane variants, meaning you can have options when it comes to your setup.
The tank is kept inside an enclosed cabinet at the bottom of the grill.
2. Burner System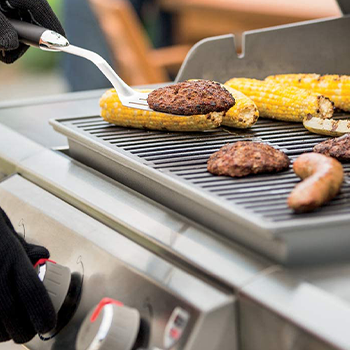 Regarding the burner system, the Weber Genesis II E-310 relies on a high-performance grilling system involving three stainless steel burners, equalling a total of 37,500 BTU per hour.
That's more than enough heating for such a compact grill. This particular grill takes time to master due to its sheer power.
However, you'll be pleased to know that because of this heat, you can make some beautiful sear marks without needing a sear station.
These high-performance burners allow heat to reach the warming rack, keeping your food hot.
Another thing I love about the Weber Genesis II is the wedge-shaped bars, designed to protect the burners from grease and drippings.
However, if you manage to get them dirty, just give them a quick wipe down since they are made from stainless steel; that's what I did, and it can't go any easier than this.
The entire system is switched on by what Weber calls an "electronic ignition system" or "infinity ignition" that utilizes two AA batteries.
Read More: Best Stainless Steel Grills
3. Cooking Grates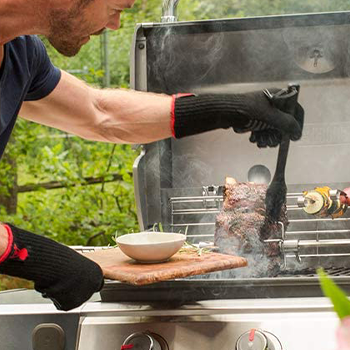 As I mentioned, the grates are made from porcelain-enameled cast iron, perfect for heat retention.
They offer less temperature variation, allowing even heat across the entire grill.
Another great thing besides the reliable temperatures is that cast iron cooking grates are super quick to warm up.
It also doesn't require any seasoning beforehand, resulting in a quick and easy cleanup.
"Food is not just eating energy. It's an experience."
- Guy Fieri, Chef
According to the Weber website, the grates offer you 513 square inches of cooking space. [2]  This is enough to hold up to 20 burgers at once.
The cast-iron cooking grates are also very flexible in the sense you can cook different kinds of meat at the same time.
The three burners can be altered to different temperatures.
I fell in love with the warming rack area as it kept my food warm. With a surface of 156 square inches, it offered plenty of space.
When I didn't need to use it, I just tucked it away and got some extra space.
Also Read: How to Clean Grill Grates?
4. Temperature Control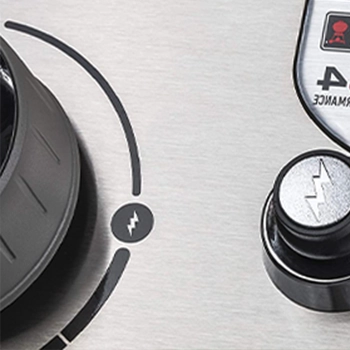 Since everything is lined with porcelain, the grill can hit high temperatures and keep it that way.
The cooking surfaces will spread heat evenly, while the body of the grill will retain heat - especially with the lid closed.
I was a bit worried about the heat, but the lid came with a built-in digital thermometer, so I was able to monitor the temperature.
5. Flavorizer Bars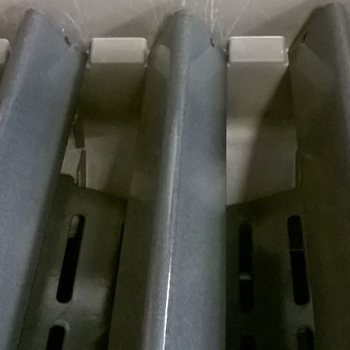 Just like many other grills made by Weber, the E-310 grill features a set of flavorizer bars along with cast-iron grates.
If you don't know what this is, it essentially infuses your food with a smoky flavor that is often lost with liquid propane.
It works by vaporizing all the drippings such as marinades and sauces, the vapors making their way around the cook box, and infusing your food with great flavor.
For me, the flavorized bars made a huge difference, as I love foods with a hint of smoky flavor.
6. Extra Space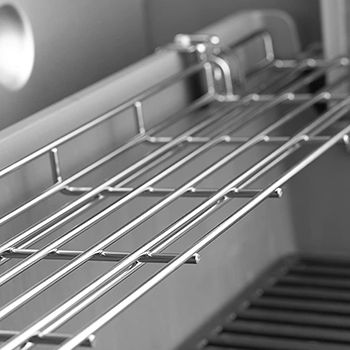 The first thing I look for when buying a new grill is the space it gives me.
I'd much instead prepare my sides or keep my utensils on the grill, rather than pull up a chair and use it as a table.
One of the great things about the Weber Genesis II E-310 is its ample space.
At the unit's base, you will find plenty of storage space, including 6 hooks to hang your utensils.
The propane grill also has two side tables that you can use for holding food, sides, or anything you wish.
7. Built-in Fuel Gauge
Another handy feature of this Weber grill is its fuel gauge which allows you to determine how much fuel is left in your tank.
Of course, you don't need this if you are using natural gas, but it is a huge help and a rarity for most propane grills.
8. iGrill 3 Technology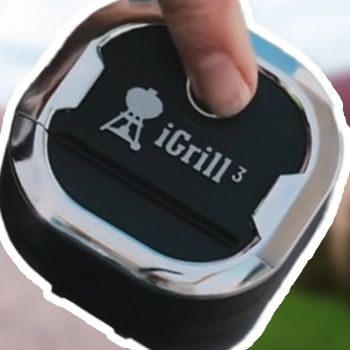 What makes the Weber Genesis II E-310 a superior grilling experience is its ability to be paired with a mobile app.
While this piece of equipment will set you back an extra $100, it is a small price to pay when looking to upgrade your cooking experience. [3]
You can use this handy little app to monitor your grill while cooking.
Thanks to the app, you can head inside and watch the game, without checking on your burgers every couple of minutes.
Controlled via your smartphone, the iGrill 3 uses a digital thermometer to monitor the grilling system. You can also set timers, alarms and even monitor your propane tank levels.
9. Weber's Customer Service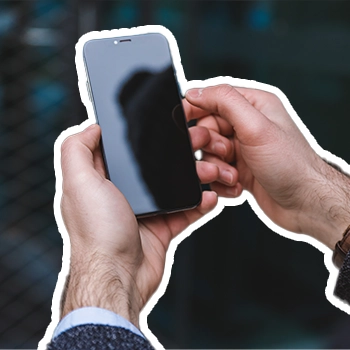 Since you're going to be dropping a few hundred dollars on this grill, it's important to know how the customer service holds up.
Weber has a large FAQ section that covers a huge range of topics such as warranty, problems with the grills, and how-to guides.
You will see a live chat section that you can use to get answers right away. Weber is also very active on social media. This includes Instagram, Facebook, YouTube, Twitter, and even Pinterest.
I decided to test the response time myself, emailing Weber to enquire about warranty details. There was an email in my inbox in less than one hour, answering all my questions and more.
What Can Be Improved?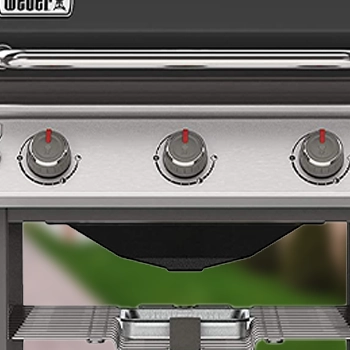 While the Weber Genesis II E-310 leaves us little to complain about, there are a few things that could be improved.
Since the grill is made from such robust materials, it does come at a cost. In this instance, many users have expressed concerns about the weight of the grill.
If they need to move their gas barbeque around the garden, they said it can be quite difficult.
So, as long as you're not looking to use the Weber Genesis on the go, you should be fine.
Weber Genesis II E-310 Pros and Cons
Pros
Plenty of cooking space for such a compact grill
Made from robust materials that are easy to clean and will last for years
Excellent at retaining heat
Possibility to pair with smart technology
Cons
Isn't very lightweight
Isn't the easiest grill to set up
Other Users' Experience

If you check out Weber on any review websites, you'll notice they are usually rated 4+ stars.
People seem to be very happy with their services, claiming the company was super quick to respond and fixed their issues within a few hours to a few days.
"Grilling takes the formality out of entertaining. Everyone wants to get involved."
- Bobby Flay, Chef
For the most part, the grilling community seems to agree that the E-310 has impressive storage, space, and overall build compared to most gas grills.
They also praise the grilling grates for their ability to hold heat well.
All in all, it seems like the majority of people believe this is a great grill.
How Does it Compare to Other Grills?

If you're unsure about the Weber Genesis II E-130 and want to check out another gas barbecue, here is how it holds up:
Char-Broil Performance TRU-Infrared
When comparing the Weber Genesis, this grill comes up most often. With three burners and porcelain grates, it is quite similar to Weber Genesis.
That being said, it has less storage space than the other grill, as well as less cooking space. People tend to go for this grill over the Weber Genesis due to the lower price.
2. Weber Genesis II E-435
If you're looking for the same features but with a little more space, then the E-435 is for you. It also features a searing station, a side burner, and 4 main burners.
Of course, these all come at a price, the E-435 being a lot more expensive than the E-310.
3. Broil King 958344
While Broil King is lesser known than the other two brands, they do offer great quality at affordable prices.
This grill also has a little bit more power than the E-310, but not as much space or features.
Other Gas Grills We've Reviewed:
Where to Buy
If you're interested in making the Weber Genesis II E-310 yours, you can do so for $779. You can purchase directly from the Weber website, or if you prefer to shop on Amazon, you can do so from there.
Is the Weber Genesis II E-310 Worth it?
After Weber brought out its II line in 2017, many people were disappointed. That being said, Weber seemed to consider the complaints, drastically improving the grills in the 2019 drop.
Pair the impressive power with plenty of grilling space, excellent heat distribution, and an abundant amount of storage - the Weber Genesis II E-310 seems like it's worth the price.
It can also be paired with state-of-the-art technology, which allows you to monitor your cook without even being there.
If you're ready to take gas grilling to a new level, click here to check out the Weber Genesis II E-310.
We Recommend
Weber Genesis II E-310
Pros
Plenty of cooking space for such a compact grill
Made from robust materials that are easy to clean and will last for years
Excellent at retaining heat
Possibility to pair with smart technology
Cons
Isn't very lightweight
Isn't the easiest grill to set up
Was this article helpful?