An outdoor grill has the power to transform any party, providing delicious food for the entire family and giving the men something to bond over.
That being said, not everyone has the space to accommodate a large grill - especially when you have a small patio like me.
That's where the 3-burner models come in, or to be precise, the Weber Spirit E-330 gas grill.
It is the perfect combination of speed, convenience, and taste. In this article, I'll share with you why I love the Spirit E-330 gas grill so much - its pros, cons, and what features you'll get for your money.
What is the Weber Spirit E-330 Gas Grill?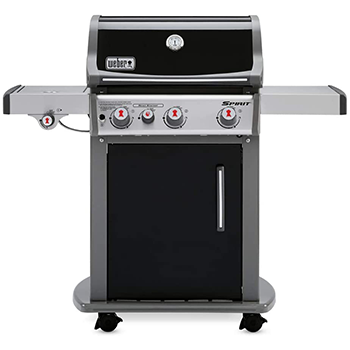 The Weber Spirit E-330 is a gas grill from Weber. The Spirit Line contains a bunch of variants of the same model - some models are 2-burners, and others are 3-burners.
The E-330 sits on top, offering pitmasters three burners, a sear, and a side burner.
While some may be disappointed about losing the smoky flavor of charcoal grills, this gas grill comes prepared. It offers flavored cooking grates that transfer a delicious smoky aroma onto the food.
Specifications
Here's what you can expect when purchasing the Weber Spirit E-330 gas grill:
3 burners: 32,000 BTU/hr
Side burner: 12,000 BTU/hr
Sear station: 7,500 BTU/hr
Cooking area: 424 square inches
Warming rack: 105 square inches
Fuel type: liquid propane, 20lb tank
Side tables: 2
Tool hooks: 6
Benefits and Features
So, what's the point of spending a little extra cash on getting this specific model in the Weber Spirit line?
Well, there are a bunch of unique and helpful benefits that come along with this 3-burner grill.
Burner System

What I love most about the Spirit E-330 gas grill is its impressive power. Equipped with three stainless steel burners, each produces 10,677 (32,000) BTUs per hour.
While these are considered pretty standard numbers, it is impressive once you think of the price of this gas grill, paired with the fact it features two other burners - one to the left of the unit, which offers 12,000, and the other used as a sear burner at 7,500 BTU's per hour.
"I love the culture of grilling. It creates an atmosphere that is festive but casual."
- Bobby Flay, Chef
The side burner works independently from the three burners and is mainly used to warm the side dishes. I think it is convenient as a prepping station or for storage.
I was impressed by the grill marks that the sear burners, located between the main burners and side burners, added to my meat.
All of these sear burners have a stainless steel construction. They allow for excellent heat distribution for direct and indirect cooking and are highly resistant to rust.
Grilling Surface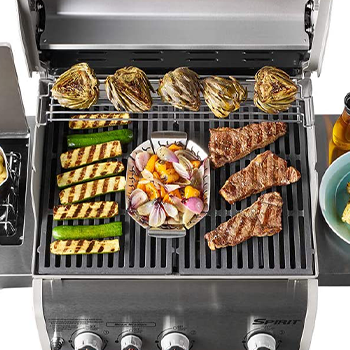 The Spirit E-330 gas grill offers a total of 529 square inches of cooking space. This includes the main cooking surface (424 square inches) and the side burner (105 square inches).
As I mentioned before, the side burner is very handy, especially for keeping grilled food warm. You can also use the side shelves as a prep station if you need the extra cooking space.
According to the Weber website, the Weber Spirit E-330 gas grill is capable of holding 15 burger patties at once. [1]
Although the size is impressive for a 3-burner grill, I have found it a little bit small when hosting large barbeque parties. So, if you're looking to host small parties or feed a family of 4 or 5, I think the size is perfect for you.
Also Read: Weber Spirit Ii E-310 Review
Cooking Grates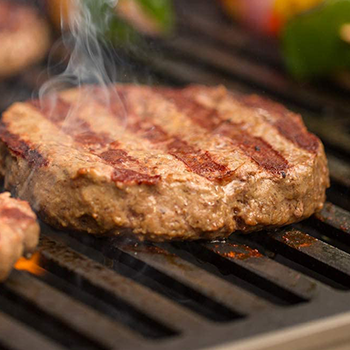 You'll be pleased to know that the cooking grates are made from cast iron, coated with porcelain.
If you don't know why this is such an attractive feature, I'll let you in on a little secret - cast iron makes a fantastic heat conductor.
Not only do the grates ensure even heat once the burners have been turned off, but they will also continue to stay hot for a long time after.
It means the main unit can double as a warming rack even when the unit has been turned off.
You won't have to worry about cold spots or hot zones with cast iron cooking grates - the entire cooking surface will distribute heat evenly, making it great for indirect cooking.
The great thing about porcelain enameled cast iron is that it is super quick to warm up.
Thanks to the porcelain, the primary cooking area doesn't require seasoning beforehand, and it results in a swift and easy cleanup.
The cast iron grate and steel build add an extra layer of protection to your gas grill, keeping your grates going for longer.
Temperature Control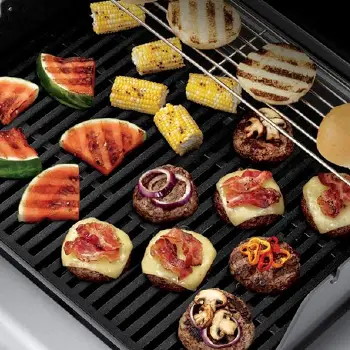 As I mentioned before, stainless steel burners and cast iron grates make for wonderful heat distribution.
Since the grates can hold heat for long periods, the whole cooking surface is affected.
The stainless steel lid and the porcelain-enameled lid do a great job at keeping the internal temperature at a steady level, allowing the stainless steel grill to be an intense heat zone.
The lid also comes fully equipped with a cast aluminum center-mounted thermometer.
"Flavorizer" Bars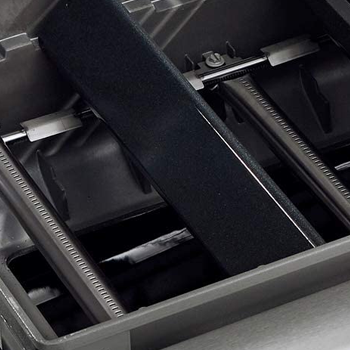 When you purchase the Weber Spirit E-330, your gas grills will come equipped with Weber's patented "Flavorizer" bars.
These cast iron cooking grates enhance the aroma of your food by vaporizing all the oil drippings, sauces, and marinades you put on your meat.
Gas-powered grills often lose the signature taste and smell of a smoky barbeque, so this way, you can have the best of both worlds.
These vapors make their way around the cook box, infusing your cooked food with delicious flavor.
Another great thing about Weber grills is their grease management system. Any oils that don't evaporate on the Flavorizer bars are collected inside the grease tray.
This tray can be emptied into a second catch pan. Both the grease tray and the second catch pan are fully removable, and I've found them very easy to clean.
There is also less chance of the stainless steel burner tubes clogging up. I think not having to worry about clogged sear burner tubes is great.
Ease of Use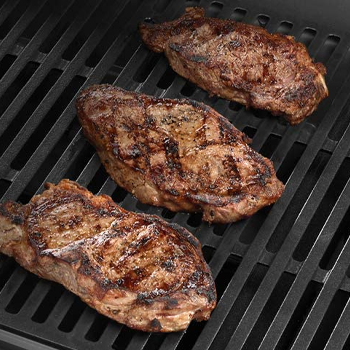 I believe the ease of use is an indicator of good quality. For me, there's no point in spending thousands of dollars on a fancy griller with fancy gadgets if it is quite complicated to use and will give you a headache.
That's where Weber's Spirit Line comes in, powered by an Electronic Crossover ignition system that lights the gas grill in one try.
It runs on a single AA battery, and the grill lit up every time I hit the lighter.
Another wonderful thing is the built-in fuel gauge that shows how much fuel you have left in your propane tank without having to twist and bend to see.
You will find this feature in the lower cabinet door of the grill. There will be six pictures indicating the level at which your liquid propane tank is.
So, if your tank is running a little low on fuel, the arrow will move down the gauge to show your remaining fuel.
The Weber Company doesn't send a gas tank with their gas system, so you will have to purchase one separately.
I have found the Weber gas grills to be one of the easiest grills to get the hang of, making it perfect for newcomers.
What Can Be Improved?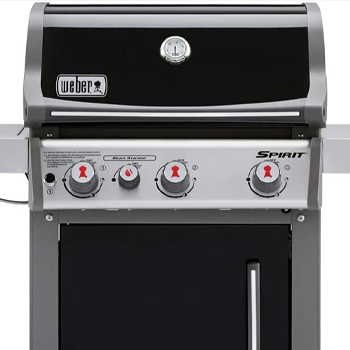 If this three-burner gas grill seems too good to be true, don't worry - there isn't a catch.
This impressive little grill doesn't give us much to complain about, and it truly does hold its own against large outdoor gas grills.
That being said, I did come across some problems when assembling the grill.
Although everything is presented to you in the manual, it is a little hard to follow. That being said, the gas line and firebox come pre-assembled.
Weber Spirit E-330 Gas Grill Pros and Cons
Pros
Comes with a powerful sear station to quickly add sear marks 
Impressive cooking power 
Built-in warming rack
Innovative grease management system
Cons
Can be difficult to set up
Harder to move around due to the weight
Other Users' Experience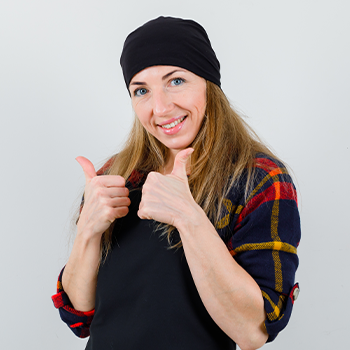 After checking out reviews on Amazon, the Weber website itself, and Reddit, it seems like the Weber gas grills are living up to the hype.
Overall, the response from customers is positive. Many are pleased about the size of the unit as well as its features, claiming that the "sear station creates fantastic marks."
Understandably enough, some negative responses were commenting on the high price; however, the majority of people felt like they got what they paid for.
How Does It Compare To Other Gas Grills?

Here is what the Weber Spirit E-330 is up against:
1. Char-Broil Classic 360 3-Burner Grill
While the Char-Broil 3-Burner Grill offers less space and no sear station, it is more affordable than the Weber Spirit E-330.
It is also easier to assemble - perfect if you need an affordable grill to get you through a couple of BBQ seasons.
2. Char-Broil Performance TRU-Infrared Burner
While this grill from Char-Broil offers the same amount of main burners, it is, in fact, smaller than the Weber Spirit E-330. It is more affordable, but many claim that the grill is quick to rust.
3. Dyna-Glo Premier 3-Burner 
The Dyna-Glo is a step up from Char-Broil when it comes to quality, but it does not last as long as the Weber Spirit E-330 model.
It has a lot of power and is made from attractive cast aluminum. It doesn't, however, come with any extra burners.
Other Gas Grills We've Reviewed:
Where to Buy
If you're looking to get your hands on this impressive grill, you can shop for a Weber grill on Amazon for $903.
While this may seem steep, from my experience, it is well worth the money. It also comes with an impressive 10-year warranty [2].
Is the Weber Spirit E-330 Gas Grill Worth it?
The Weber Spirit E-330 gas grill is an impressive piece of equipment - proving that you don't have to sacrifice quality when purchasing a smaller unit.
It comes with side shelves - perfect for holding food platters or warming up your sides. The power of the grill is also impressive when you consider how compact the unit is. There is a storage cabinet underneath to hold all your cooking tools.
If you've enjoyed reading my Spirit E-330 review and you feel like this grill might be right for you, click here to check it out.
We Recommend
Weber Spirit E-330
Pros
Comes with a powerful sear station to quickly add sear marks
Impressive cooking power
Built-in warming rack
Innovative grease management system
Get the BEST PRICE until the end of September
Cons
Can be difficult to set up 
Harder to move around due to the weight
Was this article helpful?