Pork and chicken are the two most widely consumed types of meat worldwide. They are affordable, easily accessible, and can be cooked in various ways.
During the decade I've been on a carnivore diet, I've consumed countless pounds of pork and chicken.
I wanted to find out the most important differences between these two kinds of meat, so I talked with a nutritionist and spent weeks browsing research papers and available data online.
Here's everything you should know about pork vs. chicken.
Quick Summary
Chicken is classified as white, and pork is red meat.
Chicken and pork have different appearances, tastes, and textures.
There are health benefits and risks to eating both chicken and pork.
6 Differences Between Pork Vs Chicken
Here are the six things that set these two types of meat apart.
1. Meat Type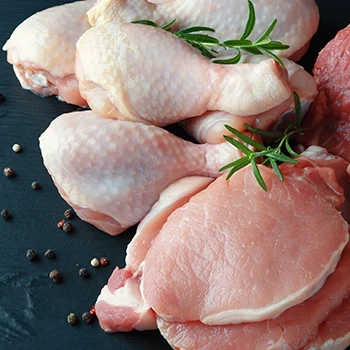 Pork and chicken are classified as two different types of meat. Depending on its definition, pork can be classified as both white and red meats.
According to the culinary definition, meat that's light in color even after cooking is white meat.
But, according to the scientific definition, pork is classified as red meat because it has a high amount of myoglobin.
On the other hand, chicken is only classified as white meat.
2. Appearance
One of the biggest differences between pork and chicken is their appearance, especially color. Chicken is usually light pink, while pork is white.
Also, pork has marbling, which chicken doesn't. Marbling is thin white lines of intramuscular fat. Chicken can have white stripping, where fat resembles white stripes. This isn't very common and usually happens in larger birds [1].
"Pork is classified as red meat because it contains more myoglobin than chicken or fish. When fresh pork is cooked, it becomes lighter in color, but it is still red meat."
- U.S. Department of Agriculture
3. Taste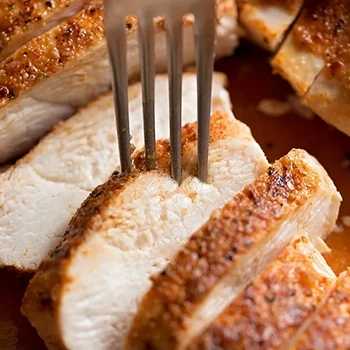 The taste of pork falls somewhere between lamb, goat, and veal. Pork doesn't taste like chicken but has a touch of sweetness with a fatty and salty undertone. It needs to be seasoned, or it'll taste bland.
Chicken also tastes bland compared to other meats. It doesn't have a lot of fat, and fat contributes to flavor more than muscle.
This is why a lean cut, such as a skinless chicken breast, tastes bland if not seasoned.
Overall, both of these meats need seasoning to enhance their flavor.
4. Use
Chicken and pork can be used similarly in the kitchen. Both of these can be grilled, broiled, braised, or baked.
Pro tip: If you want healthy meat consumption, grill or broil lean chicken and pork. This doesn't add any extra calories or fat.
You also need to be careful how you cook fresh lean pork. Unlike the chicken, which should be cooked until it's no longer pink and the juices run clear, it's harder to tell when the pork is done.
Pork also becomes dry quickly, so you should roast and grill it on low heat. Use a meat thermometer and cook pork until it reaches 145 degrees [2].
5. Cuts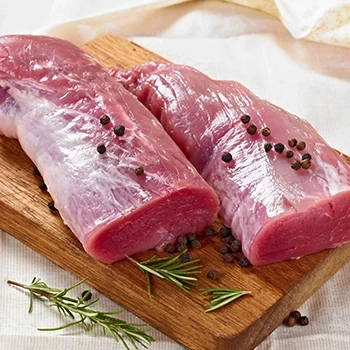 The most common cuts of pork include pork chops, pork tenderloin, loin roast, spareribs, and shoulder. If you want lean pork cuts, go for tenderloin and loin chop.
The most common chicken cuts are breasts, wings, drumsticks, thighs, legs, and whole chicken. If you want fresh lean chicken, go for chicken breast (without the skin).
You can also buy processed meats. Processed pork meat is preserved by smoking, curing, and salting. The most common pork processed cuts are the shoulder, ham, loin, and belly.
Related Articles:
6. Nutrition
Here's how 3 oz of chicken and pork differ in terms of nutrition:
What's Healthier: Pork or Chicken?

Here are the health benefits of eating pork and chicken:
These are the risks of eating chicken and pork:
Overall, there are risks and benefits to both pork and chicken. Pork, like most other kinds of red cuts, can lead to heart disease and different kinds of cancer.
However, as long as you eat a balanced diet, you have nothing to worry about.
In case you're trying to reduce body fat, choose lean cuts, such as chicken breast. Lean cuts can help your weight loss, have low calories, and are healthy.
FAQs
What Is the Healthiest Meat to Eat?
The healthiest meat to eat is chicken, pork, and beef. Choose sirloin steak, chicken breast, pork chops, and chicken thigh if you want lean meat.
Which Has More Protein: Pork or Chicken?
Chicken has more protein than pork, especially chicken breast.
What Is the Unhealthiest Meat?
The unhealthiest meat is cured meat, such as cold cuts, hot dogs, sausage, and salami. These are processed cuts that can cause cancer. They are also high in sodium and saturated fats.
Should You Eat Pork, Chicken, or Both?
Both chicken and pork are delicious types of meat. They have plenty of essential amino acids, vitamins, and minerals. If you're trying to lose weight, choose lean cuts, such as chicken breast.
Make sure to buy quality cuts of chicken and pork to get the best health benefits. During the past two years, I've been ordering meat from ButcherBox, a meat delivery service with a wide range of heritage-bred pork cuts and poultry raised crate-free. And if you'd like to read our ButcherBox review, you can click this link.
The animals are raised responsibly, without any hormones or additives, which ensures delicious cuts and plenty of health benefits.
---
References:
https://www.chickencheck.in/faq/white-striping-in-chicken/
https://www.usda.gov/media/blog/2011/05/25/cooking-meat-check-new
https://www.nutritionix.com/food/chicken
https://www.nutritionix.com/food/pork
https://www.ncbi.nlm.nih.gov/pmc/articles/PMC3407990/
https://www.heartfoundation.org.au/getmedia/d0671d24-16aa-4dff-8555-0c07e6
https://pubmed.ncbi.nlm.nih.gov/11919119/
https://diabetesjournals.org/care/article/43/2/265/36125/Red-and-
https://www.ahajournals.org/doi/10.1161/CIRCULATIONAHA.118.035225
https://jamanetwork.com/journals/jamainternalmedicine/fullarticle/2759737
https://link.springer.com/article/10.1007/s00125-020-05091-x
https://www.hsph.harvard.edu/nutritionsource/2018/03/23/how-meat-is
Was this article helpful?