Harry and David are known for their gift baskets and fine food options. They have a bit of everything, including some unique meat baskets.
But, due to the money customers spend on just one product, the question is, are purchases worth it? We conducted a complete Harry and David review to find out.
What is Harry & David?
Harry and David is an online company specializing in gift baskets, treats, and other high-end things for family, personal, and corporate customers. They offer various gourmet food basket choices, including cheese, simply chocolate, fruits, baked goods, wines, meats, moose munch, and other options. They are very well known for their Royal Riviera pears and the way they come wrapped in gold foil.
The Harry David site is one of a collection of brands owned by the 1-800-FLOWERS corporation specializing in high-end gifts and custom gift baskets for occasions like Mother's Day. Harry and David was founded in Medford, Oregon, and has been serving everyone since 1910.
Pros
Pretty impressive selection of David Harry baskets
Uniquely flavored pre-made food
Customizable David Harry baskets selection
Easy order prepared meals
Cons
Harry David Delivery can be a bit expensive
Lacking many meat choices
No grass-fed beef selection
Things can be pricey
What Are the Harry David Menu Options?

You can find a pretty impressive selection of gourmet foods on the Harry and David website. Most of these are specialty items such as meats marinated in unique sauces or specific fruits known for sweetness and size. For your gift baskets, some examples of the foods you can order through your David and Harry account include:
Meat
Smoked Turkey

Bourbon-Peppercorn Steaks

Cold-Smoked Salmon

Apple-Spiced Ham
Sweets
Truffles

Simply Chocolate Boxes

Moose Munch Popcorn

Caramel & Toffee
Fruit
Pears

Seasonal Fruit

Fruit Combo Baskets

Citrus Baskets and mixed nuts
Baked Food
Cookies & Brownies

Breads & Crackers

Cheesecake, Cakes, Pies

Cinnabon
Wine
Wine & Cheese Sets

Wine & Chocolate Sets

Wine of the Month Club

Red and White Wines
What's the Harry David Meat Quality?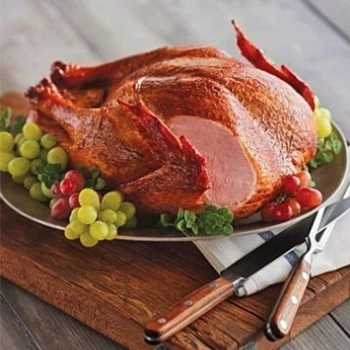 Harry and David claim that their meat is gourmet and of the highest quality. From our experience, we found that this was mostly accurate.
We tried multiple different meats from the Harry and David website, and everything was tender, juicy, and tasted as we would expect gourmet meats to taste.
The two types of Harry David meat that we tried for our gift baskets were the Bourbon-Peppercorn Marinated Steaks and the 8-ounce gourmet steak burgers.
Both of these were tender and juicy, with the Bourbon-Peppercorn Marinated Steaks being our favorite. Other people who shared their Harry and David reviews on the website have similar opinions about these items.
Overall, the Harry David meat was undoubtedly high-quality, and the service above average but is also quite costly in terms of food gifts compared to similar services we've reviewed in the past.
Delivery Options and Shipping Fees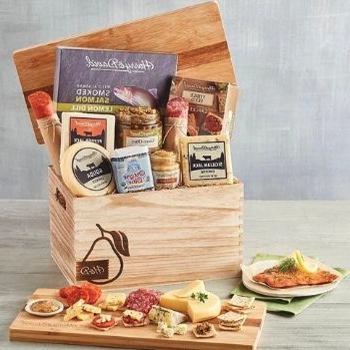 Something that we don't like about Harry & David is their shipping package options and shipping cost for their gift baskets.
When you visit their site, you will find that their shipping policy is rather complicated. Everything is broken down by how much you spend and numerous options for addons and different shipping types, such as for holidays like Mother's Day or for special gifts baskets.
Other online food delivery companies we've reviewed offer an overnight option or standard option for the recipient.
So, it was a disappointment that Harry & David opted for such complex shipping packages despite having the basic tracking number on their shipments. As per customer service query, their standard rates have ten different shipping tiers with four different processing rates based on which product you order for your gift baskets. Their cheapest tier starts at $6 and goes all the way up to 15% of the order subtotal for orders over $150.
For their express rates, they have four different categories depending on how many days. Their most expensive is priority overnight, starting at $25 per product plus the standard rate. Their cheapest express shipping rate is 3-day express, beginning at $10 per item plus the standard rate for their gift baskets.
This is one of the most complicated delivery options we've seen from any of the meat delivery companies we've reviewed. We've even received suggestions from most customers to never order from them, even during the most popular gifting holidays.
Harry & David Complaints
The majority of the complaints against Harry and David have to do with their various fruit choices. We looked through numerous Harry and David review comments and noticed that one thing consistently complained about was a fruit gift baskets that showed up brown or bruised. This might be attributed to shipping and out of the hands of Harry & David.
Harry and David Review Comments
After thorough research and an email sent to test their customer service, we found the site average. As someone on our team mentioned, the price can be relatively high with what you get compared to other providers.
Related Reviews:
Customer reviews
After checking out many Harry and David review comments, we noticed that many customers rated Harry & David poorly due to issues such as a confirmation email not arriving. As someone who left a review on the BBB site noted, their services are quite expensive, so you expect everything to be perfect.
BBB Rating
Harry and David has an A+ rating on the BBB site. Their customer rating is one out of five stars. They have 43 complaints closed over three years (1).
Yelp
The Harry and David store has three and a half stars rating based on negative and positive reviews from 191 people (2).
Trustpilot
Harry and David has a rating of 1.6 stars Trustpilot. This is based on feedback from 96 people (3).
Social Proof
I ordered a gift basket for my wife's birthday, and it was a mess. Six pears and six apples for $100 and $30 shipping fee, but when you look at it on their website, it looks elegant and beautiful.

- Prince, Trustpilot Verified Reviewer (4)
Harry and David vs. ButcherBox
The most significant difference between these meat delivery companies is their services.
ButcherBox only handles meat and seafood, stocking a range of monthly subscription boxes where customers can either have items chosen for them (curated) or choose freely from the available menu (custom).
On the other hand, Harry and David have a wide selection of items, including gourmet food, fruit, desserts, gift boxes, and more. All orders are a la carte, except the gift boxes, and can be purchased at the customer's convenience.
Another difference between these two companies is sustainability. While ButcherBox only offers humanely raised meat and sustainably sourced seafood, there is no mention of such practices on the Harry and David website.
There isn't much information about their meat, whereas ButcherBox has pages dedicated to sourcing and sustainability.
Lastly, all deliveries from ButcherBox are free no matter what you order. In contrast, Harry and David charge shipping depending on weight and sometimes depending on how many items you order, which can get very expensive.
FAQs

Are Harry & David gift baskets good?
Harry & David gift baskets are good if you are looking for a gourmet type gift basket with products that fit various individuals and family members' taste. The company has over 150 different gift baskets to choose from, with gourmet food and quality wine choices in each. It's what makes them the most popular gifting holidays provider.
What are the prices like at Harry & David's?
The prices at Harry & David are relatively high when compared to similar products on other sites. Their gift baskets start at over $25 for a couple of items and can go as high as $800. Their meats start at $35 up to $400 for their choice collection of steaks.
Did Harry & David go out of business?
Harry and David did not go out of business. However, during the 2020 coronavirus shutdowns, they were forced to close 38 brick and mortar stores. Harry and David's parent company decided to close the stores to focus efforts on the e-commerce site.
Where is Harry & David based?
Harry & David is based in Medford, Oregon. They have been there since the company was founded over 100 years ago in 1910. They also have one flagship retail store in the area and farms and vineyards, where many of their products are grown and made.
How do I order from Harry & David?
You can order from Harry & David by going to their site or calling customer service on the phone. Their e-commerce site has all of their products and gift baskets. The company also has retail stores in selected cities around the United States.
What can I put in a wine and cheese gift basket?
You can put various products such as meat cold cuts, chocolates, moose munch, and fruits like Royal Riviera pears in Harry & David wine and cheese gift baskets. According to their site, you can choose from gourmet cheeses, chocolates, award-winning wines, etc. The business also offers a wine of the month club.
How do I get free shipping from Harry & David?
You can get free shipping from Harry & David by watching for promotions on their site. The gift baskets provider regularly offers different products for free delivery, such as the moose munch. There are also regular coupons and promos on coupon sites like Groupon.
Is Harry & David Worth It?
After thorough research for our Harry & David review, we think the company is okay but not optimal for ordering meat. Instead, we believe that the meat delivery service of ButcherBox is a better option for your subscription box. Harry and David are good if you want a basket or box, but they lack sufficient products for a person who wants nothing but meat.
ButcherBox instead focuses only on premium meat and offers grass-fed beef, heritage-breed pork, and free-range organic chicken for almost the same price per month that two steaks will cost from Harry's and David. Try something from ButcherBox by clicking here.
#1 Meat Delivery Service
ButcherBox
Click For Best Price

Pros
Grass-fed and grass-finished beef delivered directly to your door
Without antibiotics or added hormones
Customizable boxes available
Select from up to 21 different cuts
Get the BEST PRICE until the end of December
Was this article helpful?