As a part of the largest food service brand in the United States, Stock Yard has many options and resources for good meat delivery. The question is whether their subscription service is worth it. We conducted a complete Stock Yard review to find out if it's worth your money.
What is Stock Yards?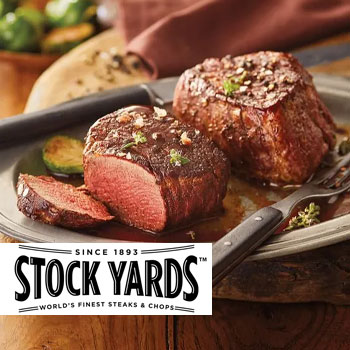 Stock Yards is an online meat delivery company specializing in beef steaks and other meat types, including pork, poultry, veal, lamb, and seafood.
According to their website, the business originally began in Chicago in 1893 as a local retail butcher shop owned by the Pollak Family.
In 2000, the company was acquired by US Foods and eventually brought online as part of the 1-800-Flowers Corporation brand.
Stock Yards place a strong emphasis on corporate and personal gift sets and offer monthly clubs for regular subscription orders.
Their two monthly clubs include the Steakhouse Club, which delivers monthly steaks and chops, while the Stock Yards Club offers monthly roasts, ribs, chops, and steaks.
Pros
Wide selection of meats
Monthly subscription options
Shipping throughout the United States
Desserts and wines for complete meals
Cons
No free shipping like ButcherBox
Prices higher than similar providers
Limited subscription choices
No wagyu beef options
Stock Yards Food Menu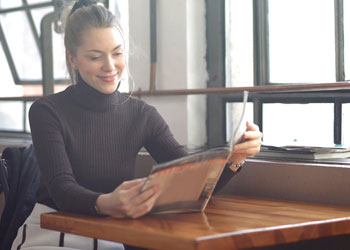 Stock Yards offer an extensive selection of meats ranging from different cuts of beef, lamb, veal, sheep, seafood, pork, poultry, and desserts.
You can buy items either as single pieces or choose from one of their two subscription club options.
Some of their most popular items from each category include:
Beef:
Trim USDA Prime Filet Mignon
New York Strip Steak
Chicago Cut Bone-In Ribeye
Pork:
Baby Back Pork Ribs
Center-Cut Pork Chops
Prosciutto Cotto Ham Roast
Seafood:
Cold-Water Lobster Tails
Alaskan Halibut Filets
Bacon-Wrapped Scallops
Lamb:
Frenched Lamb Rib Chops

Lamb Porterhouse Chops
Poultry:
What's the Meat Quality?
For the price range that Stock Yards Club is charging for their meat, we felt the quality was comparable to the price but overall not impressive, even their USDA Prime Filet Mignon. To review meat delivery services like Stock Yard, we usually order a couple of different items to test the quality.
We ordered the New York Strip Steak and the Baby Back Pork Ribs from Stock Yard. The quality of the meat was medium to high. One thing to note is that their meat isn't grass-fed. We preferred the taste and quality of the grass-fed and pasture-fed meat from ButcherBox instead.
How's the Price Range?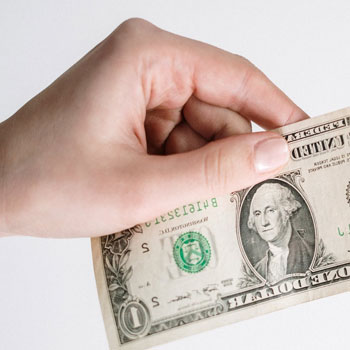 Stock Yard's prices are medium to high, depending on the specific products that you are interested in ordering, like their USDA Prime Steaks or filet mignon.
Overall, we found that their non-grass-fed beef and veal, as well as some of the specialty items like seafood, are a bit pricier than equivalent items on similar meat delivery service websites.
Their pork and the limited poultry selection they have are around the same price as similar websites.
One thing to note is that the company, on occasion, does offer regular discounts for products.
Also, their two subscription options are comparable to what you can find from other meat box providers.
Any Company Guarantee?
The meat delivery service company advertises its guarantee as "the strongest guarantee in the business." They offer a complete satisfaction guarantee, or they will provide a replacement item or refund.
Something to note is their guarantee applies to the end-user of the product, so if you purchase products as a gift and the recipient isn't satisfied, they can receive a refund or replacement.
One thing that Stock Yards does differently than other companies is their substitution offer. If you request a replacement and they are out of the product, you can receive a substitute product of equal or greater value.
How Do Stock Yards Service Work?
Stock Yards provides a seamless online shopping experience, similar to other e-commerce platforms. Simply visit their website to browse and order from their wide selection of premium meats. It includes USDA Prime ribeye and filet mignon.
They offer a variety of individual items as well as thoughtfully curated meat packages, comparable to what you'd find at Omaha Steaks.
Stock Yards Complaints
The majority of complaints from previous customers centered around the price of Stock Yard's products and their customer service. Some customers felt that shipping prices were too high and that the products were too expensive.
A few users also complained of long wait times when calling customer service.
Related Reviews:
Online Reviews

After testing their products and service, we found that Stock Yards is an overall good company. The quality was okay even though it was a bit pricey. We also felt their service was responsive when we called to test them.
Everything about the company is what you would expect in terms of quality and order.
BBB Rating
Stock Yards has a rating of NR on the Better Business Bureau website. This likely means that it doesn't have enough reviews or ratings, despite being in business for over 36 years (1).
Yelp
The company has a rating of 2.5 stars out of a possible 5 on the Yelp review site. This is an average of the five reviews left on the website (2).
"Although the food itself is fine, the costs (products and shipping) are far too high, the rare discounts rarely seem to work and even promised "manually entered" corrections aren't made."

- Jenny P., Verified Yelp Reviewer
Facebook
The Stock Yard's Facebook page has over 22,000 likes and followers. They have an average rating of 3.7 stars out of 5 based on five reviews (3).
FAQs
US Foods owns Stock Yards. They are one of the largest food service distributors in the United States and the tenth-largest private company in America. The company has a strategic partnership with the 1-800-Flowers Corporation for the distribution and management of Stock Yards meat products. Customer service is also handled through 1-800-Flowers.
Does Stock Yards offer subscription boxes?
Stock Yards offers two subscription boxes. The first box is the Stock Yard club, which offers a monthly delivery of various products from their website, including pork, poultry, seafood, beef, and lamb. The second delivery box is the Steakhouse Club box, which offers monthly cuts of various steak and chops.
How do I contact Stock Yards?
You can contact Stock Yards either through the company's customer service center, service phone, or fax number. They also have a FAQ section with common questions.
Is Stock Yards Steak Worth It?
After testing their meat and customer service, we think that Stock Yards is a good company. However, we think that ButcherBox is better overall if you are looking for consistent and more affordable meat subscription deliveries.
What we like most about ButcherBox is their free shipping on all orders. We also like that they only sell pasture-fed meat and grass-fed beef, which are raised without hormones. If you want a consistent and affordable meat subscription service, check out ButcherBox today.
#1 Meat Delivery Service
ButcherBox
Click For Best Price

Pros
Grass-fed and grass-finished beef delivered directly to your door
Without antibiotics or added hormones
Customizable boxes available
Select from up to 21 different cuts
Get the BEST PRICE until the end of September
Was this article helpful?