With so many different steak companies available, you don't want to end up with a package full of mediocre products that you paid top dollar for. That's what happened to me.
At Carnivore Style, we try to take out the guesswork by comparing two steak delivery services, Chicago Steak Company vs Omaha Steaks. We think the Chicago Steak Company has the edge.
Keep reading to find out why in this Omaha Steaks vs Chicago Steak Company review.
Primary Difference Between Omaha & The Chicago Steak Company
The main difference between Chicago Steak Company and Omaha is in the meat quality. The Chicago Steak Company specializes in the best 3% of beef globally, while Omaha gives more budget meal options that don't taste as flavorful.
Another difference between these two companies has to do with their menu. The Chicago Steak Company has a more diverse list of grass-fed beef, including USDA prime, wet-aged, and dry-aged steak cuts.
Omaha doesn't have any great-tasting meat options as far as we can tell. They label their item as USDA inspected.
Chicago Steak Company Highlights

USDA prime beef
Wet and dry-aged

Omaha Steaks Highlights

USDA Choice
Angus beef
Ships to US, Canada, and Puerto Rico
Fast delivery
Menu Options

With its roots in the Union Stock Yards of Chicago, the Chicago Steak Company has more popular beef options to choose from, such as USDA prime beef, American Wagyu beef chops, filet mignon, baby back ribs, New York strip steak, pork chops, T-bone, and an assortment of aged steaks depending on your preference. Omaha Steaks meat delivery offers a well-selected portion of USDA Choice.
Based on their websites, both companies offer humanely-raised, growth hormone-free, and antibiotic-free beef, but Chicago's website seems to be lacking a grain-fed beef section. They both offer great seafood, lamb, veal, filet mignon, heritage pork chops, and chicken breasts.
Chicago's Selection

Wagyu burgers
Turkey
Filet mignon
Angus
Foie gras
Kurobuta pork

Omaha's Selection 

Wine and Ham
Desserts
Family butcher shop services
Black Angus burgers
Chicago Steaks Vs Omaha Steaks: Sourcing Practices
As per our Chicago Steak Company review, they source their beef from cattle in the mid-west region. They partner with excellent local and family farmland to ensure that high-quality standards are met and ensure an ultimate steak experience for satisfaction guarantee.
In our Omaha Steaks review, we found that since they are such a large and popular establishment, they source the best steaks from family farms and butcher shops all over the United States.
Chicago's Sourcing 

Mid-west region sourcing
Heritage cattle
Grain or corn-fed options
Free-range

Omaha's Sourcing 

Grass-fed and grain-finished beef
Sourced from small farms
Hand-cut orders
For a signature hand-selected American Wagyu porterhouse prime steak, click here.
Stock Quality

Both claim to offer the best steaks, but we thought Chicago Steak Company took the win. One of the items we received was the filet mignon. It was good, tender, and nicely marbled. It went straight to our dining room.
We could tell the premium certified product difference. Omaha reviews show that they offer premium wet-aged meat cuts, but it didn't quite compare in terms of tenderness. This may have something to do with the healthy aging process of the Chicago Steak service.
Chicago's Aging Process

Top 3% marbled
Juicy and tender
Great buttery flavor

Omaha's Aging Process

Thinner
Grass grazing with lean cut
Smaller cuts
Chicago Steak Company vs Omaha Steaks: Shipping & Delivery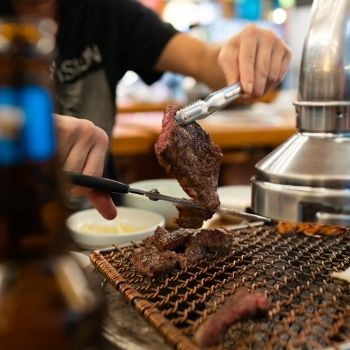 When we ordered hand-cut baby back ribs, angus beef cuts, T-bones, strip steaks, whole chicken, and prime rib from each website for a recent work barbecue, they all arrived with plenty of ice.
The meats are flash-frozen before shipping for 100% satisfaction guarantee.
The shipping costs for each delivery area averaged the same for both, with Chicago's larger items being a few dollars more.
Both mail order steak companies pack their quality meats in boxes and use a reusable cooler container with dry ice.
With Chicago Steak Company delivery service, shipping time was slightly longer, depending on the shipping method. The other provider's delivery area is greater since it includes regions outside the US states.
Pricing & Plans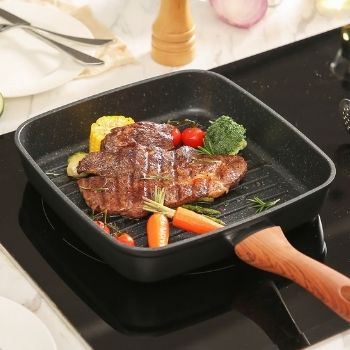 We find the pricing for Omaha's meat selection to be generally slightly less than the other service.
We thought that the slight price tag difference was worth it for wider list. However, neither place offers a subscription meat delivery services.
Customers' feedback for this meat delivery service states that it has a daily and monthly sale page.
Chicago Steak Company often runs promo codes, especially during the holiday season that include gifts and money savings deals on USDA prime meals, Angus beef, and sides.
Related Articles:
Chicago Steak Company vs Omaha Steaks: Flexibility
When it comes to flexibility in ordering, both Chicago Steak Company and Omaha Steaks offer options tailored to your needs:
Omaha Steaks allows you to shop without any subscriptions, giving you the freedom to order as often as you'd like and purchase the desired amount of food without any minimum order requirements.
Chicago Steak Company offers the choice between one-time orders and subscriptions. For one-off orders, there is no minimum value required.
Both companies ensure the availability of high-quality meats, including delicious steak cuts like New York strip steaks and American Wagyu beef. They also provide flexibility to cater to your individual preferences.
Omaha Steaks vs Chicago Steak Company: Customer Support
When we originally placed an order with both providers, we set a delivery date that conflicted with a trip. We called both companies to change the date to the next day. Omaha's customer service was even able to change our delivery date since the packaging had not been filled yet.
Based on our Chicago Steak Company review, Chicago's customer rep offered to change it for us as well. Customer service experience for both of these meal delivery services has an above-average rating.
FAQs
What grade of meat do both companies use?
Instead of labeling their products based on USDA's standards, Omaha created their own meat grade and referred to it as commodity beef or boxed beef. In comparison, Chicago Steak prides itself of USDA prime and choice selection.
How long will the steaks last in the freezer?
When placed in the freezer, the steaks will last for around three to six months. All steaks are vacuum sealed and flash-frozen. This special packaging allows meat to be at the peak of its tenderness and keeps it tasty for up to three months. Both companies suggest not to thaw the steaks at room temperature.
Thaw your Omaha and Chicago steaks in the refrigerator and not at room temperature. This process will preserve both flavor and tenderness of the meats. Thawing usually takes around 12 hours for steaks, and until you're all set to cook them, do not remove the plastic wrapping.
Why are my Chicago steaks brown?
According to Chicago Steak Company, the meat turns brown during vacuum sealing. As soon as the meat is thawed, it will be exposed to oxygen and the red color may return. In addition, the company reminds the consumer that aged steak often has a darker color compared to fresh meat as a result of the dry aging process.
Chicago Steak or Omaha Steaks? We Choose…
Based on our Chicago Steaks Vs Omaha Steaks comparison, while both companies claim to have the best steak, we think that Chicago Steak Company offers a better deal when it comes to the menu options and prices. They offer a wider list of beef that includes dry-aged steak.
But if you ask us, we recommend ButcherBox for our meats shipped week after week. We are quite impressed with how we always get the same great cut plus the best buttery taste every time we make an order.
You also get to curate your own subscription and have it delivered right to your doorstep, free of charge.
#1 Meat Delivery Service
ButcherBox
Click For Best Price

Pros
Grass-fed and grass-finished beef delivered directly to your door
Without antibiotics or added hormones
Customizable boxes available
Select from up to 21 different cuts
Get the BEST PRICE until the end of September
Was this article helpful?