In today's fast-paced world, the convenience of having high-quality meat delivered to your doorstep has never been more appealing.
Butcher Box and Good Chop are two meat delivery services that offer the delivery of fresh meat and seafood.
As a seasoned industry expert with years of experience in the carnivore diet, I've undertaken extensive research to determine which of these two leading meat delivery services is the best.
This research involved meticulous examination, consultations with other experts in the food delivery field, and customer experiences.
This article will guide you through the comparison and help you make an informed choice.
Good Chop vs Butcher Box: Key Differences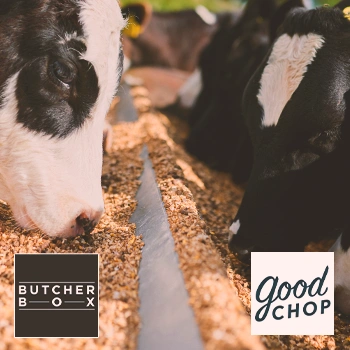 The main differences between these two meat delivery companies are their farming practices and flexibility in ordering.
ButcherBox's suppliers are all small farms that use only top-end sustainable practices.
This means that they provide excellent meat to the consumer. Good Chop also has good meat products, but there are some differences in their sourcing.
For example, they sell farm-raised fish, while Butcher Box always has wild-caught seafood.
ButcherBox's cattle are 100% grass-fed throughout their lifespan, while Good Chop starts grass-fed but finishes their beef with grain.
Butcher Box has free-range chicken certified as organic meat, while Good Chop does not.
Overall, ButcherBox meat delivery has a more natural and sustainable product. When ordering a Butcher Box, you only have one option if you want to customize your order. Otherwise, you will receive a curated package of meat that changes monthly.
With a Good Chop subscription, every purchase will come with only the cuts of meat that you ask for.
Comparing Their Features Head to Head

After testing each company's products, here's a summary of their features and how they stack up against each other.
1. Butcher Box vs Good Chop: Sourcing And Quality
When it comes to sourcing, it is vital to have confidence in the quality of the meat you're eating.
Fortunately, both companies care about where their products come from, and they devote an entire page on their websites to that question.
Butcher Box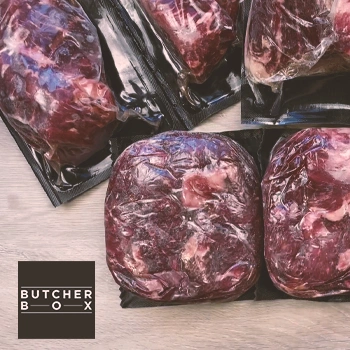 Butcher Box only sells 100% grass-fed, grass-finished beef that was humanely and pasture-raised [1]. They never gave the meat hormones or antibiotics.
They source the grass-fed beef from Australia, which has very high animal welfare standards and certifies the cattle to have freely roamed the pasture for their entire lives.
ButcherBox's meat subscription service has raised pork humanely that is never given antibiotics or hormones.
The heritage breed pork comes from the US and is a mix of heritage breeds such as Chester White, Berkshire, and Duroc [2]. The farmers bring the pigs up on all-vegetarian feed in pastures or hoop barns.
"We care about the lives of animals. We're proud to partner with folks who raise animals and harvest seafood with safety, sustainability, natural tendencies, and comfort in mind".

- ButcherBox
The chicken in Butcher Box is certified as organic and hormone/antibiotic-free. They are raised in accordance with Global Animal Partnership 3 certification, meaning the chickens have no cages, crates, or crowding.
They also have outdoor access, natural light, and shade. When the seasons don't allow for free-ranging, the chickens have windows in the barn and enrichment activities.
Finally, ButcherBox's seafood is wild-caught and never given antibiotics or added hormones.
The seafood is also sustainably harvested and contains no additives or artificial coloring. None of the seafood comes from fish farms.
Good Chop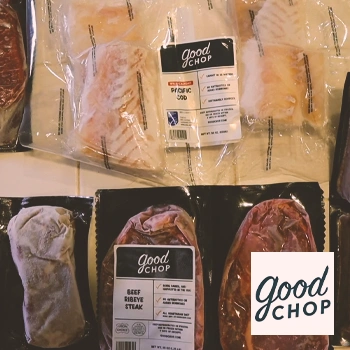 Good Chop has grass-fed beef that is grain-finished. They do not give the cattle antibiotics, preservatives, or hormones.
The cows are pasture-raised and allowed to roam freely on open ranges. The company sources these Angus cattle from sustainable family farms in Iowa, Nebraska, and South Dakota, resulting in USDA Choice and Prime-graded meat.
Good Chop sells pork that is US-bred and ethically raised. The pigs are given a vegetarian diet and are never given antibiotics, growth promoters, or hormones.
These hogs are brought up in climate-controlled barns, away from predators and dangerous weather. All Good Chop's pork farmers have had Pork Quality Assurance Plus training.
The chicken is raised on an all-vegetarian diet and is never fed antibiotics, growth stimulants, or hormones.
The farmers bring the chickens up cage-free and keep them in climate-controlled housing. They are harvested by hand to minimize stress, which can cause a poor taste in the chicken breast.
All of Good Chop's seafood is either wild-caught in the US or raised on US farms. They do not give the seafood antibiotics, growth hormones, or artificial coloring.
The seafood is also sustainably harvested and certified by either the Marine Stewardship Council or the Aquaculture Stewardship Council.
2. Meal Plans And Pricing

Pricing is always an important consideration. The two services are organized differently, so it is important to understand how each company charges.
Butcher Box
Butcher Box has six plan options from which to choose: Butcher Box Beef and chicken, Beef & Pork, Mixed, All Beef, Custom, and Basic.
The mixed box is a curated mix of humanely raised pork, free-range organic chicken, and hormone-free beef.
With the exception of the Basic subscription box, each of these choices comes in two sizes: Classic or Big.
The Classic subscription box has 8-11 pounds of meat, and the Big subscription box will give you 16-22 pounds of meat in total.
After choosing your box type and size, they give you the option to add ground beef, bacon, boneless chicken breasts, and salmon bites for an additional charge.
Butcher Box does offer free meat for life in the form of additional ground beef that comes with its subscription boxes.
Generally, the Classic box is $146, and the Big box runs $269 per month. You can also choose to have your food delivered every 4, 6, or 8 weeks.
Furthermore, you have the option to delay delivery or cancel the service altogether at any time.
There are two exceptions to the above pricing scheme. First, the Basic box is $99 for 7-7.5 pounds of meat.
Second, the Custom box is $169 for the Classic size (9-14 pounds) and $306 for the Big box (18-26 pounds).
Good Chop
Good Chop offers two different box sizes: Medium box and Large box. The Medium box lets you choose six cuts from the menu, and the Large gives you twelve.
Once you have chosen the size, you go to Good Chop's menu and pick the cuts you want to add to the box. You can select any mix of beef, chicken, pork, and seafood that you want.
Cuts from the menu range from 12 ounces of filet mignon to a 2.5-pound pork loin roast - meaning your box will have a weight that is unique to the pounds of meat you put in it.
The Medium box is $149, and the Large box is $269 every four weeks. You also can modify the delivery dates or cancel your subscription if you can't eat all the meats from last month and need some more time because you have a freezer stocked to the brim.
---
3. Good Chop vs Butcher Box: Menu And Selection

When it comes to the variety of meat, both companies have a good selection of beef, chicken, pork, and seafood. However, they do have differences in what is available to the customer.
Butcher Box
For most of its subscription box options, Butcher Box ships you a curated selection of meat and seafood. The company chooses the cuts you receive, and you do not have the ability to change them.
You never know precisely what you are going to get, but our experience was that they sent premium meats and family favorites that we readily turned into a healthy dinner.
If you want to hand-pick your own cuts, you need to sign up for the Custom box. Depending on your purchase size, the Custom subscription box lets you choose either 6 or 12 cuts of meat and seafood from ButcherBox's selection of more than 30 different items.
Examples of grass-fed beef cuts are conventional items like stew beef, ranch steaks, ground beef, ribeye steak, beef brisket, New York strip steaks, filet mignon, and shoulder roast.
Some pork options are bone-in pork, boneless chops, and St. Louis ribs. For Butcher Box, it has boneless chicken breasts, wings, thighs, etc. The seafood selection varies with the season but often includes wild-caught Alaskan salmon and cod.
Good Chop
A Good Chop box is always fully customizable. No matter which size you choose, you get to hand-pick every cut that goes into the subscription box from their menu of more than 30 different items.
The Good Chop subscription boxes provide high-quality meat and seafood, from premium cuts to the more pedantic.
The options range from more common cuts like ground beef, filet mignon, boneless chicken breast, and boneless pork chops to less frequently used selections such as ranch steak, bavette steaks, tri-tip, pork loin, and rockfish.
Many meat subscription services import their meat on huge cargoes from overseas, but we don't play that game. All of our meat comes from animals born, raised, and harvested by domestic family farms and independent ranchers. Our wild fish is caught off American coastlines, and our farm-raised seafood comes from U.S. fisheries.

- Good Chop
Good Chop also supplies ground pork, boneless, skinless chicken thighs, flat iron steaks, pork tenderloin, and a bottom round roast.
You can get chicken wings, porterhouse steak, top sirloin steaks, boneless pork butt, and breakfast sausage like ground Italian sausage.
Good Chop usually has between 4 and 6 different options available when you are looking for seafood. These include favorites like wild salmon burgers, shrimp, scallops, and wild-caught Pacific cod.
---
4. Shipping And Packaging
Getting your order to your door is an integral part of the equation. Here's how each company handles shipping.
Butcher Box
Butcher Box meat delivery service ships to all 48 contiguous United States and does not charge for delivery.
You cannot pick the precise date that you want the meat delivered, but you will get emailed the tracking information so you know when the package is coming.
The meat is shipped in an insulated box with dry ice and arrives frozen solid. The eco-friendly packaging is designed to keep the meat frozen for up to 6-8 hours after delivery, so you don't have to worry if you're not home when it's delivered.
The Butcher Box packaging is also environmentally sustainable, which is a nice touch. I recycled and reused the box and packing materials, which really added a nice touch to the whole experience.
Good Chop
The Good Chop meat delivery service delivers to most of the continental US and provides a zip code tool that allows you to determine if your location is eligible for the service. Its shipping is always free to customers.
Subscription box packaging is fully recyclable and can be placed in your curbside bin. You can pulp the cardboard box and interior liners since they are plant-based and renewable.
They send the grass-fed meat with enough dry ice in the box to keep the meat frozen and well-packaged. The dry ice will evaporate at room temperature, so there is no artificial gel to be disposed of after you have your meat delivered.
Related Articles:
---
Butcher Box Or Good Chop - Who Wins?
Both Butcher Box and Good Chop offer poultry, grass-fed meat, and seafood selections that are better than what you find at the local grocery store or even your local butcher. Shipping is free for both companies, and delivery times are similar.
However, ButcherBox has the edge in its meat quality and environmental sustainability. Its dedication to humanely raised animals is admirable and makes me confident in the company's ethical standards.
If you're looking to elevate your meat-eating experience, I encourage you to consider ButcherBox.
#1 Meat Delivery Service
ButcherBox
Click For Best Price

Pros
Grass-fed and grass-finished beef delivered directly to your door
Without antibiotics or added hormones
Customizable boxes available
Select from up to 21 different cuts
Get the BEST PRICE until the end of September
---
References
https://certifiedhumane.org/meat-labels-like-organic-grass-fed-actually-mean-whether-care/
https://www.ecofarmingdaily.com/raise-healthy-livestock/pigs/practical-pork/
Was this article helpful?