As a dedicated carnivore, I'm no stranger to meat delivery services.
I've made it my mission to test every meat delivery service available on the market.
Having reviewed countless services so far, I'll talk about two of the more popular ones: Good Ranchers and ButcherBox.
I'll explain their main features and how these two meat delivery services differ so that you can make your choice.
ButcherBox vs Good Ranchers: Key Differences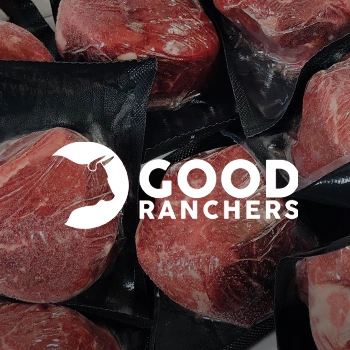 The main difference between Good Ranchers and ButcherBox is how many box subscription offers they have. I'll be honest, these two meat delivery services are very similar.
There aren't many differences in their meat offering, packaging, and delivery.
One difference is that Good Ranchers has seven subscription boxes, while ButcherBox has five. The subscription boxes differ in price.
All but one Good Ranchers subscription option is more expensive than ButcherBox.
Another important difference is where they source their meat. ButcherBox sources a large part of its meat outside of the US.
For example, a large portion of their beef comes from Australia because Australia has some of the best animal welfare programs.
On the other hand, Good Ranchers only source meat from the US.
Comparing Their Features Head to Head

These are the biggest features of Good Ranchers and ButcherBox meat delivery services.
1. Good Ranchers vs ButcherBox: Subscription Boxes
I mentioned that Good Ranchers delivery has seven meat subscription boxes.
Here's a breakdown of all of them, including the price:
Ranchers Classic $179 — Includes a selection of beef and chicken.
The cattleman $199 — Includes a selection of steaks, such as Sirloin steaks and Bone-in New York steak.
The cowboy $249 — Includes a selection of American Wagyu beef and steaks such as Ribeye.
New Year Bundle $394 — Includes a selection of American Wagyu Burgers, steaks such as Ribeye, Black Angus, Sirloin steak, and boneless skinless chicken breast.
Family Feast Bundle $394 — Includes a selection of steak burgers, boneless pork chops, pork tenderloin, filet mignon, marinated chicken breasts, and more.
Better than Organic Chicken $139 — An assortment of boneless skinless chicken breasts and whole chicken.
Prime seafood — Includes salmon filets, trout, shrimp, and Pacific snapper.
ButcherBox meat subscription options include:
Custom Box — You can choose up to 25 cuts of meat. It comes in two versions:

9 to 14 lbs $159
18 to 26 lbs $288

Mixed box — Includes beef, pork, and chicken meat.
Beef and chicken box — Includes 100% grass-fed beef and organic chicken.
Beef and pork box — Includes beef and humanely-raised pork.
All beef-box — Includes only grass-fed beef.
Apart from the custom box, all the other four boxes also come in two versions:
8 to 11 lbs $137
16 to 22 lbs $253
The larger box is a good option if you have a large family or some freezer space, so you can have your freezer stocked with meat for future use.
---
2. Meat Sourcing

Both Good Ranchers and ButcherBox place a lot of importance on meat sourcing and selling organic meat.
Here's how Good Ranchers online meat delivery sources their meat:
Beef — 100% American origin. Grass-fed and grass-finished beef [1].
Chicken — 100% American Cornish, grown without hormones and additives, grain-fed.
Pork — Heritage Berkshire.
Seafood — Sustainably harvested, packaged straight on the boat to preserve freshness.
"We care about providing your family with high-quality meat at a reasonable price. This means all of our cattle are grass-fed and grain-finished to get that rich taste and marbled texture. All of our livestock grow in a stress-free environment and are never fed anything unnatural."
- Good Ranchers Official Website
Good Ranchers says they source meat from local ranches and farms in the US. Their farms use modern and innovative techniques to make sure the meat delivered to you is high-quality.
Here's how ButcherBox sources their meat:
Beef — Grass-finished and grass-fed [2]. The beef is never given hormones or antibiotics and is pasture-raised. The majority of their beef comes from Australia as they have the best meat quality.
Humanely-raised pork — Crate-free, humanely raised. Comes from heritage breed lines, such as Berkshire, Duroc, and Chester White. Due to this, the pork will have better marbling.
Chicken — Free-range chicken and USDA-certified organic.
Wild-caught seafood — Wild-caught seafood is sustainably harvested, so there's enough left for future generations. They offer wild-caught salmon, cod, halibut, sea scallops, and lobster.
---
3. ButcherBox vs Good Ranchers: Shipping and Delivery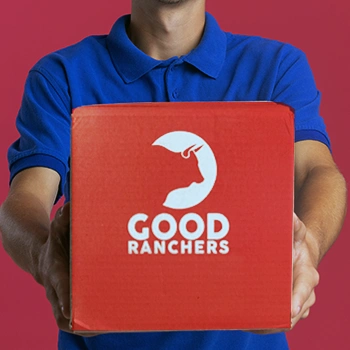 Good Ranchers doesn't provide much info about their shopping practices. Here's how my order went.
My box arrived about four days after placing my meat subscription. I received one large box full of smaller boxes.
Each cut of meat was individually wrapped in vacuum-sealed bags and frozen. There was also some dry ice included to keep it cold.
Good Ranchers lets you choose when you want your box to arrive — every 4, 6, or 8 weeks.
ButcherBox has a more tempting shipping offer. It's completely free, and you'll get free ground beef for the duration of your subscription.
They send an email when you place your order, so you'll know when to expect it. However, you don't have to be home to receive the order.
Their high-quality meats are shipped in 100% recyclable, insulated cardboard boxes.
Each cut of sustainable meat is individually wrapped, flash-frozen, and packed with dry ice so that it can stay outside for several hours.
You can also choose how often you want a subscription box delivered to you — 4, 6, or every 8 weeks.
---
Stand Out Features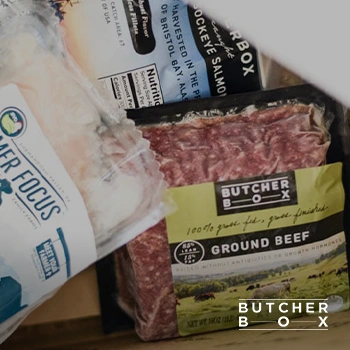 Both Good Ranchers and ButcherBox sell conventional meat. However, ButcherBox also has some special offerings.
Their website has a section where you can choose between eight additional gift meat boxes. These include their newest cuts of meat, meats for special occasions, and mini boxes.
These meat boxes are a much better idea than a gift card. Your meat-loving friends and family would be thrilled to get some free meat.
Related Articles:
ButcherBox vs Good Ranchers: What's Better?
My vote for the best delivery meat service goes to ButcherBox. They sell grass-finished organic meat of higher quality than corn-finished beef.
Their pasture-raised animals are grown without hormones or additives. Moreover, they have a large selection — everything from steaks and ground pork to breakfast sausage or sustainably sourced seafood.
With ButcherBox, there's no more need to run to the local grocery store when you crave some meat. They are a one-stop shop for all of your meat needs.
Choose between a Custom Box or one of their pre-selected boxes. You'll never be bored with their meat selection regardless of which subscription box you opt for.
Most importantly, each cut of meat ButcherBox will taste delicious, and you'll pay less than many other meat subscriptions, Good Ranchers included.
Click here, and order your subscription box today.
#1 Meat Delivery Service
ButcherBox
Click For Best Price

Pros
Grass-fed and grass-finished beef delivered directly to your door
Without antibiotics or added hormones
Customizable boxes available
Select from up to 21 different cuts
Get the BEST PRICE until the end of May
Was this article helpful?