Having spent a decade exploring the world of outdoor cooking, I've come to rely on pellet grills as an essential tool. As an avid griller and enthusiast, I understand the nuances of achieving that perfect wood-fired flavor without breaking the bank.
So, I tested seven of the best pellet grills under $500 to see if I could get the same quality of pricey grills without breaking the bank.
If you are embarking on the journey of finding the ultimate pellet grill under $500 this comprehensive buyer's guide can steer you toward the perfect choice that aligns with your outdoor cooking aspirations.
Top 7 Pellet Grills under $500
Buyer's Guide for the Best Pellet Grill under $500
Here is a buyer's guide to help you navigate your way through the best pellet grills under $500.
1. Cooking Area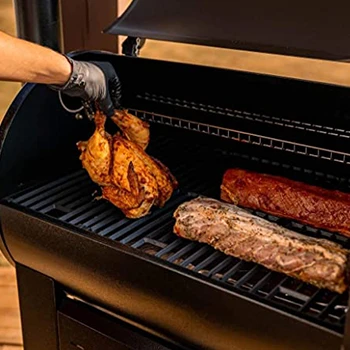 Sufficient cooking space and grilling area are one of the most important factors I consider when buying a pellet grill.
If you plan on hosting large backyard barbecues, your cooking area must be large enough to accommodate all of your guests' food. However, if you just need something basic for small family meals, you won't need as much cooking space.
Double-check the dimensions of any pellet grill before purchasing it so that you get one with enough cooking area for your needs.
2. Portability
Portability is another key factor in choosing among the best pellet grills under $500. Most models have handles, making them easy to move from place to place.
However, larger models may not be as mobile – so if portability is an important factor for you, then select one with caster wheels or other means of transportation.
Read More: Best Portable Pellet Grills
3. Durability
Having delved into the intricacies of wood pellet grills, durability has emerged as a vital factor. As someone who prizes longevity in culinary investments, I've learned to seek models that withstand the test of time.
Fortunately, most reliable pellet grills are made of durable materials such as stainless steel or powder-coated metal to withstand the weather and last for years.
Check the warranty period before making your purchase; some companies offer extended warranties of up to 10 years.
4. Performance
The reason to buy a pellet grill smoker is to get great cooking results without worrying about charcoal or gas grills' inconvenience or mess.
In my quest for flavor consistency, I've come to appreciate that the best pellet grills under $500 derive their culinary prowess from the use of hardwood pellets or compressed sawdust. This choice of fuel source leads to reliably delectable outcomes in these pellet smokers.
Look for models with digital temperature gauges so you can set and monitor your desired cooking temperature accurately and efficiently.
Also, a large pellet hopper capacity is essential, so you don't have to add pellets continually while cooking.
5. Power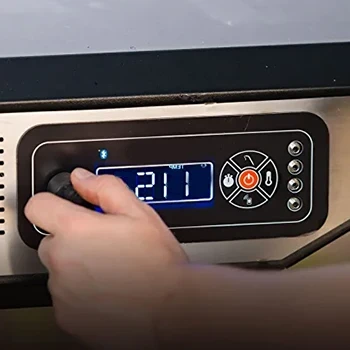 Most of the best pellet grills under $500 offer temperatures ranging from 180°F up to 500°F—plenty of room for low-and-slow smoking as well as searing steaks.
Some models even allow you to adjust the temperature in 5° increments so that precise temperatures can be achieved when needed, making them ideal for more complex recipes, like pizza or bread.
Many modern grills also have advanced features like direct flame broiling and app control capabilities that allow you to monitor your food without opening up the lid.
6. Convenience
Having evaluated an array of pallet grill smokers throughout my culinary journey, I've found that a discerning examination of a grill's features is the key to pinpointing the ideal companion for your grilling ventures.
Many of them come with digital control systems for precise temperature settings, as well as automatic ignition, automatic shutoff timers, and meat probes.
Additionally, some pellet grills come with pellet hopper extensions or larger hopper capacity so that you can cook for longer periods without reloading pellets.
7. Accessories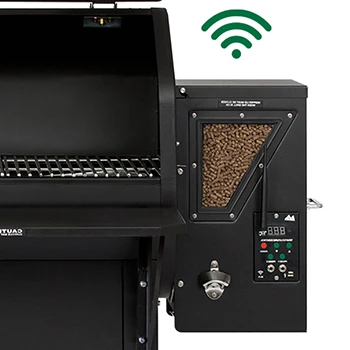 Pellet grills come with all kinds of helpful accessories, even when you're shopping on a budget.
Look for models that include side shelves for prep space; handles for easy portability; integrated thermometers for precise temperature control; and even Wi-Fi connectivity so you can monitor your food from anywhere.
And don't forget about storage space—look for larger grill models with plenty of room in the hopper, firebox, and ash pan so you can stock up on supplies before your next cookout.
Also Read: Best WiFi Pellet Grills & Smokers
8. Safety
When using pellet grill, you need to take several safety tips into consideration to enjoy fun grilling or smoking [1].
Seven out of every 10 adults in the U.S. have a grill or smoke, which translates to a lot of tasty meals. But it also means there's an increased risk of home fires. -National Fire Protection Association
Fortunately, most pellet grills have integrated sensors and controllers that keep temperatures consistent throughout the cooking process.
Plus, some high-end grills feature built-in shutoff timers that turn off the grill after a period of non-use - a great feature if you tend to forget about your grill while while doing other things.
FAQs
Is Buying a Pellet Grill Worth the Investment?
Yes, buying a pellet grill is worth the investment because these grills offer convenience, consistency, and control that you wouldn't get with a traditional charcoal grill.
Many models come with helpful accessories like side shelves and thermometers for easy internal temperature monitoring.
Does Food Taste Better on a Pellet Grill?
Food tastes better on a pellet grill because of the wood pellets' smoky flavor. Additionally, many pellet grills allow you to cook food at a consistent temperature which helps ensure that everything is cooked evenly.
Are Pellet Grills Easy to Clean?
Yes, most pellet grills are very easy to clean. The best pellet smokers come with a removable ash pan and a grease management system that allows you to quickly dispose of any leftover ashes or debris after cooking.
What Is the Best Inexpensive Pellet Grill for You?
The best inexpensive pellet grill for you is one that is versatile and of high quality that rivals even the most premium counterparts.
My vote for the best pocket friendly pellet grill goes to the Z GRILLS-550B.
This model offers plenty of features, like a good hopper capacity, temperature monitoring system, and convection cooking––all for a great price.
Plus, online users rave about the flavor that this grill produces thanks to the wood pellets it uses. So, if you're on a budget but still want a quality pellet grill experience, consider the Z GRILLS-550B.
Z GRILLS-550B Wood Pellet Grill
Our #1 Recommendation
Comes with "Set and Forget" operation
Pellets deliver great wood flavor
Convection cooking heats evenly
Holds up to 10 lbs of pellets
Get the BEST PRICE until the end of September
References:
https://www.hpba.org/Consumer-Information/Barbecue-Outdoor-Living/Grill-Safety/Pellet-Grill
Was this article helpful?