Cooking on the high seas or wherever you prefer boating can be a great experience - warm weather, delicious food, and wonderful company. That being said, there aren't many manufacturers out there that produce high-quality grills for boats.
That's why we've reviewed the top boat grills to help you make an informed decision about which boating grill to get.
We've spent hours upon hours scrolling through grilling and boating forums, checking out genuine boat BBQ grill reviews, and trying out the most popular models to ensure you're getting the most bang for your buck.
#3rd Best Choice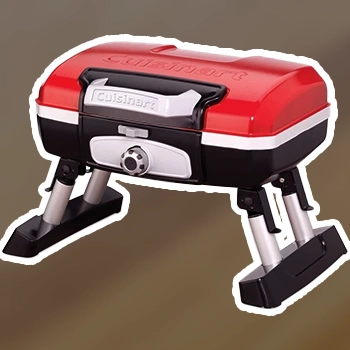 Cuisinart CGG-180T
Check Current Price
Top 11 Boat Grills on the Market
Premium-Quality Boat Grill Buying Guide

When searching for portable grills, there are a few things you should keep in mind to ensure you're buying what's right for you.
1. Fuel Type
When selecting the best boat grill, the fuel type you opt for will play a vital role in how and where you can use it. Some of the most common fuel types for boat grills include:
1) Charcoal
A charcoal grill provides a more traditional smokey flavor that many people enjoy. The added benefit is that charcoal boat grills are easier to move around without clunky parts or the need for a generator.
The downside with charcoal boat grills is that charcoal briquettes need to stay dry, which can be more challenging on a boat. Also, if the body of water you are on is windy, keeping charcoal boat grills lit can be more difficult.
As such, your charcoal grills could end up useless, depriving you of grill food for the rest of the trip.
2) Propane
Propane boat grills may be the most popular fuel type when it comes to the best boat grills. There are a few different reasons for this, but it boils down to easier fuel storage and improved wind resistance. Unlike bags of charcoal, portable propane tanks for a boat gas grill are easier to stow away and keep dry on a boat.
While propane is still susceptible to windy conditions, it can generally fare better than charcoal boat grills. You don't have to worry about embers blowing around on your boat and trying to keep the grill hot. We typically favor propane-powered grills when it comes to the best boat grills.
3) Electric
Electric grills are not favorable for many boat owners. These grill types have significant advantages over propane and boat charcoal grill models, but the glaring challenge is that you need a steady electricity source.
Many larger boats come with electric boat grills, but these are usually permanent fixtures of the boat and tend to be much more expensive.
The main advantage of electric boat grills is that there is no open flame, so they can be used in areas where the portable gas grill and charcoal are prohibited, such as marina docks. Electric grills also tend to perform better in windy conditions.
2. Grill Construction Materials
An essential feature when it comes to the best portable grills is the material. Grilling on a boat adds water, and potentially salt water, to the list of things that can damage your portable grill.
"The deposition of salt particles on a metallic surface accelerates its corrosion...For salt to accelerate corrosion, the metallic surface needs to be wet."
- Jenifer Alcantara, National Institute of Health 
You want to make sure that you use marine-grade steel or other corrosive and rust-resistant material for the boat grills. This holds doubly true around salt water, where the salt can be particularly harsh for metals [1].
3. Grill Size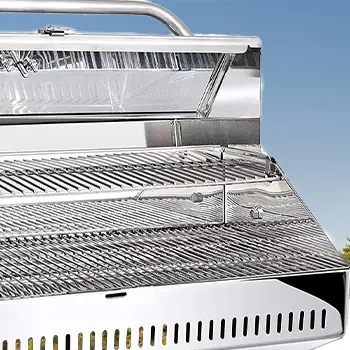 The cooking space of boat grills will be one of the leading indicators of the overall grill size, but other factors come into play.
Some things that can impact your grill's size include how it mounts to the boat and extra shelving and storage space.
As previously mentioned, you have limited space on your boat and will need to stow away your boat grills when not in use.
Try and opt for smaller boat grills where the extra pieces such as stands and trays all fold away.
Always measure your storage space before settling on a specific boat grill's size.
4. Ease of Installation
If you opt for a tabletop boat grill, then you don't have much to worry about, as you can use these on any flat surface. However, if you plan to mount your boat grills, you need to consider how to go about this.
You can generally connect the mounting brackets to the railing with pontoon boats. You can usually use a rod holder with a bowrider or the railing if your boat has it.
Ultimately, you want a method of installation that is easy to set up and take down without requiring much in the way of extra work.
5. Grill Heat Output BTUs
BTU stands for British Thermal Unit, and it measures how much energy an appliance like a boat grill uses. This translates into how much fuel your boat grills will use and how efficiently it will get the job done.
Higher BTUs don't always mean you will get hotter temperatures or a more powerful boat grills model.
"A BTU is a measure of the...quantity of heat required to raise the temperature of one pound of liquid water by 1 degree Fahrenheit"
- Energy Basics Guide, US Energy Information Administration
The consensus is that you want to look for around 100 BTUs per square inch of cooking space for boat grills. Any more than this, you aren't necessarily going to get any improvement in boat grills performance, and you will be using fuel faster [2].
6. Grill Construction Quality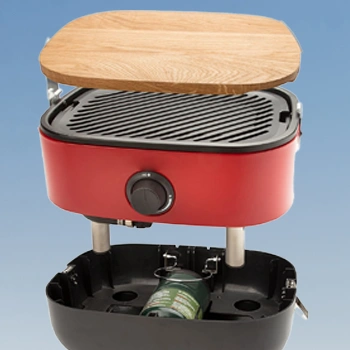 Being out on the water means that your boat grills will likely take a bit of an extra beating than your average at-home model. On top of added water exposure, you will probably often pack and unpack the grill.
Thus, you want to look for a simple boat grill model without too many extra parts or pieces that can break off.
Ensure any assembly looks decent and that items like screws and bolts and the mounting bracket are all marine grade and won't rust easily.
7. Extra Features
As we've noted already, too many extra features aren't always a good thing with boat and RV grills. With that said, some specific features can be beneficial.
Some of the particular extra features we recommend looking for include:
Multiple propane hookup options
Extra shelving space
Foldable stands
Thermometers
Warming Rack
The vital thing to always keep in mind is that you have limited space. We recommend looking for options that don't add extra size to the boat grills.
An example of this is a thermometer in the hinged lid or shelves that fold into the grill when in storage.
8. Number of Burners
Depending on how large your grill is, you may need to consider an option with more than one burner. Having two or more burners ensures that heat is evenly distributed throughout the cooking chamber [3].
Most of the smaller grills on this list had a single stainless steel burner. Because marine grills are usually smaller, this is fine. If you opt for a larger model for a larger watercraft, then having two burners can be beneficial.
Related Reviews:
FAQs
Is It Safe to Grill on a Boat?
It is entirely safe to grill on a boat as long as you follow proper safety procedures and only use certified equipment properly. You should avoid using the grill while the boat is moving.
Also, make sure to have appropriate fire safety equipment on board.
Is It Legal to Use a Grill on a Boat?
In most places, it is generally legal to use a grill on a boat. There may be some specific rules regarding what kind of grill and what type of fuel can be used, so it's important to check local regulations in each area before using your grill on your watercraft.
Is Charcoal or Propane Better for a Boat Grill?
Propane is generally seen as being better for a stainless-steel boat grill than charcoal.
The primary issue with charcoal is that you have to store coals without getting them wet. There is also the added risk of embers blowing out of the grill, presenting a hazard in windy conditions.
Best Boat Grill - Our Winner
After carefully reviewing and testing numerous marine grills, we've determined that Traeger Ranger is the best boat grill.
The model has a hopper with 8 lbs of capacity, making it an ideal boat grill because you don't have to worry about running out of fuel. It has impressive heat distribution and a digital controller that allows you to maintain the temperature and gives your food a delicious smokey taste.
Traeger Ranger scores high in portability because of its compact size, which is another essential feature for these grills. You can't go wrong with this model.
Traeger Ranger (Best Overall)
Our #1 Recommendation
Digital arc controller
Keep warm mode ensures food stays ready-to-eat
Comes with a griddle in addition to cooking grates
Get the BEST PRICE until the end of December
Was this article helpful?