Traeger manufactures grills that give you delicious, wood-fired flavor. They are good for grilling, smoking, baking, roasting, braising, and barbecuing.
I've based the list of best grills on my experience with Traeger-brand pellet grills and other users' Traeger grill reviews.
Today, I'll give you the list of the best Traeger grills. I'll also include a buying guide so you can easily decide on the grill that's best for you.
Our Top 6 Traeger Grills
After years of trying out Traeger-brand pellet grills, I've narrowed my list down to the six best ones for these Traeger grill reviews.
Our Top Products
Traeger Pellet Grill Buying Guide
Here's everything you should know before you buy Traeger-brand pellet grills.
1. Materials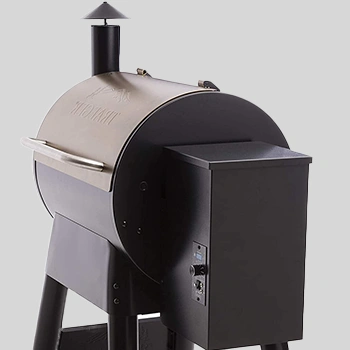 Overall, all Traeger grills are well-made, but there are some nuances to look for.
For example, stainless steel is considered the best build material for a grill. This is also the material Traeger usually uses for their grills.
It's the most durable and provides good insulation. Top-of-the-line Timberline grills have stainless steel build.
However, pay attention to every part of the grill. For example, the frame can sometimes be made of another material that will rust faster.
Another good and budget-friendly material is porcelain or ceramic, but it can crack much easier.
The material quality will also determine how good the isolation will be. Traeger Ironwood and Timerbline grills all have double-walled insulation, which is better for maintaining temperature for a long time.
2. Temperature Range
Pellet smokers are versatile because they have a wide temperature range. You can smoke at low temperatures, 225 to 272 degrees, bake at 300 degrees, and grill at 450 degrees and over.
A Traeger smoker has the low-end covered. They can smoke low and slowly and hold low temperatures.
But, not all of them can hit the high temperatures needed for grilling, like a gas grill and a charcoal grill can.
To get the best temperature range, check Traeger grill reviews before buying, or go straight for Traeger Ironwood or Timberline grill.
If you don't plan to sear or grill, then any Traeger pellet smoker will work for you.
3. Size and Cooking Capacity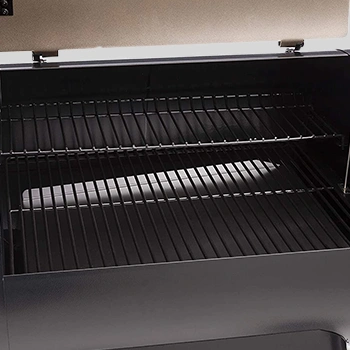 Traeger grills come in different shapes and sizes. While the shape is more of a cosmetic matter, the size and cooking area are important to consider.
Smaller versions like Tailgate Portable grills are suitable when cooking for one or two people, but if you need to cook for larger groups of people, then opt for Timberline 1300, which has 1300 square inches of cooking capacity.
Check how much available space you have, and ensure the grill is safe from the trees, fence, shed, and other structures.
One last thing in terms of size is to consider pellet hopper capacity. Portable grills have a smaller size, and you won't be able to use them for long.
4. Technology
Traeger manufactures pellet grill models, and they burn wood pellets that are automatically sent from the pellet hopper to the fire pot by an auger. But, there are some differences in how this works.
Some Traegers have Wi-Fi while others don't. Wi-Fi allows you to monitor and operate the grill via a Traeger app remotely.
Also, some Traeger models, such as Timberline, have even more functions for precise temperature thanks to augers and fans.
The first Trager pellet grill line won't have tech features but only a simple control panel. They are more basic but could be a good choice if you don't want or need bells and whistles.
5. Extra Features
All grills I've listed, as well as other pellet grills, usually have these features:
Smoker attachment — For providing moderate smoke flavor to foods as they cook.
Side burners or multiple-level cooking surfaces — These allow you to cook different kinds of food at the same time. Plus, you'll get more cooking area.
Built-in lights — These will come in handy if you cook during the winter months or at night.
Searing ability — Pellet grills can struggle to sear, so some models come with a searing attachment for reaching high temperatures.
Portability — If you plan to use your grill on camping trips, you'll need one that can fold up and is lightweight.
Chances are, you don't need all of these features. Get a Traeger grill with features that you'll use. Extra features cost extra, so there's no need to buy something you won't use.
Another consideration is what the features will cost you later on. For example, getting a grill with a side shelf for prep may be more affordable than buying it later.
6. Ease of Use
Another feature connected to the features I talked about above is ease of use. After all, the extra features don't mean much if they make the use more difficult.
The best grill is easy to assemble, operate, and clean. These pellet grills have options such as pellet sensors, hopper cleanouts, extra prep racks, grease pans, and more.
Overall, these pellet grills are easy to use, even if you're a beginner. They have a simple ignition, such as auto start, so it's even easy to fire up the barbecue, which many users stress over.
You Might Also Like: Best Grill for Beginners
7. Price

One final consideration that sums up everything I talked about above is the price.
For example, larger size, more cooking area, higher heat, durable construction, and more features mean more money.
It's a good idea to determine how much you're willing to spend before you go shopping because the price can otherwise quickly go up.
To determine the budget that works for you, think about:
Size — If a grill is too small for your needs, you'll just end up spending money on getting a bigger one.
Build — Buying cheap materials will mean having to replace your grill soon, so it doesn't pay off to skimp on the build in the long run.
Features — What features do you need, and what can you live without or get down the road?
Storage — You'll probably keep the grill outdoors and have to invest in a grill cover.
With Traeger, you get what you pay for. They may be more expensive than their competitors, such as Z grills, but you'll have a quality grill.
Traeger also has entry-level grills that sell for a reasonable cost, such as their original wood pellet device. My advice is to stretch the budget if you can. You'll have more options, easier use, and many years of cooking ahead of you.
Related Articles:
FAQs
How Long Does a 20 LB Bag of Traeger Pellets Last?
A 20 lb bag of Traeger pellets lasts between 6 to 20 hours [1].
What's So Special About Traeger Pellet Grills?
The thing that's special about Traeger grills is that they give wood-fired flavor to your food that can't be achieved with other grills. They are also very versatile. You can grill, smoke, bake, braise, barbecue, or roast, all in one grill.
Can You Grill Steaks on a Traeger?
Yes, you can grill steaks on a Traeger. You'll have to preheat for 15 minutes with the lid closed. Then place the steak on the grate and grill for 4 to 6 minutes on each side. You should flip the steak occasionally until the internal temperature reaches 135 degrees [2].
Choose the Best Traeger Grill for You
All the grills I listed are high-quality wood pellet grills. However, my top pick is the Traeger pro 575 wood pellet grill. This grill has precise temperature control, which goes up to 500 degrees. This is enough for searing food.
It has plenty of high-tech features, so you can connect the grill to your home technology and control it via voice control. There's no more need to stand above the grill, use a meat probe thermometer, and constantly monitor the cooking. The grill does all the work for you.
Finally, there's versatile cooking. You can grill smoke, bake, braise, roast, or BBQ, all on the same grill.
Click here and get your grill today.
Traeger Pro 575 Wood Pellet Grill (Best Overall)
Our #1 Recommendation
Has D2 direct technology for quick startup
Porcelain grill grates are easy to clean
WiFIRE enables voice control
6-in-1 cooking options
Get the BEST PRICE until the end of December
Was this article helpful?