A top-of-the-range gas grill can end up costing you thousands of dollars, but what if you have a budget?
Finding quality gas grills under $200 is difficult, but not impossible.
You may not get a heavy-duty grill that lasts forever, but a budget-friendly grill will be enough to get you through plenty of grilling seasons.
Since there's a wide range of manufacturers on the market, we've decided to make it easier for you.
We researched and tested seven different gas grills to find out which will get you the biggest bang for your buck. We also included a buyer's guide, so you know what to look for next time you shop.
The Best Gas Grills Under $200
#3rd Best Choice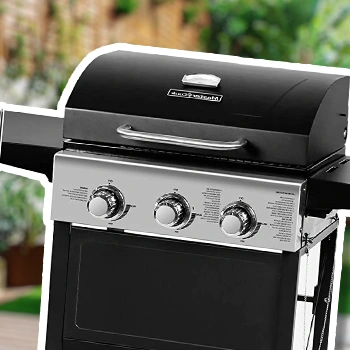 Master Cook
Check Current Price
Best Gas Grills Under $200:
Gas Grills Buyer's Guide:

Here are a few things to consider before purchasing your grill:
1. Natural Gas Grill Vs. Regular Gas Grill
Propane grills are used by 64% of gas users in the U.S. That being said, natural gas is making its comeback, and many grills can use both natural and propane gas [1].
Natural gas grills hook up to your house gas line, meaning there is an endless amount of fuel for you to use.
They're also the more convenient of the two and will lower your carbon footprint compared to propane grills.
"Grilling is much more relaxing when you are not trying to juggle a whole collection of plates and bowls as you do it. If your grill doesn't have enough workspace - and they almost never do - set up a table right next to your grill."
- Bobby Flay, Chef
Unlike natural gas, a propane grill requires the use of gas tanks, which can be both a pro and a con. While you need to ensure you have enough gas to get you through the cook, you can also grill anywhere, as you don't need to be hooked up to a gas line. They also create more heat.
2. BTU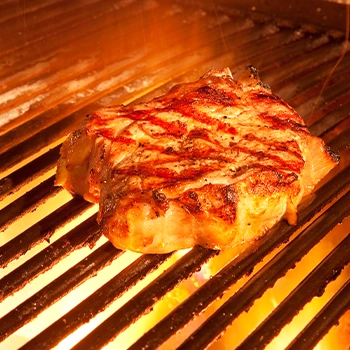 BTU (British Thermal Unit) is used to measure express heat units.
It can be used to determine how much energy is needed to increase the temperature, and a high BTU doesn't necessarily mean that your grill will produce more heat [2].
When choosing a grill, you should focus on the BTU and the size and shape of the unit. If you have a large grill, you will need a higher BTU.
It is fine to have a lower BTU if you have a smaller cooking surface.
3. Heat Flux
You need to look for this when determining how hot your grill gets. Divide your primary cooking area (excluding the warming racks) by the BTU.
The higher the heat flux, the more heat your grill will produce.
Keep in mind that the heat flux measurement isn't a perfect representation of heat either. If the burners are further from the cooking area, there will be cooler areas around the burner.
4. Size
If you're only an occasional griller, you don't have much yard space, or you're not planning on throwing huge barbeque parties, a tabletop unit may be better for you.
If you're planning on using your grill a lot and have extra space, you'd be better off with a full-sized grill, and this will give you extra storage space and additional cooking space.
5. Cooking Area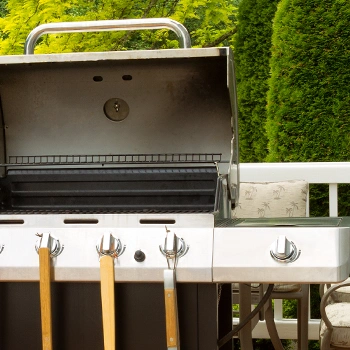 How many people you cook for and what you plan to cook will determine how large you need your main cooking surface to be.
Typically, a grill with three burners will give you 450 - 500 square inches of the grill surface. This will usually be enough to feed an average household.
If you're cooking for large families or throwing parties, a grill with 500 - 600 square inches of cooking space would be a better option.
Some barbecue grills offer a side burner that can give you a slightly bigger cooking area.
Related Articles:
FAQs
What Materials Make a Good Grill?
The best gas grills will be made from cast iron, cast aluminum, or enamel bonded steel. Cast iron grates can rust if not painted properly, and aluminum and steel may discolor over time. So, you should always take extra care of your grill.
How Much Should I Spend on a New Gas Grill?
Propane gas grills can cost anywhere between $200 to well over $1,000. A cheap grill doesn't have to be of bad quality if you purchase it from a good manufacturer.
Good gas grills will retain heat well, be easy to use, and be built from quality materials. While it is fun to have all the bells and whistles an expensive grill comes with, it isn't always necessary.
Best Gas Grills Under $200 - Our Winner
All of the grills reviewed here today are worthy competitors. That being said, our winner of the recommended gas grills under the $200 battle has to be the Char-Broil Classic grill.
This grill offers a large cooking area of 280 square inches,  with impressive BTU power of 20,000, and the option to upgrade it with a side burner of 8,000 BTUs.
We also liked that it provides two additional folding shelves, giving grillers extra space for the preparation. We recommend you try the Char-Broil Classic grill and reap all mentioned benefits.
Char-Broil Classic 280 Grill (Best Overall)
Our #1 Recommendation
Five years of warranty
Optional side burner
Easy to transport
Get the BEST PRICE until the end of December
Was this article helpful?