You don't want to spend a ton of money on an expensive knife. This is why you're looking for the best chef's knives for under 100 dollars.
The problem is that most people don't understand the difference between a cheap knife and an affordable chef knife.
If you've ever purchased a cheap knife, then you know how disappointing it can be when they break or become dull after only a few uses.
Cheap chef's knives are not worth your time and money. You need a good knife that is inexpensive and gets the job done.
Let's look for the best affordable chef's knife.
The Best Chef Knives Under $100
#2nd Best Choice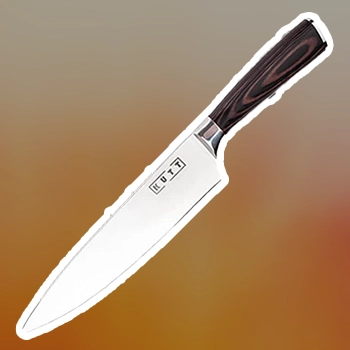 Shinobu Knife
Check Current Price
#3rd Best Choice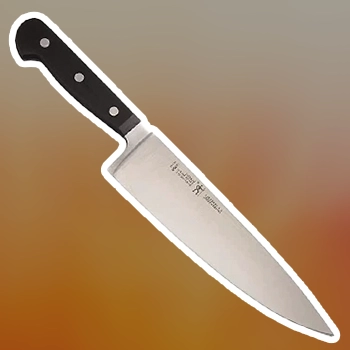 J.A. Henckels
Check Current Price
Our Best Chef's Knives Under $100
The Best Chef's Knife - Buyer's Guide

When looking for the best chef's knife under $100, there are some things a buyer should consider [1].
1. Price
Be aware that price does not always equate to quality. The best chef's knives are not always the most expensive.
You can find a solid chef's knife at many different price points. Thus, it is important to look at elements such as quality in the steel and knife construction.
2. Durability
Any chef's knife you buy should be able to take the abuse of regular duty in your kitchen.
You want the handle to hold up to wear and tear, so you should look for elements that hold the handle on firmly.
The blade on a good chef's knife also should be made of high-quality materials, be rust-resistant, and be able to withstand daily work and cleaning without breaking or chipping.
3. Grip Comfort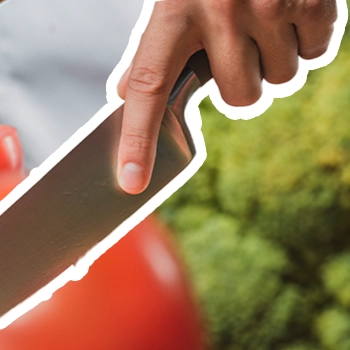 Without a doubt, the best chef's knives will feel good in your hands.
You never want your grip to be awkward, so the handle should have a good grip, whether it is ergonomically designed or not.
The knife should fit comfortably into your hand without causing cramping or strain on your fingers or wrist.
Additionally, since having the chef's knife slip from your hand can result in injury, it is important to look for a non-slip grip, even when wet.
4. Heft
The weight of the chef's knife tends to be a very personal preference. Some people prefer something heavy that seems substantial, while others like a lighter weight for quick slicing.
The knife should have some weight to it, but if it's too heavy, you may get tired quickly while cooking. So pick one that feels good in your hand and doesn't cause fatigue.
5. Balance
The best chef's knives have an even balance. In fact, an evenly balanced knife will feel like an extension of your arm.
You'll know you have a good balance when you can manipulate it easily, even with one hand. It will slice through ingredients efficiently and require less effort.
6. Look
While this may seem trivial, some knives are very aesthetically pleasing, while others could stand an upgrade.
Choose a good chef's knife that you like the appearance of, as this will be one tool with which you do much of your work.
7. Safety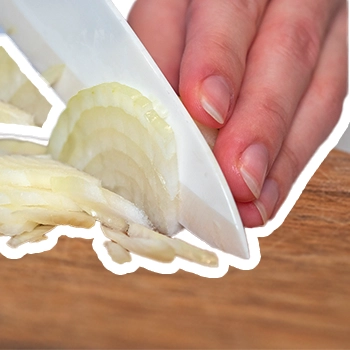 The best chef's knives come with different knife curves, edge geometries, and angles that result in different sharpness levels.
This is particularly true when comparing Japanese-style knives to Western knives.
The best Japanese chef's knife will have a very sharp edge compared to a Wusthof classic knife or other German classic chef's knife.
A sharp knife is safer than a dull one, but a change in edge or blade shape can throw even a seasoned chef.
"Having sharp, great knives will enable you to cook very precisely. Knife skills are essential in cooking."
- Eric Ripert, Chef
You should be aware of how different knives are designed and how they function so that you can avoid injury. Stamped blade vs. forged knives, classic chef knife vs. santoku knife, full tang vs. partial - they all impact the safety and function of the blade. It especially applies to the santoku knife.
Related Articles:
FAQs
What Brand of Knives Do Professional Chefs Prefer?
Let's start by saying that there is no single answer to this question. Every professional chef has their favorite professional knife brand, and that favorite may change depending on if you are talking about their boning knife, utility knife, or paring knife.
Moreover, since these are the essential tools of their trade, professionals are not afraid to spend money on their knives. This is one of the reasons why they tend to go for expensive brands.
However, certain professional chef's knives are known by chefs to be of high quality.
These brands include German knives such as Wusthof forged knives, Zwilling J.A. Henckels, and Messermeister. German stainless steel has been the hallmark of a high-quality chef's knife for many years.
Professionals also increasingly use Japanese chef's knives from professional chef's knife makers like Masahiro, Masamoto, Takamura, Shun, and Misono. The forged blades and full tang of a Japanese knife with a razor-sharp edge are hard to argue against.
Whether the professional prefers a Japanese-style knife or a German classic knife remains an individual preference, which is why there are so many knives on the market.
What Knife Does Gordon Ramsay Use?
The television show "Hell's Kitchen" star uses J.A. Henckels and Wusthof classic knives.
Although he prefers these German brands like the aforementioned Wusthof knife, he stops short of recommending them to everyone. Instead, he says that before purchasing a blade, you should "hold it in your hand and see if it feels right for you" [2].
What Knife Does Anthony Bourdain Recommend?
The host of many popular television shows, including "No Reservations" and "The Layover," Anthony Bourdain had a Global G-2 eight-inch knife as his "go-to."
He was a proponent of having a minimal knife footprint in the kitchen. He felt a single knife could do the vast majority of jobs, so all you need is that blade and not a ton of kitchen knives.
While he did recommend the Global, Bourdain also thought you should hold a knife in your hand before purchasing it - and get one that seems comfortable to you.
Best Chef Knife Under $100
931 Chef's Knife came out as my clear favorite for the best affordable knife. I think it is the right chef's knife for most people. It's designed to be comfortable, sharp, and durable.
It'll help you prepare meals faster than ever before with its ergonomic design and superior craftsmanship.
You can use these best chef's knives for years without having to worry about replacing them because they're built to last. Plus, it comes at an affordable price so everyone can enjoy professional-grade cutlery without breaking the bank.
With this affordable knife at your disposal, nothing is stopping you from creating delicious meals every day.
931 Chef's Knife (Best Overall)
Our #1 Recommendation
Lifetime warranty to be free of defects in both material and workmanship.
Some of the best edge-retention of any knife on the list.
Graceful handle design with a smooth, satiny blade finish.
The sharp knife feels like it is an extension of your arm - it lets you mince, chop, slice, and dice with ease.
Get the BEST PRICE until the end of December
Was this article helpful?