Forged in Fire get's a lot of publicity due to the now-famous TV show, which has run since 2015.
Despite this, the question remains whether the knives are worth the hype? This is why I decided to do a little experiment - I used this knife exclusively in my kitchen for a week. Here is what I found out.
What is Forged in Fire Knives?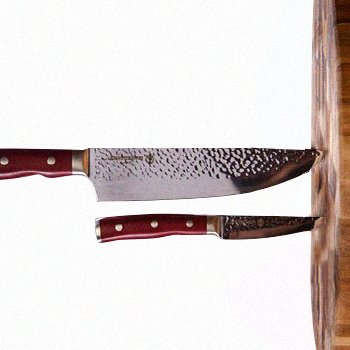 As noted, the brand stems from the TV show on the History Channel, taking people into the forge where weapons are made.
Despite being based on the show, the knives sold under the brand are factory-made.
These are all stainless steel knives made from a surgical grade of steel resistant to corrosion and rusting.
The core for each blade is full tang for a more significant degree of durability. In total, you can select from a chef and paring knife combo or a meat cleaver or steak knives.
One other thing to note is the company only offers a fifty-year warranty. At least 9 different brands we can think of offer a lifetime guarantee of some kind, which is the way it should be.
Pros
Surgical stainless steel knife design
Professionally sharpened and hammered
No shipping fee with multiple orders
Professional non-slip handle
Cons
No lifetime guarantee
Limited products to order
Slow shipping times
Average price point
1. Blade and material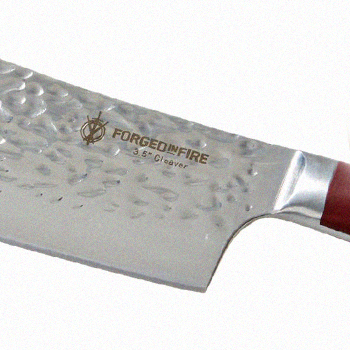 The blades of each set are both made from surgical grade stainless steel. This is a highly durable material used when creating medical tools such as scalpels and hemostats.
It's prized as being resistant to rust and corrosion as well as a durable steel for kitchen knife use [1].
According to many customer reviews, these are quality knives with an easy to sharpen blade.
The company's website claims that each paring knife and chef's knife will keep cutting strong even after cutting through the toughest of products and offers precision cutting for safety and accuracy.
2. Handle
Each handle is made from  non-slip material and is ergonomically designed to be comfortable when cutting.
The paring knife and the chef knife set are full tangs, meaning that the core runs the knife's entire length. The handle thus consists of multiple pieces set on either side of the blade.
The handle for both the 3.5-inch paring knife and the 8-inch chef knife is a mahogany color and maybe a good choice for a father's day gift.
3. Design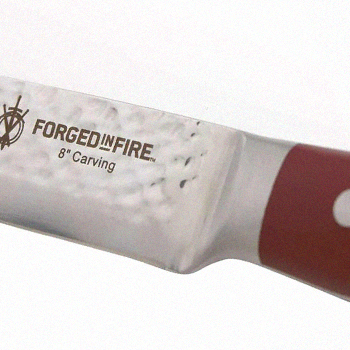 Experts design each kitchen knife to be both ergonomic as well as stylish and functional.
The blade has a hammered style, which helps the knives provide both a unique design and keep foods from sticking to the blade and edge.
The design is similar to other paring knife and chef knives that you can find from other kitchen knife manufacturers such as Dalstrong or Shun Kanso.
Overall, during our review, we found that the design was durable and functional at the same time.
4. Edge
During our review of the Forged in Fire line of knives, many of the user reviews on their website and other sources were positive.
However, a few people noted they had experienced rusting on the edges of the paring knife.
We found that the core they use to make the knives is durable. But, some paring knife products may have manufacturer defects.
The company does have a guarantee in place to protect against this if it is an issue.
5. Ease of Maintenance
Maintenance for these is quite simple for a commercial chef's knife product. According to the company, people should wipe the blade down with warm water.
Each kitchen knife can be put in the dishwasher, according to Forged in Fire. However, many experts are against this as it can decrease your product's lifespan [2].
We simply used a microfiber towel with warm water to wide down the steel blade and the handle during our testing of the product.
Never did we have any issues with wiping the product off or other quality issues.
Related Article: How To Sharpen A Knife Without A Sharpening Stone
6. User experience
After pouring through thousands of reviews from people on review sites such as Amazon, we found many people saying the product is easy to use along with being stylish.
Many people noted that using knives is comfortable because of the handle's non-slip grip and ergonomic shape.
From our own experience, we found the knives cut through what we needed. The product had no problems cutting through meats such as brisket and other foods.
Overall, it held up to the commercial and TV guarantee.
7. Warranty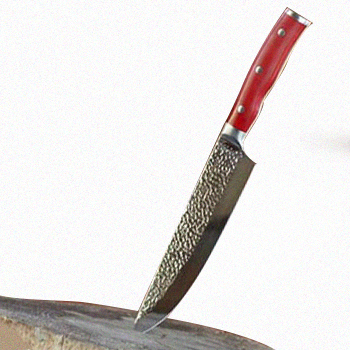 We noticed about the kitchen knife brand that they only offer a 50-year warranty for each of their knives.
Some other brands that we've done a review on in the past, such as Shun Kanso, have lifetime warranties.
Overall, 50-years is still a good number of years for your knife. But, it would be nice if they offered the same number of years as other companies.
8. Customer Service
Their customer service is a bit limited compared to some larger companies. There are multiple methods to get assistance for your knives or place an order or track shipping.
Because the company is smaller, it may take longer for people to get service.
Some of the other kitchen knives that have conducted a review offer more direct ways to contact them, such as an actively managed phone line.
With Forged in Fire, there is a phone line you can place an order with and then an email address and a mailing address for making shipping and customer service inquiries.
Pricing
The order price for many Forged in Fire products is about average. Compared to some of their competitors, we did not find them to be overly expensive.
You even have options to save money by buying two or more sets for free shipping. The company also offers regular money discounts.
With that said, we found the price to be just about what you would expect for this quality of kitchen blade.
It isn't overly expensive, and these kitchen knives and skillets aren't a great value either. These are quite average when compared to anything else you can get and use.
Forged in Fire Disadvantages
The primary disadvantage of the brand is the lack of options.
There is no way to develop a complete set of cutlery using only the 3 different knives the company offers.
There is also the fact their warranty is only fifty years as opposed to the lifetime guarantee you get with some brands.
Reviews

We enjoyed using these. They are made from high-quality steel and were easy to use for slicing and carving up our Butcher Box order.
The chef's knife was sharp and cut clean through everything from ribs to chicken. One of the other things that we liked was the ease of maintenance.
Customer reviews
Most of the comments we read on customer review sites were positive. Many people liked the polished steel design and the ergonomic handles.
"There is nothing like a sharp knife with a good balance. I purchased these to replace my old knives. I was not disappointed! Super sharp, well balanced, and a comfortable grip!"
- RC, Verified Review
One of the most commonly used expressions was easy to use. And the main complaints were with the companies' use of spam emails to sell other chef's knife orders.
BBB Rating
The company has a B rating on the review site Better Business Bureau site with 14 complaints.
Most of these complaints center around issues in communicating with customer support or slow delivery. More than one review also noted problems with items on back-order [3].
Read More: What's the Best Knife for Cutting Meat?
Why is Forged in Fire Cutlery Popular?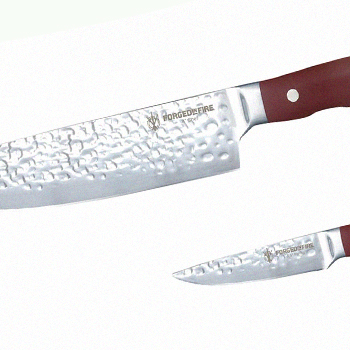 The television show launched in 2015 and became a success in the United States. This is one of the primary reasons that these are popular.
The show follows knife makers as they attempt to win and hold the record for the best knife.
Because of the show's popularity, the first product line with professional chefs and paring knives was launched.
After these began to do well, the company then came out with two different skillet types and the butcher knife.
FAQs
Who Makes the Forged in Fire Knives?
Halex Holdings makes the Forged in Fire popularized by the television series of the same name.
The company handles everything from production to distribution and customer support. The History Channel owns the FiF name, and the cutlery made on the series is not what is sold.
How do I Sharpen my Forged in Fire Knives?
You can sharpen your forged blades set using traditional sharpening methods such as a sharpening stone or a honing rod.
It is crucial to sharpen your knives at least once a year and, if you use them regularly for tough meats, then more often if necessary.
Will my Forged In Fire Chef Knives Rust?
Properly constructed knives made from quality surgical or commercial food-grade steel shouldn't rust.
There is always the chance for a factory defect to occur or knives to rust if not correctly maintained, though. Make sure to keep your Forged in Fire cutlery cleaned and sharpened, and it shouldn't rust.
Are Forged in Fire Knives Made in China?
Forged in Fire knives are made in China and many other commercial knife brands at a similar level of quality. This doesn't inherently make them bad knives.
Is a Forged in Fire Set Worth Buying?
Despite the popularity around the brand and the fact that they are okay cutlery sets, after a thorough review of Forged in Fire knives, Shun Kanso is a better option. Shun Kanso is a step up in terms of quality and offers a broader selection of cutlery.
We also like that the company has a lifetime warranty making it a step above the 50-year warranty that comes with Forged in Fire knives. If you want a complete set of durable cutlery, then check out Shun Kanso today.
We Recommend
Forged in Fire Knife Set
Pros
Surgical stainless steel design
Professionally sharpened and hammered
No shipping fee with multiple orders
Professional non-slip handle
Cons
Limited products to order
Was this article helpful?