If you've ever bought a meat-cutting knife, you know they only last for a few months before becoming dull and giving out. The reality is most knives are not built to last.
To help you avoid the many low-quality choices, we've tested and researched the best knives for cutting meat and whittled down the list to our top 10 picks.
The Best Knives for Cutting Meat
Editor's Choice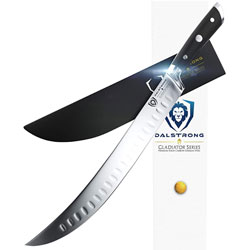 Dalstrong
Check Current Price
#2nd Best Choice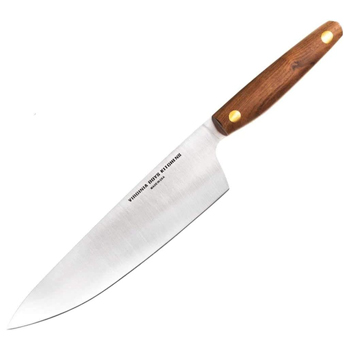 Virginia Boys
Check Current Price
#3rd Best Choice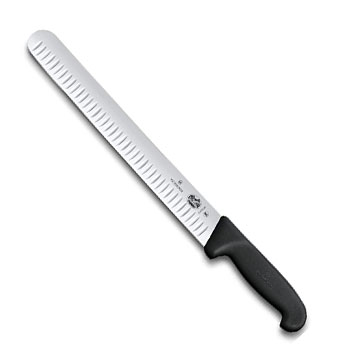 Victorinox
Check Current Price
Top 11 Knives For Cutting Meat
5 Important Considerations Before You Buy

1. Meat Cutting Knife Handle
The best knife for meat cutting must have the proper handle. Some of the best handle types for meat knives are stainless steel, wood, pakkawood, and bone because they must be strong, slip-resistant, and ergonomic.
For chopping knives, the handle must add weight to help chop through the meat. For carving and slicing knives, you want to make sure you can comfortably grip the handle and that it doesn't slide.
Type of Knife Handles:
Wood
Stainless Steel
Plastic
Carbon Steel
Pakkawood
2. Grip Comfort
An ergonomic handle is one of the most important things to look out for, especially if you use your knives frequently for meat cutting.
The best knife for cutting meat will have a grip that you can comfortably fit your hand around and can protect your fingers when using it.
You should look for a metal finger guard instead of a plastic one because the latter may break more easily. In looking for the best knife, you should also think about what the handle is made of.
Plastic, wood, and silicone are generally more comfortable chef knife elements as they are more forgiving than steel.
3. Weight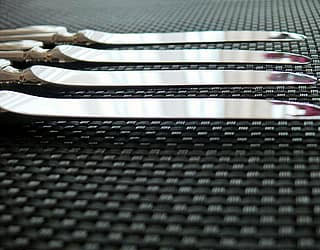 Weight plays an essential factor when cleaving meat and slicing through thicker cuts such as poultry and roast.
If you are buying a chef knife, knowing that you will be using it to break through bones or cuts of meat with a lot of cartilage or fat, it's crucial to opt for a heavier knife.
The average weight to look for in a meat cleaver will depend on the blade shape and length. Some meat cleavers can weigh up to 2.5 pounds.
4. Knife Balance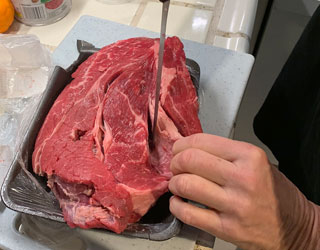 The best knife for cutting meat should be proportionally based on the specific purpose. So, for cleavers, there should be more force behind the knife blade for chopping down.
For carving knives, there should still be some pressure behind the blade, but the knife should be more evenly proportioned.
In knives used for more delicate cuts of meat such as fish, the blade and handle should be evenly balanced throughout (1).
5. Blade Material
The best knife blades are usually made from stainless steel or similar components such as high carbon or German steel.
This is one of the most durable metals and is easier to maintain and keep sharp. Other materials used in making the best knife are titanium, ceramics, and cobalt.
When looking for a chef knife, we recommend using a stainless steel blade as it provides the best quality-to-price ratio and will last for a longer time than many other materials.
"It has long been taught and remains a widely held view that stainless steel blades cannot hold an edge as well as a high carbon material blade."

- John Verhoeven, Professor at Iowa State University
Different Types of Meat Knives
The types of meat knives that are most commonly used in cooking are carving and slicing meat knives.
However, professional butchers or heavy meat eaters may regularly use the:
Chef's knife - easy chopping, slicing, and mincing
Cimeter - cutting and trimming steaks
Cleaver - chopping through chunky meat, bones, and cartilage
Deba Knife - slicing through fish and softer meats
Carving Knife - carving and slicing meat on a cutting board
Boning Knife - separating meat from the bone
Breaking Knife - breaking through bones, skin, and cartilage
Flank Knife - trimming and creating flank steaks
Gyuto Knife - Japanese knife used to cut beef
Paring Knife - easy cutting through small and delicate slices of meat
Slicing Knife - slicing through cooked meat like smoked ham, turkey, and large fish
Utility Knife - slicing through cold cuts, steak, and similar types of meat
Differences Between Slicing & Carving Meat Knives
The difference between a slicing knife and a carving knife is that the former has a long narrow blade that ends at a sharp point. The latter has a long thin edge that ends in an even-sized and rounded tip.
Slicing knives are generally used to cut delicate cuts of meat into thin slices, such as prime rib and boneless legs of lamb. A carving knife is better used for cutting around bone and cartilage.
How to Tell the Quality of a Meat Knife?

You can tell the quality of the meat knife by checking out a few small details.
One example is if a chef knife is labeled as Damascus steel, but the folds look the same in every knife, it's probably fake.
Real Damascus steel looks different between blades due to no two folds being the same. It probably won't pass the test of time, too.
You can also look at the finger guard. On cheaper knives, the finger guard is usually made by extending the handle to form the guard.
But with more expensive chef knives, the guard is made from the metal of the blade.
This generally takes more time to develop and uses more metal, which is usually more expensive than the handle.
Test your knife as you order your meat from these shops:
Maintenance
Even the best knife for cutting meat requires maintenance. It doesn't matter how much money you spend on knives; if you don't maintain them properly, they will wear down the same as the cheap knives you want to avoid (2). To properly maintain razor-sharp blades, there are a few key steps you want to take:
Sharpen Regularly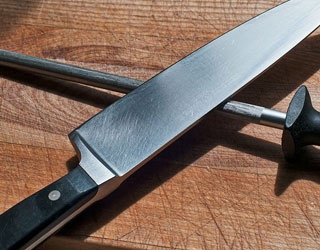 Keeping a razor-sharp edge is one of the most critical steps to maintaining your knives (3).
This will make it easier to cut through the meat and lessens the chances of damaging your knife over time.
There are a variety of methods that you can use to sharpen your knife, including a whetstone, diamond sharpener, or a traditional kitchen knife sharpener (4).
Recommended Article: How to Sharpen a Japanese Knife?
Cleaning Your Meat Knife Properly
You should avoid soaking your meat knife in water or putting it in the dishwasher.
Depending on what the knife is made from, this can lead to rusting over time.
It's also best to avoid washing your knives with soap if their carbon-based steel. Meanwhile, a stainless steel knife is fine to use soap on.
Clean your knives and immediately wipe them off instead of letting them air dry.
This will prevent them from oxidizing and keep them from slicing meat for many years.
"Handwashing is the best way to clean your knives. Dishwashers can be especially hard on knife handles, causing them to discolor, crack or separate from the blade."

- Dave Arnold, Former Instructor at The L'Academie de Cuisine Culinary School
Read More: Forged in Fire Knife Review
FAQs
Can I Use a Bread Knife to Cut Meat?
No. A bread knife cannot be used to cut meat. They usually have 6-inch long blades with serrated edges, and when applied to cut meat, these can mangle and tear through what you are trying to cut.
A normal bread knife will not make clean slices through the muscle fibers of the meat.
What Can You Cut With a Serrated Knife?
You can cut bread with a serrated knife. This is what a serrated knife is most commonly used for. Other foods you can cut with a serrated knife are tomatoes, cucumbers, chocolate, and cake.
What Knives Do Pitmasters Use?
Pitmasters use a Chef knife, a Boning knife, a Slicing knife, a Butcher's knife, and a Carving knife.
What Is a Bull Nose Butcher Knife Used For?
A bull nose butcher knife is used for slicing and trimming boneless primal. These knives are used for breaking and sectioning meat.
What Kind of Knife Do You Use to Cut Prime Rib?
You use a carving knife to cut prime rib. These knives are made from metal and are very sharp, so they easily cut the prime rib.
What Kind of Knife Should I Use to Cut Raw Chicken?
You should use a boning knife to cut raw chicken. A boning knife has the right curve and thickness for cutting joints and sinew, and it's easy to hold and handle.
Is It Normal for a Knife to Rust?
Yes, it's normal for a knife to rust. When a knife is exposed to water or moisture in the air, it'll rust, especially if it has iron. Rust isn't unhealthy, but your knife will be unusable if you don't treat it.
The Best Knife For Cutting Meat Is ...
Based on our extensive research, the best knife for meat-cutting is the Dalstrong Butcher's Breaking Cimitar. This is a solidly built home kitchen knife made by one of the leading knife manufacturers on the market.
The knife is designed with easy precision to eliminate slicing resistance and enhance your meat-slicing experience. You can also use this with confidence as the lifetime warranty protects your knife against defects.
Overall, this is a good knife to add to your kitchen utensils next to the carving fork, and other carving set pieces.
Our #1 Recommendation
Dalstrong Butcher's Breaking Cimitar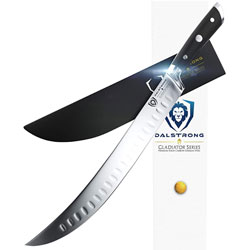 Check Current Price

Pros
Imported black pakkawood handle designed for easy maneuver
Curved metal for added leverage
Used by professional chefs
100% money-back guarantee
Cons
Too sharp, handle with caution
Was this article helpful?