For a carnivore who loves the great outdoors, nothing is better than a good grill.
Over the last seven years, I have tried out the best camping grills on the market and have narrowed the list down to my top eight.
All these grills are great options for different types of trips, from family getaways to car camping trips with friends.
Read on to see which grill might be best for you.
Top 8 Camping Grills
Buyer's guide for Camping Grills

When looking for the perfect grill, there are a few key criteria to consider.
1. Portability
Portability is one of the most important factors to consider when shopping for a grill. When selecting, look for a portable grill since it makes transportation easier.
Make sure it fits in your car or backpack easily and does not take up too much space.
Additionally, look for portable grills with collapsible legs and a locking lid that make them even easier to transport and store.
Related Articles:
2. Cooking Area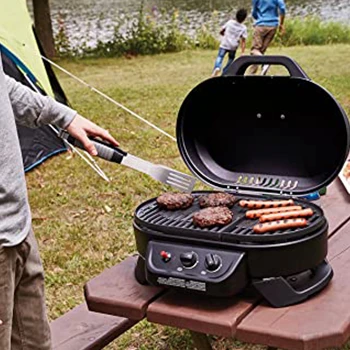 Your camping grill's size should be based on how many people you plan to cook for.
A small grill should suffice if you plan to do hibachi-style cooking of meals for two or three people.
But if you plan on cooking meals for larger groups, look for models with larger stainless steel grates, so there is enough room to cook several items at once.
3. Price
When it comes to price tags, it's important to remember that quality matters when buying a grill.
Don't just buy the cheapest option available; instead, invest in a model designed to last and withstand outdoor conditions.
That being said, there are some great options out there that offer both quality and affordability. It just depends on what features and materials you require for your grill.
4. Durability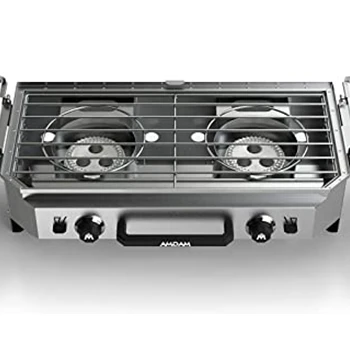 When investing in a grill, it's important to make sure that it is made of materials that will stand up to the elements.
Look for portable grills with durable construction and materials such as stainless steel or coated cast iron that can withstand rust and corrosion over time.
It is also important to ensure the grill has been tested in extreme temperatures since you may use it in environments with high heat or cold weather.
5. Performance & Power
The performance and power of your camping grill should be at the top of your list when looking for options.
A grill should have enough BTUs (British Thermal Units) to properly cook your food without taking too long or burning it too quickly.
If you plan on cooking large meals, look for higher BTU models or multiple burners so that you can cook multiple items simultaneously.
It's also essential to find out how much fuel is needed for each use so you know what fuel source you need to bring along on your trip.
Also Read: Best 4-Burner Gas Grills
6. Convenience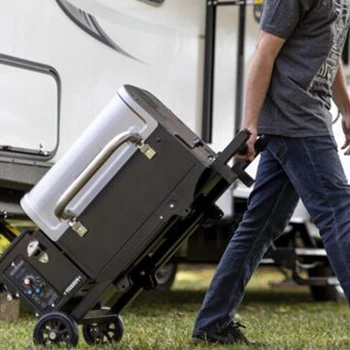 Convenience is essential when looking for a camping grill. Look for grills with features such as folding legs or lids which allow them to be easily transported from one location to another without taking up too much space in your car or backpack.
Some models even come with built-in thermometers so you can keep track of the temperature without having to guess or monitor constantly while cooking.
Additionally, look for a grill with an easy-to-clean grill surface so that it is easy to remove food debris and faster to clean after each use.
You want one with a sturdy surface that is tough enough to stand up to a grill brush or get placed in the dishwasher.
Drip trays, built-in ignition systems, and adjustable legs are convenience features found on the best portable grills.
7. Fuel Type
One thing to consider when looking for a portable grill is what fuel you want to use. The most popular types are charcoal, propane gas, and wood pellets.
Charcoal grills provide more intense heat than gas grills and cook food more quickly. However, a charcoal grill requires more effort in cleaning up after use and refueling between uses.
Propane gas grills heat quickly and are easier to set up and clean up afterward. The best propane grills provide even heat distribution across the cooking surface but may not have the heat retention of a portable charcoal grill.
Also, large gas canisters take up storage space, and the flame may blow out in windy conditions.
Wood pellet grills are becoming increasingly popular due to their convenience.
They are easy to light up and control temperature settings with precision—but they require a bit more maintenance than other grills due to their reliance on wood chips that need replacing regularly.
8. Features & Accessories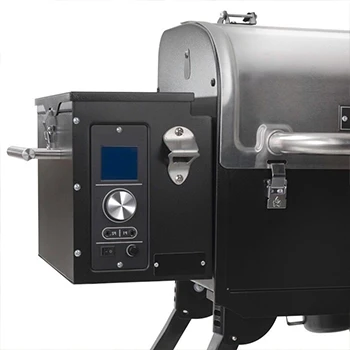 The next factor to consider when choosing a camping grill is what features and accessories it offers.
Most modern grills come with temperature gauges that allow you to monitor how hot or cold your food is cooking inside.
A grill grate made from cast iron or stainless steel is ideal because that type of metal cooking grate is durable and can withstand high temperatures without warping.
Some models include additional features like built-in thermometers or a grease management system for collecting cooking fat.
Other features, such as removable shelves or side tables, can be helpful if you plan on cooking multiple items at once. Some grills even can double as a camping stove.
Also Read: Stainless Steel Grill Grates vs Cast Iron: Which to Buy?
9. Safety
Another factor to consider before purchasing a camping grill is its safety features.
Grilling outdoors by an open flame poses certain risks that you should consider before investing in any model; look for models with lids that fit snugly over the appliance so that sparks don't escape during use.
FAQs
What Kind of Grill Is Best for Camping?
The kind of grill best for camping is the one that's easy to set up and readily portable. Charcoal grills and propane gas grills are the most popular grills due to their convenience, while wood pellet grills provide additional features such as temperature control.
Is a Camping BBQ Worth It?
A camping BBQ is worth it if you are looking for an easy and convenient way to cook while camping. Camping grills tend to be more affordable than most grills, require less effort to set up and clean up and provide a delicious meal on the go.
Can I Use a 20LB Propane Tank on a Camping Grill?
Yes, you can use a 20lb propane tank on most camping grills. However, it is important to ensure that the grill you are using is compatible with this tank size before attempting to connect it. Sometimes these require special adapters.
Is a Griddle or Grill Better for Camping?
Whether a griddle or grill is better for camping depends on what you want to cook. Griddles provide an easy way to cook dishes like eggs and pancakes, while you can use grills for cooking proteins such as steak or chicken. Ultimately, the best choice will depend on your cooking preferences and the type of meal you plan.
What Is the #1 Best Camping Grill for You?
The grills I mentioned provide excellent BBQ results in the great outdoors. However, after carefully reviewing their distinct features, I've decided to give my vote to the Weber Q 1200 Gas Grill.
This model has all the features I was looking for among camping grills, including a large grilling surface, adjustable temperature controls, easy-to-use push-button ignition to start cooking quickly, and sturdy construction.
User reviews have also been overwhelmingly positive of this best camping grill, citing its collapsible side tables, compact grill design, and the ability to use it with a 1lb propane canister or a 20lb tank.
Weber Q 1200 Gas Grill (Best Overall)
Our #1 Recommendation
Built-in side table x2
Catch pan for easy cleanup
Electronic ignition system
Easy to set up
Get the BEST PRICE until the end of December
Was this article helpful?