At Carnivore Style, we want a few simple things for our meat delivery service deals - fresh meat; fast (and free) delivery; and good sourcing practices.
But, selecting the best online service can be a bit tricky. We've had our share of late orders, wrong packages, and smelly meats.
That's why we did in-depth research to come up with the best meat delivery services. You don't have to worry next time when you want fresh and quality meat on your table.
Top 11 Online Meat Delivery Service Companies
1 - ButcherBox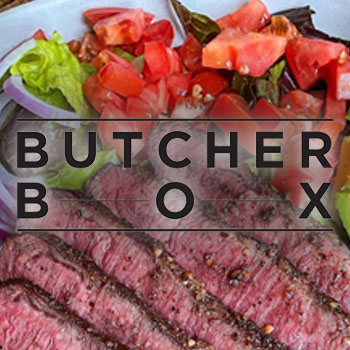 If you are looking for the best meat delivery service, you should definitely consider ButcherBox.
They deliver 100% grass-fed and grass-finished beef, free-range organic chicken, and heritage breed pork directly to your door.
They source their products from partners with high standards for quality.
You can get a range of different cuts, from ground beef, and American Wagyu, to filet mignon, at a good value.
ButcherBox's meat selection review gives you the option of selecting from 4 curated boxes or creating your custom box full of high-quality products for your meat subscription orders.
Pros
Free shipping even for mixed box
Order can be canceled anytime
Orders are packed in an eco-friendly box
You can select a delivery frequency
Focused on caring about animals and improving livelihoods for farmers
Cons
Lacks better control of what's in the box
Click For Best Price
2 - Crowd Cow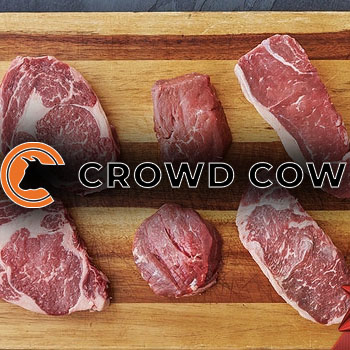 Crowd Cow is the marketplace for quality craft beef and pork from farms and ranches around the world.
They work only with farms that they know personally.
Crowd Cow considers it very important to know where and how animals were raised and proudly discover new, independent farms to work with.
They have various options like ground beef, wagyu beef, and dry-aged ribeye steak. You can search for Crowd Cow meat delivery products by the farm or by cut.
Pros
Humanely raised hormone-free beef
Supporting local and independent producers
Recyclable and compostable boxes
You can send an order as a gift with a personalized gift note
Click For Best Price
3 - Good Chop
Good Chop found its spot on the list of best meat delivery services because they only sell meat from domestic family farms and fisheries.
All Good Chop animals are raised responsibly, without any hormones or antibiotics.
Good Chop only works with farms and fisheries that provide sufficient space, water, and a healthy diet to the animals.
This online meat delivery service provides two subscription boxes to choose from, one of which lets you choose which cuts you want to receive. No matter which box you go for, you'll get free shipping.
They also provide a 100% satisfaction guarantee, so you can shop for quality meat with ease of mind.
Pros
Locally sourced meat
Wide range of beef and pork cuts
Responsibly grown animals
Free shipping
Cons
Only two subscription boxes
Click For Best Price
4 - Snake River Farms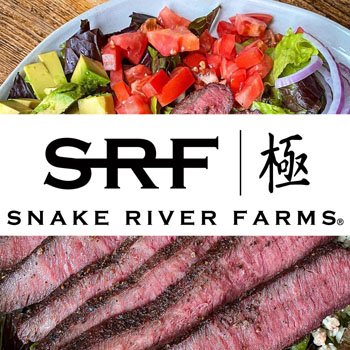 Snake River Farms is a family-owned and operated business, selling and shipping high-quality products like beef, pork, and poultry.
They are not outsourcing but controlling their entire supply chain from the ranches where the cattle are raised to in-house customer care teams.
Through this, Snake River Farms can ensure quality and consistency.
Snake River Farms have impressive service and high-quality products like dry-aged American wagyu.
Pros
Snake River Farms has good quality products
Well packed
Dry-aged technique which maximizes the flavor and texture of the beef
Monthly subscription
Cons
Snake River Farms can be pretty expensive
Click For Best Price
5 - Porter Road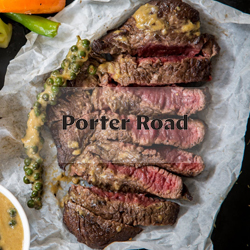 Porter Road specializes in selecting the best ground beef from local farms and doing their butchering.
Porter Road sources all their meat directly from family-owned and operated farms in Kentucky, Tennessee, and Pennsylvania.
All their animals are farm-raised with the highest animal husbandry and environmental standards outside on pasture, free-range, never in a concentrated animal feed operation or feedlot. It's a practice that Porter Road continues to uphold.
Pros
Pasture-raised, grass-fed beef with no hormones or antibiotics
Most of their products are not frozen
Recently added subscriptions plans
Sustainable practices in packaging
Cons
Strange smell when the product comes out of the vacuum-sealed bag
Shipping available only in the contiguous United States
Click For Best Price
6 - Holy Grail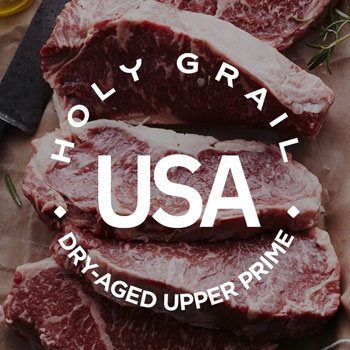 Holy Grail is also one of the best meat shipping services. It is a premium online service, and its goal is to deliver Michelin-star restaurants and elite steakhouses the best experience at your home.
They offer high-quality products such as Japanese wagyu or authentic Kobe Beef and are proud of their independently selected partners.
If you wish to learn more about this company, be sure to read our Holy Grail Steaks review.
"A steak only tastes as good as it was raised."

- Vigneron Cameron Hughes, Holy Grail Owner
Pros
The rarest and world-class steaks selection, such as sirloin steaks
Good shipping and packaging service
Good customer service
Cons
No subscription service
Pricey
Click For Best Price
7 - Thrive Market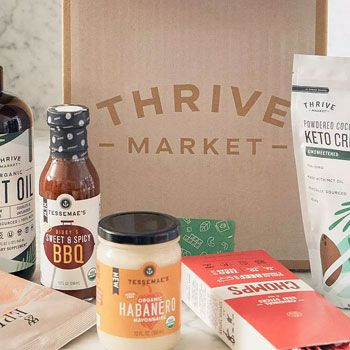 Thrive Market works like an online grocery store, but they are also known for their meat section.
They deliver grass-fed meat, pasture-raised pork, free-range poultry, and wild-caught seafood.
This meat delivery service highly respects regenerative farming, rotational grazing, and the ethical treatment of animals.
Thrive Market only work with partners who can support these holistic philosophies.
Pros
Good prices for products like wild-caught seafood
Follow sustainable agriculture practices allowing animals to eat their natural diet
Cons
Not only meat-oriented
Limited selection
Click For Best Price
8 - Carnivore Club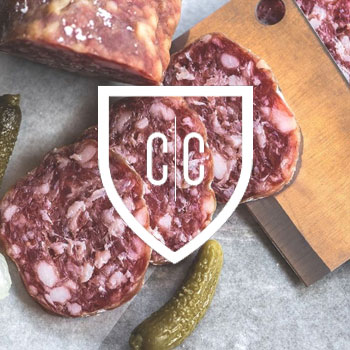 Carnivore Club was the first meat delivery service that offered premium cured meats.
Every month, the company features a new artisan who creates some of the finest cured products you can order, making every box unique.
Carnivore Club offers only cured and sealed meats, so they're shelf-stable and don't require refrigeration or ice-packs during transit.
Pros
Package includes a handbook with details about the product
Free shipping and cancel anytime
Variety of tastes and flavors
Dry-aged assortment
Cons
Meat can be chewy and too hard to eat
Flavors may not be suitable for everyone
Click For Best Price
9 - Fossil Farms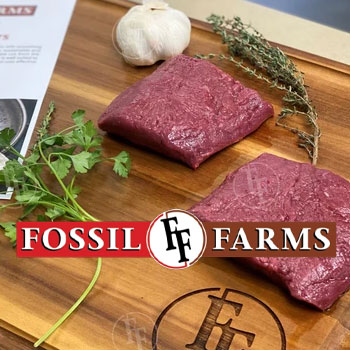 Fossil Farms specializes in providing quality farm-raised wild game, game birds, exotic meats, and all-natural meats.
They are like a one-stop-shop meat delivery service - whether you're looking to diversify your menu, shopping for nutritious products, or sourcing protein for specialized diets, they have something to offer.
Fossil Farms meat delivery like to innovate and are always searching for healthy and sustainable alternatives to conventional red meat.
Pros
Free of antibiotics, steroids, or hormones
Independently owned farms and ranches
Sustainably-raised animals
Wide selection compatible with many diets
Cons
Animal diets supplemented with barley, oats, soy, and corn
Poor packaging
Click For Best Price
10 - Omaha Steaks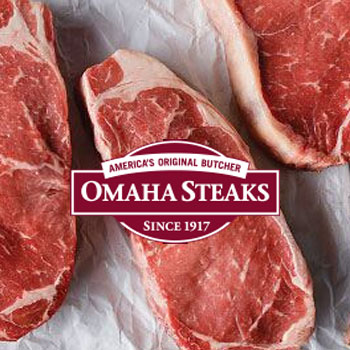 Omaha Steaks is one of the oldest meat delivery service businesses and one of the largest meat providers.
Omaha Steaks began as a small-scale butcher shop in downtown Omaha 100 years ago and are led by the 5th family generation.
Omaha Steaks provide quality beef, pork, and poultry, which makes them one of the best online meat delivery services today.
Pros
Omaha Steaks has variety of beef and pork products
Frequently offer deals and good reward program options
Omaha Steaks offer a satisfaction money-back guarantee
A percentage of the purchasing amount of the selected Omaha Steaks products will go to a charity of your choice
Cons
The Omaha Steaks website is not easy to navigate
Not 100% grass-fed beef
Click For Best Price
11 - Farm Foods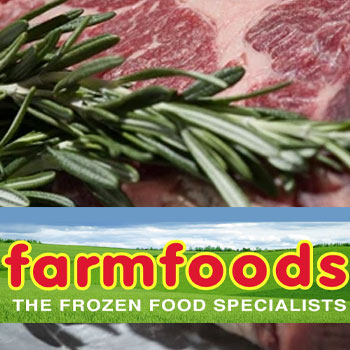 Farm Foods meat delivery service delivers affordable products without making sacrifices on quality.
By bringing back the authentic original concept of nourishing flavorful meats, Farm Foods provide grass-fed beef, free-range organic chicken breasts, and heritage pork raised by family-run farms.
There are seven boxes to choose from, depending on your preferred cuts. You can also select the frequency and quantity of the packages you want to be delivered to your doorstep.
Pros
100% Grass feed and grass-finished beef
Healthy food on budget
Easy subscription
Variety of choices
Cons
Shipping to Alaska, Hawaii, and USVI are not free
Click For Best Price
What to Take into Consideration When Choosing the Best Meat Delivery Service?
When choosing the best meat delivery service, take into consideration the product category, brand, price, and order procedure. Whether you prefer organic or game meats, only bison or lobster, or the best meat boxes, you can find the best meat delivery service for you.
We've ranked them according to the mentioned criteria to make it easier for you to choose. Check them out in the table below.

There are several things to which you should pay attention before choosing the best meat delivery service for your needs.
1. Product Variety
Depending on your needs, you can select the best meat delivery services based on the product variety they offer.
If you are searching for a large quantity and weekly stock, you will definitely look for the meat delivery service that can provide different types and cuts, like dry-aged or wagyu beef.
We all like the possibility of being able to choose. But if you are searching for something specific and rare, like exotic meat Japanese wagyu, or a la carte cuts, for example, you have to be aware that your choices will be limited.
2. Meat Quality
There is no doubt that this will be your primary concern when visiting the next online butcher shop. After all, you have selected this option because you don't want to buy convenient meat from the local grocery store.
Most well-respected companies are publishing transparent information about their products and how animals are fed and treated. You will find out precisely what kind of food they were given if they are antibiotic-free or were treated with hormones or if the meat is certified.
"The food you eat can be either the safest and most powerful form of medicine or the slowest form of poison."

– Ann Wigmore, Natural Health Institute
3. Packaging and Transport
Most of the services that deliver meat online send their best beef, chicken, and pork nationwide.
If you live in New York, New Jersey, or anywhere else in the US, you will receive your package straight to your door. Some of them will even send it to the rest of the world.
Meat is a very sensitive product, so to receive it fresh and with all nutrients, it needs to be packed properly.
When we were searching for the best online meat delivery services, we have learned a lot about the way they are distributing their products.
Most of them will send their products frozen, and to be delivered frozen on your door, they need a specific box.
Pay attention to this when you make your next order, as this may be the most crucial reason you are not receiving the quality you have ordered.
4. Price
Expect to pay more for a mail order specific product like wagyu beef, ground beef, filet mignon, New York strip steak, or those you can't find almost anywhere.
Some companies will charge more for their high-tier meat and grass-feed beef, specially graved on a small local independent farm.
There are also online butchers for more convenient and well-known options, which will offer a lower price than competitors.
There are several options you can find among our recommended selection of meat delivery service.
5. Refunds
Meat is a sensitive product, and most businesses dealing with delivering online won't consider returning or refunds.
They are giving you the option to cancel your order anytime, but you can't do much when the order is already sent.
Some companies will still offer refunds if you are not satisfied with an order for some meat categories.
6. Subscription services
Most of the services we have mentioned offer the possibility of a subscription. If you want your favorite a la carte dry-aged beef, filet mignon, pork chops, or American wagyu beef to be delivered regularly in New York, for example, then the best meat delivery boxes that they offer will work ideally for you.
Some businesses will even provide free meat delivery for their regular meat subscription customers.
7. Online reputation
Nowadays, one butcher shop selling beef, pork, lamb, or chicken online can not hide anything.
No matter what they offer - the variety of cuts, a wide selection of boneless pork chops, lamb, and chicken products, top-notch beef humanely raised or organic chicken - everything will be commented on various websites and communities.
We did a lot of research before we selected the best 10 online services on many parameters. The online reputation of each of the companies we have examined helped me to make the final decision.
3 Ways on How to Select Healthy and Top Quality Piece of Meat

Here's what to look for when buying meat from online meat delivery services.
1. Know their origin.
If you eat animal proteins, it is essential to pay attention to their origin. In many countries, animals are given hormones and antibiotics to stimulate their growth and make the breeding process faster and more cost-effective.
Various additives are also added to improve the taste, smell, or color and the product's safety and sustainability. Select healthy, antibiotic-free, and non-GMO products.
2. Avoid meat that contains nitrates and hormones.
Nitrates are preservatives added to meat to maintain color and extend shelf life. They are mainly added to meat products and give them a pink hue.
Some of them may be dangerous when we take them into the body, according to studies (1), so you should avoid meat that contains nitrates.
Even though The Food and Drug Administration has approved the use of growth-promoting hormones(2), studies show that there is a risk that additional hormones affect the balance of human hormones.
It also causes developmental problems, problems with the reproductive system and is even associated with breast, prostate, and colon cancer development.
3. Choose grass-fed when you order meat.
By using one of the best organic meat delivery services, you'll receive meat from an animal that has been raised the way nature has arranged it.
Many farmers grain feed the animals with corn and other cereals to increase their body weight, ultimately affecting the product's quality.
Such meat has far more saturated fat than one of the grass-fed animals.
FAQs
Is meat from an online service fresh?
Most likely. Meat from an online service is fresh in most cases. Serious businesses won't play with their reputation - especially those selling top-notch hormone-free and USDA prime products. Read carefully the information on their website or order meat from services I proposed and you won't make a mistake.
How do meat delivery services keep the food fresh in transit?
Many meat delivery services always keep the food fresh in transit using special packages and dry ice to preserve all products' best nutritions. When you buy meat online, it has to be delivered right. Otherwise, they are risking sending a mail order with defective products.
Where do meat delivery services source their beef pork lamb from?
Meat delivery services source their products, mainly from farms that grass-fed their animals. If you have the opportunity, get meats like ground pork, chicken thighs, or beef from farmers who raise their animals. They use independently selected animals and ground feed to ensure that the pork, beef, or chicken are free of antibiotics. This is much harder to follow when procuring meat in large retail chains.
And The #1 Meat Delivery Company Is...
We have tried all the best meat delivery services we have mentioned in this article, and after months of research, we have found the best meat shipping service - ButcherBox.
Subscription service went smoothly, we received mail confirmation very fast, and we were able to start ordering the next day.
They have various boxes to choose from, so those who prefer beef only or mixed meat will always find the perfect combination. The best part is their grass-fed animals and pasture-raised chicken options.
The quality of their products, packaging, and shipping experience went well with our needs.
ButcherBox
Our #1 Recommendation
Free shipping even for mixed box
Order can be canceled anytime
Orders are packed in an eco-friendly box
You can select a delivery frequency
Focused on caring about animals and improving livelihoods for farmers
Get the BEST PRICE until the end of May
Was this article helpful?