During the decade I've been on a carnivore diet, I've tried all kinds of outdoor grills, including 2-burner gas grills. I use 2-burner grills for cooking two different cuts of meat at the same time when I want to add versatility to my meals.
Plus, they are compact, and I can fit the gas grill on my small patio. I've tried all kinds of gas grill brands over the years, from Char-Broil to Weber.
Today, I'll share my selection of the six best 2-burner gas grills you can get today.
The Best 2-Burner Gas Grills
6 Best Gas Grills
2-Burner Gas Grills Buying Guide
Here's what you should keep in mind before purchasing a 2-burner.
1. Material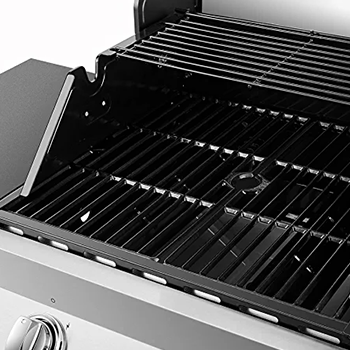 The grill material determines how long the grill will last and where you can store it. Gas grills are usually made of stainless steel, enameled steel, coated steel, aluminum, and cast iron.
Generally, stainless steel is the most durable material, and stainless steel grills last for a decade or even longer. Stainless steel is scratch-free, corrosion proof, and rustproof. However, they are usually more expensive than other materials.
Enameled grills aren't as durable as stainless steel ones. However, the enamel is good for improving the steel's heat resistance and can last for a long time if maintained well.
Coated steel and aluminum are the most affordable gas and charcoal grills. The coating prevents rust and corrosion, but it wears out with use. They usually last up to five years.
Also, check what's the cooking grate made of. Porcelain-coated grates made of cast iron are of great quality. They are rustproof and can withstand high temperatures without warping.
Pro tip: Check the paint quality of gas grills. A badly painted 2-burner gas grill will oxidize over time and rust if you live in a humid area.
2. Cooking Surface
Think about how many people you usually grill for when choosing a grill. If you're grilling for one or two people, a cooking surface of up to 200 square inches is enough (Pit Boss 2-burner grill is a good choice).
But, if you cook for a family of four or more, you need a grill with at least 400 to 500 square inches (Monument Grills is a good choice here).
Generally, 2-burner grills are compact and smaller than, for example, a 4-burner charcoal grill. But you should still check the dimensions to make sure it fits into your patio or backyard.
3. BTU
BTU stands for British Thermal Unit and determines the grill's performance [2]. The higher the BTU, the more gas the grill will burn in an hour.
Also, a larger cooking area needs more power.
Generally, 2-burner grills have an output of 20,000 BTU upwards, with most of them falling between 23,000 to 34,000 BTU.
A grill in this range is powerful, holds heat well, and can cook food fast.
4. Natural or Propane Gas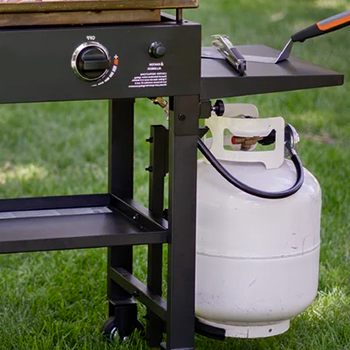 2-burner grills use natural or propane gas. Liquid propane is a more popular choice because these grills use attachable propane tanks, which makes them more portable. You can take it with you on camping or beach trips.
However, propane is a more expensive option, and you have to refill the tank.
Natural gas is more affordable. Plus, you can connect the grill to the home's natural gas supply with a conversion kit. This means you don't have to worry about refilling the tank. Also, a natural gas grill heats evenly and is more eco-friendly than propane.
The main disadvantage of a two-burner gas grill that uses natural gas is that it isn't portable.
Also Read: Natural Gas vs Propane Grills
Who Should Buy a 2-Burner Gas Grill?
People who need to grill for a small group or are short on space should buy a 2-burner gas grill. These grills are generally smaller but still produce great grilling results.
Who Shouldn't Buy a 2-Burner Gas Grill?
People who need to cook for larger groups should not buy a 2-burner gas grill. These grills run on propane or gas, so they might not be the most affordable option too.
FAQs
Are 2-burner Grills Worth It?
Yes, 2-burner grills are worth it. They are affordable, easy to use, and most of them are portable.
Is a 2-Burner Gas Grill Big Enough?
A 2-burner gas grill is big enough for grilling for up to four people, but you need a grill with more burners if you cook for more than four people.
How Many Burgers Fit On a 2-Burner Grill?
How many burgers fit on a 2-burner grill depends on the grill's cooking area. For example, Char-Broil Performance Series can fit 24 burgers.
How Many BTUs Do I Need for a Good Grill?
You need between 80 and 100 BTUs per square inch for a good grill. 2-burner grills need 20,000 BTUs to be efficient.
Does a Higher BTU Mean More Heat?
Yes, a higher BTU means more heat. Generally, a higher BTU grill is more powerful. In other words, it has a higher heat output than a grill with low BTUs. It can raise the temperature and heat the grill faster.
What's the Best 2-Burner Grill for You?
2-burners offer outstanding versatility considering they usually come in smaller sizes compared to other gills.
Having used 2-burners from some of the leading industry brands, I've concluded that the winner in this category is the Char-Broil Performance series.
It has stainless steel grates, and the construction makes it extremely durable. This grill will last for years, even if you use it as an outdoor grill. It's extremely efficient thanks to the infrared technology that heats the entire cooking surface.
This is one of the more versatile two-burner grills because it lets you have two grilling temperatures. Finally, it uses significantly less propane fuel than regular gas grills, so it pays off in the long run.
The Char‑Broil® Performance Series 2-Burner Gas Grill
Our #1 Recommendation
Lid-mounted temperature gauge makes it easy to check the temperature
Uses 30% less propane which saves money
One-touch electrical ignition
Storage cabinet for gas tank
Get the BEST PRICE until the end of December
Was this article helpful?