Gas grills are the most common outdoor backyard grills on the market. That's why every year, hundreds of new grills come out. When I went over to a friend's place for a barbecue recently, I got to try out his Kenmore gas grill.
I was thoroughly impressed, so I knew that the Carnivore Style team had to test and review the top Kenmore models and find the best one for our readers.
Editor's Choice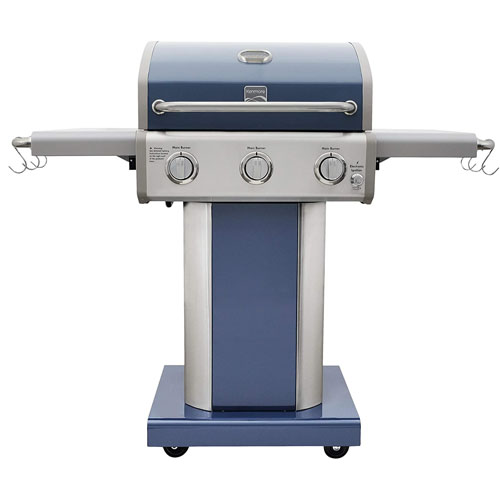 Kenmore 4030400LD-AZ-AM
Check Current Price
#2nd Best Choice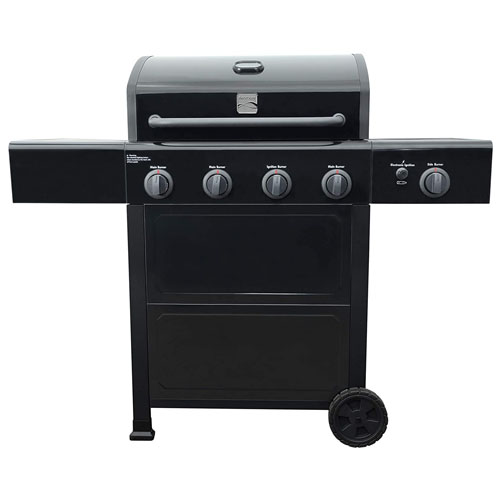 Kenmore PG-40406SOL-SE-AM
Check Current Price
#3rd Best Choice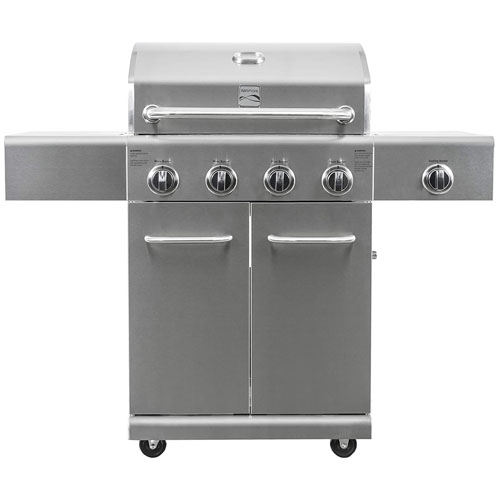 Kenmore PG-40405SOL-SE-AM
Check Current Price
Our Top 5 Kenmore Grill Models In 2021
What You Need To Know Before You Buy

Performance
During our reviews, we found that Kenmore models have a BTU range of around 30,000 to 52,000. This makes them great for outdoor grilling. The more BTUs you get with your grill, the more heat it will produce, essential to sear and grilling food.
"I use a combination of charcoal and wood for meats and seafood and the propane for my vegetables. Best of both worlds."

 

- Derrick Jackson, Chef, Clyde's of Chevy Chase (1)
Cooking Surface
Our picks for Kenmore models range from 512 to 622 square inches of space. On some Kenmore models, there is a bonus burner that can be used outside of the main grilling chamber. They all come with porcelain-coated grates that should last for years.
Recommended Article: 10 Top-Quality Grill Mats
Quality/Material
After our review, we found that each natural gas grill is made of high-quality parts and materials. We found that  Kenmore products have burners that won't rust over time during our review. These grills are made with a quality powder-coated finish.
Dimensions
All Kenmore models have similar dimensions, with the 4 burner models being slightly bigger. It would help if you kept in mind how much room you have available for a grill before you buy it. These grills all have dimensions around 53.20 x 21.80 x 45.40 inches, some less and some slightly more.
Warranty/Customer Support
All of these gas grill models come with a 1-year manufacturer's warranty on parts and other grill products. Kenmore also warranties their burners for 5 years. You can get information about their warranty options by calling customer support, which seemed helpful according to reviews.
You can find their contact information on their webpage.
Recommended Article: Who Makes Kenmore Grills?
FAQs
Would you recommend a Kenmore outdoor grill for a beginner?
Yes, Kenmore products design quality grills for people who are just starting. The features are easy to understand. One advantage is that they require little maintenance.
How often should I clean my Kenmore outdoor grill?
You should clean your Kenmore gas grill after every use. We would recommend that you burn off the excess grime with a high-powered heat session. Then, use your grill brush to get the cooking grates clean. It would help if you did one deep clean every couple of months.
Does this grill come assembled?
This grill requires assembly, but during our review, we found that it wasn't very difficult if you follow the instructions. We had it set up in about an hour. Before the review, we checked the box and manual and made sure we had all the pieces.
And The #1 Kenmore Gas Grill is...
While each natural gas grill we tested during the review had its merits, we think that the Kenmore PG-4030400LD-AZ-AM 3 Burner Outdoor Patio Gas BBQ Propane Grill is the best option because it's easy to use and great for beginners.
We found that Kenmore models are worth buying during our grill reviews because they offer quality and durable designs with a relatively small price tag. Kenmore gas grill models come with multiple long-lasting burner tubes and electric ignition start buttons.
Our #1 Recommendation
Kenmore PG-4030400LD-AZ-AM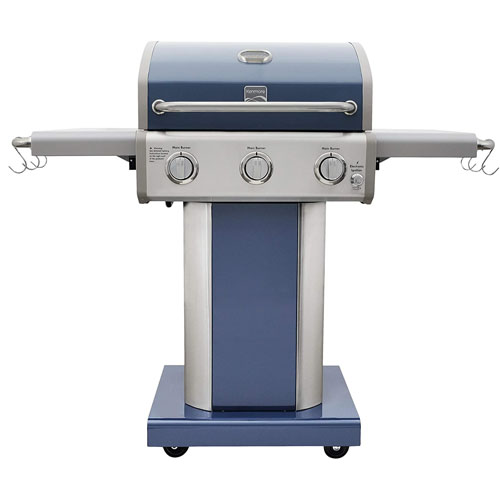 Check Current Price

Pros
512 sq in of grilling space
2 folding side shelves
3 stainless steel burners
Electric ignition
Cons
Might need a protective cover
Was this article helpful?