During the decade I've been on a carnivore diet, I can confidently say I've used a grill at least once a week. I've used everything from gas and charcoal to pellet grills. But, when I moved to the city, I had a new challenge — finding a grill that could be used indoors.
My main criterion was to find an indoor smokeless grill that would produce the same results as an outdoor one.
I tested several brands and rated the smokeless grills based on cooking surfaces, performance, and size.
Here's my selection of the seven best smokeless grills you can try.
The Best Smokeless Grills
#2nd Best Choice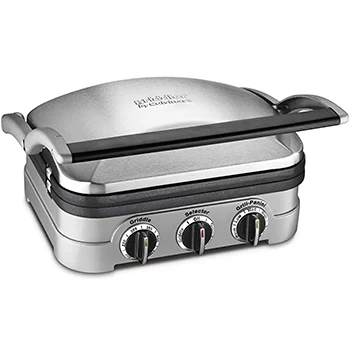 Cuisinart
Check Current Price
#3rd Best Choice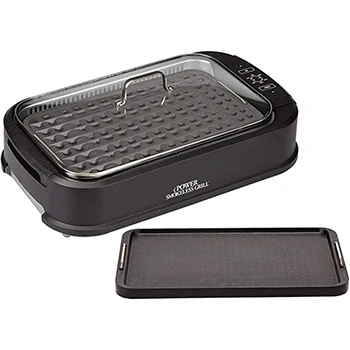 Power
Check Current Price
7 Best Smokeless Grills
Best Smokeless Indoor Grills Buyer's Guide
Here's everything to keep in mind when choosing the best smokeless indoor electric grill for you.
1. Temperature Range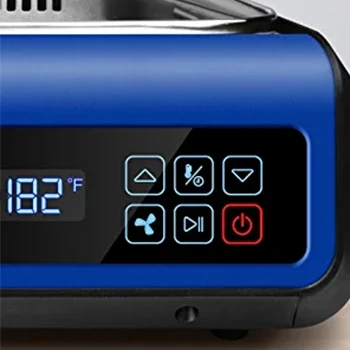 Outdoor grills can reach a temperature of 750 degrees upwards. But smokeless indoor grills are much smaller, and most only reach 450 degrees (Ninja AG301 is the only indoor grill on this list that can go up to 500 degrees). The higher the temperature, the better the sear.
Moreover, indoor grills have different temperature controls. Lower-end indoor grills only have one or two temperature options, while higher-end models have more temperatures available.
Smokeless indoor grills with more temperature options usually have knobs (such as Cuisinart 5-in-1) or digital control (such as Techwood 1500W).
Also, some indoor grills have a system that monitors the food using a meat probe, plus preset cooking modes. Others have a more basic system with only a timer and temperature settings.
If you plan to toast sandwiches on your indoor grill or use the griddle to make breakfast, you don't need a model that reaches a high temperature. But, if you want to sear and char your food, you need an electric grill that can reach at least 450 degrees.
2. Wattage
Most US wall outlets can handle a maximum of 1800 watts. This is also the maximum power of standard indoor grills, which limits the surface you can heat.
The indoor grill's power comes from the wattage. A small grill can reach about 800 watts, which isn't the best for thick cuts. But, a larger indoor grill has more wattage, which means it heats and cooks the food faster.
Keep in mind the more wattage, the higher the smokeless indoor grill price.
3. Smokeless Operation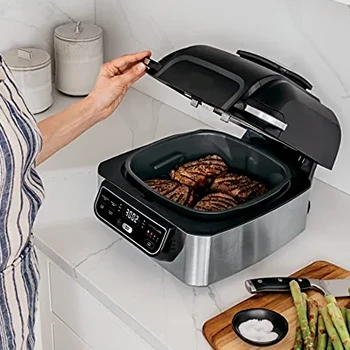 Outdoor grills have open grates, so the drippings fall into the firebox, which results in smoke. Indoor smokeless grills heat directly and have closed grates and a grease system that ensures the grease doesn't burn and create smoke [1]. Usually, the grease goes to a removable drip tray.
Also, some smokeless indoor grills, such as Techwood 1500W, have a cooling airflow system that keeps the grease off the heating elements.
"Most smokeless grills have air-flow technology which removes hot smoky air and replaces it with clean filtered air."
- WNEP YouTube channel
Overall, indoor grills aren't completely smokeless. Even the best smokeless indoor grill can have wisps of smoke and some charred bits, but make sure to at least get an indoor grill with a drip tray for collecting grease.
4. Size and Cooking Surface
Most indoor grills range from 40 square inches to about 135 square inches. This is because they are limited by the wattage and the electric outlet.
The cooking surface affects the smokeless electric grill size. They are much smaller than outdoor grills and can easily be stored in a cabinet when not in use.
When shopping for a smokeless indoor grill, keep in mind how many people you cook for and how much storage space you have.
Also, if you plan to carry the grill with you, it's best to go for a compact and lightweight one (George Foreman is one of the smallest smokeless indoor grills you can get).
5. Lid
Most smokeless electric grills have a lid. Lids are usually made from tempered glass, similar to the lids on pots and pans. Glass lids have another advantage — you can monitor the food without removing the lid and letting out the heat.
Also, some grills have a lid with a concave shape, which lets the air circulate evenly throughout the grill, such as the Hamilton Beach grill.
Moreover, some lids come off and are dishwasher-safe, while others are integrated into the grill, and you have to wipe them down.
Overall, the lid is an added defense against grease splatter and smoke and keeps the mess in the kitchen to a minimum.
6. Open vs. Contact Grill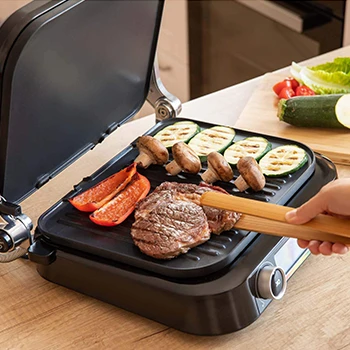 A contact grill is a smokeless electric grill with a heated top grill plate or a griddle that lowers onto the food and cooks it from above as well as below. An example is a panini press.
An advantage of a contact grill is that it cooks the food faster. However, top grates tend to be heavy, so it presses down on the food a lot. Also, two surfaces mean double the cleaning.
An open grill has a bigger cooking area compared to a contact grill. This grill is like a standard outdoor grill. The grill plate cooks the food on one side only, and you have to turn the food halfway through the cooking.
Note: Some open grills have a lid you can attach to contain heat and smoke. 
7. Maintenance
Best indoor smokeless grills are easy to clean and maintain. These grills have removable trays that catch the grease, and removable cooking grates or plates, so you can wash them in the sink or the dishwasher.
Overall, make sure to get an indoor electric grill with a drip tray and dishwasher-safe components so there's less work for you.
8. Extra Features

Here are some more features of an electric smokeless grill you may consider:
Temperature indicator lights

— These are handy for letting you know the grill is heated and you can start cooking food.

Interchangeable grates

— If you want to make waffles and pancakes, get a grill that functions as both a griddle and a grill.

Non-slip feet

— These ensure the electric grills are in place and there's no accident when a hot grill slides on the table.

Portability

— Most electric grills are compact and portable, so you take them on trips or carry them from your kitchen to the balcony, patio, and more. Also, handles make carrying the grill easier.

Temperature probe

— This checks the food temperature during cooking and lets you know the food is done.

Auto-shut off

— This function ensures the electric smokeless grill turns off when you're done cooking. The grill can't get too hot and cause a fire.
FAQs
What is the Highest Rated Smokeless Grill?
The highest-rated smokeless grill is the Cuisinart 5-in-1. It has the best price-to-value ratio and offers excellent cooking versatility.
Do Indoor Smokeless Grills Really Work?
Yes, indoor smokeless grills really work. These grills use infrared heat and not direct, open flames to cook food. This creates less smoke.
What's the Best Indoor Smokeless Grill for You?
The leading brands in the industry have clearly gone above and beyond to create smokeless grills that can provide amazing results. Still, my vote for the best indoor grill goes to Hamilton Beach Electric Indoor Searing Grill.
This grill is a perfect choice if you cook for a larger family, as it has one of the biggest cooking capacities found in indoor grills.
It reaches an impressive 450 degrees, so you can even sear your meat. I prefer it because it's very easy to use thanks to removable, dishwasher-safe parts and the power and preheat lights, which let you know when to use the grill.
Hamilton Beach (Best Overall & With Largest Cooking Surface)
Our #1 Recommendation
The lid prevents smoke and keeps oil and grease in
Large cooking surface
Viewing window on the lid for checking on food
Get the BEST PRICE until the end of December
References:
https://www.charbroil.com/how-tos/what-is-indirect-and-direct-grilling
Was this article helpful?