As a meat gourmet enthusiast, I enjoy barbecuing on different Korean BBQ grills because it's a great way to mix up my carnivore food menu and add versatility to my meals.
But to meet all my barbecuing needs, I had to dig further on the BBQ grills available on the market to identify the best ones available without compromising the quality of my dishes.
In this article, I'll share and review the best six Korean BBQ grills I've tried or tested before giving you my top pick grill that you can buy for your next Korean cooking session.
Let's get started.
The Best Korean BBQ Grills
Editor's Choice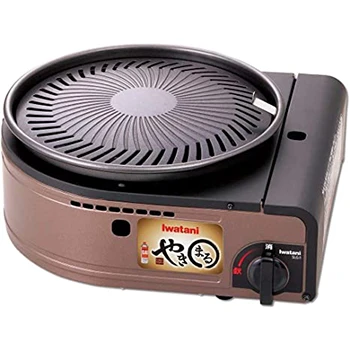 Iwatani
Check Current Price
#2nd Best Choice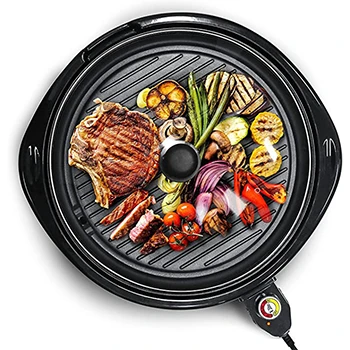 Elite Gourmet
Check Current Price
#3rd Best Choice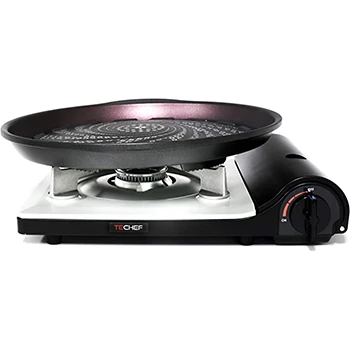 TECHEF
Check Current Price
6 Best Korean BBQ Grills
Buyer's Guide for the Best Korean BBQ Grill
Here are detailed buyer's guide criteria to help you understand more about Korean BBQ grills so that you can make an informed decision when buying one.
1. Grill Size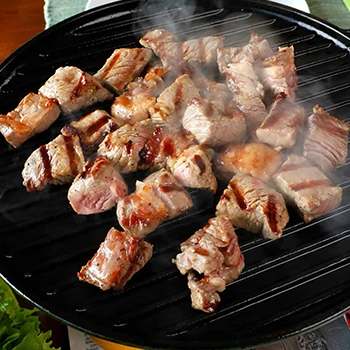 Size, like with most grills, might be crucial when buying a Korean BBQ grill.
Most electric Korean grills are tiny, so don't expect a lot of cooking area from them. If you plan on doing a lot of cooking, be ready to devote hours prepping ingredients into batches so that you can cook the Korean BBQ in waves.
Many large Korean BBQ grills can offer anywhere between 10 to 14-inch cooking space, ideal for modest family size.
Read More: Best Small Grills
2. Construction Material
Most Korean BBQ grills are constructed of aluminum, steel, ceramic, and Teflon.
The material used to make it can significantly impact the grill's longevity. This is why I recommend going for grills made with the above-stated solid and durable materials.
A non-stick heating surface is also essential to consider. Thankfully, nearly all Korean BBQ grill manufacturers put a non-stick finish on their sizzling pans.
This is great as it guarantees that your grill's cooking surface does not emit toxins when exposed to high heat thresholds.
Also, check the cooktop material of your grill, as this can significantly influence the cooking performance. If you want something that's inexpensive and lightweight, and easy to clean, go for a cooktop made of aluminum or alloy.
Also Read: Best Stainless Steel Grills
3. Heat/Power Source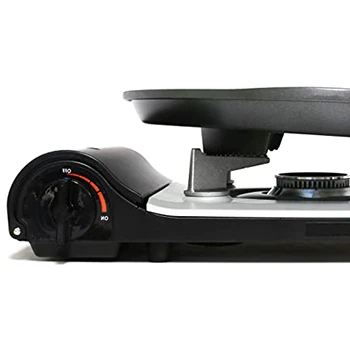 When purchasing a Korean BBQ grill, the heat source is another crucial factor to consider. In the Korean BBQ grill sector, you can buy a standalone pan or go for a whole barbecue grill set.
If you buy a Korean BBQ grill pan, you'll need a separate source of heat, either gas or electricity. But if you invest in a full Korean Barbecue set, the available heat options are electric, charcoal, or gas.
Whichever one you choose, think about the availability of a heat source as well as the benefits of each. For instance, you might select an electric grill for Korean BBQ over a charcoal type if you reside in a small apartment complex.
Also, if you go with an outdoor Korean BBQ grill powered by charcoal, you'll have to heat and fan the charcoal for a few minutes before grilling – this procedure wastes a lot of cooking time.
On the other hand, a stovetop type may be powered by your gas burner and starts cooking immediately.
The same holds for models that run on electricity, albeit it is essential to note that the heating components in most electric Korean BBQ grills may not adequately heat through thick meat cuts.
4. Temperature Range and Heat Control
It is critical to consider the grill's power needs, as greater power ratings frequently result in faster cooking periods. Additionally, seek energy-saving badges on any electric Korean grill, as devices with these settings can help you save money on your electric bill.
Take note of the temperature needs of the best Korean barbecue grill you want to buy in terms of heat controls. This is due mainly to the fact that various top Korean BBQ grills demand specific temperatures.
As a result, if your Korean BBQ grill does not have a broad temperature range, you may be unable to yield the perfect KBBQ.
5. Grease Management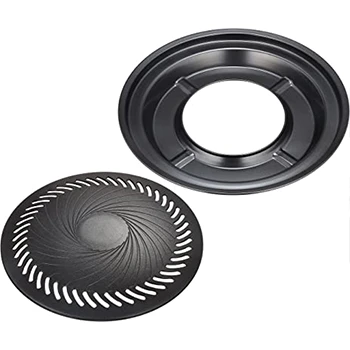 When grilling, there's a lot of drippings and grease from the food. Fortunately, most Korean BBQ grills include grease trays that capture grease when it drips through a designated grease hole.
Since grease pans are frequently dishwasher safe, having grease drainage makes cleaning the grill much simpler. Additionally, the amount of smoke produced during grilling is decreased as the fat drops into the hole.
If you do not have a dishwasher, soak the grill in water with dishwashing detergent. Never clean the pan with a scrubby brush or steel wool to remove tenacious fat and food debris. The scratchy action of these cleaning chemicals will damage and peel the grill's Teflon layer.
However, you shouldn't let the lack of a greasing system put you in a bind; if you can buy a cheaper Korean BBQ grill and devise your own grease collection technique, you'll be just fine.
Related Articles:
FAQs
Are Korean Barbecue Grills Safe for Use in an Apartment?
Yes, Korean barbecue grills are safe for use in an apartment. But ensure your kitchen area is well-ventilated before you start grilling.
Which Grills are Popularly Used for Korean BBQ?
Charcoal and gas grills are popularly used for Korean BBQ. Most of these best Korean BBQ grills are built into the dinner table, and guests can grill their meat right there.
Can I Use a Regular Grill for Korean BBQ?
No, you cannot use a regular grill for Korean BBQ. Regular grills have wide grill plates that are far apart, so the tiny Korean BBQ meat strips will fall through the spaces.
What Is The Best Korean BBQ Grill for You?
The right Korean BBQ grill should be portable so you can cook wherever you are, big enough to grill a range of foods, and simple and clear-cut to operate.
With these factors in mind, Iwatani Smokeless Korean BBQ Grill is my top pick if you want to spend a few dollars on a premium indoor Korean BBQ grill.
With the Iwatani smokeless Korean BBQ, you have a full cooking system without needing a stove or gas grill, thanks to its compatibility with butane canisters.
Iwatani Smokeless Korean Barbecue Grill (Best Overall & for Beginners)
Our #1 Recommendation
It is smokeless
Even heating element
Easy to assemble, clean, and disassemble
Easy to lift and carry
Was this article helpful?