Since I am a devoted carnivore, I am always looking for new and tempting sources of meat. So when I came across Blackwing Meats, their extensive range of meats intrigued me.
To put them to the test, I ordered from them over two months and tried a wide range of their products. Here is what I learned.
What Is Blackwing Quality Meats?

Blackwing Quality Meats is a company founded in 1996 by a husband and wife team to bring natural organic meats to health-conscious consumers [1].
This online meat supplier delivers a wide variety of high-quality, hormone and antibiotic-free meats to your door.
They offer a wide variety of products, including chicken, beef, and pork. The company also supplies specialty meats like buffalo and kangaroo.
Blackwing Meats Highlights
Here are the main benefits you can expect from Blackwing Meats:
1. Sourcing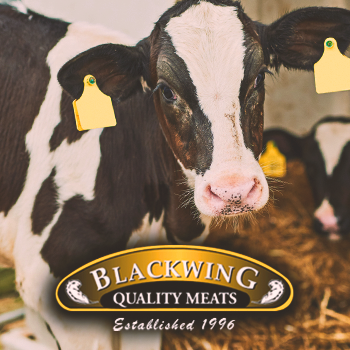 In the early days of Blackwing Meats, the company sold ostrich meat produced on its farm and then branched out to buffalo a few years afterward.
Now, Blackwing sources its products from ranches and farms across the United States (including their own).
These farms must adhere to the Blackwing standards for the humane treatment of animals and sustainable farming practices.
The company expects its suppliers to provide healthy, natural, and delicious animal protein that you can feel good about eating.
This includes ensuring that no hormones or unnecessary antibiotics are given to the livestock.
I like that the company uses only US-based farms and ranches. This way, the consumer is closer to the source of the food and can be more confident in the product's freshness.
2. Quality
All Blackwing meats are 100% organic and contain no GMOs, antibiotics, or growth hormones. They are prepared in USDA-approved facilities before being flash-frozen to ensure freshness.
Blackwing claims that it moved from wholesale to retail because there were physicians that wanted high-quality meat to be shipped directly to their patients in areas where organic items were not available.
Although several online meat delivery services offer grass-fed beef, heritage pork, and free-range skinless chicken without growth hormones, there are very few that provide certified organic products in all these areas, plus turkey and buffalo.
I appreciate that Blackwing Meats goes the extra mile to eliminate antibiotics and be certified organic across the board.
3. Meat Offerings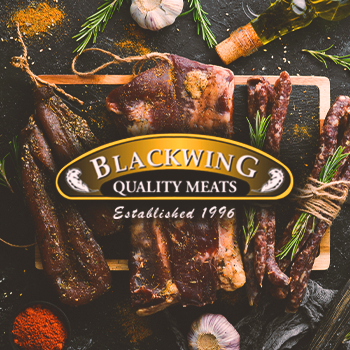 The Blackwing Meats menu is extensive, with hundreds of different cuts. There are more than 40 beef items alone.
In addition to common meat like beef, skinless chicken, fresh and salt-water seafood, turkey, lamb, and pork, Blackwing has many specialty options.
Among others, you can choose from duck, goat, camel, kangaroo, elk, venison, antelope, rabbit, wild boar, and frog.
These choices are great for protein, iron, and fat. They also keep your calories in a reasonable place and don't load a lot of cholesterol into your diet.
If you are not trying to stay strictly carnivore, they sell organic fruits and vegetables. These crops are minimally processed and packed to preserve flavor, texture, and nutrition.
Blackwing sells soups, chilis, coffee, gourmet cheese, marinades, and sauces. You can also buy gluten-free options, walnut burgers, and even treats for your pet.
"Our mission is to be able to ship our product in three days or less within the US. We also want to provide our area local, healthy food, more reasonably priced than big box stores like Whole Foods."
- Roger Gerber, Founder
In addition to the standard cuts of meat, Blackwing Meats also offers a selection of prepared foods, such as beef jerky, chili, and beef stew.
These are great for busy families or anyone who wants healthy food without all the hassle.
I was particularly impressed by the variety of ground meat options, including grass-fed beef, buffalo, pork, free-range chicken, and turkey.
Blackwing also offers a wide range of ham, sausages, hot dogs, and bacon that have good flavor.
4. Frequency
As opposed to many meat delivery companies, Blackwing does not require a subscription to access its products.
You can purchase as little or as much as you want, whenever you want it.
I appreciate this because sometimes I only want the occasional steak or roast but don't need access to regular delivery.
It's also suitable for those with have a big family gathering or party coming up who need to stock the freezer.
5. Shipping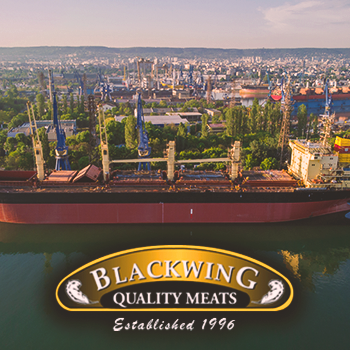 You can select meat from Blackwing Meats online and have it delivered to your door within 2-3 days.
The company ships anywhere in the contiguous United States via UPS. The price of shipping varies depending on the weight of your purchase.
The day that your meat will ship depends on how many days it will take to reach your destination.
If there will be three days of transit time, it will ship on a Monday or Tuesday. Two-day orders ship Monday through Wednesday, while one-day transit items ship on Thursdays.
Orders do not ship on the same day most people buy them, and the shipping department is closed Friday-Sunday.
I found the company does have an expedited air shipping option, which allowed me to get my order two days earlier than I otherwise would have. However, that service did cost extra.
6. Packaging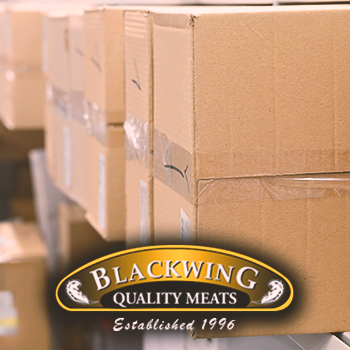 Blackwing expects its products to last for three days of transit without thawing. They use gel packs and dry ice placed in insulated containers with liners to make that happen.
I found that my meat arrived fully frozen and vacuum-packed. The box it came in was sturdy, and there was no evidence of leaks or damage.
The only negative thing I could say is that not all the packaging is recyclable, which is a bit of a downside, as far as I am concerned.
Other companies ship their products with insulation that can be composted, burned, or dissolved in water.
This would make a lot of sense for Blackwing, given its attention to the environmental sustainability of its farming partners.
Shortfalls
Although Blackwing has many things going for it, the limited shipping dates can be frustrating. This is not a service for last-minute planners because it may take up to six days from the time you place your order to when you get your meat.
This occurs because of the combination of shipping time, the company not shipping on weekends, and the processing time needed before shipping.
Pros
Extensive menu to select from
Easy access to specialty and game meats
USDA certified Blackwing organic meats
Only buy what you want when you want
Cons
Shipping dates are limited
Comparison to Other Meat Delivery Services

1. Blackwing vs. ButcherBox
ButcherBox offers standard meats like beef, pork, and chicken through a subscription model, emphasizing transparency in its sourcing, which includes 100% grass-fed beef and free-range organic chicken. On the other hand, Blackwing provides a unique range of exotic meats, such as elk and ostrich, on an a la carte basis and even has a physical store.
While ButcherBox is open about its sourcing practices, Blackwing ensures its meats, many being grass-fed, come from humane and sustainable conditions, though with less online transparency.
2. Blackwing vs. Crowd Cow
Crowd Cow is a meat delivery service that offers high-end animal protein such as Wagyu beef to flavor-filled, dry-aged steak.
It also offers some specialty meats, though not as many as Blackwing does. Interestingly, Crowd Cow has a partnership with Blackwing Meats to provide them with game meats - elk, boar, and venison.
3. Blackwing vs. Snake River Farms
Snake River Farms is a company that specializes in American Wagyu beef and Kurobuta pork.
The quality of the meat is excellent, but it comes at a higher price point than many of Blackwing's offerings. It also does not offer the variety of meats that Blackwing does.
Related Articles:
Where to Buy And Price?

You can place all orders on the company website, where you can also get a coupon code for 10% off your first order.
With so many options on the menu, it is difficult to give a complete price breakdown. However, to provide a framework for comparison, here are some prices for ground meats of different origins:
Ground beef - $7.99 per pound
Ground turkey - $5.95 per pound
Ground buffalo - $10.69 per pound
Ground lamb - $9.30 per pound
Ground pork - $5.49 per pound
Ground goat - $9.07 per pound
Ground camel - $9.99 per pound
Ground kangaroo - $11.99 per pound
Ground elk - $9.79 per pound
Ground venison - $8.95 per pound
Ground ostrich - $17.00 per pound
Ground antelope - $9.99 per pound
Ground wild boar - $9.49 per pound
Who Should Order from Blackwing Meats?
You should order from Blackwing Meats if you want exotic and game meats such as bison, elk, ostrich, or even kangaroo.
Who Shouldn't Order from Blackwing Meats?
You shouldn't order from Blackwing Meats if you want your package delivered in a short period. It's not a meat delivery service for last-minute planners because you might get your box up to a week from the date you place the order. The company doesn't place orders on weekends either.
User Testimonials
I think Blackwing Meats provides an easy way to get an excellent variety of animal protein to your house. Looking across the internet, I am not the only one.
Here are some reviews from other users of this service:
"The best part of Blackwing Meats is the variety. I never get bored with my meals because there's always something new to try. I can select chicken, beef, pork - it is all there."
- Jonnie S., In WY
"I love that I can order exactly what I want and how much I want. It's so convenient. Also, the products are not overly processed and all really high quality. They taste great and make me feel good knowing that I'm eating healthy."
- smileydeer, On Reddit
FAQs
Where Is Blackwing's Location?
Blackwing's location is in Antioch, IL, 55 miles northwest of Chicago.
Does Blackwing Have a Local Store?
Yes, Blackwing has the Old Mill Creek Country Store. This store sells the same range of products as Blackwing does online. It also adds milk, teas, energy drinks, and side dishes. The store hosts events for local Antioch customers and offers deer dressing for hunters [2].
​​What Forms of Payment Are Accepted at Blackwing Meats?
Blackwing Meats accepts all major forms of payment, including credit cards on its website and will also accept ApplePay.
Should You Try Blackwing Organic Meats?
In summary, Blackwing Meats has a wide variety of meats available, with a focus on health and quality. The website is easy to use, and shipping is on time.
If you are concerned about finding a delivery service that is more directed toward traditional meat at a lower price point, consider ButcherBox as an option.
It delivers grass-fed beef, skinless chicken, pork, and seafood to your door every month.
#1 Meat Delivery Service
ButcherBox
Click For Best Price

Pros
Grass-fed and grass-finished beef delivered directly to your door
Without antibiotics or added hormones
Customizable boxes available
Select from up to 21 different cuts
Get the BEST PRICE until the end of December
Was this article helpful?