Recently, our team was throwing a party in the office, and we wanted to impress some new guests with a surf and turf style meal. We wanted something high-quality compared to the local grocery store.
After trying dozens of meat delivery companies, we found out that Allen Brothers has both seafood and meat. In this Allen Brothers review, we decided to make our own taste test to help you decide if it might work for you.
What Is Allen Brothers?

Allen Brothers is an online meat delivery service that focuses on USDA prime beef, which is the top 2-3% hand-selected cuts. Their USDA prime beef is sourced from the mid and middle-northern states known as the best areas of cattle production.
The company was founded in 1893 in the Union Stockyards neighborhood in Chicago. They offer humanely raised, grass-fed, and hormone-free American beef.
They also offer heritage breed pork, lamb, and veal. The Allen Bro company also provides a large selection of seafood and side dishes that are sourced from the regions to which it is native.
Pros
Vast selection of seafood
USDA prime beef cuts
Large variety of boxes
Offers sale items daily
Cons
Only offer 2-day shipping
What's On The Menu?
Allen Brothers offers an extensive menu, including beef, pork, rib eyes, veal, burgers, tomahawk ribeye, rib roast, dry-aged beef, filet mignon, strip steaks, hot dogs, kobe, burger, lamb chop, and seafood. They focus primarily on USDA prime beef, so they don't offer many USDA choice grade beef options as a cheaper alternative like other steakhouses. They offer bison steak and elk on their game menu.
The Allen Brother steakhouse seafood menu includes Alaskan King Crab legs, scallops, shrimp, lobster, and octopus. They offer poultry cuts like most chef and butcher shops. The animals are raised locally and fed a diet of natural grains. Allen Brothers also provides some pantry items like caviar, truffle butter, ice cream, and foie gras.
Highlights:
Ribeyes
Prime Rib
Desserts
Dry-aged beef
Wet-aged steaks
Black Tiger shrimp
USDA Prime beef
New York strip steaks
Japanese Wagyu beef
Alaskan King Crab legs
How's the Quality?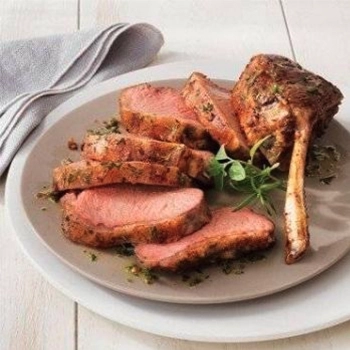 Based on customer feedback and our taste test, the quality of Allen Brothers steaks selections is above average compared to grocery store meat options and others we've tried.
They focus on prime meat and prime beef rather than choice, which is the highest grade and more expensive.
Allen Brothers sources their cows from the middle-northern states where the farm land and climate are ideal for growing green and natural pastures.
According to the establishment, they allow each prime steak and filet mignon to go through either a wet or dry-aging process, which makes the meat part more tender and juicy. We particularly like their dry aged beef and dry aged steak.
They source their pork from heritage breeds only. One thing that impressed us is the fact that Allen Brothers never uses a machine to cut their meats since they prefer a hand-cut method like an old-school butcher shop.
What Are The Prices Like?
Allen Brothers is way expensive than typical grocery store prices. It falls on the more premium side as far as selections and pricing as most high-end gourmet steak restaurants like Harry & David. It may not be the most budget-friendly solution to buying all of your meat, but it is higher quality than grocery store steaks based on our experience with the rib eye, strip steaks, Wagyu beef, and prime bone filets mignon that we ordered.
Customer Service

Shipping & Delivery Times
Allen Brothers offers their Prime Delivery Service through UPS throughout the country. This means that your order will arrive in about 2 days from Wednesday to Friday.
They also offer an overnight delivery option that costs an extra $25, and your package will be delivered in 1 business day. When you checkout, you will be asked to choose a delivery date.
Once your order has been shipped, Allen Brothers will send you a tracking number which you can follow on the UPS website.
As for their payment option, Allen Brothers accepts all major credit cards on their website. You can also pay with an Allen Brothers gift card.
Recommended Article: Omaha Steaks vs Allen Brothers
Guarantee & Refunds
Allen Brothers guarantees that all of the USDA prime steaks are of the highest quality and marbling. They ensure customer satisfaction, so you get exactly what you pay for when placing an order for their meat products. They do not accept returns, but they encourage you to call if you experience a problem so that they may work out a resolution.
How Does Your Shipment Arrive?
Your shipment will arrive in a gift box with a PET liner for insulation. The individual steaks will be vacuum-sealed and flash frozen. They place the gift pack into a corrugated container with dry ice to ensure that it stays frozen. For bacon options in your gift basket, click here.
Services similar to Allen Brothers:
How Do You Cook Allen Brothers Steaks?

The company suggests cooking all of their gourmet steaks on a grill versus a pan.
Grilling Instructions
The meat needs to be thawed completely before grilling.
Sear over high heat on each side of the steaks.
Close the lid of the grill and let it sear until it reaches the desired doneness.
Let it rest for 5 minutes before enjoying.
Are There Any Complaints?
Based on product reviews, one potential complaint might be that for some steak cuts, you cannot buy only one. You usually have to buy two or more. Another potential downside could be that it won't fit everyone's budget since it is on the expensive side.
Online Allen Brothers Review
After a thorough checking, we think that Allen Brothers might be a good choice for people who are looking to purchase premium meat and seafood.
Based on several Allen Brothers reviews, it could be ideal for customers that want to add some protein variety to their diets since the selection is so vast. According to Google reviewers who have savored their ribeye steaks, Allen Brothers received an "excellent" rating of 4.4 stars [1].
FAQs
Is Allen Brothers beef grass fed?
Based on their official site, Allen Brothers offer grass-fed and finished beef sourced from family farms that raise cattle in an open environment.
Does Allen Brothers offer free returns?
Not necessarily. For concerns on refunds and returns, Allen Brothers recommends calling their Customer Support team a day after receipt of your order.
Is Allen Brothers Meat Worth Buying?
While Allen Brothers may be worth it for people that want surf and turf options, we still prefer ButcherBox when it comes to flexible subscription services.
We love how ButcherBox constantly provides us with premium meat options delivered right to our doorsteps, free of charge. The freshness of the Butcher Box strip steaks and the consistent flavor of their grass fed beef impresses us every single time.
#1 Meat Delivery Service
ButcherBox
Click For Best Price

Pros
Grass-fed and grass-finished beef delivered directly to your door
Without antibiotics or added hormones
Customizable boxes available
Select from up to 21 different cuts
Get the BEST PRICE until the end of September
Was this article helpful?