I always want to know where my food comes from. This became even more important during the years I've been on a carnivore diet, which is why I turned to ordering my meat from meat delivery services.
I've tried and reviewed almost all the meat delivery services and subscription boxes in the last several years. I've recently come across the Good Chop box. Their offer sounds promising, so I decided to give them a try.
In this review, I'll talk about their pros and cons so you'll know if you should give them a try.
Overall: 4.6/5
Quick Facts
Build a box by choosing between 25 cuts

Offer beef, pork, chicken, and seafood

Only sell meat and seafood from humanely treated animals

Animals aren't given antibiotics or hormones
Brand information
Offer medium and large boxes

Sell flash-frozen meat with dry ice

Only sell sustainably raised food

A subscription box is delivered every four weeks
Advantages
Only source food from the US

Source meat from family farms and independent ranches

Offer a 100% money-back guarantee

Free shipping
Click For Best Price
What is Good Chop?

Good Chop is a meat delivery service. You can build your box by choosing between 25 kinds of organic meat cuts. You can also choose between medium or large boxes.
This is a subscription service. You set up a subscription, and a meat box is sent to you every four weeks.
All of their meat and seafood come from US farms and fisheries.
Good Chop Highlights
I tried several Good Chop boxes, and in this review, I'll talk about what I liked about this company.
1. Meat Selection
This service offers a good meat selection. They have all the basic kinds of meat, such as grass-fed beef, pork, chicken, and seafood.
Here's an example of what cuts you can get with each kind of meat.
Beef:
Beef Ribeye steak

New York Strip steak

Beef filet mignon

Beef stew meat

Porterhouse steak

T-bone Steak

Burger patties

Bottom round roast
Pork:
Bacon

Pork chops

Pork tenderloin

Ground beef

Pulled pork

Pork loin roast

Boneless pork butt

Boneless pork chops

Italian ground sausage
Chicken:
Boneless skinless chicken breasts
Boneless skinless chicken thighs
Organic turkey
Seafood:
Sockeye salmon
Lobster tails
Wild-caught Pacific cod
Wild-caught rockfish
Coldwater shrimp

Sea scallops
Note: Apart from beef, pork, chicken, and seafood, Good Chop now has some seasonal offers, like Thanksgiving turkey.
2. Sourcing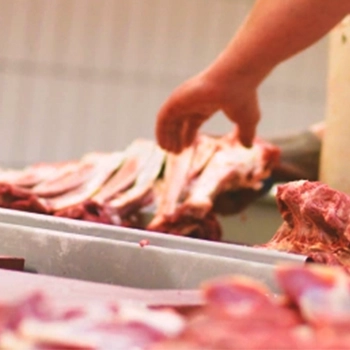 The company says they are a "local butcher," as all their food is from the US, which I found to be true [1].
Good Chop places a lot of importance on meat sourcing. They explain that even important meat can get a "Product of the U.S.A" label if it meets certain standards. They want to do better, so all their high-quality American meat comes from American farms.
As their meat is completely US-sourced, they reduce pollution and support local economies and small farmers.
This high-quality American company only works with family-owned farms and independent ranchers who care about animal welfare and sustainable animal raising. All animals are treated humanely, with plenty of space, food, and water.
The animals aren't given any artificial ingredients, added hormones, or growth promoters.
Here's exactly how they source each kind of meat.
Beef
The beef comes from animals born and bred in the US, even for stew beef, ground beef, and beef ribeye steak. The cattle are raised responsibly. They also have Angus breeds which have more marbling, which results in better flavor and tenderness.
Some of their premium options, such as USDA Prime, are grass-fed and come from Iowa, Nebraska, and South Dakota. I would have liked it if they had 100% grass-fed beef, but grass-fed prime cuts are better than nothing.
The cows are grown on open ranges, where they can graze and have plenty of space. They are given a vegetarian diet of grains during the final stages of their lives. Farmers produce USDA Prime meat in this way.
Finally, Good Chop says they only work with farmers who raise animals sustainably and are willing to go through audits to verify this.
Pork
Pork also comes from the US and is raised without antibiotics or added hormones. The animals are raised on a vegetarian diet and milk protein.
The heritage pork is housed in climate-controlled barns where they are safe from extreme temperatures and wild animals.
All farmers who raise pork are Pork Quality Assurance Plus (PQA) trained to ensure animal wellbeing.
The drivers go through Transport Quality Assurance training to lower transport stress and injury while the hogs are moved from one location to another.
Chicken
Like beef and pork, chicken is also responsibly raised and fed a vegetarian diet consisting of soybean meals.
The chicken comes from farms in Iowa and Nebraska. These are free-range chicken. They are grown in climate-controlled barns and have access to local freshwater. They aren't caged and are gathered by hand when feeling most relaxed. Relaxed chickens give the best-tasting meals because their hormone levels are in the correct ranges.
Seafood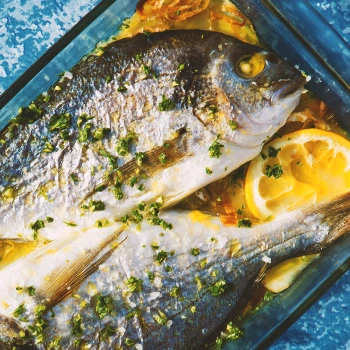 Good Chop seafood is caught on the American coasts or raised on US farms.
The company partners with fisheries that have the blue Marine Stewardship Council (MSC) label. MSC is a third-party council that restores wild fish in their ecosystems and ensures that fisheries only catch healthy stocks.
Apart from wild-caught seafood, Good Chop gets farmed fish approved by the Aquaculture Stewardship Council (ASC). ASC tests water quality, prevents disease, and makes sure there's animal welfare.
3. Good Chop Subscription Boxes
Good Chop has only two boxes you can choose from. However, both of these will give you some high-quality meat.
Medium Box
The medium box contains 36 portions. The price of each portion comes down to $4.14 per meal. You can store them in the freezer for up to a year.
You can select 6 cuts from the menu.
This box is best for individuals and small families.
Large Box
The large box has 72 portions. The price of each portion comes down to $3.74 per meal. You can also store these cuts in the freezer for up to one year.
Good Chop says this larger-sized box is best for large families or individuals and small families with big freezers.
Pros and Cons
Pros
100% money-back guarantee
All cuts come from the USA
Sustainably raised animals
Free shipping
Cons
Only two Good Chop subscription options
Good Chop Shortfalls
While Good Chop provides high-quality meat, there are some things I didn't like about this subscription service.
1. Packaging
One part of the Good Chop delivery subscription I didn't like was the packaging.
The high-quality meats are sent flash-frozen and packed with a lot of dry ice, which is all fine.
However, the packaging was full of plastic, mostly because all of the dry ice (and there was a lot of it) was packed in plastic bags.
Considering that Good Chop is a company that places a lot of importance on being sustainable, I'm surprised they didn't find a better way to pack dry ice and avoid using so much plastic.
They also should have found a better way to highlight how to recycle the package.
Several meat delivery companies I've used before sent detailed instructions on how to recycle the whole package. The Good Chop box doesn't include any recycling info.
2. No Game Meat
A Good Chop box offers all the basic cuts: seafood, pork, beef, and boneless skinless chicken. There are standard meat cuts, such as beef filet mignon, ground beef, and chicken cuts.
However, the meat offering is pretty basic. Even turkey isn't available all year long.
They don't offer exotic or game meats like bison, elk, or veal.
After months of using a Good Chop box, I got bored with the meat selection and turned to meat deliveries with more options.
3. Only Two Subscription Boxes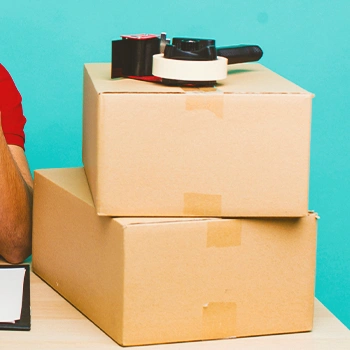 The final thing I wish Good Chop would change is the number of available subscription boxes. They only have two boxes you can choose from medium and large [2]. The main difference between them is how many cuts you can choose.
Other meat subscription services have 5, 10, and even more, boxes to choose from.
They are a relatively new company, so hopefully, they'll expand their offer soon.
Comparison to Other Meat Delivery Services
Good Chop has the smallest number of subscription boxes — only two. ButcherBox has 5 boxes you can choose from. Crowd Cow has 4, and Snake River Farms has 12.
As for the shipping, both ButcherBox and Good Chop have free shipping. Snake River Farms shipping starts from $9.99, and Crowd Cow shipping is $19.99.
ButcherBox and Good Chop have similar meat offerings: pork, beef, chicken, and seafood. Snake River Farms have a somewhat larger meat selection: beef, pork, lamb, seafood, chicken, and bison.
Finally, Crowd Cow has the biggest selection, which includes all of these plus game meats, duck, turkey, and lamb.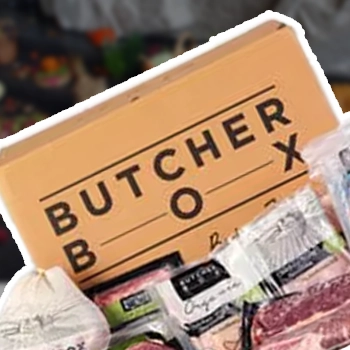 ButcherBox
Pros
Free shipping on all orders
Three delivery frequency options
Free ground meat for the duration of the subscription
Meat is packed in recyclable boxes with dry ice
Cons
No game meats
No organ meat
Crowd Cow
Pros
Wide variety of meat available
100% grass-fed and pasture-raised cuts
Use all parts of a cow
Flexible shipping delivery options
Cons
Expensive
Only three subscription boxes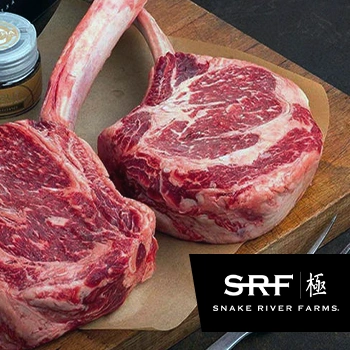 Snake River Farms
Pros
Meat selection includes American Wagyu Beef & Kurobuta Pork
Offer two grades of American Wagyu beef
Offers hot dogs
Only sell meat from family-owned farms
Cons
Expensive
No free shipping
Where to Buy and Price?
You can buy Good Chop boxes on their official website.
The boxes are priced at:
Medium Box: $99
Large box: $219
You can also pause, modify, or cancel your subscription anytime before the next billing date.
"We'll schedule future deliveries to arrive every 4 weeks from the date you choose."

-Good Chop Official Website
Good Chop offers free shipping on all orders. Plus, there's a 100% money-back guarantee.
If you aren't happy with your order for any reason, you can reach out to the company and get a refund or credit to your account.
Who Should Use Good Chop Subscription?

Meat lovers who want sustainable food

— All Good Chop food is sustainably raised on small farms or caught on US coasts. 

People who want to support independent farms

— This company works with small, family-owned farms, so if you want to support independent farmers, this is a good way to do it.

People who want to eat healthily

— This is a good option if you want to eat unprocessed, antibiotic, and hormone-free meat.

People who want to buy in bulk

— If you want to stock up your freezer, you should order a larger-sized box.

People who don't want to go grocery shopping

— If you don't have time or hate grocery shopping, Good Chop Meat is a good option.
Who Shouldn't Use Good Chop Subscription?
People who don't eat meat

— This one goes without saying. Good Chop is a meat delivery service only.

Big seafood lovers

— Good Chop isn't the best choice if you eat mostly seafood, as their wild-caught seafood offering is slim.

People who want game meats

— Good Chop has no exotic game meats.

People who want to know their meat delivery company

— Good Chop doesn't provide the customer any information about their history, corporate ownership, or location on their website.
Other User Reviews
"We were impressed by the overall experience, but even more so by the quality of the meat — definitely spot on."

-Victor, Good Chop's Official Website
"Absolutely delicious. American meat at its finest and without antibiotics or hormones. I can highly recommend Good Chop."

-Cori, Good Chop's Official Website
FAQs
Yes, Good Chop is legitimate. You can order meat subscription boxes from them.
Yes, Good Chop is organic. All of their meat is sustainably sourced, without added hormones, coloring, additives, and antibiotics. The cattle and poultry are fed a 100% vegetarian diet.
Is Good Chop Beef USDA-graded?
Yes, Good Chop beef is USDA-graded. Their finishing process allows family farms and independent ranchers across America to produce USDA Choice and Prime graded beef, always well-marbled and tender.
What's the Best Meat Delivery Service for You?
My top choice for a meat delivery service is Good Chop. They have a good selection of meat: grass-fed beef, pork, seafood, boneless skinless chicken breast, and turkey.
You can get all your favorite cuts from the Medium Box, such as beef filet mignon, pork butt, and other premium cuts, without any hormones or antibiotics.
Good Chop cares about sustainability, and it shows in all of its practices. They only sell sustainably raised meat and ship it in recyclable boxes.
Finally, you always know where the meat and seafood come from, especially wild-caught ones. All of Good Chop's products are sourced from US farmers and fisheries, ensuring sustainability and quality here at home.
Click here and get the best meat quality today.
We Recommend This Product
Good Chop
Click For Best Price

Pros
100% money-back guarantee
All cuts come from the USA
Sustainably raised animals
Free shipping
Get the BEST PRICE until the end of September
Cons
Only two Good Chop subscription options
Was this article helpful?