At Carnivore Style, our goal is to test every meat delivery service available. A friend of ours recently mentioned they placed an order with Mr Steak and said we should give them a try. For this Mr Steak review, we decided to place a few different orders to see if they would be a great meal option or if there is a better meat alternative. We'll share our verdict.
What is Mr Steak?

Mr Steak is an online meat delivery service that offers high-quality steaks to your doorstep. As per our review, the company chooses USDA prime beef, which is the top 2 to 3% of beef hand-selected for its texture and tenderness. Mr Steak also offers choice steaks as a less expensive alternative.
They source all of their meats and steaks from within a 250-mile radius of Omaha, Nebraska, also called the "Napa Valley of Beef." Every local ranch that Mr Steak partners with ensures that their cattle are pasture-raised and finished on grain for the most marbling. All of the local ranchers and companies ensure that their cows are raised humanely.
Pros
Offers USDA prime and choice
Curated steak boxes
Pasture-raised cattle
Build your own steak box options
Currently offering free ground shipping
Cons
They only offer beef cuts
How Does It Work?
Mr Steak works by letting you to choose from their selection of USDA prime and choice beef and steaks, and buy through one-off purchases. They do not require a steak subscription on their meats, but you cannot buy one item per box at a time. You can choose from one of their curated boxes or build your own meals. Once you choose your box and quantity, they will ship the items within two days.
Other subscription services that deliver to your doorsteps:
What Are the Menu Options?

The menu options at Mr Steak include USDA prime and choice beef cuts. They offer almost every standard cut of beef, but they do not offer any specialty steaks like Wagyu. All of their offerings are organic, non-GMO, and non-steroid. We ordered flat iron steak, T-bone in ribeye, prime bone-in ribs, brisket burgers, cowboy steak, and New York strip steak for this review.
If you're looking for Wagyu for Memorial Day, Father's Day, or just a weekend dinner, we recommend you check out Snake River Farms and Lobel's restaurant.
Popular Menu Options:
Filet mignon
Boneless Ribeye
Cowboy steak
Flat iron steak
Bone-in Ribeye
Kansas City strip
NY strip
Porterhouse
Brisket burgers
How is the Quality & Sourcing Practice at Mr Steak?
Mr. Steak only partners with local midwest ranches that raise their cows humanely on pasture land. Based on reviews, the beef is above average compared to grocery stores or any warehouse club, which is why many steakhouses get regular supplies from them. We thought the flavor they shared was on par with other services, such as ButcherBox meat delivery services.
Grilling Accessories

Aside from quality meat cuts and steaks, Mr Steak also offers portable and patio iron pits in different sizes. The portable options come with 1 or 2 fire burners and use infrared technology.
These grilling accessories are good companions when you're thinking about preparing ribeyes, brisket blend burgers, or Kansas City burger patties with steak magic sauce.
The patio product uses propane and comes with 3, 4, or 5 heat burners. We found that the Mr Steak grill burner was a bit more expensive compared to other brands.
Placing Your Order
As per our Mr Steak review, Mr Steak ships all steaks with a 2-day ground or express depending on your location. They ship out on Monday, Tuesday, and Wednesday. We've talked with the customer service staff and learned that they are currently offering complimentary ground shipping on their food. The prices of the ribeye steaks are generally more expensive than grocery store prices.
Are There Popular Promos & Discounts?
At the time of this writing, the company is offering complimentary ground shipping on all steaks and strips so that you can get the most value for your money. They offer 5% off of $200, 10% off of $275, and 15% off of $350 or more on all boxes.
How Do the Items Arrive?
Based on our Mr Steak review, your items will arrive in Green Cell Foam cooler packaging that is made of compostable corn. It will dissolve under warm running water. They package all of their steaks with dry ice so that it doesn't thaw out while in transit. Put the pack inside the freezer if not consumed immediately.
Recommended Recipes
The company recommends grilling all of their animal produce on a hot pit with the lid open or with the use of grill mats to get a solid flavor and avoid flare-ups. We followed the How to Cook the Perfect Steak recipe for our first pack tasting. If you give it a head start, the boneless ribeye will come back tender and juicy. The grilled chicken burger came out big and with the perfect amount of fat and juices, too. We've also read some comments that recommend marinating it for 45 minutes before cooking.
One Downside
One downside is that Mr Steak doesn't offer an option to purchase one or two products. Another problem is that they had a recent recall of some of their patio cooking pit grills. The fuel line and gauge were not well-mounted to the side of the pit. They have since offered a complimentary repair kit.
Reviews & Online Ratings
Based on our review, Mr Steak might make a good option for customers who want to purchase hand-selected high-quality meat products that will be delivered to their doors. That's the consensus we've seen on social media sites like Facebook and Twitter. According to TrustPilot, the company has an "excellent" rating of 4.6 stars [1].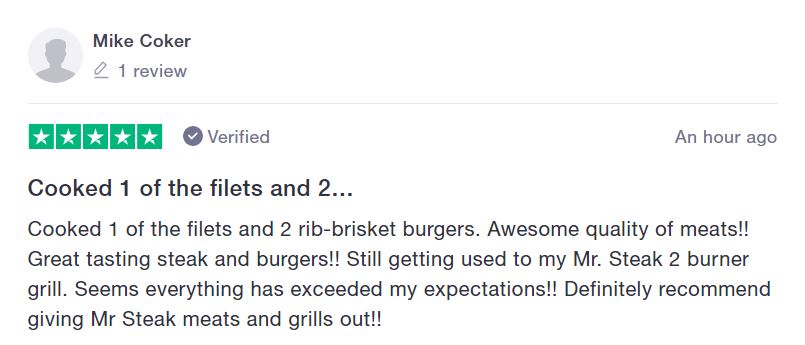 Is Mr Steak Worth It?
After our Mr Steak review and taste trial, we think that they provide an adequate experience for customers that want to switch up a piece of their beef cuts from the standard steakhouse or grocery store options.
But if you're looking for a wider selection, we highly suggest that you try ButcherBox.
ButcherBox provides more than just your traditional premium steaks in their subscription boxes. You also get a taste of restaurant-quality free-range organic poultry and wild-caught seafood. We love how fast they deliver our orders, free of shipping charge. You also get to curate your own box. Follow us for more info on online meat providers.
#1 Meat Delivery Service
ButcherBox
Click For Best Price

Pros
Grass-fed and grass-finished beef delivered directly to your door
Without antibiotics or added hormones
Customizable boxes available
Select from up to 21 different cuts
Get the BEST PRICE until the end of September
Was this article helpful?