When it comes to traditional BBQing, nothing beats cooking over an open flame, powered by some good old-fashioned charcoal. When you pair that with a portable model, you can take your cooking anywhere; whether that be on your camping trips or to the beach.
Finding a good quality grill for an affordable price can be difficult, especially with all the brands and models available. That's why we have tested seven grills to figure out which is the best portable charcoal grill, going over their pros, cons, and standout features.
The Best Portable Charcoal Grills
8 Best Portable Charcoal Grills
The Best Portable Charcoal Grills - Buyers Guide

When searching for portable charcoal grills, there are a few things you need to take into consideration to ensure you get the perfect model for you.
1. Type
Portable charcoal grills come in many styles and shapes, and the right one for you all depends on how you plan to use them. Here is what is on offer when it comes to charcoal portable grills: 
Kamado Grills - The charcoal grills are perhaps the latest and arguably greatest when it comes to charcoal grilling. The kamado grill is egg-shaped and features thick walls, typically made from ceramic, which distribute heat evenly and retain temperature very well. Another great feature of kamado grills is the fact they are usually quite deep, allowing the user to fill the barrel with plenty of charcoal. The downside, however, is these units typically run quite heavy.
Kettle Grills - Kettle-style grills are made with the classic dome shape, featuring a round and removable lid. These grills are typically inexpensive due to being basic and made from cheaper materials. They are usually the best when it comes to portability, and typically can be used on a tabletop.
Barrel Grills - When these grills are turned on their side, they look very similar to a barrel; hence the name. You may actually come across a handful of barrel grills made from actual barrels, especially from BBQ masters. These grills offer a good amount of cooking space, and they can hold lots of charcoal which is ideal for long smoking sessions. The only downside to these types of grills is they are typically heavy.
Hibachi Grills - These grills originate from Japan, and are designed to sit on the tabletop. These days, a lot of hibachi grills are not actually true to the traditional model, resembling a simple flat-top griddle that is easy to transport. A true hibachi is made from heavy gauge steel, and typically features a large cooking surface [1].
2. Size and Weight

Perhaps one of the most important aspects of a portable grill is the size and weight.
Purchasing a grill that is too big or too heavy will make it impossible to move around unless you only plan to do outdoor cooking in your backyard.
When it comes to size, you need to consider how many people you usually cook for and what you are planning to cook.
If you're only looking to cook a few hot dogs, burgers, and other small items, you'll be fine with a small portable charcoal grill.
"Charcoal or gas. Both give excellent results, so choose the one that best suits your style of cooking."
- Bobby Flay, Chef
If you have a big party or plan on cooking or smoking larger cuts, you'll need to go for a unit with enough grilling space.
Regardless, you will ultimately have to consider if your chosen unit is compact enough to fit into your vehicle. If you have a small car, you will want a grill no larger than 25 inches wide and tall.
When it comes to weight, you will find that grills made from cheaper materials, such as stainless steel, will weigh less.
You may even find the charcoal to weigh more than your unit. While this is great for portability, you may find your grill to not last very long.
A grill with better materials, such as porcelain enameled steel or plain cast iron, might weigh around 25-30 pounds, which is ideal for both sturdy construction and portability.
Kamado grills are the heaviest, as they are typically made with heavy gauge steel. While lugging around 75 pounds isn't ideal, it definitely makes the cooking experience a whole lot better [2].
3. Portability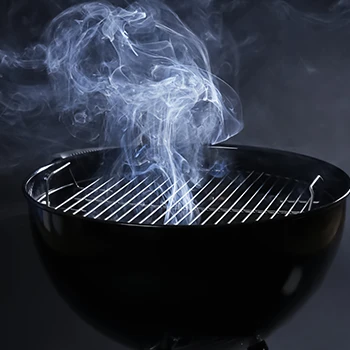 Since you will be carrying your grill around often, you want to make sure that the job is as easy as can be.
Finding a grill that has handles, preferably ones that fold in, will make things easier.
It is also important that you find a grill that has a lock on the lid; this way everything will stay in place as the grill is being transported.
Charcoal grills that come fitted with legs are also helpful; otherwise, you may have to purchase something extra to place your grill on to give it stability while you cook. This feature is even better when the legs are foldable.
4. Grates
When looking at the material of the grates you have to consider whether they will stand the weight of whatever you are planning on cooking. Cooking pans and dutch ovens can easily bend or break grates if they're not the right material.
Material such as cast iron grates may be heavy, but they will also make your unit last far longer than any cheap materials.
Stainless steel is typically a good option to go with; it is fairly light, lasts many seasons, and also makes for a quick and easy cleanup [3].
Other things to consider are:
How the grates hold the food
How well they sit on the grill
How easy they are to move/allow the addition of charcoal
Whether the height can be adjusted
5. Heat Control
Controlling the heat on charcoal grills can be a tricky job. That's why it is important you find a grill that has adjustable air dampers or air vents.
These allow the user to control the amount of air entering and escaping the grill. The larger the grill, the more vents the unit will need in order to hold a steady temperature.
"The key to good grilling is to recognize that you are setting yourself up to cook in a whole new environment. This is actually one of the main purposes of grilling - to get yourself outside."
- Barton Seaver, Chef
Air vents are also essential if you're looking to do some smoking on your grill, as this controls the smoky flavor.
6. Tight-Fitting Lid
When cooking indirectly or smoking on a grill, you need to have a lid that fits snugly.
If it doesn't fit well, you will have problems with the airflow, in turn making temperature control difficult.
7. Warranty
When spending money on anything, you want to make sure the purchase is backed up by a solid warranty. Typically, a portable charcoal grill will have a three to five-year warranty.
This gives users the peace of mind that they will get at least three years out of their unit, or the option to return the grill if any problems occur.
8. Ash Pan
The ash drawer or catcher is basically a container that fits inside or at the bottom of your grill. This collects all the ash, resulting in an easier clean-up. This also acts as a bottom vent for your unit.
9. Chimney Starter or Electric Ignition
Some grills may come with an electric gas ignition that allows the charcoal bed to ignite quicker. Others may feature a chimney starter. Both are great features to look out for when burning charcoal [4].
Related Reviews:
FAQs
How Often Should You Clean a Charcoal Grill?
You should clean your charcoal grill every time you're finished with it. This will stop stubborn oils and fats from sticking to your grill, resulting in unwanted flavors and a much harder cleanup further down the line. Simply use a grill brush to scrub the grates of the grill and wipe down the exterior.
Does Charcoal Add Flavor to the Food?
Yes, charcoal adds a lot of smoky flavor when you use it to cook. As the food heats up on the grill, the oils drip onto the coals below. This then creates vapors which in turn, infuse the food with a smoky flavor.
How Much Charcoal Do You Need for a Portable Grill?
Most portable charcoal grills will use about 30 charcoal briquettes. Of course, you need to consider the side of your grill. The larger it is the more charcoal it will take.
What Size Cooking Area Do I Need for a Portable Charcoal Grill?
A good-sized portable grill will have at least 180 square inches of cooking space. This will allow for a small family or party.
The Best Portable Charocal Grill - Our Winner
All of the grills listed here today are worthy competitors. That being said, the winner has to go to the Weber Jumbo Joe Charcoal Grill, purely for its cooking temperature control, quality of materials, and it being an all-around portable package.
This grill offers plenty of space, but weighs only 22 pounds, making it ideal for use on the go. The lid and bowl are made from heavy-duty porcelain enamel, which not only retains heat well but withstands the test of time.
The dual venting system makes controlling the grill straightforward, and the lid-locking mechanism ensures everything stays in one place.
Weber Jumbo Joe Charcoal Grill (Best Overall)
Our #1 Recommendation
Ideal for portability as it only weighs 22 pounds
The lid and bowl are made from porcelain-enamel, which is excellent for retaining heat
The enameled surface won't peel or rust easily
The aluminum ash catcher makes it easy to clean
Get the BEST PRICE until the end of December
Was this article helpful?