Whether you want to treat your palate, spend less time in stores, or just impress your guests, Carnivore Club subscription boxes seem to be a fantastic choice.
Carnivore Club gets excellent reviews from meat enthusiasts from all around the states, so we were eager to try it for ourselves.
After ordering a box, we also checked what other reviewers have to say to get the full picture. Here's our Carnivore Club review, which we've based on dozens of hours of research.
What Is Carnivore Club?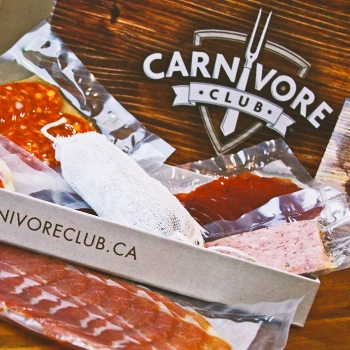 Carnivore Club is a club that specializes in premium cured meats made by local artisans worldwide, which makes their offerings extremely unique [1].
Subscribers receive their meat in a faux-wood box monthly or less frequently, depending on the delivery frequency they choose.
Every box also contains a pamphlet that familiarizes the receiver with the contents and the different artisans behind them.
Overall, Carnivore Club seems perfect for meat connoisseurs that want to expand their palate and discover new artisans.
But you can also make a single purchase, either for yourself or for someone else. Any box will make for a great Christmas gift for a fellow meat lover.
Carnivore Club Benefits
Let's start with the four main benefits of subscribing to the Carnivore Club.
1. Four Meat Box Options
Although the Carnivore Club website features even more box options, these four Carnivore Club boxes are their main products and the only ones you can subscribe to:
Jerky Club — Contains two bags of jerky, such as a bag of original beef jerky.
Snack Box — Contains several premium meat snacks like meat sticks and biltong.
Classic Box — Contains 4-6 cured meats, such as various salamis and bacon.
Complete Box — Contains two handcrafted cured meats and 3 to 4 complimentary pairings, such as jams, mustard, olives, and crackers.
Carnivore Club regularly announces what the customers will receive the following month.
For example, the April 2022 Snack Box was filled with various Field Trip Jerky products, including Gochujang All Natural Beef Jerky, Everything Bagel Beef Jerky, Black Pepper Pulled Pork, etc.
We ordered the Classic Box and were blown away by its design. But the contents of the box also proved to be incredibly tasty.
Our box was filled with Giorgio's Naturals meat products based on the European tradition of drying meat.
We especially enjoyed the delicious soppressata and Sangiovese salamis and couldn't wait to share them with our guests.
2. Next-Level Convenience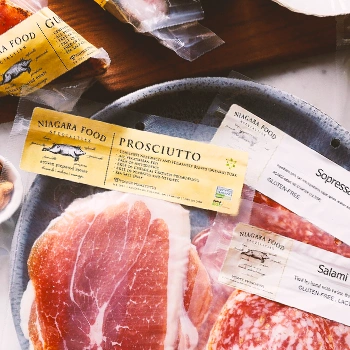 Carnivore Club's meat and service are extremely convenient and smartly designed. Firstly, cured meat requires no cooking. You can eat the contents of your Carnivore Club box as soon as it arrives.
That makes the company different than most food delivery services. Usually, you only get recipes and fresh ingredients that are yet to be cooked, so you need to spend extra time preparing the meals.
That won't be necessary when you subscribe to Carnivore Club or order the snack box.
On top of that, Carnivore Club meat doesn't need to be refrigerated during transit because it's cured and sealed.
Saving money on refrigeration is probably why the company can offer free shipping on all orders.
The meat may even survive outside the fridge even after the box arrived. I left the entire box on my kitchen counter for two days, and nothing happened.
So, you don't need to worry if you can't pick up your package from your local post office right away.
Still, you should refrigerate the meat after getting it home to extend its lifespan.
3. A Variety of Flavors
Every subscription box is a new adventure because each carnivore box features a different local artisan, much to the delight of the meat lover.
That way, you can discover the top artisans around the world while enjoying a new flavor every month. Also, you can enjoy premium handcrafted meats you wouldn't be able to find in your local grocery store.
The boxes also contain a little pamphlet that introduces you to the artisan behind the box's contents and makes the entire experience more pleasurable.
It also walks you through the different meats in the package, so you know what you're eating.
4. Flexible Delivery Options

Carnivore Club lets you choose how often you want to receive a box. You can choose between getting it:
Every month
Every two months
Every three months
The subscription box renews automatically, but you can cancel at any point.
All you have to do is log into your account and cancel the subscription of whatever month club you joined.
You'll be able to continue using the subscription until the end of the pre-arranged term, even when living in an apartment building.
Carnivore Club charges customers every 15th of the month for a subsequent monthly box, so you should try to cancel your subscription before that date [2]. We had no issues with canceling ours.
Carnivore Club Shortfalls
Now, let's look at one potential shortfall of the Carnivore Club.
No Personalization
Unfortunately, you can't choose what type of meat or snacks you'll receive in your box. Carnivore Club does all the choosing for you.
But that can be a plus if your main goal is to explore new options or save time choosing the right meat sticks. We liked being surprised and not knowing what we'll receive.
Where to Join This Meat Club?

You can join the Carnivore Club through its website by ordering boxes.
The subscription isn't available for the cheapest box, Jerky Club, so you can only make one-off purchases.
When it comes to other Carnivore Club boxes, you can choose between a single purchase and a subscription which saves you 12.5% on every order.
"In many ways, a meal kit delivery service can be a good solution to obstacles keeping people out of their kitchen… [and] they're a great way to introduce people to ingredients they normally wouldn't be cooking with."
- Ben Leonard, Private Chef and Cooking Teacher
Here are the prices of each box:
Jerky Club — $19.99
Snack Box — $39.99 for a single purchase; $34.99 if you subscribe
Classic Box — $54.99 for a one-time purchase; 49.99 if you subscribe
Complete Box — $54.99 for a one-time purchase; 49.99 if you subscribe
How Does It Compare to Other Meat Deliveries?

Here's how Carnivore Club compares to other food delivery services.
Carnivore Club vs. Crowd Cow
Crowd Cow competes with four subscription boxes but boasts the largest variety of cuts, including game meats, turkey, chicken, beef, pork, lamb, and seafood. However, they have the highest shipping costs, starting from $19.99.
Carnivore Club vs. Butcher Box
Butcher Box presents five subscription box choices, excluding game meats but including pork, beef, chicken, and seafood. Like Carnivore Club, ButcherBox also offers free shipping on all their subscription boxes.
Carnivore Club vs. Snake River Farms
Snake River Farms offers the most diverse range with 12 subscription box options featuring beef, pork, lamb, seafood, chicken, and bison. Their shipping costs are more moderate, starting at $9.99.
What Do Other People Say?

Most meat lovers gave positive Carnivore Club review comments. Let me summarize a few of them for you:
Yvonne says she ordered the Carnivore Club classic box and was amazed by the variety of meats inside the box. She says she loved the information card that featured pairing recommendations and recipe suggestions for some products. - Yvonne, CT
 

Tina says that a Carnivore Club box makes for a great gift and is a fun way to try new meats. She emphasized the meats were delicious and that the box looked great. - Tina, IL
Dave shares that he loves getting to know so many new artisans that he wouldn't have discovered otherwise. He also mentions that the customer service was very helpful. - Dave, CA
FAQs
Does Carnivore Club Food Need to Be Refrigerated?
Carnivore Club food doesn't need to be refrigerated while in transit but should be stored in a fridge upon arrival.
Can You Get Sick From Cured Meat?
You can get sick from handcrafted cured meat only if it goes bad or if you're sensitive to some of the ingredients. Make sure you store it in a fridge and inspect it for unusual smells before eating.
Is Carnivore Club Worth It?
I don't think Carnivore Club is worth it because they hardly offer any other cuts apart from premium cured meats. Even so, they make for a great gift box.
My top choice is ButcherBox. I've been using their meat delivery for years, and I'm yet to be disappointed. They sell their meat in eco-friendly boxes that can be recycled. The meat is packed with dry ice, so it stays frozen for a long time.
ButcherBox only sells humanely raised meat, so not only will you get high-quality cuts, but you'll know the animals are treated kindly. It's even better than most local grocery store outlets.
Finally, ButcherBox has free delivery on all boxes, despite not having delivery options around the world. Plus, you'll get a supply of ground beef for the duration of your subscription.
Check them out, and order your box of delicious meat today.
#1 Meat Delivery Service
ButcherBox
Click For Best Price

Pros
Grass-fed and grass-finished beef delivered directly to your door
Without antibiotics or added hormones
Customizable boxes available
Select from up to 21 different cuts
Get the BEST PRICE until the end of December
Was this article helpful?