Because cold smoking can be dangerous when done improperly, you want to make sure you're getting the best cold smoker from a reliable manufacturer. We've reviewed the top five smokers to help you find a reliable option for your needs.
#2nd Best Choice
Smokehouse
Check Current Price
#3rd Best Choice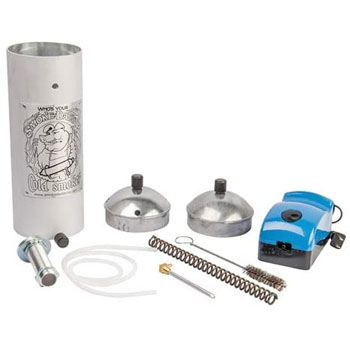 Smoke Daddy
Check Current Price
Our Top 5 Cold Smokers for 2023
What is cold smoking?
Cold smoking is a very old method of cooking where food is dried out using a curing process that removes moisture over time.
The best smoke sessions are done over a longer period, anywhere from 12 to 24 hours and even up to a week or more depending on the meat.
Because this process uses low temperatures, it doesn't cook food the same as grills or smokers normally would. For this reason, it can be unsafe when cold-smoking food improperly. (1)
You can learn more about cold smoking in this blog post.
Factors To Consider When Buying A Cold Smoker

1. Type of Smoke Generator
There are a few different types that we highly recommend when you're looking for the best cold smoker. The first is the traditional grill or smokers, which can maintain temperatures low enough for smoking. This is the best option if you can swing it. The second is to get a pellet tube smoker or tray, which is the best cold smoker generator on a budget.
Related Articles:
2. Wood Type
Depending on the type of wood that you put in the grill or smoker, you will get a different smoky flavor. First, when looking for the best cold smoker for your needs, you want to consider what food you are making and then let that guide you when choosing the best wood for cold smoking.
3. Portability
If you plan to use your cold smoke generators while traveling, such as cooking fish while camping, you want to opt for a smoker tube or electric cold smoking generator over complete smokers and grills as the former will be more portable. So, if you are looking for portability, be sure to check our review of the best portable smokers.
4. Fuel Runtime
A cold smoker's fuel runtime will be dictated by how many wood chips or wood pellets you can add to the cold smoking generator. With tubes, a 12-inch tube will get you around 5 hours of smoke time, whereas a try of wood chips in a grill can last for a few hours at a time.
Recommended article: Using Wood Chips in an Electric Smoker
5. Ease of Use
The best cold smoke generator is one that you can efficiently operate without much difficulty. Remember that it can be dangerous if not done properly. Cold smoke generators don't cook the meat but instead cure them. So, you want a cold smoker that is easy for you to operate without trouble, as well as hot smoking capabilities for flexibility.
6. Durability
Another essential feature of the best cold smoker is durability. Durability is going to come down to the materials that cold smoke generators are made from and how well they are put together. Stainless steel tubes are likely to be more durable over the long term than complex grill models and matches. These are both simple and will be resistant to rust and corrosion (2).
What Can You Smoke in a Cold Smoker?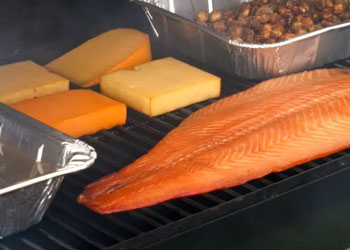 You can make a wide variety of meats and other food in a cold smoke generator. The most important thing to remember is that the best cold smokers don't cook meat.
For this reason, it's good to avoid meats that need a high internal temperature unless you want to grill them first and then cold-smoke them to provide a smoky flavor.
Some of the foods include:
Cheese
Nuts
Bacon
Sausage
Salmon
Fruits and vegetables
Best Woods for Cold Smoking
Not all woods are good, with some leaving too strong of a smoke flavor or other strange tastes.
Because the cold smoking process will leave a strong aftertaste, you must choose a type of wood that will taste pleasant and works well with different types of meats and other food.
Some of the best woods that we've worked with during cold smoking tests include:
Hickory
Mesquite
Applewood
Maple
Pecan
Alder
Oak
Cherry
Walnut
Peach
What are the Best Temperatures for Cold Smoking?
Because cold smoking is so dependent on maintaining the proper temperatures, you must keep temperatures below 110 degrees Fahrenheit (43.33 degrees Celsius).
It is meant to cure meats and food, so the temperature should stay low for longer periods.
This also means that you should not be trying to rush the cold-smoking process. Make sure you are leaving the meats and food to smoke for a sufficient amount of time at the proper temperatures.
Is Cold Smoking Safe?

Cold smoking is entirely safe if you take the time to do things correctly and understand what you are doing. In a full disclaimer, it is possible to get incredibly sick if you try and smoke meat and end up doing it improperly.
People have died from botulism and other foodborne illnesses that were not eliminated during the cooking process due to not leaving the meat for long enough or not curing it correctly with cold smoking (3).
With normal cooking, these bacteria and parasites are killed off by the high temperatures making the food safe to eat. However, because cold smoking works at low temperatures, the meat needs to cure long enough for these bacteria to be killed off.
Safety Tips
The number one safety tip that we can advise is that you should stick to less risky foods if this is your first-time cold smoking. Try out your first few times with vegetables or fish such as wild-caught salmon. If you want to find out the best cold smokers for fish we strongly recommend be sure to visit this link.
These meats and other foods carry significantly less risk of issues with bacteria or parasites commonly associated with meat illnesses during cold smoking.
Also, don't try and rush things when cold smoking. The process can take anywhere from hours to days and even over a week with some meat. Always follow any recipes exactly as they say and don't skip anything.
"Cold-smoked products, however, are not "cooked" and if the incoming product or the facility is contaminated there is no inactivation or inhibition step."

 

- USFDA, Processing Parameters Needed To Control Pathogens In Cold Smoked Fish (4)
FAQs
Do I have to drill a hole in my grill to install a cold smoker?
No. You do not need to drill holes in your grill to install a cold smoker. Electric cold smoke generators have a tube that can be inserted in your grill or smoker's damper or rotisserie hole. With tube smokers, these can be placed on the cooking grates where they will receive airflow.
What is the main difference between hot and cold smoking?
The main difference between hot and cold smoking meats is in the temperatures and the result. Hot smoking raises the temperature of the meat and cooks it through. Cold smoking, on the other hand, slowly dries out and cures the meat to preserve it.
Does cold smoking preserve food?
Yes. Cold smoking preserves meat by slowly drying it out so that bacteria cannot live in it. This process of drying out takes time and will be different for each type of meat.
Which Cold Smoker Did We Choose?
There are many great cold smokers on the market, but after extensive testing and pouring over thousands of reviews, we found the best cold smoker to be A-MAZE-N AMNPS Maze Pellet Smoker.
This smoker does a great job of providing continuous smoke to the meat or other foods, and it can be used both with grills and cold smokers. It is made of stainless steel, proven resistant to corrosion and rust.
We also liked the fact that it can smoke various foods and it's very affordable.
A-MAZE-N AMNPS Maze Pellet Smoker
Our #1 Recommendation
Use with grills and cold smoke generators
Smoke a wide variety of food
Alternative to a smoker tube
Best affordable hot or cold smoking generator
Get the BEST PRICE until the end of September
Was this article helpful?