If you want an infusion of flavor without having to shell out money for a pellet smoker, a smoker tube is the way to go. But, too many smoker tubes are cheap with poor construction. To help you make the right choice, we've tested the best pellet tube smoker models.
#2nd Best Choice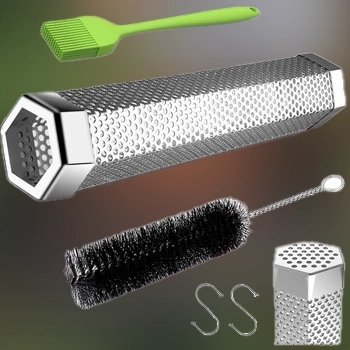 LANNEY
Check Current Price
#3rd Best Choice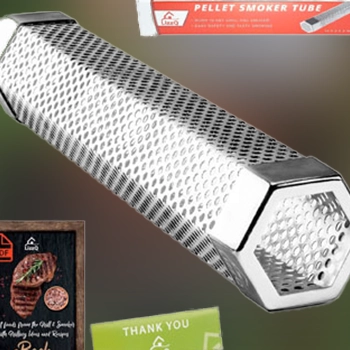 LIZZQ
Check Current Price
The Top 11 Pellet Tube Smokers in 2023
Steps on Using A Pellet Tube Smoker
Step 1: Fill The Tube
You want to first fill the tube by placing it upright and pouring in pellets into the tube. Make sure to fill it up and tap it a few times, adding more as needed.
Step 2: Light The Tube
You next want to light the tube. For the best results, avoid using lighter fluids. Use a torch to light one side of the upright tube until the flame spreads.
Step 3: Place In The Smoker
Place your tube on the grill and let it sit for five to ten minutes for the best results. Make sure there is sufficient airflow to move through the tube.
Complete Pellet Tube Buying Guide

Size of The Tube
The smoker tube size will be what primarily influences how much you can smoke and for how long. The best smoker tubes are generally twelve inches in length and two to three inches wide. This will give you about five hours or more.
Shape of The Tube
The tube's shape will dictate how easy it is to hang on the smoker and whether it rolls. A circular tube, for example, may roll around a grill if bumped. We find the best smoker tubes are hexagonal.
Related Article: What's the #1 Vertical Pellet Smoker?
Hole Density and Distribution
You ideally want wide holes that are well distributed throughout the tube. However, it's best if they aren't too wide or smaller pieces may fall out. The distribution of these will impact how easy air flows through the smoker tubes.
Build Material
You want to look at the specific grade of stainless steel that is used to make the tube. Preferably, look out for the terms 304, A2, or food-grade as this will mean it's rust and corrosion-resistant (1).
"Stainless steels are widely used in food contact applications, such as cooking utensils and cutlery, due to high corrosion resistance and beneficial mechanical properties compared with other materials."

 

- Rogerta Dalipi, Journal of Food Engineering (2)
What is a pellet tube smoker used for?

Cold Smoking
Cold smoking refers to the use of low temperatures and heavy smoke to help infuse a smoky flavor into foods such as cheese, nuts, fish, and more (3). We like cold smoking as it adds a unique flavor to some of our favorite foods. Visit this page if you wish to learn which cold smoker model we highly recommend.
"Cold smoking is a more complex proposition...the smoke adds flavor and some level of preservation."

 

- Ed Halmagyi, UK Celebrity Chef (4)
Converting a Gas Grill To a Smoker
Even the top-rated gas grills we've tested typically don't produce as much smoke as their charcoal counterparts. You can use a smoking tube to help provide hot smoke to give your gas grill smoking capabilities. Make sure to use the best pellets possible to provide good flavoring.
Adding Extra Smoke To Your Grill
If you ever find that your grill just isn't producing enough smoke to properly infuse the meat you cook, pellet tube smokers can be the best solution. You can add extra mesquite or hickory flavor to turn your grill into a smoke generating machine.
Related Articles:
FAQs
1. Can you use wood chips in a pellet tube smoker?
Yes. You can use wood chips in a pellet tube smoker. Something to consider is that wood chips can burn faster than pellets due to there being more air between the chips. Pellets are also compressed and take longer to burn through than wood pieces.
2. How long does a smoke tube last?
Depending on the size, a smoke tube can last anywhere between two hours and twelve hours. How long your specific model lasts will depend on how long it is, with a general rule being that the average 12-inch model will last for between 4 and 6 hours.
And the #1 Pellet Tube Smoker is...
After extensive testing on both grills and smokers and with different types of wood pellets, we've found the Oval Expanding Tube Smoker to be the best pellet tube smoker for general use.
We like the versatility of the model, which can be used on both grills and smokers to help enhance the flavor of your meat.
The stainless steel ensures that it won't rust or corrode with regular cleaning and maintenance. You can use it for both hot and cold smoking, which allows you excellent smoking versatility.
Finally, the expandable design makes it great for smoking smaller and larger cuts and makes it fit all kinds of smokers. Check it out, and infuse your food with delicious smoke.
Oval Expanding Tube Smoker 7-12 in
Our #1 Recommendation
Cold and hot smoking options
Expandable tube
Portable smoker
Easy setup and use
Get the BEST PRICE until the end of September
Was this article helpful?