Perini Ranch Steakhouse is a popular restaurant located in Buffalo Gap, Texas, nearby Abilene. They offer authentic West Texas BBQ in a family dining atmosphere. Recently though, they began offering online shipments of their more popular meats.
The team here recently conducted a thorough Perini Ranch review to see if the meat is worth it.
What is Perini Ranch Steakhouse?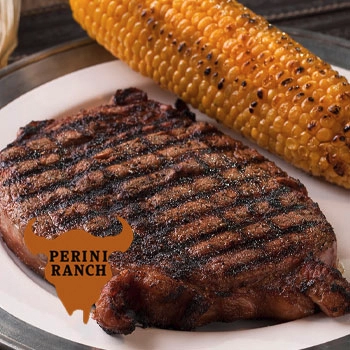 Perini Ranch Steakhouse is a famous steakhouse in Buffalo Gap, Texas, founded by Tom Perini. The town of Buffalo Gap, Texas, is a small town in the West Texas countryside.
The steakhouse is widely popular throughout the state for Tom Perini's mesquite-smoked meats such as their peppered tenderloin, brisket, ribeye, and other meats.
It has been featured in popular magazines, such as Texas Monthly, as one of the top steakhouse locations in the state.
They primarily focus on restaurant dining. However, some of their more popular items and products are available on their website to order.
Other products they sell on their website include shirts, seasoning, and cookbooks.
Pros
Authentic West Texas BBQ
Cowboy style steaks served fresh
Outside and inside dining
Family-friendly restaurant atmosphere
Cons
Extremely limited online meat selection
Primarily for reservations at the restaurant
Must visit Buffalo Gap, Texas, for dining
Abilene is the closest large town
Perini Ranch Steakhouse Food Menu
Perini's on-site menu has extensive food options to choose from. It's best if you can visit their country location near Abilene, Texas, as they offer significantly more options from Cowboy steaks to beef burger options and Sunday lunch specials.
Their online ordering offers only two different cuts of beef. You can have either their brisket or their mesquite smoked peppered beef tenderloin delivered to your house. They also offer brisket seasoning and rubs for steaks if you are looking for some seasoning for other meats.
What's the Meat Quality?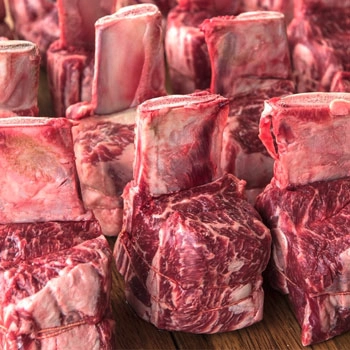 The meat at Perini Ranch Steakhouse has a home-made quality that you don't get with many big box companies such as Omaha Steaks.
We were quite surprised that the brisket we ordered retained this taste despite having it cooked at a house vs BBQ area.
That's good news for people who want authentic BBQ without the ability to travel hundreds of miles to the area during the open hours of the steak house.
If you decide to travel and take a trip to their outside establishment, you can enjoy some of their other offerings, such as pork ribs.
Perini Ranch Steakhouse Price Range
As they offer one choice of brisket and one choice of tenderloin online, their price range is narrow. Compared to other meat delivery companies that we like, we'd place Perini's prices as being a bit above average. With that said, you may want to remember that they are delivering specialized BBQ and not just uncooked food.
All of their food is delivered already cooked and seasoned, which would save significant time if you want to place an order to be served for an upcoming meal.
Make sure to read through the listing for details to ensure you're getting exactly what you want.
Perini Ranch Steakhouse Drawbacks
The primary drawback of using Perini Ranch for meat delivery is the limited selection. It's a great place for steak outside at their establishment, but they are not focused on online orders. Outside of the two options online, they have good seasoning but not much else.
Reviews

Considering there are only two types of meat that can be ordered from the Perini Ranch, we found the service overall to be good. The brisket we ordered arrived on time from Buffalo Gap. The country flavor was excellent, and the meat juicy and tender.
Even though we were cooking it at home, it tasted as though it would have had we made the trip to the steakhouse.
BBB Rating
Perini Ranch Steakhouse has an A+ rating on the Better Business Bureau website (1).
Trip Advisor
Perini Ranch has a rating of 4.5 stars out of a possible 5 based on 429 customer reviews we read. Many people on the travel website noted that Perini's service and food were excellent (2).
Yelp
Perini has a rating of 4.5 out of 5 possible stars on Yelp. Their rating is the average of 250 reviews from people with prior reservations (3).
"Great service, atmosphere, hospitality, and amazing food. I CUT MY FILET STEAK WITH A FORK !!! This is my new favorite place to eat !!!"

- Sabra Cannon, Verified Facebook Reviewer (4)
Facebook
The Perini Facebook page has over 21,000 likes that we read through with an average rating of 4.9 out of 5 stars (5).
Related Reviews:
Perini Ranch Steakhouse vs ButcherBox
The main difference between Perini Ranch Steakhouse and ButcherBox is that Perini Ranch is primarily a restaurant.
ButcherBox is a meat subscription service. They offer five subscription boxes. You can't buy an individual cut of meat, but you subscribe to one of their boxes, and it'll be delivered to you every month.
Another big difference is in their meat offering. Perini Ranch has a very limited food menu compared to ButcherBox.
Finally, these two companies differ in how they source their meat. Perini Ranch meat comes straight from their ranch in Texas, while ButcherBox works with several family-owned farms and ranches across the US.
Perini Ranch offers shipping to all 50 US states. They ship using Federal Express shipping. When you place your order, you can choose the exact shopping day. This way, you'll know exactly when your meat will arrive.
ButcherBox offers free shipping on all of its products. Plus, you'll get free ground beef with all orders for the duration of your subscription.
FAQs
Where does Perini Ranch Steakhouse deliver to?
Perini Ranch Steakhouse delivers to all 50 United States using Federal Express shipping. They give you the option of choosing your exact shipping day, so you will know exactly when your meat will arrive. Shipping prices for all orders are calculated at checkout.
How can I contact Perini Ranch?
Perini Ranch gives you a few different ways to contact them in the event you have questions about your order. The easiest way is to use their toll-free line. Aside from their toll-free number, you can contact them using their email, which is [email protected].
Is Perini Ranch Steakhouse Worth Your Money?
Based on customer reviews, Perini Ranch is worth the money and has great steaks. However, there isn't much to order online. If you can take a ride to Perini Ranch, it's better than for online orders.
If you want a wide selection of some of the best meat served right to your door, I recommend buying meat from ButcherBox.
We like that ButcherBox offers a variety of grass-fed beef and other ranch-fed meats. The best thing is they offer free shipping on all orders.
#1 Meat Delivery Service
ButcherBox
Click For Best Price

Pros
Grass-fed and grass-finished beef delivered directly to your door
Without antibiotics or added hormones
Customizable boxes available
Select from up to 21 different cuts
Get the BEST PRICE until the end of December
Was this article helpful?