I've tried countless indoor grills during the decade I've been on a carnivore diet, but one thing I'm not a fan of is cleaning the grill plate.
I used to spend hours struggling to remove food particles from all the nooks and crannies of indoor grills, which is why I turned to a removable plate grill.
I tried several brands of removable plate grills, and here's my selection of the five best ones for the easiest grilling and cleaning experience.
#2nd Best Choice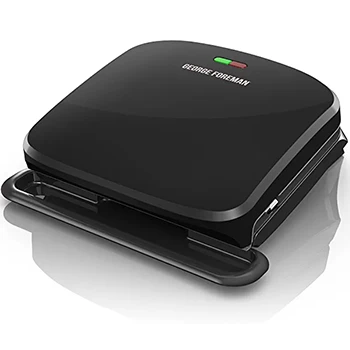 George Foreman
Check Current Price
#3rd Best Choice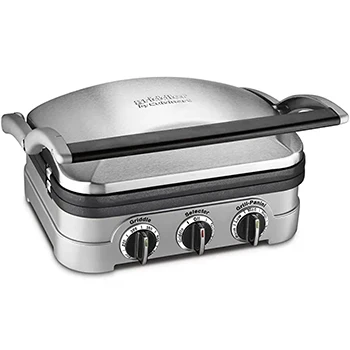 Cuisinart
Check Current Price
5 Best Grills With Removable Plates
1 - Hamilton Beach Electric Indoor Searing Grill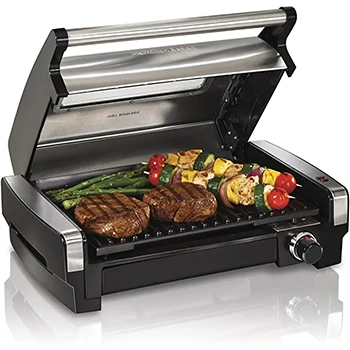 Hamilton Beach indoor electric grill has a high heating capability — it reaches 450 degrees which is enough for a light sear and good food grilling.
You turn the knob at the front to adjust the temperature levels. You can also choose to cook at different heat levels — choose between slow and fast cooking.
This grill has a removable plate. I like that the plate has a nonstick coating, which makes it very easy to clean. I could scrape off drippings with a simple swipe of a brush. The removable drip tray is large and dishwasher-safe.
The lid has a viewing window, so you can check on the food without opening the grill and letting out the heat.
Hamilton Beach can fit up to eight food servings, which is large for an indoor grill. It has indicator lights that let you know the grill is heated and when to start cooking.
Pros
Large grilling space
Doesn't emit a lot of smoke
Viewing window for checking the food
Dishwasher-safe removable parts
Cons
Short cord requires using it near an outlet
Click For Best Price
Quick Facts:
Dimensions : 2.4 x 16.73 x 6.81 in
Weight : 8 lbs
Cooking surface : 118 square inches
Material : Stainless steel and plastic
Wattage : 1200
2 - George Foreman 4-Serving Removable Plate Grill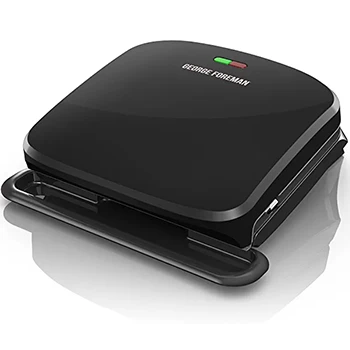 George Foreman grill has removable, non-stick coating plates that are durable and extremely easy to clean.
I didn't need to use any butter or oil before I cooked, but I placed the food straight on the grill. It's easy to scrape off food leftovers after cooking, and the plates are dishwasher-safe.
The removable plates have a drip tray design, and there's a sloping grill surface that makes fat removal easy.
This indoor grill heats up and cooks the food fast. However, even though the manufacturer states this indoor grill can fit four servings, I found it only fits two burger patties, so it isn't ideal for large families.
Finally, there are indicator lights that make use easy. Once the red changes to green, you can start grilling.
Pros
Slopped griddle design for fat removal
Fast heat-up time
Can be used as a panini press
Check Current Price
Quick Facts:
Dimensions : 6.5 x 12.25 x 13.19 in
Weight : 6.5 lbs
Cooking surface : 78 square inches
Material : Plastic
Wattage : 1400
3 - Cuisinart 5-in-1 Panini Press Grill Pan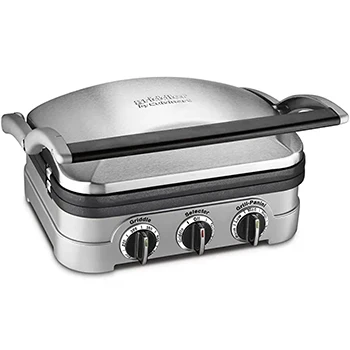 The Cuisinart 5-in-1 grill is extremely versatile. It functions as a panini press, contact grill, full grill, full griddle, and half grill/half griddle.
The brushed stainless steel housing makes it durable. A sturdy handle with hinged floating cover lets you fit food of different thicknesses. I could even fit a whole chicken.
This grill with removable plates has three dials that you use to control the temperature. The red and green indicator light lets you know when the electric grill is heated, and you can start cooking.
You can choose between a grill and a griddle function via the selector knob.
I liked that the package includes recipes and a scraping device for easy cleanup of hard-to-reach areas.
Pros
5 ways of cooking
Grill plates drain grease
Durable construction
Cons
Can't reach searing temperature
Check Current Price
Quick Facts:
Dimensions : 11.5 x 13.5 x 7.1 in
Weight : 8 lbs
Cooking surface : 99 square inches
Material : Stainless steel
Wattage : 350
4 - T-fal GC7 Opti-Grill Indoor Electric Grill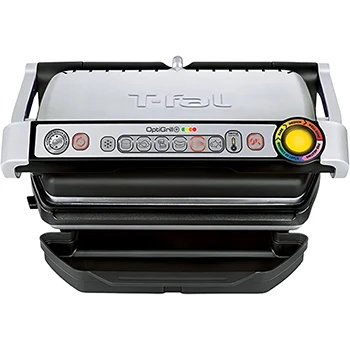 T-fal indoor electric grill fits four servings. It has six automatic cooking programs for burgers, poultry, sandwiches, sausages, red meat, and fish.
You choose the program, and the indoor grill determines the temperature setting. The grill adapts the cooking cycles based on the food thickness.
T-fal has four beep signals: preheating, rare, medium, and well done. There are also preheating and ready-to-use indicator lights.
I liked that this indoor grill that has two cooking modes: manual and frozen food. Frozen food is especially useful. You don't have to wait until the food defrosts before cooking.
The plates have an angle of 7 degrees that ensures the juices run off. They are made of die-cast aluminum for easy cleaning.
Pros
Offers six cooking programs
Can cook frozen food
A beep lets you know the food is cooked
Check Current Price
Quick Facts:
Dimensions : 14 x 13 x 6 in
Weight : 11.6 lbs
Cooking surface : 93 square inches
Material : Stainless steel
Wattage : 1800
5 - Breville BGR820XL Smart Grill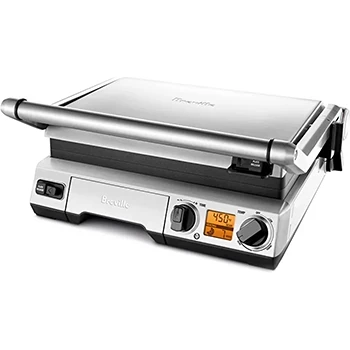 Breville smart grill is one of the rare indoor grills that has a built-in thermostat that keeps the grill plates at a temperature.
This indoor grill can get hot and stay hot even when you put cold food. This is an important feature because when you put cold food on most indoor grills, they steam and don't sear it. This isn't the case with Breville.
The drip tray sticks out at the back and easily catches any drippings when you open the lid. You can control if the surface is tilted or flat, so I could easily cook pancakes and eggs on it. You can also use it as a panini press and make sandwiches.
This grill has two removable plates that can be used as a griddle and a grill. Both are dishwasher-safe.
Finally, there's a small orange screen between the two knobs. The screen shows the exact temperature during cooking and how much time is left before your food is ready.
This lets you keep track of how hot the grill is and how long you should cook the food.
Pros
Six adjustable heights
Interchangeable plates
Scratch-resistant surface
Cons
Very expensive compared to other indoor grills
Check Current Price
Quick Facts:
Dimensions : 16 x 14 x 5 in
Weight : 19 lbs
Cooking surface : Up to 260 square inches
Material : Stainless steel
Wattage : 1800
Buyer's Guide
Before purchasing the grill, you must know exactly what to look for.
1. Cooking Capacity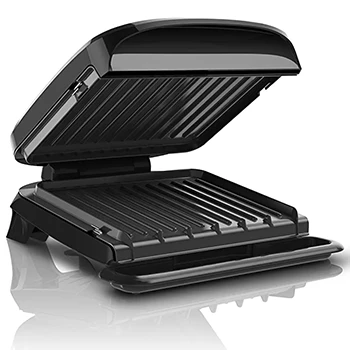 Cooking capacity is the size of the grilling surface of electric grills. An indoor grill with a large grilling surface can fit more food servings.
You should choose an electric indoor grill based on how many people you cook for. George Foreman is a good choice if you're single or cook for two people, as it can fit two servings. But, if you have a family, go for a grill that can fit more. Some indoor grills can fit eight servings, but most have the capacity for four.
In terms of square inches, 80 square inches is a good capacity for a couple, while 100 to 150 square inches can feed up to five people.
For example, Hamilton Beach has a decent capacity of 118 square inches. But, if you host a party or cook for more people, you'll need to cook food in batches.
2. Open vs. Contact Grills
An indoor grill can be open or contact. Open grill is more similar to those used for outdoor grilling. It has a wide grate over a drip pan, and you have to flip food just like on an outdoor grill.
An open grill can fit more food than a contact one, but they take much longer to cook. Also, open grills need more countertop and storage space and take up more space in the dishwasher.
A contact grill has a heated top grill plate. You lower this top plate on the food, so the food is cooked from the top and bottom at the same time. This functions as a panini press. Contact grills cook food faster than open ones.
The main disadvantage of contact grills is that the top grate is usually very heavy, so it presses down the food. Also, two cooking surfaces mean double the cleaning.
3. Versatility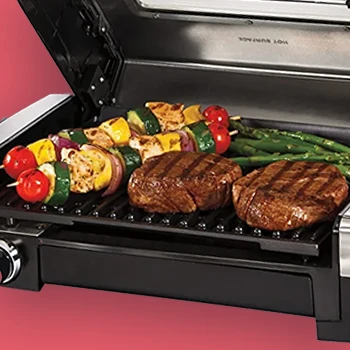 Another thing to consider is what kind of food an indoor grill can prepare. The more foods it can make, the better the versatility. This also means you don't need to buy different appliances for different kinds of food.
A standard grill cooks red meat, burgers, and vegetables. But, a more advanced indoor grill, for example, T-fal, can make these, as well as sandwiches, fish, sausages, and more.
Choose a grill with different programs and temperature settings for the best versatility.
Also, some indoor grills can open flat and have interchangeable plates. For example, you can use Cuisinart as a panini press, contact, full grill, griddle, and half grill/half griddle, which means one appliance functions as five.
4. Temperature Control
Good indoor grills with removable plates have adjustable temperature controls that let you cook within your preferred settings. Flexible temperature helps you have well-cooked meals.
Generally, indoor grills can reach a temperature of 450 degrees, which is enough to sear the food.
However, some models don't let you set a specific temperature, while others have an adjustable temperature range. Generally, an adjustable heat range is better because it gives you more versatility, so you can sizzle vegetables and sear steaks.
Lower-end grills have one or two temperature options, while higher-end models have more options available.
Most indoor grills have knobs (such as Hamilton Beach and Cuisinart 5-in-1). More expensive models that a knob and a digital display that lets you know the temperature at all times (such as Breville smart grill).
Also, some models, such as Breville, have a temperature probe that monitors the food temperature, while others are more basic and use a system with a timer.
Another important feature in terms of temperature is how long the indoor grill takes to preheat. Fast preheat time prevents time wastage and comes in handy when you're very hungry.
5. Removable Grill Plates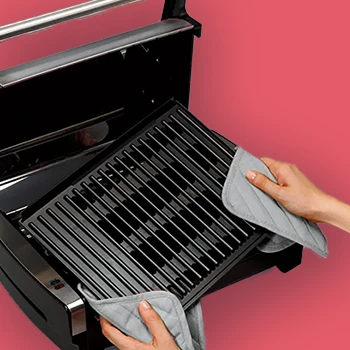 The best electric grill will have a removable grill plate. These are usually nonstick and dishwasher-safe, so the cleaning is very easy.
Also, most plates are used as a press, but some can be opened to work as open grills, which doubles the cooking surface.
Some grills, such as George Foreman, have a slopped grill design which makes fat removal easy. The fat slides into the drip tray during the cooking, so there's less work for you.
Finally, it's always best to go for a grill with removable plates because these are much easier to clean under running water or in the dishwasher than the attached ones.
6. Wattage
Most indoor grills have a maximum wattage of 1800 watts. The indoor grill's power depends on its wattage. Most small grills can reach 800 watts, which in most cases isn't enough for thick meat cuts.
A larger grill has more wattage, which means it heats and cooks the food faster. Keep in mind the higher the wattage, the higher the grill price.
7. Maintenance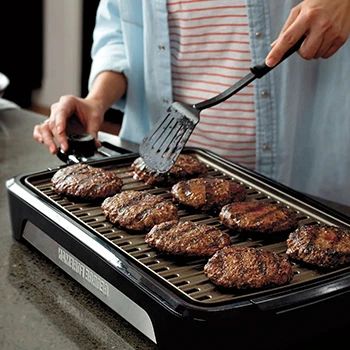 Generally, an indoor grill can create a lot of mess.
A grill with removable plates is much easier to clean and maintain than a grill with attached plates.
For example, the Hamilton Beach grill has removable plates and a drip tray that catches the drippings. You can clean the removable parts either by hand or in the dishwasher.
My advice is to get a grill with removable drip trays for easy disposal of oil that accumulates during cooking.
"It's often impossible to clean up the mess created as a result of grilling indoors. You'll find it easier to live with indoor grills that have removable plates."
- Only Best Ones, YouTube Channel
FAQs
What Is the Best Indoor Grill With Removable Plates?
The best indoor grill with removable plates is Hamilton Beach. You can use it for cooking meat and vegetables, and it can reach a searing temperature. It has a removable drip tray and grill grate for easy cleanup.
Which George Foreman Has Removable Plates?
George Foreman 4-Serving has removable plates [1]. The plates are non-stick and easy to clean.
Are the Removable Plates In a George Foreman Grill Dishwasher Safe?
Yes, the removable plates in a George Foreman grill are dishwasher-safe.
Is It Worth Buying an Indoor Grill?
Yes, it's worth buying an indoor grill. They are affordable and can cook a variety of foods quickly.
Can You Use an Indoor Grill Outdoors?
Yes, you can use an indoor grill outdoors, provided that you secure all the electrical circuits against humidity and other weather conditions. Still, it is not recommended to leave an electric grill outside after use, even if it's covered.
What's the Best Grill With Removable Plates for You?
Grills with removable plates were a blessing because I no longer had to spend so much time cleaning the grill. On top of that, they offered amazing versatility and superb performance, given their size.
Still, my winner for the best grill with removable plates must be the Hamilton Beach grill. This grill has excellent temperature control. All you need to do is turn the knob at the front to adjust the temperature.
You can choose between different heat levels, which means you can cook different foods well. The temperature goes up to 450 degrees, which is impressive for an indoor grill, and lets you sear your food.
The maintenance is easy thanks to the removable grill plates and the drip tray. Place them in the dishwasher, and they are ready to be used again.
Hamilton Beach Electric Indoor Searing Grill
Our #1 Recommendation
Large grilling space
Doesn't emit a lot of smoke
Viewing window for checking the food
Dishwasher-safe removable parts
Get the BEST PRICE until the end of May
Was this article helpful?