Over the last decade, I used every kind of grill, from gas and charcoal to pellet. I also tried grills from various brands, such as Weber, Traeger, Napoleon, and Char-Broil. You name it, I've tried it.
But ever since I laid my eyes on the Fuego Professional F24C, it's been on my wishlist.
I couldn't wait to get my hands on this grill and find out if it was more than a pretty face.
Over the past six months, I've tested its cooking surface, heat-up time, cooking temperature, build quality, and more.
Here's everything you should know about the Fuego F24C grill to decide if this is the device to take your grilling to new heights.
What is Fuego Professional F24C?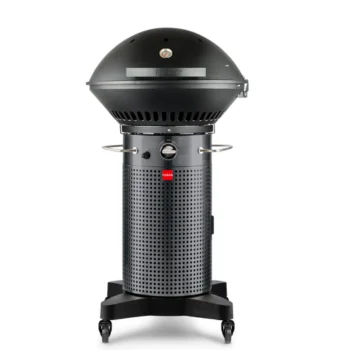 Fuego Grill specializes in manufacturing high-quality grills and outdoor cooking equipment.
The company was founded in 2011 by an industrial designer with a passion for grilling.
The brand got recognition by launching its flagship product, the Fuego Element Gas Grill. Fuego built on the success of the Fuego Element Grill and expanded its product line.
Fuego Professional F24C is an upgraded version of the Fuego Element Grill. Former Apple Director of Industrial Design, Robert Brunner, was in charge of the Fuego F24C.
My first thought when I saw this grill was how sleek, modern, and minimalistic it looked, so it makes sense that an Apple designer helped make it.
Here's exactly what Fuego upgraded on the Element grill: Fuego Professional F24C has a larger cooking surface (525 sq in compared to Element's 326 sq in), better BTU output (26,500 BTUs compared to Element's 20,000), various tech advancements, and overall better control and accessibility compared to the original Element model.
Our Rating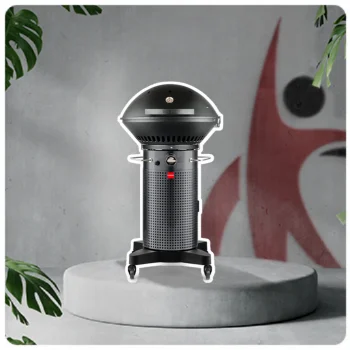 How Does Fuego F24C Work?
Fuego F24C works by connecting a propane gas tank to the grill. The tank is conveniently stored in the hidden compartment beneath the lid. Once you've attached the tank, turn on the gas valve to start grilling.
Fuego F24C has a burner system with a dual-zone design. The gas grill has control knobs that you use to control the zones.
Once the grill is preheated, you place the food on the cooking grates and start grilling.
You can control each zone independently, which lets you create different zones and cook various kinds of food at the same time.
Overall, I didn't have any issues starting and using this quality gas grill.
Once I attached the propane tank, the rest was straightforward. Moreover, this compact grill can reach 500 degrees in five minutes, which is impressively fast.
That being said, the assembly takes some time. The grill arrives in parts, and you need to be able to follow instructions (it works similarly to building an Ikea piece).
The assembly wasn't too complicated, but it took me about 30 to 40 minutes, and I had to use a Phillips head screwdriver.
4 Fuego F24C Highlights

Fuego F24C is an impressive grill. Here's everything I liked about it.
1. Design and Build
With a former Apple designer in charge of the grill's design, you know it doesn't disappoint. Let's start from the top with the grill grate. It opens at a 45-degree angle, so you aren't reaching your arm in line with the heat source, which is the case with most other gas grills I use.
The lid is porcelain-enamel, so you don't have to fear paint peeling.
There are two racks for hanging your grilling tools below the grill's head. Next up is the grill grate that weighs 15 lbs and provides a massive heat sink. You know it's not made of some flimsy material that'll wear and rust in a few years.
This is a porcelain-coated cast-iron grate, so it's highly durable. The grate can retain heat and add amazing sear marks to your meat.
Under the grilling area is the propane tank. This just may be my favorite aspect of the grill's design. No more unsightly propane tank to the side. You can store it behind a metal door that latches.
I admit I struggled to place the propane tank inside. It was a strain on my back and hands because you need to hang the tank on a hook.
On the plus side, once you store it, the tank is hidden, and you don't have to fear for the safety of your children or pets because the door safely latches.
Finally, the grill has a set of locking casters, which makes it easy to move it across different surfaces.
Two of the wheels lock, so you don't have to worry your grill will roll away mid-grilling session.
Overall, the design is attractive and modern, and it will elevate your patio and backyard. It's also great if you're short on space, as it's compact.
2. Temperature and Heating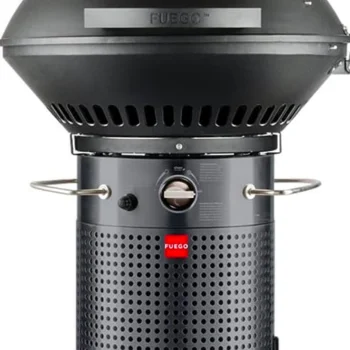 Fuego Professional F24C has a concentric dual ring burner. This is a dual-zone burner system that you control with a single knob.
You can adjust the inner and outer burners. Choose the outer ring for indirect grilling or both rings for fast grilling.
The outer burner has 18,000 BTU for indirect low and slow cooking. You can use the indirect heat for hot dogs, ribs, and tenderloin.
The central burner has an additional 8,500 BTU for direct cooking. Overall, this is 16,500 BTUs, which is impressive considering how compact the grill is.
The grill reaches 500 degrees in only five minutes, which is extremely fast.
The cast-iron grate ensures balanced heating over the entire cooking surface. I used grills that get hot towards the rear and cooler in the frog, so my steak was well-done on one end and medium on the other.
I'm happy to report that, unlike most grills, Fuego Professional F24C doesn't create hot spots, and my food was evenly cooked.
However, the company claims the gas grill can reach 650 degrees, which isn't true. I never managed to get the temperature to go over 550 degrees.
This wasn't a major issue, as 550 degrees is enough to sear meat.
3. Cleaning and Maintenance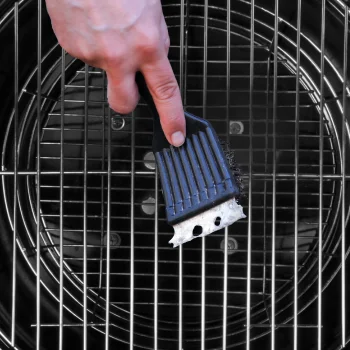 It's easy to keep the grill clean. The enamel-coated cast-iron grate is non-stick and easily cleaned with a brush.
Below the grate is the drip tray. Fuego removed over 100 sq in of surface area from the bottom of the fire bowl so that the debris could fall straight into the drip tray.
The leftover grease is also safely stored under the firebox.
You can pull the tray handle, clean the residue tray, and return once you want to start grilling again. Overall, this is one of the best cleanup systems I used.
4. Cooking Area
Fuego's grill surface is 525 sq in — 415 sq in on the main grate and 110 sq in on the warming rack. This is enough to grill 20 half-pound burgers at once.
You need about 70 sq in per person for a full meal, so you can grill for around seven people at once on the Fuego.
Overall, I had enough cooking space for grilling for my family of four or a small gathering.
However, if you organize large cookouts and like to entertain a lot of people, this may not be enough space for you.
Pros
Attractive design
Compact grill size
Indirect and direct heat options
Easy-to-clean residue tray
Cons
No prep area
The cooking surface isn't large enough for a large gathering
2 Fuego F24C Shortfalls

Here's what I didn't like about this Fuego grill.
1. No Traditional Smoky Flavor
This is a matter of preference, but my opinion is that gas grills can't create traditional smoky flavors charcoal grills can.
Fuego grill is only compatible with gas, so you can't use it with charcoal or wood pellets to get a smoke flavor.
The only thing you can do is switch from propane to natural gas. However, then it can't be used as a portable grill, as it'll be stationary.
2. No Prep Area
Fuego gas grill is all about compact design. It's space efficient, but there's limited storage and no prep area. You're limited on where to place your utensils, grilling tools, and other accessories, and there's absolutely no place to put the food, rubs, or beer.
If convenience is important to you, or you like to have your grilling tools within easy rich, this gas grill isn't the best choice.
How to Use Fuego Gas Grill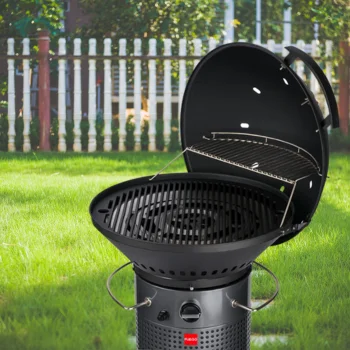 Here's how to use the Fuego gas grill step-by-step:
Connect the propane tank to the grill and check that the gas valve is in the off position.
Open the lid and turn the valve to the on position.
Turn one or both of the control knobs counterclockwise to the Ignite. You'll hear a clicking sound as the igniter sparks.
Adjust the knobs to the temperature you want, and close the lid. Keep the lid closed until the grill reaches the desired temperature. This takes five to ten minutes.
Open the grill once the grill is plenty hot and place the food on the grates.
Close the lid and check the temperature via the lid's temperature gauge.
Adjust the knobs to maintain the temperature, and flip the food as necessary.
Once you're done grilling, turn off the knobs and the valve. Clean the grill grates with a brush.
Where to Buy and Price?
You can buy Fuego Professional F24C on the official Fuego Living website. The grill is priced at around $600.
Our Rating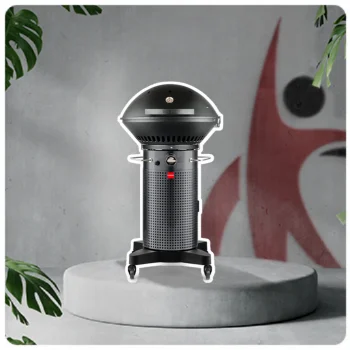 Shipping and Delivery
My experience with shipping and delivery of the Fuego Professional grill was pretty straightforward. I received the grill within a few days of placing my order. The package was in good condition, without any damages.
Fuego gives you 30 days to return the grill from the date you received it if you aren't satisfied. However, the grills must be unused to be eligible for a return.
Fuego also offers a 1-year warranty on the entire grills and a 3-year limited warranty for the stainless burner.
This is in line with most other grill manufacturers. However, there are options with better warranties (such as Weber).
Fuego is fairly easy to get in touch with. You can use the email address listed on their website or call the customer hotline and submit a request, and they'll get to you in about a day.
Other User Reviews

"Love the size, wheels (we take it in and out of our beach deck to avoid salt air damage) but disappointed in the heat level … takes longer than our old Weber 310 and doesn't get as hot."

- John Mazurk, Indiana
"They are awesome grills and made extremely well. Set up was easy, and the look and footprint are perfect. I love the circular burners because they heat quickly and cook evenly. Great product."

- Richard Breakstone, Miami
Comparison to Other Gas Grills

Here's how Fuego Professional F24C compares to other popular grills.
1. Weber Spirit II E 310
The Weber Spirit II E 310 has a grilling surface that is nearly the same size as the Fuego Professional F24C. The Weber offers 529 square inches of grilling space, slightly more than the Fuego's 525 square inches.
The Weber Spirit II E 310 is priced at just under $600, making it a close competitor to the Fuego grill, which is priced at around $600.
The Weber Spirit II E 300 outperforms the Fuego grill in terms of BTUs, with 30,000 BTUs compared to Fuego's 26,500 BTUs. Despite this, the Weber reaches searing temperatures between 500 to 550 degrees, slightly lower than Fuego's 650 degrees.
Related Articles:
2. Char-Broil Classic Series 2-Burner
The Char-Broil Classic Series 2-Burner grill offers much less cooking space than the Fuego F24C. It provides 280 square inches, almost half of the Fuego's 525 square inches.
The Char-Broil grill is the most affordable option compared to the Fuego grill. It's priced under $200, which is significantly lower than Fuego's $600 price tag.
The Char-Broil grill has 20,000 BTUs, which is less than Fuego's 26,500 BTUs. Also, it only reaches a temperature of 400 to 450 degrees, lower than Fuego's 650 degrees.
3. Pit Boss 3 Series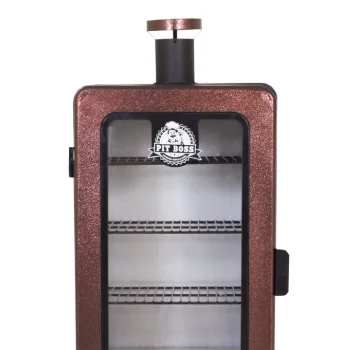 The Pit Boss 3 Series has the largest grilling surface of the bunch. It offers a whopping 720 square inches, significantly larger than the Fuego's 525 square inches.
Priced at around $250, the Pit Boss 3 Series is cheaper than the Fuego grill, which costs around $600.
The Pit Boss 3 Series is the least powerful in terms of BTUs, with only 12,500 compared to the Fuego's 26,500 BTUs. It also reaches a lower temperature range, from 100 to 320 degrees, not sufficient for searing, unlike the Fuego grill, which reaches up to 550 degrees.
Also Read: Pit Boss Vertical Smoker Review
FAQs
Where Are Fuego Grills Manufactured?
Fuego grills are manufactured in China and designed in California.
What Is the Difference Between Fuego Element and Professional?
The difference between Fuego Element and Professional is that the Professional is an upgraded version of the Fuego Element. The Professional has a 25% larger grilling area and 20% more BTUs, and a larger grilling cooking area.
Fuego Grill Review: Is This Grill Worth It?
Fuego Professional F24C is a good grill. It has a large grill surface, easy to clean residue tray, and can reach searing temperatures in five to ten minutes. It's one of the most compact and portable grills on the market.
However, it's not my top choice.
The Weber Spirit II E-310 grill is still unbeaten in my books. It has more BTUs than the Fuego at a more affordable price.
The spacious cooking area lets you sear steaks on one side and grill an appetizer on the other. Moreover, I prefer its open-cart design. You have ample storage and prep space, so your tools and food are always within reach.
Our #1 Recommendation
Weber Spirit II E-310
Click For Best Price

Pros
Offers high heat output with its 30,000 BTUs
Consistent heat distribution across the entire grilling surface
Comes with a 10-year warranty
529 square inches of cooking space
Built with high-quality materials
Cons
The assembly process can be time-consuming and require multiple steps.
Some users may find the grill's size too large for smaller spaces.
Was this article helpful?