Blue Apron is a meal kit delivery service that makes it easy to get a variety of healthy recipes straight to your door. You just need to choose the Blue Apron meals you want, place an order online, and then wait for your food to arrive.
After being familiar with Blue Apron's meal kits for a while, we thought it was about time to test this meal delivery service ourselves. We ordered a week's worth of Blue Apron meals to try them out.
Today, we will share with you our Blue Apron review.
What is Blue Apron?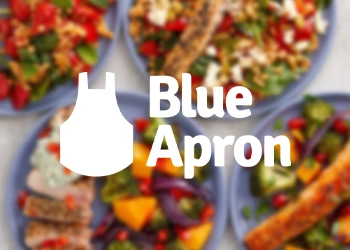 Founded in 2012, Blue Apron box is a company that provides meal kit services of pre-portioned ingredients and recipe cards for delicious Blue Apron meals.
The company does all the gathering for each meal, so there is no more grocery shopping or meal planning. All you have to do is to prepare and cook the ingredients.
Benefits and Highlights:

Blue Apron's service works to make it easy for you to cook delicious meals, particularly if you have little time and lack cooking skills.
I decided to give Blue Apron a try and put its claims to the test. This is what I found:
1. Plans
Blue Apron offers four basic menu plans, delivered to your home:
Vegetarian plan for 2
Wellness plan for 2
Signature plan for 2
Signature plan for 4
No matter which one out of these plans you decide to go for, you can have it delivered to your home two, three, or four times per week.
The Vegetarian menu is just what it sounds like - a choice of four meat-free recipes each week, from vegetable pancakes to pasta primavera. They use seasonal produce that is shipped fresh to your home.
The Wellness menu features four "nutritionist-approved" recipes Blue Apron creates every week.
These balanced meals feature lean proteins, low-carb, and Weight Watchers (WW) recommended options.
The Signature menu features eighteen varied and unique recipes with meats, fish, and vegetables that change weekly.
I enjoyed the Signature menu the best - the pan-seared steak, breadcrumbed scallops, and curry-peanut chicken were all utterly delightful.
I have nothing against the other choices, but the Signature menu had the most enticing flavors.
2. Price and Shipping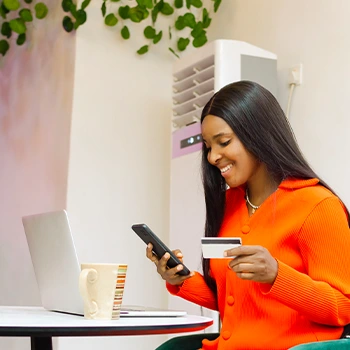 The price of Blue Apron meal kit services depends on the number of servings you purchase and the number of recipes per week they deliver. Given this, fees range from $7.99 to $9.99 per serving before shipping.
Shipping is $5.99 on orders of $50 or less and free for purchases greater than $50.
The company ships to any of the 48 continental United States, but it cannot ship to PO boxes.
Overall, I appreciate that the Blue Apron prices are slightly less expensive than many other meal kit delivery services.
I found the shipping to be first-rate, with my order arriving on time, fresh, and still well-cooled by the thermal liners.
3. Preparation
Blue Apron meals come with everything you need to cook delicious fare - ingredients and recipe cards [1].
You simply have to follow the recipe card to prepare the food, and your meal will turn out delicious. There's no agonizing over measurements or complicated ingredient lists.
The only frustration that I have with the prep is that it takes longer than some others in the meal kit industry.
Blue Apron's devotion to natural ingredients means that you are genuinely cooking with kitchen tools - not just heating a meal.
Thus, it may take 20-45 minutes to get your dinner on the table depending on the cooking methods.
4. Freshness and Taste
Blue Apron's menu is known for its freshness, and rightfully so. The produce is crisp and cool when it arrives, which is a telltale sign of freshness.
And whether you are trying a classic comfort food recipe or one inspired by world cuisine, the fresh ingredients make all the difference.
"Freshness is essential. That makes all the difference."
- Julia Child, Chef
I found that the meals incited my senses and tasted like I expected them to. The flavors were zesty and immediately apparent, not muted like in some other meal kits.
Overall, I am a big proponent of the Blue Apron recipes - there was not a bad one in the bunch.
5. Ingredients and Nutrition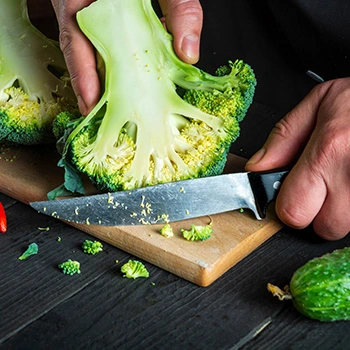 As mentioned, they send the Blue Apron ingredients fresh and unprocessed.
They make the meals with whole, sustainable ingredients - no processed food products in sight.
Blue Apron meals are also healthy - crafted by nutritionists who carefully design each recipe to provide a balance of lean protein, fiber, and complex carbohydrates. They include vegetables for added health benefits.
I like that the company buys ingredients from family farms and artisanal suppliers.
Everything they use is GMO-free and sourced from people who employ sustainable farming practices.
6. Variety
Besides the vegetarian options, Blue Apron offers meal kits that are carb-conscious, low-cal, or pescatarian.
The nutrition facts for each recipe clearly lay out the ingredients. That way, if you have allergies or sensitivities, you can make an educated choice about what to order.
The company continually brings new meal kits to its collection. I love that this company has not rested on its laurels but is constantly working to find new and exciting recipes.
Shortfalls
Blue Apron is a meal kit service that delivers fresh ingredients to your doorstep. However, it is essential to understand that this is not a "grab-and-go" solution.
Although you will not be spending time in a grocery store, you will spend some time in the kitchen cooking.
Blue Apron Pros and Cons
Pros
Fresh ingredients
Adaptable to individual preferences and special diets
Easy-to-use recipes
Promotes sustainable farming practices
Cons
Longer prep and cooking time than some other meal kit delivery services
Our Rating
Price: 4.5/5
Food quality: 5/5
Menu options: 4.5/5
Shipping: 4.5/5
Comparison to Other Products

There are many other meal delivery services out there. Let's see how Blue Apron meal kits stack up to some of the most popular meal kit services.
1. Green Chef
Green Chef is another meal kit delivery company that focuses on providing customers with fresh and sustainable ingredients. Their specific claim to fame is that they are a USDA-certified organic company [2].
They offer a keto, Paleo, balanced, or vegetarian plan with food that is low-calorie and nutritious.
Overall, Green Chef is to be applauded for using organic ingredients and catering to those with particular dietary needs. However, I found that Blue Apron's pricing was better and its WW-approved meals were more supportive of long-term weight loss.
2. Freshly
Freshly meal delivery offers fully prepared meals sent to your home - all you need to do is heat them up. Freshly has an excellent menu variety - 40 meals on its weekly menu.
The convenience of this meal delivery service is unbeatable - three minutes in the microwave, and you have a delicious dinner.
However, Blue Apron's use of individual ingredients means you can adjust your dinner to your taste by increasing or reducing the portions.
3. Gobble
Gobble meal service sends you easy-to-prepare recipes with all the ingredients you need in the box. In 20 minutes, you can fix and cook your dinner and have it hot on the table.
Gobble is undoubtedly a solid meal kit delivery service that I would recommend for people new to cooking.
Although this is subjective, I have to admit that I find Blue Apron's meals taste better than those of Gobble.
Other Meal Services We've Reviewed:
Where to Buy & Cost
The Blue Apron subscription process is incredibly user-friendly. You simply navigate to their website and input your details to get started.
There is also an option to use the Blue Apron meal kits app, which is equally user-friendly and convenient, available for both iOS and Android devices. This means you can manage your subscription on-the-go, making it an even more attractive option for busy individuals and families.
Blue Apron offers a flexible plan that suits the diverse needs of its subscribers. The cost for a week of delivery starts at a range of $7.99-$9.99 per serving, an affordable price point for a service offering gourmet recipes and fresh ingredients.
This price does not include shipping for orders less than $50. It's important to note that prices may vary depending on the plan and specific dietary preferences you choose.
One of the most appealing aspects of Blue Apron's service is the absence of cancellation fees or contracts. This level of flexibility is ideal for people who are not ready to commit to a long-term subscription or have fluctuating schedules.
If you find that you need to skip a week for any reason, you can do so without any financial penalty. This gives subscribers the peace of mind that they're not locked into a rigid contract and can adjust their meal delivery to suit their changing needs.
Other Users' Experience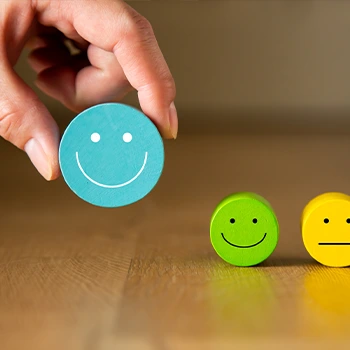 I certainly have enjoyed my Blue Apron service, and I am not alone. After checking numerous online reviews on Reddit, I noticed that many customers share my opinion.
Greg from Washington shared that he started using Blue Apron several months ago, and he has been ordering their meals ever since.
Derek from Delaware said that he had tried other meal delivery services, but he thinks Blue Apron beats them all hands down.
FAQs
What Is Blue Apron's Delivery Day?
With Blue Apron, you get to pick the day you would like to receive your meal kit. They deliver seven days per week, and you can adjust your delivery date each week if needed.
Do You Have to Be Home to Accept the Delivery?
No. Your meal kit arrives in an insulated package with ice packs so your ingredients will stay fresh. Once you get home, you should put the items in the refrigerator until you start cooking your meal.
Yes. Your card will not be charged as long as you cancel or skip before the order is processed (3-5 days in advance).
Can You Send Blue Apron as a Gift?
Yes. The company sells gift cards that you can purchase online. These can be used to buy products on the Blue Apron website or mobile Blue Apron app.
Does Blue Apron Offer Allergy-Friendly or Diet-Friendly Recipes?
Yes. With Blue Apron meal service, you can avoid sensitizing ingredients. Also, you can choose protein types and personalize the menu items based on preferences and dietary needs.
Should You Try Blue Apron?
Blue Apron is a meal kit delivery service that promises to deliver "ready-to-cook" ingredients perfectly portioned and prepped for you.
That being said, we suggest trying out the Trifecta meal delivery service. Trifecta meal kit service provides fully prepared meals which are delivered fresh right to your door, no matter where in the United States you live.
With Keto, Paleo, and clean options, this service is meant for people who don't always have the time to cook but are working to be healthy - like athletes and those trying to lose weight.
If you want to give Trifecta a try, click here.
We Recommend This Product
Trifecta
Click For Best Price

Pros
All ingredients are organic and sustainably sourced
Can choose breakfast, lunch, dinner, and 3rd entree meals
Effective for weight loss and improving health
Shipping is free throughout the U.S.
Get the BEST PRICE until the end of September
Cons
Can not select your own meals
Only allows you to disclude two ingredients
Was this article helpful?