As a fan of the carnivore diet and a dedicated BBQ enthusiast, I love to use pellet grills for searing to get a nice browned and crispy surface for extra flavor and texture.
If you're looking for the best pellet grills to sear your meats, I've reviewed a ton of them available on the market and rallied up these five.
Read on to learn my top-favorite pellet grill pick.
The Best Pellet Grills for Searing
5 Best Pellet Grills For Searing
Buyer's Guide

Here's a detailed buyer's guide to help you buy the best pellet grill for searing your steaks.
1. Grill Size
Pellet smokers and grills come in several sizes to suit various applications. There are built-in pellet grills for backyard kitchens and extra-large commercial ones that may be used for tailgating.
Examine the physical measurements and the cooking area to pick a pellet grill that matches your space and lifestyle.
2. Cooking Grates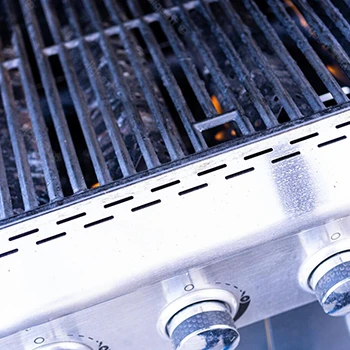 Most pellet grills use several materials for the primary cooking grate, and various materials generate variable searing results. You want to invest in a pellet grill with extra metal on the cooking grate.
A metallic cooking surface essentially implies more thermodynamic mass to take heat from the pellet fire underneath.
If you have two pellet grills, one with thin aluminum metal and another with thick cast iron metal heated to 500°F simultaneously, the one with the thick cast iron or stainless steel grates will deliver greater searing performance.
So, always ensure you inspect the grilling surface and go with a grill that has more metal or cast iron.
3. Inspect The Construction
Investing in a high-quality, solidly constructed pellet grill is the best way to ensure it lasts for many years.
Before buying, inspect the build quality. Lift the grill's lid and feel its weight; it shouldn't feel light or delicate. Observe how it rests on the grill once you have closed the cover.
Verify all of the hardware, joints, and welding. They should be well-built, with no gaps or openings where heat may escape at the joints and seams.
4. Features
Wood pellet grill manufacturers are compelled to stand apart from the competition as more grills with pellets reach the market. Utilizing cutting-edge technology and exceptional skills is one approach to do this.
When evaluating different pellet grills, consider the overall grill, including its capabilities, offered features, and if such elements are standard or supplementary.
Also, remember to go with features that you'll actually use when grilling.
5. Cooking Temperature Range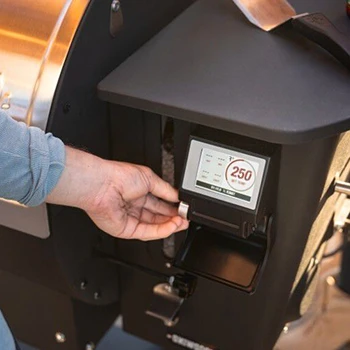 The temperature range on different pellet grill models differs depending on the cooking you wish to accomplish.
Every searing pellet grill excels at indirect cooking, and most have no trouble reaching temperatures between 150°F and 450°F, which are suitable for grilling, roasting, and smoking.
However, such a temperature range deems insufficient for searing which needs a temperature of 500–550°F.
Choose the right pellet grill with a maximum temperature range between 500°F and 700°F, which is hot enough to produce a fantastic sear.
6. Placement
Due to their size and build design, pellet grills are often less portable than ordinary gas grills. Before you choose a location for your outdoor cooking, please take into account the fact that they also require power to operate.
Furthermore, pellet grills will produce more smoke, so you may not want to place it near any open windows or outside. Also note that if you must place your pellet grill close to a window, ensure the area is protected by an overhang.
7. Technological Features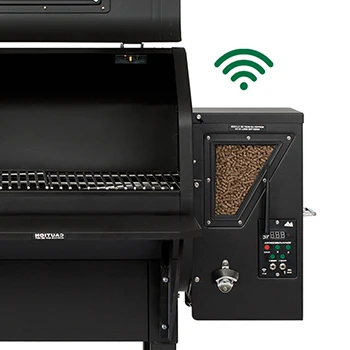 Some pellet grills are Wi-Fi capable. On these, you may check on the status of your meat from the comfort of your living room or change the cook temperatures from your phone.
Although wood pellet grill technological developments are fantastic, I recognize that not everyone will benefit from them.
Additionally, they may increase the cost of your new pellet grill. Therefore, get the best pellet grill with the technical qualities you value the most.
Also Read: Best WiFi Pellet Grills & Smokers
8. Portability
If you're searching for the finest searing grill for backyard BBQs, portability shouldn't be an issue, but if you want something to take camping or tailgating, I recommend exploring some of your smaller and lighter alternatives. Go for portable pellet versions and smaller grills that are also quite economical.
Related Articles:
9. Cleanup Process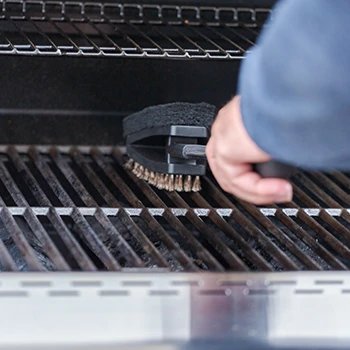 It's essential to remember that a wood pellet grill needs wood pellets to cook. This means that when the firebox on the pellet grill fills up, you'll have ash to clean up.
So, you want to make sure you invest in a pellet grill with an easy cleaning process.
Regular and proper cleaning will ensure you have a smooth grilling experience, plus your grill will last longer impair.
If you're concerned about excessive drainage or drippings on your grill, I advise laying down foil before cooking.
FAQs
Can You Sear on a Pellet Grill?
Yes, you can sear on a pellet grill. Pellet grills yield great sear marks on the meat, plus you get more flavor and texture.
How Do You Get Sear Marks on a Pellet Grill?
You get sear marks on a pellet grill when you place the meat in a diagonal position on the cooking grates. Also, ensure you've preheated the grill for at least 5-10 minutes with the lid closed before you start grilling.
Is 500 Degrees Hot Enough To Sear?
Yes, 500 degrees is hot enough to sear. The most effective temperature for seating meat is between 300°F - 500°F. Although, note that searing at extra high heat above 500°F can scorch and dry the meat pretty fast.
How Hot Should a Pellet Grill Be For Searing Meat?
A pellet grill for searing meat should be 450-550 degrees hot. This is the perfect temperature to get a good sear, but some pellet grills can heat up more.
How Many BTUs Do You Need To Sear A Steak?
You need about 75 to 100 BTUs to sear a steak. Note that this is the BTU range per square inch of cooking surface.
How Long Does It Take To Reverse Sear A Steak On A Pellet Grill at 225°?
It takes about 20 minutes to reverse sear a steak on a pellet grill at 225°. This cooking duration is for medium-rare meat. So, if you want a well-done steak, continue cooking until the internal temperature of the meat reaches 125-130°F.
What Is the Best Pellet Grill For Searing for You?
Searing meat with the right pellet grill allows you to lock in the meat juices and enjoy extra flavor and texture. The ideal pellet grill is one that combines high heating temperatures and an excellent grilling surface.
If you're a BBQ enthusiast and you want to enjoy the best of both worlds, I recommend investing in a reliable pellet grill like Weber SmokeFire EX4, which lets you sear foods quickly with a touch of wood-smoke taste.
The EX4 is genuinely a five-star pellet grill for searing. It is made of premium materials, takes into account all practical sear box conveniences, and performs superbly for grilling, smoking, and braising. It is simple to set up and use, making your meat-searing experience as simple as possible.
Weber SmokeFire EX4 (2nd Gen) (Best Overall & for Best-Tasting Meat)
Our #1 Recommendation
Gives meat a rich smoke flavor
Easy to operate
Massive grilling surface
User-friendly app
Get the BEST PRICE until the end of December
Was this article helpful?