Being a dedicated carnivore, I always want to know that my meat is fresh and I can control its fat content by choosing lean cuts. To do that, I have used different meat grinders over the past years.
I know what makes a good meat grinder, so I've compiled a list of the best meat grinders for home cooks who want to make their own ground beef, sausage, and other meats.
Here are my favorites.
Editor's Choice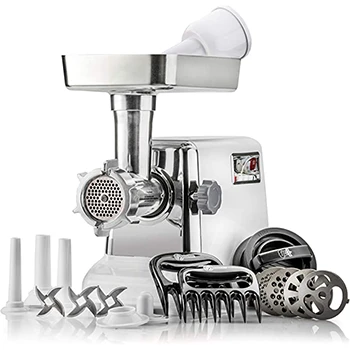 STX International
Check Current Price
#2nd Best Choice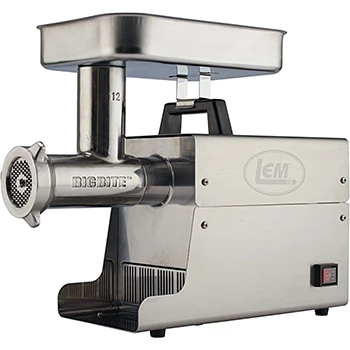 LEM
Check Current Price
#3rd Best Choice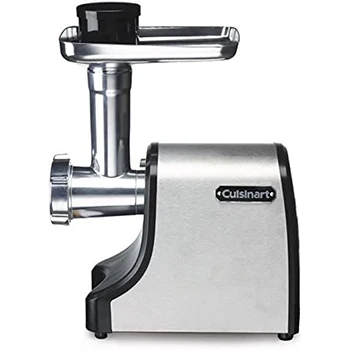 Cuisinart
Check Current Price
Our Top Products
Buyer's Guide
Given that meat grinders are not an everyday purchase for most people, it is essential to do your research before making a decision.
Below are some factors you may want to consider when purchasing a meat grinder.
Power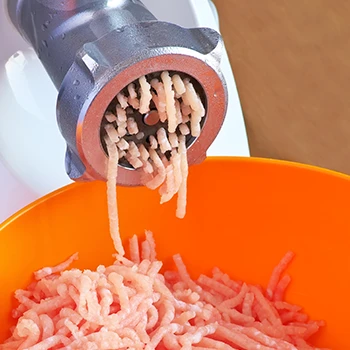 The power of a meat grinder is an important factor to consider. You will need a powerful machine if you plan on grinding large quantities of meat.
However, a less powerful unit will suffice if you only plan on grinding small amounts. Consider not only your current usage patterns but how much you might use the grinder in the future.
Manual grinders will have less power than electric grinders.
Read More: How Do Meat Grinders Work?
Size
Another factor to consider is the size of the meat grinder. If you have limited counter space, you will want to purchase a smaller machine.
Conversely, if you have plenty of room for storage, then you can opt for a larger device.
Additionally, a machine with a larger grinder head can grind more meat at a time than a smaller machine.
So, if you are a high-volume user, you will want to purchase a unit with a bigger grinding head.
Material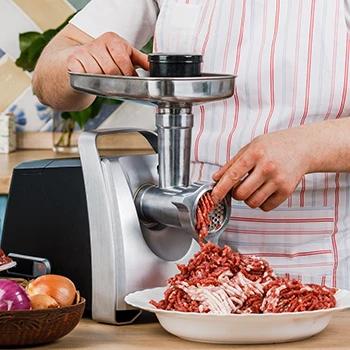 The material of the meat grinder is also an important consideration. If you plan on using your new meat grinder frequently, then you will want to buy one made from high-quality materials.
You can opt for a less durable model if you only plan on using it occasionally.
Additionally, some materials are easier to clean than others. So, if you are concerned about hygiene, you will want to purchase a meat grinder made from materials that are not prone to rust or oxidation.
Accessories
Some meat grinders come with accessories that allow you to do more than just grind meat. For example, some models come with a knife, meat claw, sausage stuffer plate, meat grinder attachment, or kubbe kit.
If you are interested in such features, you will want to purchase a model with the accessories you desire.
Of course, many manufacturers have options to purchase these accessories separately.
So, even if a particular model does not come with the attachments you want, you may be able to buy them individually and use them with the machine.
"So in order to make a large volume of sausage, you need to have a dedicated refrigerated room, where you can grind and mix and stuff and everything, because if sausage mixture gets too warm while you're forming it, it doesn't bind properly, and your sausages end up crumbly and dry."

- J. Kenji Lopez-Alt, American Chef
Price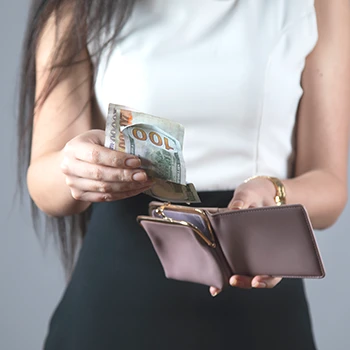 Meat grinders can vary in price from around $100 to $600. The cost will depend on the features and quality of the machine.
If you plan on using the grinder frequently, it may be worth investing in a higher-quality machine.
However, a less expensive model may suffice if you only plan on using it occasionally.
Cleaning
Cleaning a meat grinder can be a time-consuming and tedious task. So, if you are concerned about your health, you will want to buy a machine with simple disassembly that is easy to clean.
Additionally, some models come with dishwasher-safe parts, which makes cleaning even easier.
Who Should Buy a Meat Grinder?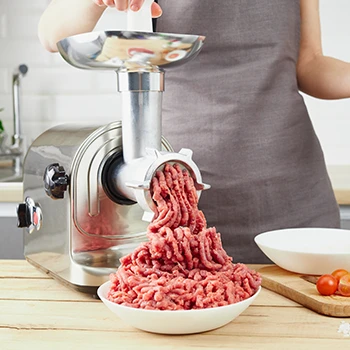 If you eat freshly ground meat regularly, then you may want to purchase a meat grinder. A meat grinder will allow you to grind your own meat, saving you money in the long run.
Additionally, it can also be healthier since you will know exactly what is going into your ground meat.
Plus, if you prefer higher-quality cuts of meat in your ground, you can purchase a more expensive cut of meat and grind it yourself rather than purchasing lower-end ground meat from the grocery store.
Additionally, if you are a hunter or fisherman, then you may also want to purchase a meat grinder.
This way, you can grind your game meat and fish, which can save you money on processing fees. No need to pay for a butcher to do something you can easily do yourself.
Finally, you may benefit from a meat grinder if you like to make your own sausages. You could attempt to stuff sausage by hand, but using a machine with sausage attachments would be much easier.
A meat grinder with sausage stuffing attachments will allow you to create links quickly and easily. Plus, making sausages with unique flavorings and ingredients can be fun.
Of course, you can also use a unit to grind vegetables, make your own pet food, or even create homemade pasta. So, if you are looking for a versatile kitchen appliance, you may want to purchase a meat grinder.
Optionally, some people choose to purchase a food grinder attachment for a Kitchenaid stand mixer instead of a stand-alone grinder. But attachment meat grinders are not as long-lasting as heavy-duty meat grinders.
Who Should Not Buy a Meat Grinder?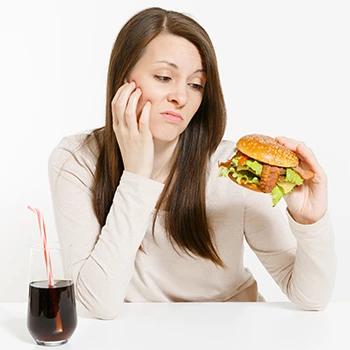 Those who do not eat ground meat regularly will not need a meat grinder. It is probably not worth purchasing a machine if you only occasionally eat burgers or tacos.
After all, you can easily purchase ground meat from the grocery store.
The same thought is valid for sausage. If you are not interested in creating your own sausage flavors, then there is no need to purchase a machine.
You can easily find pre-made sausage at the grocery store that will suit your needs.
Additionally, those who do not hunt game or fish may not need a meat grinder. If you do not need to process meat or fish, you will not need a machine to grind it.
Also, if working with raw meat grosses you out, then a meat grinder is probably not the right kitchen appliance for you.
Related Articles:
FAQs
What Is a Good Wattage for a Meat Grinder?
A good wattage for a meat grinder is around 1000 watts. This will provide enough power to grind most meats without overworking the motor.
Commercial meat grinders should have more wattage, but a home grinder can get away with less power.
Can I Grind Bones in a Home Meat Grinder?
No, you should not grind bones in a home meat grinder. Most meat grinders are not powerful enough to grind bones properly, so you can damage the blades and other parts of the machine.
If you want to work with bones, you should purchase a commercial-grade meat grinder.
How Big is a #22 Meat Grinder?
A #22 meat grinder has a plate that is 3 1/4" in diameter [1]. This is a reasonably large grinder, and with a strong motor, it can quickly create a lot of freshly ground beef.
Why Does a Meat Grinder Get Clogged?
Meat grinders get clogged because the meat gets stuck in the grinding plate or cutting blades. This can happen if the meat is too tough or too fatty.
Additionally, excess gristle can also cause a meat grinder to become clogged.
What Is the Difference Between a Manual and an Electric Meat Grinder?
The difference between a manual and an electric meat grinder is that a manual meat grinder is operated by hand, whereas an electric motor operates an electric meat grinder.
Electric meat grinders are more expensive but much easier to use. They are also much more powerful than manual meat grinders.
What Is the Difference Between a Meat Grinder and a Meat Mincer?
The difference between a meat grinder and a meat mincer is that a meat grinder grinds the meat, whereas a meat mincer cuts the meat into smaller pieces.
A meat grinder will produce ground meat that is uniform in texture, while a meat mincer will produce an output that more closely retains the texture of the original meat.
What's The Best Meat Grinder for You?
After analyzing the features of the top meat grinders, we have determined that the STX Turboforce 3000 is our #1 choice for the best meat grinder on the market.
This grinder has a powerful motor that can quickly grind the meat placed in its generous meat pan. Additionally, this versatile machine comes with all the accessories you need.
Of course, the quality of your grinder output depends on the quality of the meat you put in. That is why I like to use high-quality meat that has been delivered to my home. For my review of the best meat delivery services, click here.
STX International Turboforce 3000 Electric Meat Grinder (Best Overall)
Our #1 Recommendation
Powerful motor with three speeds
Three sausage stuffing tubes
Free meat shredder claws and a burger press
Circuit breaker on the machine for safety
Was this article helpful?