I've been on a meat-centric diet for years and experimented with all possible ways of getting meat tender and flavorful. I quickly discovered that nothing beats meat injectors.
They come in different shapes and sizes and make it easy to give your meat that extra flavor boost.
I've used countless meat injectors over the years. Here's my selection of the best meat injectors guaranteed to make your meat flavorful.
Editor's Choice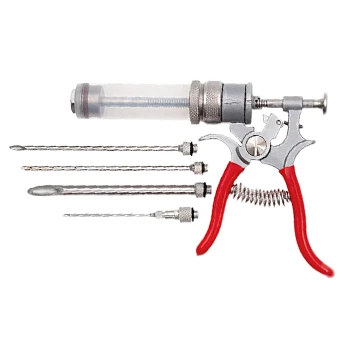 SpitJack
Check Current Price
#2nd Best Choice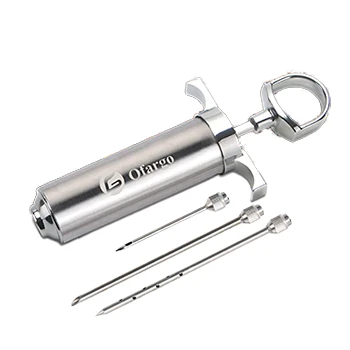 Ofargo
Check Current Price
#3rd Best Choice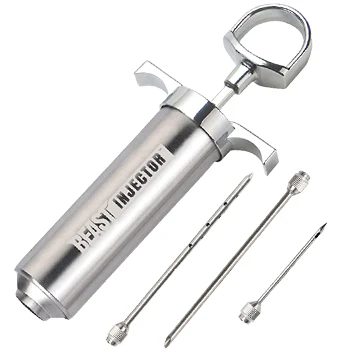 Grill Beast
Check Current Price
Our Top 8 Best Meat Injectors
1 - SpitJack Magnum Meat Injector Gun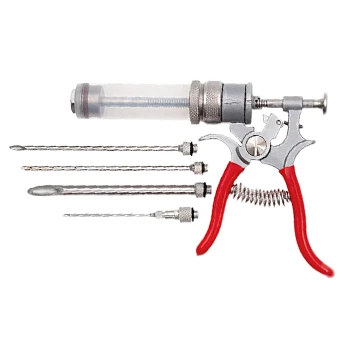 My top choice for a meat injector is SpitJack Magnum. It penetrates the meat to an impressive 5.5 in, which means it's a great tool for large meat cuts.
This meat injector can hold 1.7 oz of liquid, which is enough marinade for one large cut of meat.
My favorite part of this meat gun was the knob which allowed me to control how much liquid went into the meat in one shot.
SpitJack Magnum spreads the liquid evenly, so there's no marinade waste. It's extremely easy to use. Just set the injection amount via dial and gently squeeze. That's all.
This meat injector kit includes four needles, three cleaning brushes, and a case for easy carrying and storage.
One of the four needles has a slanted tip for herb marinades, one has a closed tip with side holes for liquid marinades, the third has a large opening for chunky marinades, and the fourth one is thin for small cuts.
The needles give this meat injector impressive versatility.
Pros
Four needles give more choice for inserting liquid marinades
User friendly
Easy cleanup
Durable build
Check Current Price
Quick Facts:
Material : stainless steel
Capacity : 1.7 oz
Needle length : up to 5.5 in
Weight : 1.5 lb
2 - Ofargo Meat Injector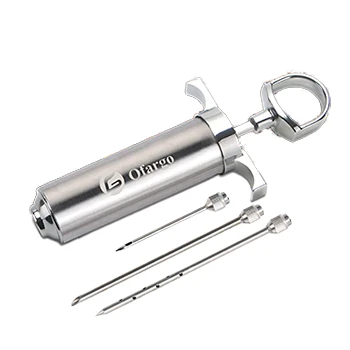 Ofargo meat injector is an industrial strength injector, so durability isn't an issue here. It has a 304 stainless steel barrel and needles.
The handle and injector top are zinc alloy and the grill pastry brush is made from silicone. All this ensures the meat injector is safe to use in high heat and won't absorb any odors.
The meat injector is surprisingly lightweight, considering its reservoir and build material, which makes handling easy. It has a large meat injector reservoir — 2 oz.
This high-quality meat injector comes with three needles, giving you a good variety for injecting marinades. The 6-in needle has an angle cut with a wide tip for chunky marinades.
The second 6-in needle has 12 holes, which makes it perfect for liquid marinades, and the 3-in needle allows maximum precision for smaller meat cuts.
"Use a larger needle for cuts like pork shoulder. If you are injecting something smaller, such as chicken thighs, smaller needles are much more suitable because you get a more precise placement and smaller holes in the finished product."
- AllThingsBBQ, YouTube Channel
Pros
Huge reservoir for fewer refills
Dishwasher safe
Comes with three needles for injecting different meat cuts
Check Current Price
Quick Facts:
Material : stainless steel
Capacity : 2 oz
Needle length : up to 6 in
Weight : 9.8 lb
3 - Grill Beast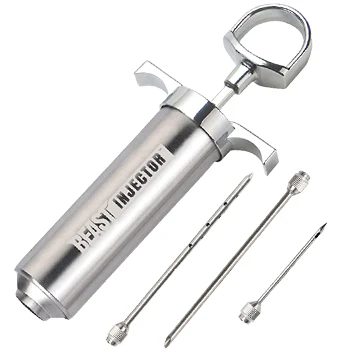 Grill Best stands out due to its construction and the variety of injecting options.
This meat injector is completely made of 304 food-grade stainless steel. Both the frame and the bottle are one solid piece.
A stainless steel plunger with finger loops allows a firm grip.
Grill Beast comes with three needle options. A 6-in needle with an angled tip is best for herb marinades.
The second 6-in needle has holes along the length and is good for thin marinades, and a 3-in needle is best for smaller cuts, such as chicken breast, and has the best precision.
The reservoir is 2 oz, which I found works great when injecting whole chicken or turkey.
Pros
Comes with an ebook with recipes
Comfortable handling
100% money-back guarantee
Cons
Large and heavy, so people with smaller hands can have issues handling
Check Current Price
Quick Facts:
Material : stainless steel
Capacity : 2 oz
Needle length : up to 6 in
Weight : 9.3 oz
4 - Premiala Awesome Meat Injector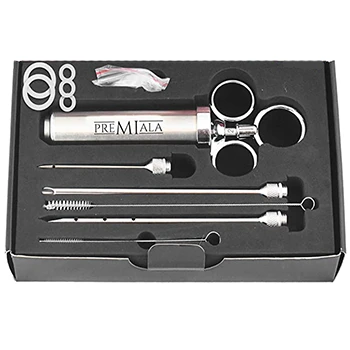 Preimala Awesome meat injector comes in a box that you can use as a case to keep all the accessories in one place.
The kit includes five O-rings and two cleaning brushes, so you can use the injector for years if maintained properly.
This injector has three needles: two 6-in needles (one solid and one with 12 holes that work best with thicker marinades) and one 3-in needle with two holes.
The needles provide enough variety, and I could work with all kinds of marinades.
The meat injector is completely made from 304-grade stainless steel, including the barrel and plunger disc, so it's durable.
All parts of the injector that come into contact with food are stainless steel, which ensures a clean surface and less chance of infections. The needles screwed in tightly, and I didn't experience any leaks.
Pros
All parts in contact with food are stainless steel
Comes with spare parts
eBook with use instructions
Check Current Price
Quick Facts:
Material : stainless steel
Capacity : 2 oz
Needle length : up to 6 in
Weight : 9.8 oz
5 - J&B Goods Professional Automatic BBQ Meat Marinade Injector Gun Kit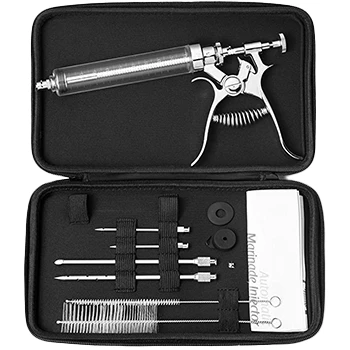 J&B Goods meat injector is another one that can hold 2 oz of liquid. This is a pistol-style injector with impressive five-flow settings and four stainless steel syringes.
The kit includes four needles, including one for thick marinades and chunks such as herbs and spices.
I especially liked the pistol grip and the trigger-style for tough cuts, as they gave me more control over where I insert the liquid and helped regulate the liquid flow.
The five flow settings allow accurate marinade delivery every time.
The maintenance is easy, as this meat injector is dishwasher safe. However, you should wash the needles by hand.
Pros
Precise flow setting
Lightweight
Comes in a case for carrying and storage
Check Current Price
Quick Facts:
Material : stainless steel
Capacity : 2 oz
Needle length : up to 6 in
Weight : 1.43 oz
6 - Norpro Deluxe Stainless Steel Baster with Injector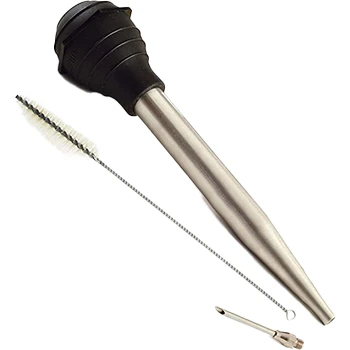 Norpro isn't a meat injector gun like most of the above. This is a two-in-one tool: a baster with an injector.
This tool looks like an average turkey baster: it has an elongated tip with a bulb on top, which provides powerful suction.
But, it includes an attachable needle you use to inject liquids to get a flavor and moisture boost.
Simply attach the needle and infuse the meat with flavor before baking or grilling.
I liked this baster and needle combo for occasional use. It works better than just squeezing the liquids on top of the meat.
However, it doesn't give as much control as a dedicated meat injector gun. Plus, the capacity is 1.5 oz, which is smaller than most other meat injectors.
Pros
Easy cleanup
Baster with an additional needle
Stainless steel material resistant to high temperatures
Cons
Small capacity compared to other gun injectors
Check Current Price
Quick Facts:
Material : stainless steel
Capacity : 1.5 oz
Needle length : 1 in
Weight : 45 grams
7 - Grillhogs Marinade Meat Injector Kit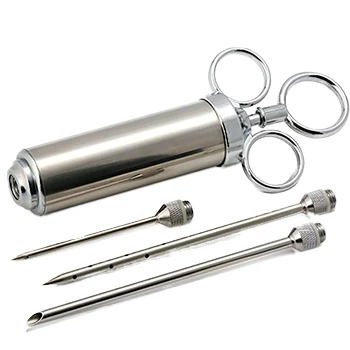 This stainless steel meat injector kit has a capacity of 2 oz and includes stainless steel needles.
There are two 6-in needles (one solid and one with holes) that are wide enough to inject a turkey with seasonings and one 3-in needle for smaller cuts.
You can use the liquid marinade and chunkier sauces with these needles, so no more dry and bland meat.
This meat injector kit is easy to maintain. Rinse it with soapy water after every use, and the 34 stainless steel construction ensures durability.
However, I didn't like how heavy it was — 13.4 oz. The weight made it unwieldy to operate, and I found the heavy base and delicate tip disproportionate. Overall, it throws off balance.
Pros
Easy maintenance
Includes needles for thicker liquids and thinner liquids
Durable construction
Cons
Weight makes the use difficult
Check Current Price
Quick Facts:
Material : stainless steel
Capacity : 2 oz
Needle length : up to 6 in
Weight : 13.4 oz
8 - JY Cookment Meat Injector Syringe
Here's another syringe injector: JY Cookment is a lightweight food injector made of stainless steel.
It weighs only 3.2 oz when unfilled. It has the smallest capacity on this list — only 1 oz, so even when it's filled, it's lightweight and easy to use.
The syringe comes with one cleaning brush and two needles: one 6-in needle and one 3-in needle with a thick hole on one side.
Overall, I wish both needles had more holes on the sides. Also, the longer needle could be sharper and narrower for a more precise injection.
While I wish the needles were more advanced, they are suitable for any average home cook to use.
Pros
Solid stainless steel construction
Comfortable handle
Extremely lightweight
Cons
Needle design could be better
Check Current Price
Quick Facts:
Material : stainless steel
Capacity : 1 oz
Needle length : up to 6 in
Weight : 3.2 oz
Buyer's Guide
Here are a few things you must remember when purchasing and using a meat injector.
1. Barrel Capacity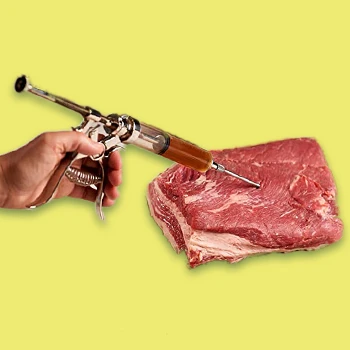 Pay attention to the barrel size. Most meat injectors on this list have a 2 oz barrel, although there are some smaller ones too.
Go for a larger barrel if you work with large cuts of meat a lot, as you'll have to do less refilling.
However, keep in mind large barrels are more difficult to clean and store, so if you work with smaller cuts, a smaller barrel will make your life easier.
A 2 oz barrel should be enough for one larger cut of meat, and you won't have to refill.
Also, this size allows you to easily push the marinade in without breaking anything. 1 oz is good for small cuts, such as chicken breasts and lamb legs.
2. Needles
Most meat injectors come with at least two needles, and many have even more. Pay attention to the kinds of needles the kit includes, as different needles are suitable for different cuts and marinades.
For example, needles without holes are best for chunky marinades with herbs. Needles with holes are best for thin marinades.
Needles also have different openings. A needle with a wider opening is good for thick marinade because it prevents blockages, while the standard opening is good for thin liquids.
Longer needles are best for big cuts, such as brisket, while shorter needles are best for smaller cuts, such as chicken.
Choose a marinade injector with thin and thick needles for the best versatility. Also, pay attention to needle material — choose food-grade stainless steel to ensure food safety and durability.
3. Build Material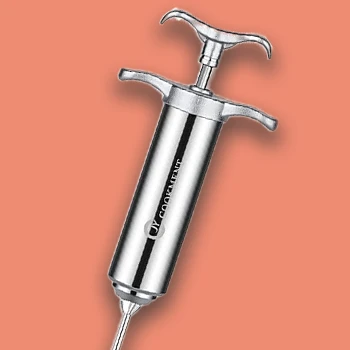 Stainless steel meat injector is the most dependable. Look for a sturdy frame. Stainless steel is a popular choice because it's durable, easy to clean, and prevents the spread of bacteria if properly maintained.
However, the marinade injector and its parts can also be made of other materials.
For example, a barrel can be made of glass and plastic. Plastic will work for some time but won't last as long as stainless steel. Glass is breakable, so look for tempered glass.
Pro tip: In case you have a stainless steel barrel, make sure to clean it after each use to avoid rust. Some meat injector kits include cleaning brushes, so the cleanup process is easy.
Overall, if you use the meat injector occasionally, plastic and aluminum will serve just fine. But, if you plan to use it weekly or for competition cooking, you'll need something more durable.
4. Maintenance
The final thing to consider when buying a meat injector is the ease of use and maintenance.
A marinade injector is used on raw meat, so it's crucial to clean it thoroughly. But, many of them come with small tubes and needles, which make cleaning difficult, so look for one that can be easily disassembled for cleaning [1].
Think about ease of use. The marinade injector should have an ergonomically designed handle that won't cramp your hand before the meat is infused.
Related Articles:
FAQs
Is a Meat Injector Worth It?
Yes, a meat injector is worth it. It makes the meat juicy, adds flavor, and tenderizes it. It's especially good for cooking on high heat, such as grilling, to make sure the meat retains moisture.
What Meats Are Good to Inject?
Meats that are good to inject are large cuts, such as hams, pork shoulder, whole turkey and chicken, brisket, and more.
Dry cuts, such as lamb leg, thick pork chops, and pork loin, are also good meats to inject.
What's the Best Meat Injector for You?
My vote for the best meat injector goes to SpitJack Magnum. It comes in a kit with four needles — the most on this list. The needles give you impressive variety for injecting different cuts.
SpitJack Magnum also has three cleaning brushes for complete cleanup and a case, so you can easily carry the kit on camping and grilling trips.
The longest needle is 5.5 in, which makes it great for infusing larger cuts, and the 1.7 oz capacity falls perfectly in the middle — you'll have enough liquid for one large cut, and it's also easy to infuse smaller meats.
Check it out, and get a top-notch meat injector for your grilling adventures.
SpitJack Magnum Meat Injector Gun
Our #1 Recommendation
Four needles give more choice for inserting liquid marinades
User friendly
Easy cleanup
Durable build
Was this article helpful?