I've been on a meat-centric diet for years and experimented with all possible ways of getting meat tender and flavorful. I quickly discovered that nothing beats meat injectors.
They come in different shapes and sizes and make it easy to give your meat that extra flavor boost.
I've used countless meat injectors over the years. Here's my selection of the best meat injectors guaranteed to make your meat flavorful.
Editor's Choice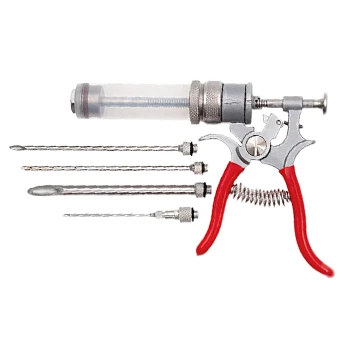 SpitJack
Check Current Price
#2nd Best Choice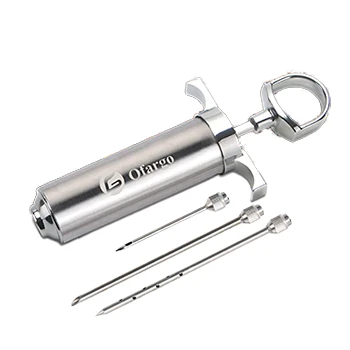 Ofargo
Check Current Price
#3rd Best Choice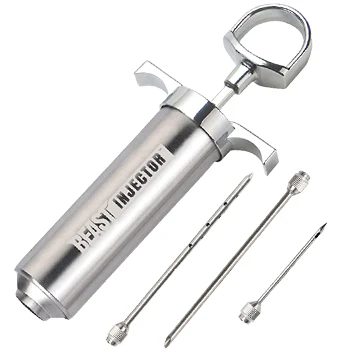 Grill Beast
Check Current Price
Our Top 8 Best Meat Injectors
1. Barrel Capacity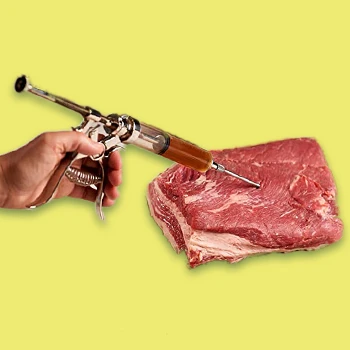 Pay attention to the barrel size. Most meat injectors on this list have a 2 oz barrel, although there are some smaller ones too.
Go for a larger barrel if you work with large cuts of meat a lot, as you'll have to do less refilling.
However, keep in mind large barrels are more difficult to clean and store, so if you work with smaller cuts, a smaller barrel will make your life easier.
A 2 oz barrel should be enough for one larger cut of meat, and you won't have to refill.
Also, this size allows you to easily push the marinade in without breaking anything. 1 oz is good for small cuts, such as chicken breasts and lamb legs.
2. Needles
Most meat injectors come with at least two needles, and many have even more. Pay attention to the kinds of needles the kit includes, as different needles are suitable for different cuts and marinades.
For example, needles without holes are best for chunky marinades with herbs. Needles with holes are best for thin marinades.
Needles also have different openings. A needle with a wider opening is good for thick marinade because it prevents blockages, while the standard opening is good for thin liquids.
Longer needles are best for big cuts, such as brisket, while shorter needles are best for smaller cuts, such as chicken.
Choose a marinade injector with thin and thick needles for the best versatility. Also, pay attention to needle material — choose food-grade stainless steel to ensure food safety and durability.
3. Build Material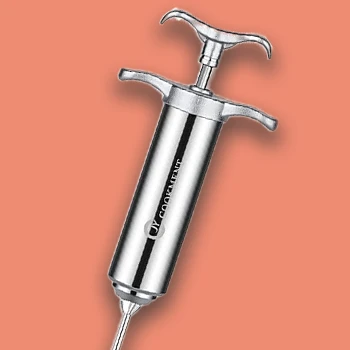 Stainless steel meat injector is the most dependable. Look for a sturdy frame. Stainless steel is a popular choice because it's durable, easy to clean, and prevents the spread of bacteria if properly maintained.
However, the marinade injector and its parts can also be made of other materials.
For example, a barrel can be made of glass and plastic. Plastic will work for some time but won't last as long as stainless steel. Glass is breakable, so look for tempered glass.
Pro tip: In case you have a stainless steel barrel, make sure to clean it after each use to avoid rust. Some meat injector kits include cleaning brushes, so the cleanup process is easy.
Overall, if you use the meat injector occasionally, plastic and aluminum will serve just fine. But, if you plan to use it weekly or for competition cooking, you'll need something more durable.
4. Maintenance
The final thing to consider when buying a meat injector is the ease of use and maintenance.
A marinade injector is used on raw meat, so it's crucial to clean it thoroughly. But, many of them come with small tubes and needles, which make cleaning difficult, so look for one that can be easily disassembled for cleaning [1].
Think about ease of use. The marinade injector should have an ergonomically designed handle that won't cramp your hand before the meat is infused.
Related Articles:
FAQs
Is a Meat Injector Worth It?
Yes, a meat injector is worth it. It makes the meat juicy, adds flavor, and tenderizes it. It's especially good for cooking on high heat, such as grilling, to make sure the meat retains moisture.
What Meats Are Good to Inject?
Meats that are good to inject are large cuts, such as hams, pork shoulder, whole turkey and chicken, brisket, and more.
Dry cuts, such as lamb leg, thick pork chops, and pork loin, are also good meats to inject.
What's the Best Meat Injector for You?
My vote for the best meat injector goes to SpitJack Magnum. It comes in a kit with four needles — the most on this list. The needles give you impressive variety for injecting different cuts.
SpitJack Magnum also has three cleaning brushes for complete cleanup and a case, so you can easily carry the kit on camping and grilling trips.
The longest needle is 5.5 in, which makes it great for infusing larger cuts, and the 1.7 oz capacity falls perfectly in the middle — you'll have enough liquid for one large cut, and it's also easy to infuse smaller meats.
Check it out, and get a top-notch meat injector for your grilling adventures.
SpitJack Magnum Meat Injector Gun (Best Overall)
Our #1 Recommendation
Four needles give more choice for inserting liquid marinades
User friendly
Easy cleanup
Durable build
Was this article helpful?