I was hosting a family get-together a few weeks back when I ran out of meat. When a friend told me about REP Provisions, I had to give it a try.
I'm always on the lookout for new meat delivery services. I've tried and reviewed almost all meat subscription and delivery services, and today, I'll talk about my experience trying out REP Provisions meat.
I'll talk about their pros and cons and how they compared to other meat delivery services I tried.
What is REP Provisions?

REP Provisions is a meat delivery service. They offer various cuts of meat. The company is founded by athletes, ranchers, cooks, and conservationists who want to preserve our ecosystems.
The Regenerative Company puts a lot of stock into creating nutritious food and working with eco-conscious farms and ranches.
REP Provisions Highlights
There were several things I liked about the REP Provisions. I'll talk about each of their pros in detail.
1. Product Offering
REP Provisions sells different kinds of meat, such as beef, chicken, pork, and some bison cuts [1].
Their popular beef cuts include:
Ground beef
Steak strips
Ribeye
Sirloin
Chicken offering includes:
Whole chicken
Chicken breasts
Chicken thighs
Chicken drumsticks
Pork selection includes:
Ground pork
Pork sausage
Pork chops
Boston butt
Shoulder roast
They also have a beef and bison collection that includes:
Colorado Bison box
Ground bison
Roast box
Beef and bison box
Beef box
Apart from meat, REP Provisions also sells seasonings:
Sea salt & zesty lemon seasoning
Sea salt & smoked paprika seasoning
I tried the first one when I cooked the chicken box and pork roast and liked the end result. The course spices nicely brought out the meat flavor and made the meat taste juicy.
2. Verified Regenerative Agriculture Platform

REP Provisions believe that healthy lands lead to healthy lives, and I agree. Their mode of business is in accordance as well.
I found that REP creates healthy nutrition based on a verified regenerative agriculture platform. This farming system enriches the soil, helps watersheds, and sequesters carbon.
"Our mission is to regenerate the rich soils of America's grasslands while producing clean foods that are good for you and the planet."

- REP Provisions
The Savory Institute ecologically verifies REP Provisions. It means they have regenerative farms and ranches that improve soil health and do not harm the planet.
All of their animals are pasture-raised. They only sell 100% grass-fed beef, without any hormones or pesticides.
Pros
Regenerative agriculture platform verified by the Savory Institute
100% grass-fed beef
Loyalty & rewards program
Keto and Paleo-certified meat
Cons
Small meat selection
No organ meats
Custom Rating Criteria:
Price: 4/5
Meat quality: 5/5
Shipping: 4/5
REP Provisions Shortfalls

There were also some things I didn't like about REP Provisions.
1. Small Meat Selection
REP only offers beef, chicken, pork, and bison. They don't have any other kinds of poultry apart from chicken. No seafood, lamb, or other kinds of game meat. Plus, their bison offering is low compared to other meat deliveries that also offer bison.
2. Sold Out Stock
Another thing I didn't like is that a lot of their stock is sold out. For example, I wanted to try out the Fiesta Mexicana, Roast, or Chuckwagon box, and they were all sold out.
In fact, no matter which meat category you click on, you'll see half of the options are sold out, which was a bummer.
I kept returning to the website for a few days, hoping they'll restock at least some of the meat options, but no such luck.
Comparison to Other Meat Delivery Services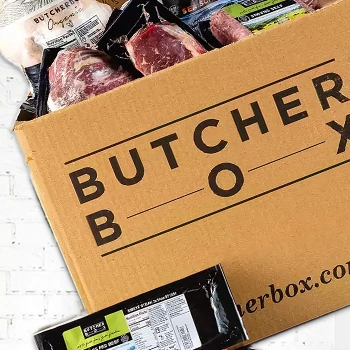 ButcherBox has five subscription boxes, Snake River Farms has 12, and Crowd Cow has 4. REP Provisions has the most.
They have several boxes in each meat category they sell, plus beef and bison bundles.
As for the shipping, ButcherBox wins. They offer free shipping on all their products. Snake River Farms shipping starts from $9.99, and Crowd Cow shipping is $19.99.
REP Provisions offers free shipping only if your order is more than $99.
Related Reviews:
Where to Buy It?
You can buy all REP provisions products on their official website. You'll have to make an account and log in to order.
Should You Try REP Provisions?
Even though there were some parts about REP Provisions I liked, such as special offers, I don't recommend them.
Instead, check out ButcherBox meat delivery service. ButcherBox has a better meat selection — they even offer sustainably-sourced seafood. Plus, the packaging is eco-friendly, and foods arrive packed in ice and stay frozen for a while.
ButcherBox has free shipping on all orders, plus a lifetime supply of ground beef as long as you subscribe.
Click the link here, and order your high-quality meat today.
#1 Meat Delivery Service
ButcherBox
Click For Best Price

Pros
Grass-fed and grass-finished beef delivered directly to your door
Without antibiotics or added hormones
Customizable boxes available
Select from up to 21 different cuts
Get the BEST PRICE until the end of December
Was this article helpful?