As a meat enthusiast who's been on a carnivore diet for over eight years, I'm a fan of the deep woody flavor of turkey smoked in the right electric or charcoal smoker.
But with the market swamped with tons of turkey smokers, each with different build quality, size, and features, it can be confusing to invest in the right one for your perfect Thanksgiving dinner.
Thankfully, I've reviewed the best turkey smokers available and ranked them based on performance, convenience, durability, and price.
Here are the top 5 that tick all the right boxes.
5 Top Turkey Smokers
1 - Weber Smokey Mountain Cooker Smoker 22
With the 22-inch Smokey Mountain grill, smoking turkey or any meat is quite a breeze. It is the ideal smoker for your holiday cooking needs because it has a cooking area of more than 726 square inches.
This grill's durable construction includes an exterior shell composed of porcelain enamel, plated steel cooking grates, and aluminum dampers.
As I smoked my turkey, drippings were channeled down into the grease collecting bucket on the right side of the grill since the smoker has a grease drain pan that rests beneath the cooking grates.
I love that there is a detachable fuel door that allows you to add extra charcoal without moving any of your turkey meat during the cooking process. It also doesn't take up much room despite having a large cooking area because of its vertical design.
Pro tip: To make cleanup simpler after the smoking process, I advise wrapping the bucket with aluminum foil.
Pros
The vertical design perfectly fits a whole smoked turkey
Ample cooking space
Extended Weber warranty
Premium temperature gauge
Cons
There's some smoke leakage
Click For Best Price
Quick Facts:
Total cooking surface : 726 square inches
Dimensions : 24 x 23 x 48.5 inches
Max temperature : 350 degrees
Material : Aluminum, stainless steel
2 - Z GRILLS-450A
The Z Grills ZPG-450A is composed of sturdy powder-coated steel, just like most renowned pellet turkey smokers. It also feels relatively robust and fits together nicely for a tight seal, despite not being pretty thick.
A dial is used to adjust the temperature, and while the lowest setting is 180 degrees for smoking, the next temperature level is 225 degrees, which is ideal for any smoked turkey recipe and above the food safety danger zone of 140 degrees [1].
Although this smoker takes longer to heat up, I love how once it reaches the proper temperature for smoking a turkey, it performs a wonderful job of steadily holding that temperature until well-cooked.
While utilizing this grill, there wasn't as much smoke produced at 225–250 degrees as there would be with a professional smoker, but the resulting smoked meat was still flavorful and tender enough to fall off the bone.
Unfortunately, the temperature control readings on this smoker can be inaccurate; this is a huge inconvenience when handling meat like smoked turkey, where slight temperature fluctuations dramatically affect the overall meat texture and flavor.
Pros
Automatic ignition
Waterproof cover
Quality powder-coated steel
Click For Best Price
Quick Facts:
Total cooking surface : 452 square inches
Dimensions : 49 x 45 x 28 inches
Max temperature : 450 degrees
Material : Powder-coated steel
3 - Camp Chef 20" Pursuit Portable Pellet Grill
The Camp Chef Pursuit 20 does a terrific job at providing ample area to ignite the smoke and impart a smoky taste to your smoked turkey.
It has slide-and-grill technology, which enables you to slide the heat diverter to the side, allowing flames to rise through the drip pan slots when you need to add a little fire to your turkey to crisp up the skin for a crunchy turkey taste.
The Camp Chef device has a Gen 2 PID controller pellet grill technology to manage the temperature. Not only can you set the temperature with this appliance, but it also has 10 levels of smoke for your experimentation, depending on how smoky you want your turkey meat.
Despite the absence of a chimney, the grill's rear wall has holes that enable smoke to escape. The hopper on this Camp Chef grill has a latching clasp, so the wood chunks and pellets remain intact throughout transit if you have a turkey barbecue in a far-off area.
Unfortunately, this charcoal smoker lacks a pellet damper on the hopper for when you want to change the pellets. Also, the legs and caster wheels feel feeble.
Pros
Functional Gen 2 PID temperature controller
Portable and compact
Dual shelves for extra cooking space
Cons
Food can stick because the grates lack porcelain enamel
Click For Best Price
Quick Facts:
Total cooking surface : 501 square inches
Dimensions : 38 x 18.5 x 21 inches
Max temperature : 500 degrees
Material : Stainless steel
4 - Dyna-Glo DGO1890BDC-D
The Dyna-Glo vertical grill is the best bet if you want an excellent turkey smoker with a reasonable price tag. There is enough room for a few smoked turkeys and a few sides thanks to the enormous 1,176 square inches on 6 retractable shelves.
I like how the adjustable smoke stack makes it simple to regulate the temperature and how the installed temperature indicator is precise, allowing you to be sure you're not overdoing the fresh turkey.
Build a fire in the charcoal/wood chamber of the smoker first to bring it to temperature. Once the fire starts, you just shut off the top damper and allow it to burn slowly until the thermometer registers a 225 degrees reading.
Although this smoker excels at many things, excessive mobility is not one of them. It weighs 83 pounds, so you can't move it around much because of how hefty it is. The smoker must also be lifted and carried whenever it has to be moved because the legs don't have any casters.
Pros
Cleaning the cooking chamber is easy
Heat guard handles
Budget-friendly
Check Current Price
Quick Facts:
Total cooking surface : 1176 square inches
Dimensions : 24 x 23 x 48.5 inches
Max temperature : 250 degrees
Material : Heavy gauge steel
5 - Cuisinart COS-330 Vertical Electric Smoker
The Cuisinart COS-330 electric smoker is easy to use, great for novices, and quite well made for a smoker at this price.
There are 3 racks totaling 548 square inches inside that you'll need to arrange to make some room for a whole turkey bird. The wood and water trays are made of rust-resistant stainless steel, as are the racks.
You also have total control over the temperature and the amount of smoke produced by this turkey smoker. It has an adjustable gas supply that allows you to customize the amount of heat depending on how well you want your turkey meat.
The Cuisinart COS-330's door includes a spring lock handle that performs an excellent job of keeping heat and smoke in for an evenly cooked and crispy turkey.
However, I found the seals a touch leaky. So, if you want to optimize smoke density throughout a long smoking session, line them with a bit of heavy-duty aluminum foil.
Pros
Easy temperature control
Massive space to house a whole turkey
Convenient grease management system
Cons
Requires too much reloading
Check Current Price
Quick Facts:
Total cooking surface : 548 square inches
Dimensions : 22 x 37.5 x 19 inches
Max temperature : 400 degrees
Material : Steel
Buyer's Guide for The Best Smokers For Turkey
You should make a few considerations before buying the ideal smoker for turkey. Here are great 5 tips you may use to invest in the perfect smoker for your cooking requirements.
1. Material and Durability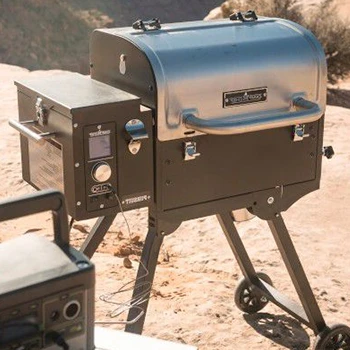 It pays off to pay attention to detail when purchasing anything like a smoker or a grill. Choose an appliance with a heavy-gauge structure and high-quality material components.
Following this step may prevent your pellet smoker from malfunctioning or breaking down after a few turkey smoking sessions.
Many consumers frequently choose less expensive smokers constructed of substandard materials, only to discover that they break after only a few sessions. You'll wind up spending more on repairs or replacements than buying a high-quality smoker from the start.
Searching for smokers with solid steel construction is to your best benefit. To prolong their lifespan and increase their durability, ensure the smoking grates are coated in stainless steel, porcelain, or chrome.
2. Temperature Range
When cooking and smoking meat, a wide temperature range is a critical element. Working with a smoker with a broader temperature range gives you more options with the foods you'll grill and smoke.
Some foods benefit from being quickly cooked at high heat. Then some taste fantastic when cooked for extended periods at low heat.
When making a purchase decision, consider how hot the smokers become and how long it takes for them to heat up. These factors will have a direct impact on how the turkey turns out because you need precise readings in order to obtain the best cooking results.
Remember, smokers that keep their temperature stable throughout the cooking session considerably lower the cooking period.
3. Smoker Size
When it comes to buying a smoker, size is essential as it dictates how much turkey you can smoke at once.
I recommend buying the right smoker size that will fit all your culinary demands. If you intend to smoke whole turkey birds, choose smokers with plenty of interior space. However, a tiny, portable grill is ideal if you prefer smaller chunks of turkey breasts.
4. Cleaning and Maintenance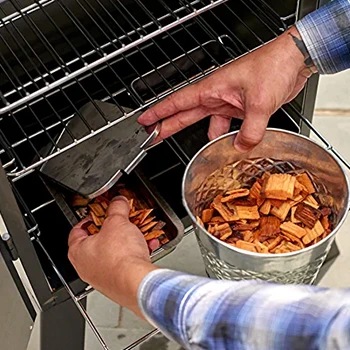 Cleaning and maintenance schedules are essential to keep your smoker in good shape for as long as possible.
Also, if you intend to use the appliance regularly, you must keep it clean for the next smoking session.
I recommend selecting smokers with parts that are simple to assemble and dismantle. This way, you can easily clean and dry each part before putting the grill back together; hence the smoker will run smoothly for many years.
Related Articles:
Who Should Buy a Turkey Smoker?
Anyone who loves the wood-smoked flavors of meat should buy a turkey smoker. A turkey smoker is also an excellent fit for grillers who love to slow-cook different meats in a smoke chamber with even heat for a long time.
Who Shouldn't Buy a Turkey Smoker?
Anyone who is not a fan of smokiness on turkey and any other meat should not buy a turkey smoker. Because most turkey smokers are great for slow-cooking whole turkeys, they're not ideal if you want extra high searing temperatures for quick-fix BBQs.
FAQs
How Big of a Smoker Do You Need For a Turkey?
You need a smoker that's around 18 to 22 inches big for a turkey. This size is ideal if you want to comfortably smoke a whole turkey without chopping it into smaller pieces. You might want to smoke your turkey in chunks if you have a smaller smoker size.
How Long Does a 20-Pound Turkey Take to Smoke?
A 20-pound turkey takes around 10-12 hours to smoke. The general rule of thumb is to allow 30-40 minutes of smoking time per pound of turkey.
Is It Better To Smoke Turkey at 225 or 250 Degrees?
It is better to smoke turkey at 225 degrees for a smoky flavor. However, if you want to spend less smoking time, you can increase your smoking temperature to 250 degrees, which might decrease the resulting turkey's smokiness flavor.
What Kind of Wood Chips Do You Smoke a Turkey with?
The best kind of wood chips to smoke a turkey with is hickory and maple. Hickory is distinctly strong and pungent, while maple chips give more of a sweet flavor.
Can You Cook a Turkey in a Charcoal Smoker?
Yes, you can cook a turkey in a charcoal smoker. Another great way to obtain delicious smoked turkey is by using a pellet smoker.
What Is the Best Smoker for Turkey?
Choosing the best turkey smoker might be difficult since you must pick a smoker large enough to accommodate the turkey while offering convenience, durability, and portability.
If you're searching for a stylish, adaptable, and simple-to-use turkey smoker, I highly recommend the Smokey Mountain Cooker Smoker 22.
This Smokey Mountain is a solid shout because it cooks at a wonderfully constant temperature for hours.
With this model, raising or reducing the temperature is effortless – simply open and shut the vents. Plus, both the porcelain and chromium quality and the craftsmanship are excellent and durable to last you for years on end.
With this smoker, you get the most delicious-tasting turkey and a seamless BBQ hosting experience.
Weber Smokey Mountain Cooker Smoker 22
Our #1 Recommendation
The vertical design perfectly fits a whole smoked turkey
Ample cooking space
Extended Weber warranty
Premium temperature gauge
Get the BEST PRICE until the end of May
Was this article helpful?