One of my favorite things about camping is cooking over an open fire. That being said, it's not always easy to find a compact and lightweight grill that produces enough heat for a decent cook.
Portable grills for RV and camping have quite a few different components compared to your regular grill, so it's essential you know what you're looking for.
Over the years of grilling, we've tried a fair share of grills. That's why, to help you make the right decision, we've tested and reviewed 9 of the most popular portable grills for RV on the market, ranking them based on their portability, ease of use, heat distribution, and more.
The Best Portable Grills For RV
The Top 10 RV Grills
Buyer's Guide

Searching for top-notch RV grill options can get confusing, especially when there are so many options, numbers, and materials out there.
To ensure you're getting one of the best camping grills, there are a few things you need to look out for.
1. The Type of Grill for Your RV
You will need to pay particular attention to the type of grill you choose to use with your RV. While some RV campers can use any kind of grill, others may not be able to.
For example, if you don't have a generator, you can't use an electric model. Or, if you regularly travel to places with fire bans, charcoal may not be the best option.
1) Propane RV Grills
Propane grills use liquid propane tank as a primary fuel source. This is not to be confused with a grill that uses natural gas and needs a special hookup [1].
These are best when you have either a propane attachment to your RV or if you use a model that can operate disposable propane tanks.
A portable propane grill is often easier to use than charcoal as you can maintain temperatures with less effort.
2) Electric RV Grills
If you have access to a generator or electric hookups where you plan on staying with your RV, then an electric grill may be a good choice.
The primary benefit is that an electric grill can be used in areas with a burn ban, such as particular forests and national parks.
3) Charcoal RV Grills
Portable charcoal grills are a go-to for many because of the traditional smokey flavor you get and their simplicity. The only downside with charcoal grills is that it takes a bit more effort to get started and maintain specific temperatures.
Something else to think about is that you may not be able to use charcoal in all locations. If you are in a forest or national park that does not allow the use of open flames, you may be out of luck.
2. Dimensions
When looking for the best portable grill for RV, you will need to pay attention to the dimensions.
RV units usually have limited space for all of the things you need to pack, and not all grill models are made to be space-saving.
3. Ease of Use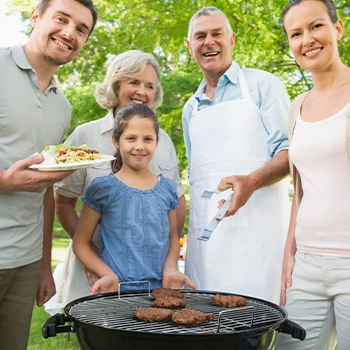 A top-notch portable grill for RV will be easy to use. We often find that gas-powered grills and electric grills are more comfortable to use for new grill owners than charcoal.
This is because charcoal requires you to work the dampers and regularly adjust airflow to keep the temperature consistent.
With gas and electric model grills, though, you can usually use an easy turn knob or a digital control panel to set the exact temperature range you want.
4. RV Grill Materials
Not all grills are made equally, and the last thing you want is to purchase a grill for RV made from cheap or non-durable materials. The best option for grills material-wise is either stainless steel or iron.
"Because of its durability and aesthetic appeal, stainless steel is used in a wide variety of products, ranging from eating utensils to bank vaults to kitchen sinks."
- Michael L. Free, Metallurgical Engineer University of Utah
We usually look for stainless steel as this material is resistant to rust and corrosion, and it's also a sturdy material that can withstand minor impacts.
Overall, stainless steel offers a lot of durability at a more economical price than other options such as cast iron. Whichever material you choose, make sure that it is sturdy and easy to take care of [2].
While cast iron grills hold up well, they are typically heavier than steel.
5. Fuel Type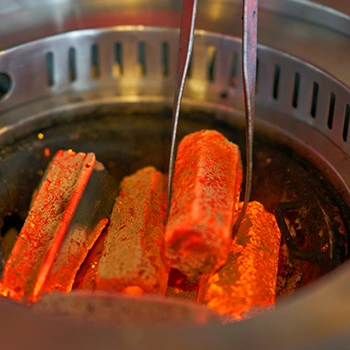 When it comes to a top RV grill, some fuel types are better than others. Many RV models will have a propane tank included with the unit.
If not, you need to carry around an extra propane tank, taking up space.
Charcoal grills can be great as these only require carrying a charcoal bag. The only downside here is that you can't always use charcoal in dry conditions such as particular forests and national parks.
Electrical grills can be an excellent option, but they require a steady supply of electricity. If you have access to a generator or electrical hookups at a campsite, then you will be okay.
But, if you know that you will not have consistent electricity, you need to opt for another fuel type.
6. BTU Output
BTU stands for British Thermal Unit, and it measures the amount of energy required to heat one pound of water by one degree Fahrenheit.
While it may seem like more BTUs are better, this is not necessarily the case when looking for the top RV portable grill. The higher the number of BTUs, the more propane your grill will burn through [3].
"Even if a grill has the highest BTU rating, if it doesn't have good airflow, it won't necessarily be hotter."
- Char-Broil Grilling Guide 
Ideally, you want to find a grill that puts out between 80 and 100 BTUs per square inch of cooking surface.
Something else to consider is that the grill's quality is just as important as the BTU output. Cheaper grills may not heat up as quickly and require more energy for cooking.
7. Number of Burners
Many portable grill models will have a single burner to save space. However, having more than one burner will help cook food more evenly by distributing heat throughout the cooking chamber.
Some of the best RV grills that we have listed above have multiple burners and, during testing, we're able to cook various meat types evenly.
This doesn't mean that having only a single burner is terrible. But, having multiple burners is preferable if you have the option.
8. RV Grill Cooking Space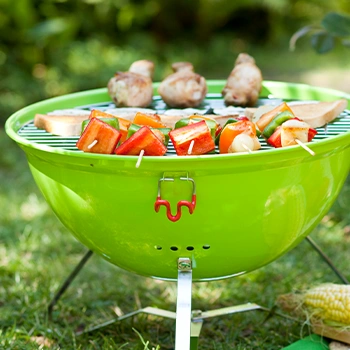 With a portable grill for RV, you want to pay close attention to the cooking space you have available.
The cooking size refers specifically to the actual space you have available for grilling food. A grill may look large but have a smaller cooking space.
When it comes to the best models of the portable grill for RV use, you want around 200 square inches of space or more.
This is enough for about six medium-sized hamburgers or approximately four steaks or a combination of these.
Ideally, you also want a warming rack if possible. However, these are less frequent with portable RV model grills.
9. Thermometer Type
There are two primary thermometer types for grills; the first is digital, and the second one is analog. The main difference here will be the accuracy and ease of use.
"It is essential to use a food thermometer when cooking meat, poultry, and egg products to prevent undercooking, verify that food has reached a safe minimum internal temperature, and consequently, prevent foodborne illness."

- US Food and Drug Administration Food Safety Guide 
Analog thermometers are more comfortable to use but less accurate when reading cooking temperatures. On the other hand, digital thermometers are more precise and more comfortable to read but sometimes more challenging to use.
We prefer digital thermometers but find that analog models are still more familiar with portable grills.
Usually, digital thermometers come with more expensive electric portable grill types, and for charcoal and propane, you will find analog lid thermometers.
10. Mounting Features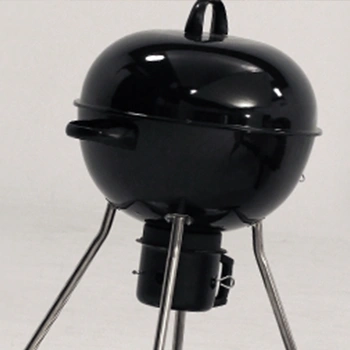 Grills made for an RV are a bit different than other types.
Because your RV offers more limited space, you will need to decide whether you want a mounted portable grill for RV or a tabletop or standing grill.
The best portable RV grills will give you the option of multiple mounting types. We find it easier to use a tabletop-type grill, and this offers a more straightforward setup than a mounting grill.
But, if you are limited in space, a mounted option can be an excellent way to go.
11. Storage Space
Some compact RV grills offer extra storage space for propane tanks and cooking tools.
Generally speaking, larger grills will provide more storage space, but you can still find grill models with more than enough storage space.
12. Ease of Assembly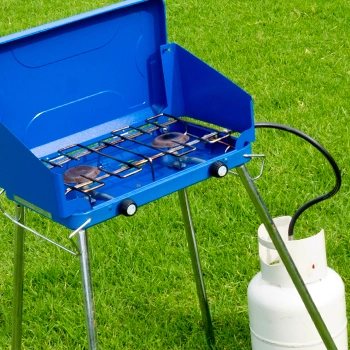 While assembling a grill is usually straightforward, things can be more complicated depending on the RV grill model you choose.
Even the most compact grills can require you to set up a mounting bracket for the grill to connect to.
If you want to avoid any complicated assembly, we recommend sticking to a tabletop grill type.
These are the best setup because they generally come ready to use out of the box.
Many tabletop grills are easier to maintain than mounted grills and are easier to pack away.
13. Extra Features for RV Grill
Even though grills made for use with an RV are generally simple, many of the best models will come with extra features that make grilling easier or aid in cleaning and maintenance.
Some of the features we like to look for include:
Grill covers
Grate cleaning brushes
Microfiber cleaning cloths
Recipe Books
Extra Shelves
The main thing to remember is that additional features will generally make a grill more expensive. Consider that whenever you are coming up with your budget for a new grill.
14. Warranty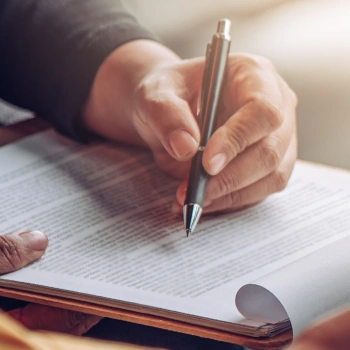 We always advise that you buy a grill from a company that gives you a fair, straightforward, and easy-to-understand warranty.
The main thing to look out for is whether the warranty covers all the grill or only certain parts.
Many manufacturers will cover different parts of the grill for various lengths of time. Some examples are grates covered for 30 days, while the ignitor is covered for a year and the rest of the grill for 3 years.
An A-class RV grill will typically come with a 2-year warranty on all parts.
Related Reviews:
FAQs
How Do You Hook Up a Portable Grill to an RV?
You can hook up a portable grill for camping to an RV using a mounting bracket. You need to have the proper type of grill for mounting to your RV. The best portable grill types come specially made to connect to the mount.
What Is the Difference Between an RV Grill and a Backyard Grill?
An RV grill is generally made to be more portable than a backyard grill.
Many standard backyard grills are made large to provide ample cooking space and they are more challenging to transport. RV-type grill models are usually set on a tabletop or mounted to the RV.
Why Do You Need an RV Grill vs. A Regular Grill?
You need an RV grill if you plan to travel in your RV and grill your food.
The main advantage is that RV grills are portable and more comfortable to store when not in use. Regular grills are generally larger and may not provide as much in portability.
What Kind of Ignition Do RV Grills Have?
RV grills generally come with a push-button ignition for gas smokers.
We advise using a chimney starter with a portable charcoal grill, to get your coals going before adding to the grill, and push-button starters for lighting propane gas-powered grills.
Should I Get RV Grills With Natural Gas or Propane?
We find that the best RV grills use propane instead of natural gas. Propane is often easier to find as many grocery stores and convenience stores offer refill stations for propane.
Propane is also cheaper than natural gas to refill, making it a better option for traveling.
Is Propane or Charcoal Better for the Best Portable Grill for RV?
Charcoal is generally better if you want a traditional smokey flavor.
However, propane is easier to clean and store. Charcoal requires a greater degree of maintenance and proper disposal of ash.
Best Portable Grill for RV - Our Winner
All of the RV grills we tested here today are worthy competitors; however, our winner would be Weber Q1000 Liquid Propane Grill.
It's a lightweight and durable aluminum grill that provides excellent heat distribution, more than enough cooking space, and is super convenient for portability.
Since this grill comes assembled right out of the box, you can have it set up and grill great food within minutes. We believe this is the best portable grill for RV when it comes to quality and versatility.
Weber Q1000 Liquid Propane Grill for RV (Best Overall)
Our #1 Recommendation
189-square inch cooking surface
Uses disposable propane cartridges
Infinite control burner valve
Easy push-button ignition
Get the BEST PRICE until the end of December
Was this article helpful?