Olympia Provisions is a bit different than standard online meat companies. They offer a place to order Charcuterie type foods such as cured meat and cold cuts. For those looking for regular delivery, the question is, can you use them for orders? We conducted a thorough check to see what the experience is like.
What is Olympia Provisions?
Olympia Provisions is an Oregon-based restaurant that specializes in American and European Charcuterie, such as cured meat, cold cuts, and cheeses, similar to a close place called Le Pigeon nearby. They also sell different food varieties on their site, such as brunch type foods like American sausage, salamis, bacon, cheese platters, and other things.
Their restaurant, which offers on-the-spot street parking and a bar, is famous throughout Portland and other parts of the country. Ordering online is a way for other people to have a meal, such as sweetheart ham shipped directly to their home.
Pros
Subscriptions delivered to your place
Ships stuff all over the US
Easy to use website
Free delivery for stuff over $50
Cons
Full bread menu not available online
Limited to brunch type things
Nothing in the way of chicken or beef
Shipping to Alaska and Hawaii not free
What Are the Food Menu Options?

Aside from the usual charcuterie selection of salami and sweetheart ham, Olympia Provisions also has more unique foods to make gourmet breakfast. Some of these include:
Organic and pickled vegetables

Eggs

Pork Rillettes

Pickle Varieties

Cheese Varieties

Bread
Something a bit off-putting is that there are food choices at their local bar and restaurant, which aren't available online. This includes their well-rated steak tartare and some other options such as laser potatoes and some pickled vegetables.
These are available on their brunch menu, lunch menu, and dinner menu, which you need to come and get on-site at their restaurant and for counter pickup. In the case of their laser potatoes and similar foods like deviled eggs and eggs benedict, there are recipes on their site with the story behind the meal.
What's the Menu Quality?
Olympia Provisions has a high-grade quality of animal produce and game, even for their brunch menu.
We ordered their top sweetheart ham for testing purposes, a large selection of salami, pork sausages, and one of their close-to-perfect charcuterie boards. Everything that we ordered came in really nice, fresh, and well-packaged.
We found the sweetheart ham tender and had a great taste we love, as many reviewers also noted. All of the sausages we ordered were excellent, full-flavored, and juicy.
The amazing cold cuts served were exactly how we expected, too. There were no unpleasant surprises which were in line with what we read from other people.
Price Range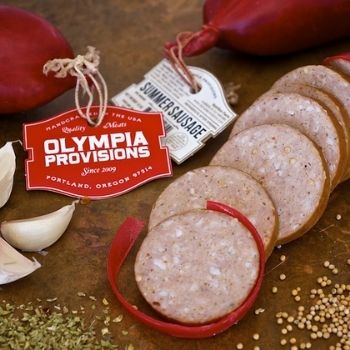 Compared to similar cured meats companies that we've reviewed in the past, the pricing is reasonable.
Olympia Provisions offers medium-priced foods, one of their main selling points that we continually came across when looking through customer feedback.
They do offer some higher-priced choices if you're in the market for gourmet varieties, even for their eggs benedict.
One of these includes a box set with everything the company sells, which runs over a thousand dollars.
That said, most of the choices they sell start for less than a hundred for individual meats and more for boxes and sets.
Other meat delivery services:
Company Drawbacks
The primary drawback is the limited selection of meat types. Because Olympia Provisions focuses on European and Spanish products, what you can get from them is limited. If you are looking for beef, chicken, or seafood, you will need to find options such as ButcherBox's premium-quality meat delivery services.
Online Feedback
After trying their products and researching what other users had to say, we think OP is a good company with tasty food. That said, a few people say their options are quite limited, with a narrow focus on European Charcuterie and a restaurant wine list.
Customer Feedback

Most of the feedback from customers is positive, aside from a few people with strongly negative opinions. These can be broken into two categories: the restaurants' feedback and those for their online program. Most of the feedback from customers focus on the quality of the cooking and French charcuterie boards.
Yelp
Olympia Provisions has over nine hundred validations on yelp, with an average rating of four stars out of five. Most of the positive reviews from customers that order online are for their wine bottles and meat dishes, as well as their charcuterie board choices [1].
Facebook
The charcuterie company has over three hundred reviews on Facebook, with an average rating of over four out of five. The majority of comments are for the restaurant and speak about good production and food quality [2].
Where do I start... the house-pickled veggies had a distinct individuality. I especially enjoyed the pickled asparagus that had a delicious ginger flavor to it. The charcuterie board was balanced, and every selection was perfectly executed.
- Mike Lindsay, Facebook Reviewer ([3]
Olympia Provisions vs. ButcherBox
The main difference between these two companies is the menu.
While ButcherBox sells everything from grass-fed beef to wild-caught seafood, Olympia Provisions specializes in charcuterie, which is cured pork made into salami and sausages.
ButcherBox also works on a subscription box basis, whereas Olympia does both a la carte shopping, gift kits, and monthly subscriptions.
FAQs
Did the company change its name?
OP Portland changed its name from Olympic Provisions in 2015. The change was in response to a notification that the company received from the International Olympic Committee (IOC), which regulates the international Olympic Games. Rather than go to court with the International Olympic Committee, the company decided to change its name from Olympic Provisions.
Where does the company ship to?
Olympia Provisions ships to all fifty states around the United States. The company claims that all orders to Alaska or Hawaii are shipped via FedEx two day shipping. This helps ensure freshness and quality so that orders don't spoil while being mailed out and in transit.
Where can I buy their products?
You can buy OP products either online or in their store. For people living outside the city of Portland, Oregon, you can order online through their website. However, if you live in the city of Portland, you can visit their SE or NW restaurant locations.
Does the company offer free shipping?
OP offers free shipping on orders over $50. For orders under $50, you will be charged a standard flat rate shipping fee. The exception is for orders to Alaska and Hawaii. All packages sent to these states are charged for FedEx two day shipping with costs calculated at checkout.
Is Olympia Provisions Worth Your Money?
After a thorough research and taste test of Olympia Provisions, we believe they're a good company with impressive charcuterie options. However, because they are so limited in what they offer in terms of meat choices, we recommend ButcherBox for subscription boxes.
Both companies allow you to order subscription boxes for regular delivery. ButcherBox differs because they offer a complete selection of pork, beef, chicken, and seafood. They deliver throughout the contiguous states and offer free shipping compared to similar online subscription services. We also like how we're able to curate our own boxes and have our orders delivered fresh and tasty, as expected.
#1 Meat Delivery Service
ButcherBox
Click For Best Price

Pros
Grass-fed and grass-finished beef delivered directly to your door
Without antibiotics or added hormones
Customizable boxes available
Select from up to 21 different cuts
Get the BEST PRICE until the end of December
Was this article helpful?