Last year alone, over 20 different styles of grills and smokers came on the market. While wood-burning smokers have been around since the paleolithic era, electric smokers are relatively recent.
At Carnivore Style, our goal is to test every electric smoker available. Once I found out about Smoke Hollow electric smokers, I knew my team and had to give their range a try and relay our experience to our readers.
Editor's Choice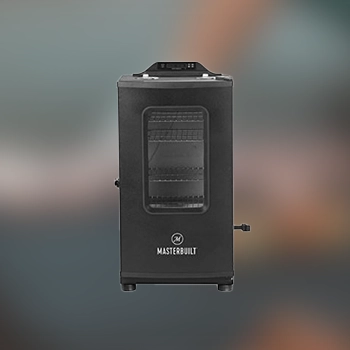 Masterbuilt MB20073519
Check Current Price
#2nd Best Choice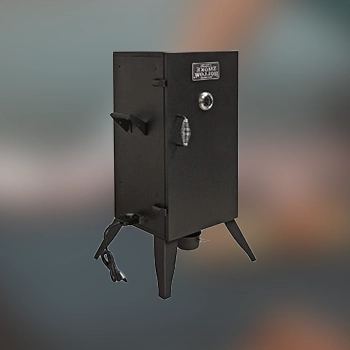 Masterbuilt 30162E
Check Current Price
#3rd Best Choice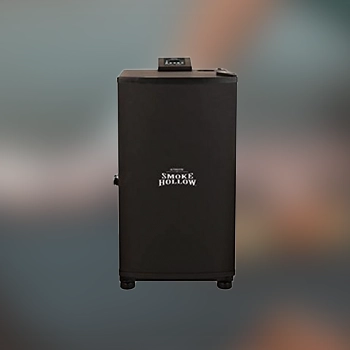 Masterbuilt SH19079518
Check Current Price
Our Top 3 Smoke Hollow Electric Smokers
1 - Masterbuilt MB20073519 Bluetooth Digital Electric Smoker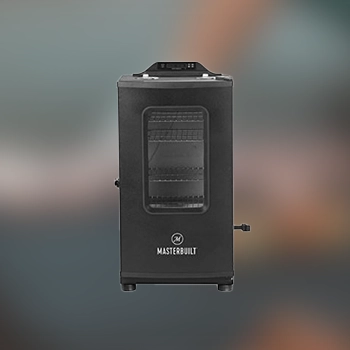 The Masterbuilt MB20073519 electric smoker with window model comes with 711 square inches of cooking space. It sits at about 30 inches (76 cm) high, which means that it can fit onto most small patios.
This smoker includes Bluetooth technology to control the heat and monitor meat temperature from your smartphone.
It comes with four chrome-plated cooking racks that can fit enough food for about 8 to 10 people. It provides a wood chip box to add smoke flavor wood chips with a built-in probe that you can monitor from your phone.
SPECIFICATIONS:‌ ‌
‌
Product‌ ‌Dimensions:‌ ‌19.88 x 20.66 x 33.46 inches
BTU‌ ‌Value:‌ ‌ ‌N/A
Cooking‌ ‌Area:‌ ‌‌711 square inches
Hopper‌ ‌Capacity:‌ ‌N/A
Fuel‌ ‌Type:‌ ‌Electric ‌
Material:‌ ‌Stainless‌ ‌Steel‌
Pros
Built-in meat probe
Four chrome-plated racks
Bluetooth connectivity for temperature control
Grease tray
2 air dampeners
Cons
Have to purchase wood chips separately
Check Current Price
2 - Masterbuilt Smoker Smoke Hollow 30162E 30-Inch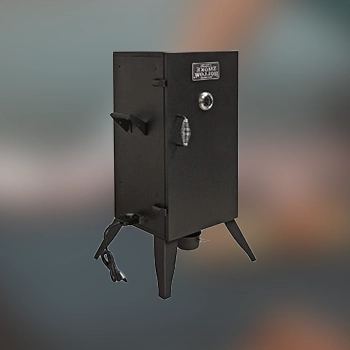 When designing this Masterbuilt 30162E smoker, Smoke Hollow made it the same height as the previous model we tested; 30 inches (76 cm).
This smoker comes with a porcelain-coated steel water pan. It has 3 adjustable temperature settings and an external temperature gauge. This model doesn't come with a glass window.
You can add wood chips to the bottom of the smoker, so you don't have to open the door. This unit is an analog electric smoker, which means it won't show the temperature on an LCD screen.
SPECIFICATIONS:‌ ‌
‌
Product‌ ‌Dimensions:‌ ‌19.91 x 22.49 x 37.79 inches
BTU‌ ‌Value:‌ ‌ ‌N/A
Cooking‌ ‌Area:‌ ‌‌N/A
Hopper‌ ‌Capacity:‌ ‌N/A
Fuel‌ ‌Type:‌ ‌Electric ‌
Material:‌ ‌Stainless‌ ‌Steel‌
Pros
3 temperature settings
Porcelain-coated water tray
Easy to assemble
3 chrome-plated cooking grids
External access wood chip tray
Check Current Price
3 - Masterbuilt Smoker Smoke Hollow SH19079518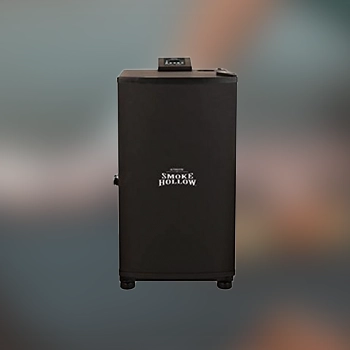 This entry-level Masterbuilt Smoke Hollow SH19079518 comes with a digital and adjustable temperature control panel. This electric smoker comes with an 800-watt heating element. It has an insulated smoker body that should prevent smoke and heat loss.
It also comes with an integrated air dampener, so while you're smoking meat, you can control the amount of smoke in the chamber.
It has 3 chrome-plated cooking grates. The cooking area is similar to that of the other model on our list. It also has a removable stainless steel water pan as well.
SPECIFICATIONS:‌ ‌
‌
Product‌ ‌Dimensions:‌ ‌18.54 x 18.19 x 33.35 inches
BTU‌ ‌Value:‌ ‌ ‌N/A
Cooking‌ ‌Area:‌ ‌‌N/A
Hopper‌ ‌Capacity:‌ ‌N/A
Fuel‌ ‌Type:‌ ‌Electric ‌
Material:‌ ‌Stainless‌ ‌Steel‌
Pros
Insulated smoker chamber
800-watt heating element
Digital electric smoker with LCD
Adjustable dampener
Drip pan
Cons
Door seals not as reliable
Check Current Price
What You Need To Know Before You Buy

Smoke Hollow Performance
These electric smokers by Smoke Hollow performed above average compared to the competition. The models that we reviewed had a high temperature range of about 100 to 300 degrees Fahrenheit (37.7-148.9 C). These electric smokers do not get as hot as a gas smoker. Each of the models above took about 15 minutes to smoke and heat up.
The insulated smoking chamber helps with the adjustable temperature control inside the smoker, but in the winter months, the smoking process takes longer, and so does the cooking time. It will take about 8 to 10 hours to smoke a large pork butt.
Cooking Surface
When designing their smoker, Smoke Hollow created a compact design. Each smoker that we tested, were about 30 inches (76 cm) tall. The Bluetooth enabled smoker, our top pick, came with 4 cooking grids, while the other two came with 3.
The Bluetooth s with 711 square inches of cooking space. The other 2 models have about 500 square inches.
Temperature Control
It should be noted that the best electric smoker will not get as hot as a propane smoker. They are probably best suited to smoke meat instead of grill or sear. The second model that we reviewed, Masterbuilt Smoke Hollow 30162E 30-Inch, is the only one that is an analog electric model. The other two are digital. They all come with adjustable temperature control, however.
Portability & Functions
All of these models are portable, easy to use, and compact. They come with side handles so you can move them around the backyard. They are best suited for outdoor cooking and will likely fit on small apartment balconies and patios. They can be plugged into any standard outlet. Check out the following link if you wish to learn which portable smokers we highly recommend.
Design and Style
This type of smoker was designed to almost look like a mini-fridge. They open with a swing door towards the front. The upper chamber of each smoker is made of heavy-gauge welded steel, so they feel durable and solid. The hinges and clasps on the doors create a tight seal to hold in smoke. An electric smoker with window also makes it easy to see the cooking space inside.
Related Articles:
Digital or Analog

When deciding on a digital or analog smoker, it will depend on preference since they both serve the same functions. A digital electric smoker usually comes with a push-button temperature control box with an LCD screen to show temperature. An analog electric smoker model has a dial that you use to set the desired temperature.
BTUs Heat
BTUs determine the amount of heat that your smoker can put out. Most electric smokers do not get as hot as a gas smoker due to their smaller smoking and heating elements. They were designed to function as smokers instead of grills. They could be good for smoking options, but not searing.
Measurement & Dimensions
All 3 of the smokers that we reviewed have similar dimensions. They come up to slightly above knee height, so you have to bend down when you take the meat off the cooking grids when smoking. The actual size of these models is small compared to large wood-burning smokers.
Materials & Quality
Smoke Hollow uses high-grade steel for the smoking chamber of these models. The smoking and cooking racks are made with a chrome-plated coating so that they're easy to clean. The heating element is made of stainless steel, and the drip and grease pans are as well. The quality and construction are above average.
Warranty & Customer Support
Each electric smoker on our list comes with a 1-year warranty that covers manufacturer's defects under proper assembly. It does not cover paint wear since it may come off during outdoor cooking.
According to many customer's smoker reviews, the customer service from Smoke Hollow is sub-par. They found it difficult to get replacement parts, especially the temperature control panel. We didn't have any issue when asking a rep for troubleshooting advice.
Fuel Source

These smokers use electricity to heat up the element and smoke meat. They come with a wood chip box so that you can add chips to create smoke and add flavor. Smoking meat might take a little bit longer since an electric smoker doesn't get to very high temperatures.
Safety Features
With these chrome-plated smokers, they implemented a pressure safety valve to make sure that you don't start any big fires while smoking meat on the cooking racks. Since all of these models come with adjustable temperatures control, they are easy to use and easy to clean versus wood-burning grills.
Smoke Hollow Accessories
If you plan to keep your smoker outside, you should look into buying a cover. You can also purchase other outdoor leisure products such as an extra cooking grate and a warming rack to make your outdoor cooking experience better.
What Is Smoke Hollow?
Smoke Hollow was started in 2005 by Rick Davidson. In 2017, Masterbuilt bought Smoke Hollow and continued to produce the same electric smokers but with access to more materials [1]. Most of their products are manufactured in China.
How To Use A Smoke Hollow Electric Smoker

Step 1: Season your new smoker by applying cooking oil to the interior walls. Crank up and set the temperature to maximum and let it sit for 3 hours. If you wish to learn more feel free to check out our step-by-step guide on how to season an electric smoker.
Step 2: Turn on your smoker and fill the water container with water. Set your desired temperature and monitor it accordingly.
Step 3: Fill up the wood chip container of your electric smoker with your desired flavor.
Step 4: Monitor the cooking space with a thermometer probe.
Smoke Hollow Electric Smokers Cleaning
Step 1: Remove all of the internal components for later cleaning.
Step 2: Turn up the heat to the max setting and let it sit for 3 hours to burn off excess grease.
Step 3: Next, you need to scrub the interior. Never use soap on the inner chamber. You can use a diluted apple cider vinegar mixture.
Step 4: Clean the cooking grids with a dish sponge and mild detergent.
Potential Downsides
One potential downside we found during this electric smoker review is that these models don't get very hot. The maximum temperature is around 275-300 F (135-148.9 C). Some users experienced issues with temperature fluctuations as well. Another downside for some people is that 2 of the models above didn't have a window.
FAQs
Is the brand Smoke Hollow good?
Yes. Based on reviews, Smoke Hollow is a reputable brand that has produced different types of indoor and outdoor grills for more than a decade. Their grills are supposedly durable, well-built, valuable, and produces a good level of heat output.
Can I add wood pellets to my electric smoker?
No. Based on the user's manual, you cannot use wood chunks or wood pellets on your electric smoker.
Will my digital electric smoker actually smoke?
No. An electric smoker or any electronic device, for that matter, will not produce combustion gases or smoke. Smoke is only created by putting wood right above a heating element and allowing it to smolder. The meat layer will not have that distinct smoke ring, as well.
Do I need to season my Smoke Hollow electric smoker?
Yes. An electric smoker needs to be seasoned before its first use if you wish to achieve good BBQ results. Seasoning a smoker removes the putrid smell from the manufacturing process and efficiently protects the smoker from external elements.
Is it safe to open the vent on electric smokers?
Yes. The manufacturer recommends fully opening the vent while applying smoke to the meat to avoid the risk of creosote build-up during smoking.
Is it safe to clean the inside of my Smoke Hollow smoker?
Generally, yes. It is safe to clean out the inside of an electric smoker to get rid of the grease residue and ashes after outdoor cooking. However, you need to make sure that you maintain the smoky and oily surface to prevent rusting after smoking.
Is it alright if I left my electric smoker unattended?
Yes, but we suggest that you check your smoker from time to time until the meat is done. Generally, an electric smoker can go for 10 to 12 hours unattended, but it may either have low or high temperatures within that smoking period.
How often should I add wood chips to my Smoke Hollow smoker?
Add a cup of chips to your Smoke Hollow smoker every 4 hours or so until you have completed the cooking time or smoking period. You can add chips without losing the proper temperature inside.
Should You Buy A Smoke Hollow Smoker?
Based on our Smoke Hollow electric smoker review, we think that one of the models above is worth buying because it is easy to use and set up. We recommend this brand because it provides a compact solution at a reasonable price tag. These units could be great for a beginner or someone with a small area or cooking space for grilling.
These electric models don't require an expensive fuel source since they run on electricity. You can use them almost anywhere since you just need to plug them into a standard outlet. If you think one of these Smoke Hollow models would be good for you, then you should check them out.
Masterbuilt MB20073519 Bluetooth Digital Electric Smoker
Our #1 Recommendation
Built-in meat probe
Four chrome-plated racks
Bluetooth connectivity for temperature control
Grease tray
2 air dampeners
Was this article helpful?