I've been on a meat diet for over a decade, and during this time, I've tried countless grills and smokers.
One brand I've had my eye on for a long time is Yoder, so I jumped at the chance to try their smokers.
I've been using their best-selling Yoder YS640s pellet grill for about a year now, and today, I'll share how Yoder grills compare to some of my favorites and what pros and cons you can expect from this particular grill.
What is Yoder?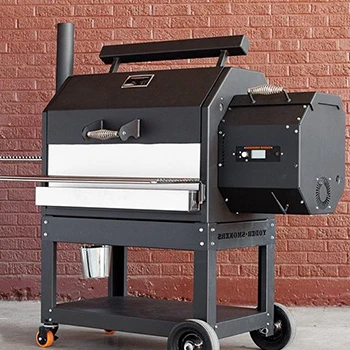 Yoder is a USA manufacturer of high-end offset, pellet smokers, and charcoal grills. They are based in Hutchinson, Kansas, and they've been building smokers since 2007. Their smokers are completely US-made.
Yoder primarily focuses on building smokers for BBQ competitions, and they have a loyal following among professional pitmasters.
The company wanted to bridge the gap between competition and home smoking in recent years, so they came up with several pellet smokers.
Nowadays, the company is best known for YS480 and Yoder YS640s pellet grills.
How Do Yoder Pellet Grills Work?
Yoder pellet grills work by having the pellets placed into the hopper and turning the button on the smoker to the on position. You set the desired temperature consistency and let the ceramic igniter do the rest.
The smoker will maintain the temperature on its own.
Yoder's best-selling smoker Yoder YS640s can smoke, bake, and grill directly and indirectly.
When you use it as a pellet smoker, the heat diffuser is under the main cooking grates. The heat diffuser creates an even cooking temperature for smoking and baking.
Or, you can remove the grates and the heat diffuser and install the grates over the firepot side. Put the standard grate on the other side, and get both direct and indirect cooking.
Yoder Pellet Smokers Highlights

Here's what impressed me about this smoker.
1. Temperature Range and Control
Yoder pellet grill needs more time to heat up compared to other smokers I've used, but once the pellet grill reaches the set temperature, it stays stable thanks to the installed lid thermometer.
The heat-up period for direct grilling is 10 to 15 minutes, and for indirect cooking, it's between 20 and 30 minutes [1].
Yoder grills use Yoder patented Adaptive Control System with an S microprocessor. The microprocessor monitors different variables in the smoker and adapts the temperature accordingly.
"People who really know BBQ recognize the quality workmanship we put into our line of smoker pits."
- Yoder Official Website
For example, if you open the grill door or put cold food on the grate, the processor accounts for it and feeds more wood pellets to the fire to reheat faster.
Yoder pellet grills have different temperature ranges. The YS480 and YS640 can go from 150 degrees to 600 degrees, and the 1500 pellet grill can go from 175 degrees to 500 degrees.
The Yoder YS640s has a variable displacement damper. When the heat diffuser is in place, the damper provides extra grate level temperature control.
Push the damper all the way in on the left half of the grill, and it'll run hotter. Or, push the damper 5 inches, and the grate surface will cook evenly in the entire cooking chamber. This is best for slow cooking.
Yoder wood pellet grill can even reach searing temperatures. The left side of the grill gets hot enough for searing.
There's an access door in the heat diffuser that allows heat from the direct flame to reach grill grates. You can remove the access door, place the damper all the way in and sear steaks.
I used it for searing Ribeye, and the results were delicious.
2. Build Material and Design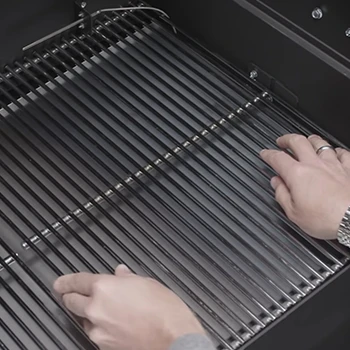 While the temperature control and heat retention are impressive, the build is where Yoder grills shine.
Yoder uses stainless steel for the cooking box. This is the heaviest gauge steel available in pellet grills nowadays. However, it also results in heavy smokers. For example, my Yoder YS640s weighs 418 lbs.
The build quality goes further than the material used. Their smokers have quality weld joints throughout.
Yoder thought about the little things that make use easier as well.
For example, they added a welded counterweight on the pellet hopper lid, which makes opening and closing easier, even though the lid is very heavy. There are also stay-cool handles on the door, so you don't have to fear you'll get burned.
The fire pot is located on the left side of the cooking chamber. Most other grills place it center, but the left placement means you can have dual zone cooking on the Yoder.
This makes cold smoking easier. You don't have to remove the meat from the main cooking area to add wood pellets. Instead, you can add pellets to the side fire box without opening the whole grill.
3. Cooking Space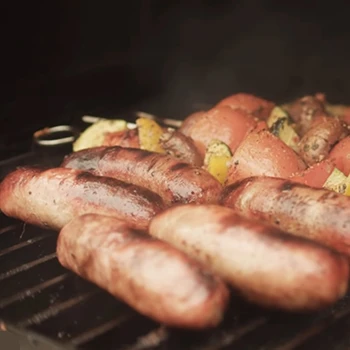 The cooking surface depends on which Yoder pellet grill you go for, but generally, all have large cooking areas.
For example, Yoder YS640s has a capacity of 1,070 sq inches, which is more than enough for a family cookout [2].
Yoder YS640s has 20 x 32 in on the main cooking grates and 15 ½ x 28 in on the optional second shelf. The grill grates are made of hardened chrome-plated round bar steel and are extremely easy to clean and durable.
Also, two smaller grates instead of a large one make removing the grill grates and cleaning easier.
4. WiFi Connectivity
WiFi connectivity is enabled and powered by the FireBoard app. The app gives you full control of the pellet grill from any iOS or Android device. This means you can change and set the temperature from anywhere in the world.
Some of the app options include setting the grill temperature, checking current and meat probe temperature, and grill shutdown. Moreover, the app records every grill session, so you can review your cooking later.
I liked that the app allows setting gradual temperature changes. This comes in handy if you know exactly how you want a certain cut to be smoked.
For example, you can set the temperature below 300 degrees and get a nice thin blue smoke. Or, if you don't want to eat immediately after cooking, choose the "Keep Warm" option, which reduces the pit temperature.
However, one thing I lacked in the app was more features outside of the grill setting. For example, Traeger has a top-notch app that includes built-in recipes and low-pellet alerts.
5. Cleaning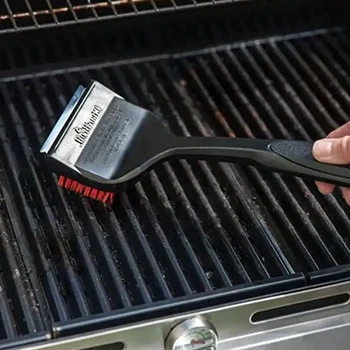 Cleaning is the worst part of using a pellet grill. Luckily, Yoder makes this easy. You should wait until your Yoder pellet grill is cool and then brush the grill grates with a wire brush.
The grates are easy to remove on the Yoder YS640s because they are divided into two smaller grates, so you can even wash them in the sink.
The grease drain is effective. There's a drip lip along the inside of the front of the lid, which directs the grease to the heat diffuser and keeps it from oozing out.
Overall, all parts of a Yoder pellet grill are accessible and easy to clean.
Note: Don't forget to remove all the ashes, or your Yoder pellet grill will have issues starting the next time you grill.
6. Extras

Yoder has several extras you can use with your pellet grill.
Yoder YS640s has 14 extras you can choose from, such as:
Direct grill grates (three-piece) — These are useful for grilling and smoking. The grates prevent flare-ups and give you even heat distribution. If you like direct flame grilling, these are a good choice.
Grease shield — Attaches to the bottom of the door opening, so if there's grease running down the door, it falls into the grease bucket. This makes the cleaning easier.
Tell-Tru door thermometer — You can choose between a single or dual kit where you get one or two temperature probes with remote readouts.
Stainless steel front and side shelves — These are useful for preventing food from falling through the cracks.
Grill cover — This is a must-buy if your pellet grill is kept outside. A grill cover will keep it protected from the elements and in good condition for years. Yoder's cover fits well and has buckles at the bottom that keep it in place.
Competition cart — Yoder grills are heavy, and if you plan to take them to a competition, the cart will ease transportation and mobility. It has 8 caster wheels that you can lock in place.
These are only some of Yoder's extras; the list goes on and on. For example, you can get a thermal insulating jacket for your pellet grill, cast iron griddle, and more.
Overall, while I liked all the available accessories, I think they are best suited for people who want to take part in BBQ competitions. A regular user won't need most of these.
"Yoder Smokers are NOT the typical barbecue pit you buy down at the local department store. These American Made Barbecue Grills and Smokers are designed for use at the biggest BBQ competitions."
- Yoder Official Website
The accessories are useful, but keep in mind they raise the already high price of a Yoder pellet smoker.
Pros
Excellent build quality and large cooking space
Ceramic ignitor provides reliable ignition
Smoking and searing options
Wide range of smoking equipment and accessories
Cons
No low pellet sensor
Small pellet hopper capacity
Custom Rating Criteria:
Durability: 5
Performance: 5
Convenience: 4.5
Price: 3.5
Yoder Smokers Shortfalls

Although these smokers are top-notch, there were some things I didn't like.
1. No Low Pellet Sensor
Yoder smokers don't have a low pellet sensor. I was really surprised the manufacturer doesn't include this feature on the pellet grill or the app, considering how much attention they pay to the build quality and ease of use.
This also beats the purpose of setting the temperature and walking away. You'll have to check on the pellet grill periodically to see if you should refuel.
2. Pellet Hopper Capacity
Another thing I wasn't impressed with is the pellet hopper capacity. Yoder grills have large cooking areas, so I expected pellet hoppers to match.
For example, Yoder YS640s has a pellet hopper capacity of 20 lbs, which isn't enough for a grill this size. I used Pit Boss grills with hopper capacities of over 50 lbs.
You can set these Pit Boss pellet grills and leave them smoking for 24 hours. That's not the case with Yoder pellet grills.
3. Availability and Price
Yoder grills are among the most expensive on the market. Most pellet grills Yoder sells are priced at $2,000 upwards.
If you're on a limited budget, Yoder will be too expensive. Or, if you're looking for your first pellet grill, I recommend starting with something more affordable and upgrading later.
Another issue with Yoder grills is availability. You can't buy a Yoder grill on the official website. These grills are only available through chosen sellers.
Who Should Buy a Yoder Pellet Grill?
You should buy a Yoder pellet grill if you're a BBQ master. If you've had several pellet grills before, know how to work them, and want something with a quality material that's durable.
You should also buy a Yoder pellet grill if you often grill or want to take part in a BBQ competition. Otherwise, it doesn't make much sense to spend thousands of $ for a grill that'll sit in your yard.
Finally, you should buy a Yoder grill if you have a large budget.
Who Shouldn't Buy a Yoder Pellet Grill?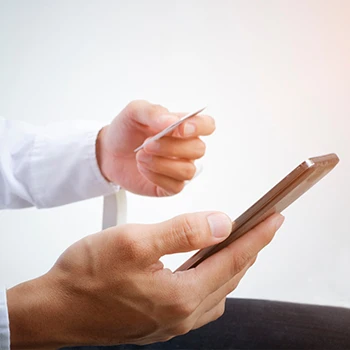 You shouldn't buy a Yoder pellet grill if you're looking for your first grill. It's better to go for something more affordable and learn how to operate a smoker before spending a lot of money on an advanced grill such as Yoder.
You also shouldn't get a Yoder grill if you want a smoker for occasional outdoor cooking.
Finally, don't get a Yoder grill if you're on a strict budget.
Where to Buy a Yoder Pellet Grill?
You can buy a Yoder pellet grill through select dealers. Their smokers aren't available on the Yoder official website.
There are several reasons for this. Yoder is a relatively new brand and doesn't get much as much exposure as other well-known brands like Pit Boss. Yoder is new to the grill market, so it's more difficult to find.
Also, Yoder grills are more expensive compared to their competitors. The price of a Yoder grill starts at around $1,000 and goes up to $16,000, which is out of range for most pellet grill users.
However, the high price is justified by the high-quality material and design.
Shipping and Delivery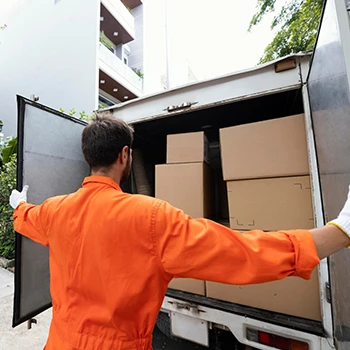 My YS640s pellet grill arrived boxed on a pallet. I had to cut the bands and remove the smaller boxes with different accessories before unpacking.
Keep in mind the setting up requires two people. Yoder grills are big and extremely heavy.
My YS640s arrived with step-by-step instructions for assembly, but it still took me several hours to assemble the smoker.
Rolling the smoker across the driveway and to the lawn was easy, but if you want to keep it on the deck, enlist the help of more than two people to lift it.
Overall, I was satisfied with the packaging. The grill arrived with undamaged spray paint.
As for the shipping, it depends on the seller you get the grill from. Yoder doesn't sell their grills themselves, so look around before choosing a seller.
Other Users Reviews
"Last weekend, the auger stopped working on my YS 640 pellet grill. I called Yoder on a Saturday afternoon at 5:00. To my surprise, the phone was answered by someone, and it turned out to be a great experience. They shipped by a new auger, and I had it in 4 days. I installed it and was back in business, smoking a rack of ribs in less than a week. Great service."
- Jim Clay, Yoder Facebook Page
"Love how our Yoder smokes. However, it has quit on us twice. Not sure what is going on. Had to heat up 'ole reliable Traeger Jr. it got the job done."
- Joan Jacquet Sutter, Yoder Facebook Page
Comparison to Other Pellet Grills

Here's how Yoder grills compare to other brands.
Price
Yoder smokers are the most expensive smokers on the market. Their price goes up to a whopping $16,000.
Traeger grills are more affordable, with prices from $450 to $3,800. Pit Boss smokers are priced from about $200 to $1,000. Finally, Z Grills is $320 to $1,200.
Range of Models
Yoder has the smallest number of available grills. They currently offer three pellet grills, all of which are also available in the competition version.
Traeger has four grill series, with several grills available in each range, with around 15 grills total. Z Grills has 27 grills in total. Pit Boss has the largest selection — 38 pellet grills, plus several vertical options.
Shipping
The shipping price for Yoder grills depends on the seller you buy them from, as each will have different terms and conditions.
Traeger only charges shipping for Pro Gen 1 Grills ($49.99); it's free for all other grills [3]. Pit Boss charges shipping, and these vary depending on the weight of the grill you ordered. Z Grills has free shipping on all grills.
FAQs
How Long Do Yoder Smokers Last?
Yoder smokers last a lifetime. These smokers are built from 10-gauge stainless steel and are extremely durable.
Yoder company makes Yoder smokers. The current owner of Yoder is Don Cary.
Where Are Yoder Smokers Manufactured?
Yoder smokers are manufactured in the USA.
Yes, you can sear on a Yoder. The YS640S pellet grill can reach 700 degrees with the direct grate system, which is enough for searing.
Are Yoder Smokers Worth the Money?
Yoder devices are high-quality and durable. However, they have an extremely high price point and are primarily made for BBQ competitions. That's why my top choice for a grill is Pit Boss 7-Series.
Pit Boss 7-Series is more affordable than Yoder, but a lower price doesn't mean a compromise in performance. Pit Boss 7-Series is a vertical smoker, and it has six adjustable racks, which means a huge save in space.
This grill has a massive 55-pound hopper that allows you to smoke for up to 24 hours. You'll have delicious pulled pork, chicken, or any other food you want. Check it out, and get your Pit Boss 7-Series for mouth-watering, smoke-infused food.
Our #1 Recommendation
Pit Boss 7-Series
Pros
Excellent build quality and large cooking space
Ceramic ignitor provides reliable ignition
Smoking and searing options
Wide range of smoking equipment and accessories
Get the BEST PRICE until the end of September
Cons
No low pellet sensor
Small pellet hopper capacity
Was this article helpful?