What's the first thing that comes to mind when you think about barbecue? Perfectly smoked pulled pork? Mouthwatering ribs? Or delicious pork chops?
The one thing you need for all of these is a good smoker. The Oklahoma Joe Highland reverse flow and offset models are among the most popular on the market nowadays. But, are they worth your money?
Having personally put the Highland smokers through their paces, I can say that they come with their own set of pros and cons.
Stick around as I delve into the critical aspects, drawing from my own grill-master experience, to help you decide if the Oklahoma Joe Highland smokers should be your next culinary purchase.
What Is Joe's Highland Offset Smokers?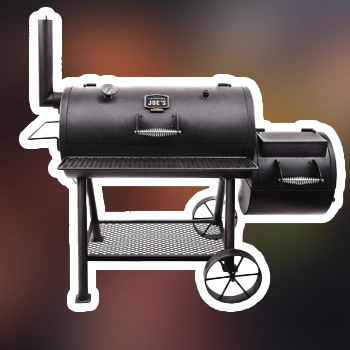 The Oklahoma Joe's Highland Offset Smoker is a type of outdoor cooking equipment specifically designed for smoking meat. Joe Davidson founded Oklahoma Joe in the late 1980s. He started the company by using $2000 to build 12 meat smokers.
These turned out to be a massive success, and all of them sold out at the Oklahoma Joe's State Fair in 1987.
Davidson got a hundred more orders, and this is how everything started.
He expanded in the mid-1990s, hired more employees, and moved to a new facility that could produce 100,000 smokers in a year.
In 1998, Char-Broil bought the company from Davidson and started producing high-performance grills and smokers.
Today, Oklahoma Joe Highland comes in two versions: reverse flow smoker and offset smoker.
Offset Smoker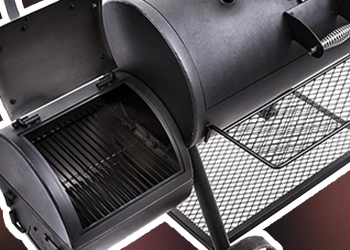 The Oklahoma Joe's Highland offset smoker is the traditional BBQ smoker. It has two main parts: the cooking chamber and the firebox. The food goes inside the former.
The heat and the smoke go from the firebox through the main cooking chamber before exiting through the chimney located on top of the lid.
This smoker grill was built to grill food for a large number of people. It has 619 square inches of cooking surface, so there's no need to cook food in batches [1].
I like that there's a built-in lid, so the smoke won't escape.
Reverse Flow Smoker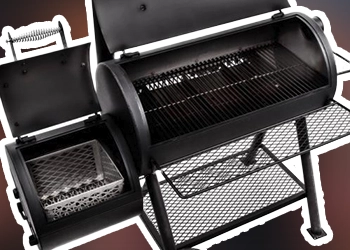 This Oklahoma Joe smoker has four baffle plates that sit below the cooking grate. They act as heat sinks and redirect the smoke.
It means the smoke distribution is even, and the temperature is more consistent throughout the smoker's chamber. The smoke can reach all sides of the food, instead of just one.
This smoker also has separate cooking chambers. It has 619 square inches of cooking surface in the primary area and a secondary cooking area of 281 square inches [2].
The reverse-flow smoking makes it easier to achieve even cooking. However, you'll have to spend more time cooking compared to the offset smoker.
Related: Who Makes Oklahoma Joe's Smokers?

1. Benefits and Highlights

Here's what I liked best about both Oklahoma Joe's Highland smokers.
Offset Smoker
Here're some of the major offset smoker benefits:
Easy to add more wood — The smoker comes with a separate firebox that has a separate door. This means you don't have to open the main chamber to add wood, so the temperature will remain uninterrupted.
Built-in shelves — The smoker has sturdy shelves in front for storing heavy objects. These shelves come in handy when smoking, as you can place all of your supplies within arm's reach when cooking.
Easy temperature monitoring and heat maintenance — You can check the interior temperature whenever you want via a built-in temperature gauge on the top of the smoker hood. The smoker also has multiple adjustable dampers, which you can open or close to increase or decrease heat and control the smoke.
Lightweight but stable — It's easily transported. One person can move it on their own, and thanks to large wheels, it is easy to move on all surfaces.
Reverse Flow
Here are the reverse flow smoker's benefits:
Easy temperature control — Has an integrated temperature gauge in the access flap of the cooking chamber. You can check the temperature at any time.
Adjustable chimney ventilation flap — Makes it easy to regulate heat and smoke.
It's safe to use — The Highland model has cool-touch handles on the combustion and cooking chambers, which means you don't have to worry about burns.
It's versatile — This could be one of the best Oklahoma Joe smokers because it has removable baffle plates and two spots to set up the chimney. This smoker can be used as an offset as well, which is a great option when you want different temperature zones or just a super clean burn.
2. Oklahoma Joe Smokers' Shortfalls

Now that I've covered all the major highlights of these smokers let's talk about what's not so good about Oklahoma Joe's range of Highland smokers.
Oklahoma Joe's Highland Offset
The main disadvantage of this offset smoker is the design. There's no way to access the main smoking chamber to clean it other than through the main lid.
Also, expect some smoke leakage. If this bothers you, this might not be the best smoker for you. Luckily, it's easy to add some modifications to the smoker and prevent this problem.
Offset cons:
The price is at the higher end because it's made of thick steel
Uneven heat distribution
Oklahoma Joe's Highland Reverse
The main shortfall of Oklahoma Reverse is the size. It is a large and heavy smoker, and it may be difficult for one person to carry.
Another thing that can be an issue for some people is the assembly. It takes some time to put this smoke together.
Reverse cons:
Bulky size and weight
The heat can escape unless the lid is firmly shut
3. My Personal Smoking Experience With Oklahoma Joe's Highland Smokers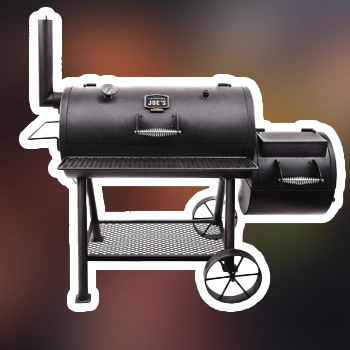 I was lucky enough to have a chance to use both of these smokers for a couple of months.
A pellet smoker should have total control over fire and heat by adding wood pellets as needed. The Highland smokers aim to do the same.
When smoking meat, I found the reverse smoker to give constant heat and cooking temperature compared to traditional offset smoking.
This is because reverse flow smokers redirect the hot air, and unlike with the classic offset smoker, there's no hotspot.
How do I use a reverse-flow smoker? For me, it was a more reliable smoker. Also, it has a removable ash bin, which makes it easier to clean the cooking area.
However, one thing where offset models took the prize is the grilling. Compared to the reverse flow design, I found the Highland offset smoker to grill food more efficiently.
Also, when I used the reverse flow design smoker, the smoke leaked, so I had to use a sealant.
Finally, unlike the offset smoker, the reverse flow smoker didn't come with a warming rack.
4. Comparison to Other Oklahoma Joe's Products

We can't talk about the best Oklahoma Joe Smoker without mentioning a couple of other products they offer, such as the Longhorn Reverse Flow Smoker.
The main difference between the Highland model and the Longhorn smoker is the size. I've talked about how Oklahoma Joe's Highland reverse and offset models have 619 square inches of cooking area.
Well, the Longhorn has 1,060 square inches of cooking area in the two chambers combined. The main chamber has 750 square inches, and the additional chamber has 309 square inches of cooking space. If you have a large family or need to cook for many people, the Longhorn could be a good option for you.
Both Longhorn and the Highland models are made of the same materials and have a sturdy construction, so you won't notice much difference there.
The Longhorn model has multiple dampers for controlling the airflow, it is easy to clean as it has a removable ashtray, and it has a built-in heavy gauge steel thermometer for checking the temperature.
All in all, Longhorn and Highland are pretty similar products. However, since the Longhorn is larger, it's more difficult to operate, especially if you're a newbie smoker.
You can also check out our article on the best offset smokers on the market.
4. Where to Buy
You can buy the Highland reverse flow smoker and the offset smoking grill directly on the Oklahoma Joe's website.
5. Other Users Experience

Here's what users have to say about these smokers:
"It is super easy to assemble, they label all the nuts and bolts! Not even an hour to assemble. This unit has a great firebox super easy to put wood in there and manage your fire. Ribs were the best I ever made the first time; you can put pans in the unit as well."
- Douglas P. Tiballi
"This grill type was recommended by a friend. However, the burn box paint peeled away after starting a small fire to see temps and to season the grill."
- Verified Amazon Customer
Here's what users had to say about the Highland reverse-flow smoker:
"My review stays at five stars after my first cook with this new smoker! Seasoning the smoker was a breeze. I smoked a few racks of ribs and a Boston butt this past weekend. There is plenty of room to do a Boston Butt and 2-3 racks of ribs. Turned out to be the best barbecue and ribs ever!"

- Stephen H. Stephenson
"Leaks like crazy if you don't use a sealant. The thermostat arrived broken, but customer support was really friendly and got me a replacement in no time. The thermostat was pretty accurate for lid-elevation temperatures."
- John H.
Related Articles:
FAQs
Can the Highland Model Smoker Be Used for Grilling?
Yes, the Highland Model Smoker can be used for grilling. While these classic models are primarily intended for smoking, you can use them for grilling too.
Should I Season My New Smoker before Cooking?
Yes, you should season your new smoker before cooking. Use vegetable oil to brush the smoker's interior, turn it on, and leave for 1 to 2 hours.
What's the Best Oklahoma Joe Highland Model for You?
Both products are some of the best smokers Oklahoma Joe offers.
The difference is that Oklahoma Joe's Highland reverse gives you better temperature control. Both offset and reverse smokers will fit anywhere, even in a small space.
If your priority is ease of use, go for the reverse smoker. If you are looking for a lightweight yet stable smoker with built-in shelves, choose the offset smoker.
You can explore your options here and see if you can find the perfect model for your needs.
We Recommend
Oklahoma Joe Highland Smoker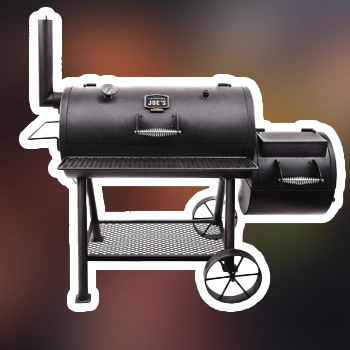 Check Current Price

Pros
Easy to add more wood
Built-in shelves
Easy temperature monitoring and heat maintenance
Lightweight but stable
Was this article helpful?