Electric smokers come with a myriad of advantages over their more-traditional counterparts.
They're simpler to use, much cleaner, and easier to maintain. They don't take up as much space, and some models can even be used indoors.
But with so many different electric smokers on the market, it can be tough to know which one is right for you.
That's why I've extensively researched the best electric smokers available and put together this list. We've personally tested each of them to check whether they'd live up to the expectations.
Read on to see which ones are worth the money.
#3rd Best Choice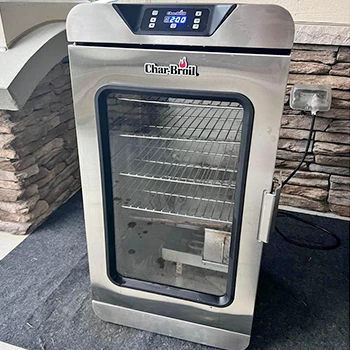 CharBroil
Check Current Price
The Best Electric Smokers in 2023
Buyer's Guide
While all these electric smokers bring something to the table, there are key considerations to remember when choosing the best one for you.
Below, we'll go over some of the most critical factors.
1. Price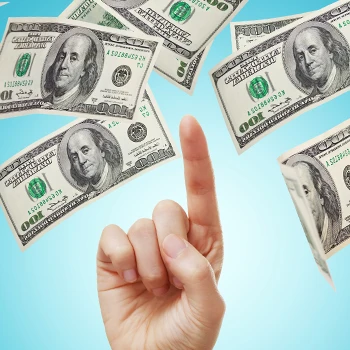 As with any purchase, your budget will be a significant deciding factor in the product you ultimately choose.
Most of the best electric smokers range in price from around $100 to $1,000, so deciding how much you're willing to spend before beginning your search is essential.
Remember that the more expensive options often come with more features and higher build quality.
If you're just starting, you may want to go with one of the cheap smokers to see if smoking is something you'll enjoy before investing a lot of money.
Read More: Best Electric Smokers Under $200
2. Material and Insulation
The material of the smoker is also important to consider. Cheap electric smokers are often made with lower-quality materials that don't hold up as well over time.
If you plan on using your smoker frequently, it's worth spending a little extra to get one made with high-quality materials.
Additionally, some materials result in better temperature control than others.
If you live where there are cold ambient temperatures, you may want to choose a smoker made with thicker insulation for better heat retention.
Generally, the electric version has better insulation than a traditional smoker.
3. Capacity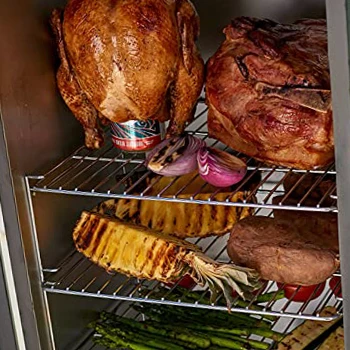 Another important consideration is the capacity of the smoker. You'll need a smoker with a bigger interior and more square inches of rack space if you plan on smoking large cuts of meat or whole fish.
However, if you only plan on smoking smaller items like chicken breasts or ribs, you can save some money by opting for a smaller model.
Electric smokers also come in different shapes and sizes. Some are tall and narrow, while others are short and wide.
Choose the size that will best fit your needs and available cooking space.
4. Ease of Use
The best electric smokers are relatively easy to use, even for beginner grill masters.
However, some models are easier to use than others. If you're new to smoking, look for a model with straightforward digital controls and an automatic shut-off feature.
Additionally, some smokers come with additional features that make them easier to use, like built-in meat probes, remote temperature control, and LED displays.
If you're willing to spend a little extra, these features can improve the cooking process.
5. Warranty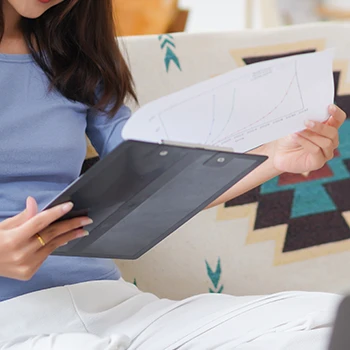 Make sure to check the warranty before making your purchase. Many smokers come with a 1-year warranty, but some have shorter or more extended warranties.
If you plan on using your smoker frequently, it's worth getting one with a longer warranty in case something goes wrong with the  digital controls.
Additionally, some electric smoker brands are better than others when honoring their warranties.
Do some research to see which brands have the best reputation for standing behind their products.
6. Temperature Gauge Accuracy
It's important to ensure that your smoker's temperature indicator is accurate. If it's not, your food may not cook evenly, which can ruin the taste.
Look for a digital gauge model for the most accurate reading.
Some smokers also come with built-in meat probes that allow you to check the internal temperature of your food.
This can be helpful if you're smoking meat that takes longer to cook.
7. Temperature Range
Although most smoking is usually done at low temperatures, choosing an electric smoker that can reach high temperatures is still essential if you want the most versatility.
Some smokers only reach about 275 degrees Fahrenheit, while others can do hot smoking at a maximum temperature of 400 degrees or more.
"Smokers cook the meat (or veggies) with slow heat and add an unforgettable smoked flavor. Smokers achieve that mouth-watering "fall off the bone" consistency."
- Hearth, Patio & Barbecue Association
If you plan on using your smoker for other things like baking or grilling, get one that can reach high temperatures.
Generally speaking, smokers capable of high temperatures have a higher wattage rating for their heating element than those that are not.
For some cold-smoking dishes, it is important to be able to smoke at low temperatures. For example, if you want to smoke cheese or fish, you'll need a smoker that can reach temperatures as low as 100 degrees.
8. Smoke Flavor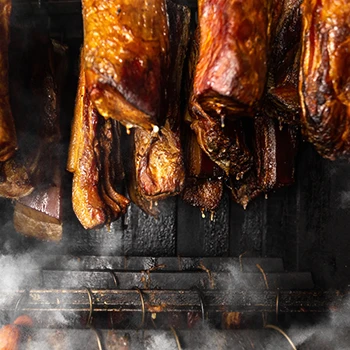 If your food has a smoky flavor, you'll need to ensure that the smoke generator produces enough smoke.
Some smokers have trouble creating enough smoke, while others produce too much.
You may also want to consider a model that allows charcoal and wood chips to be used.
This way, you can experiment with different flavors until you find the perfect combination for your taste buds.
9. Ease of Cleaning
Cleaning your smoker is vital if you want it to last for years to come. Some models are easier to clean than others.
Look for a model with steel and removable parts that you can wash in the dishwasher.
Additionally, some smokers come with special features that make cleaning easier, like ash catchers and drip pans.
If you're willing to spend a little extra, these features can be worth the investment.
10. Good Seal Integrity
The smoker you choose must have a good seal. Otherwise, heat and smoke will escape, making your food take longer to cook and less flavorful.
Check the seals on the doors and lid to ensure they are tight-fitting.
You may also want to look for a model with double-walled construction. This type of smoker retains heat better, which can help your food cook more evenly.
11. Water Pans
Some smokers come with water pans, while others do not. If you plan on smoking for long periods, your meat must stay moist to prevent it from drying out. A water pan can help with this.
Additionally, you can also use a water pan to add flavor to your food. For example, you can add beer, herbs, or fruit juices to the pan to infuse your food with additional flavor.
12. Airflow and Temperature Management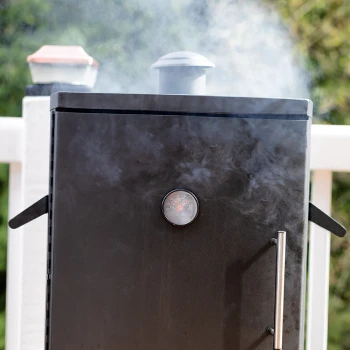 The best electric smokers have a built-in thermostat, which can help them maintain the desired temperature.
However, some models are better than others at regulating temperature.
If you live in an area with extreme temperatures, look for a smoker that can maintain a consistent temperature despite fluctuations in the outside temperature.
Additionally, make sure to get a model with good airflow. Poor airflow can cause your food to cook unevenly.
A smoker with damper vents that allow you to control airflow can be helpful in this regard.
Who Should Buy an Electric Smoker?
People who want to smoke without investing in expensive equipment or those who live in apartments or other small spaces should buy an electric smoker.
Unlike pellet smokers or traditional smokers, they have a small footprint and can often be used on balconies with nothing more than a power outlet.
These smokers are suitable for smoking novices who want an easy-to-use smoker.
This is particularly true when it comes with smoker features like an included temperature probe and removable parts that you can wash in the dishwasher.
Who Shouldn't Buy an Electric Smoker?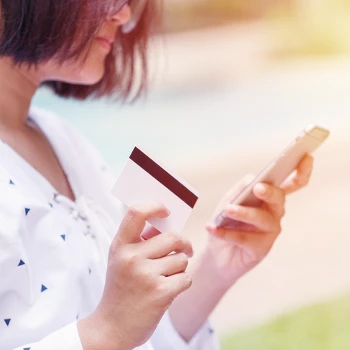 People who want to reach high temperatures with their smokers shouldn't buy an electric smoker.
These smokers typically max out at around 400 degrees, while some models can only attain 250 degrees.
Additionally, if you want to use charcoal and wood chips as fuel as well as the flavoring for your food, you will want to consider a pellet smoker or charcoal smoker.
Also, some electric smokers come with a tray that allows you to add charcoal, but most models do not.
Finally, an electric smoker is not the best choice if you are looking for a smoker that can double as a grill.
These smokers are designed for smoking, not grilling. If you want a smoker/grill combo, you'll need to look for a pellet smoker or something that is made for burning charcoal.
Related Articles:
FAQs
What Type of Smoker is Good for Beginners?
An electric smoker is a good choice for beginners. They are easy to use and require little maintenance [1].
Do Electric Smokers Use a Lot of Electricity?
No, electric smokers don't use a lot of electricity. An electric smoker draws about 5 KWh for a six-hour smoke, which is less than a dollar's worth of electricity in many locations [2].
Can You Use an Electric Smoker Indoors?
No, you cannot use an electric smoker indoors. They produce smoke and require ventilation to work correctly.
What Woods Can Be Used in an Electric Smoker?
There are a variety of woods that can be used in an electric smoker, each with its flavor profile. Some popular wood chips include hickory, mesquite, apple, and cherry.
What's the Best Electric Smoker for You?
Although we have looked at several other electric smokers in this article, there is one that stands out above the rest as the best.
The Pit Boss 2-Series Digital Electric Smoker is our top pick for the best electric smoker.
This excellent electric smoker provides the user with many benefits that make it the ideal choice for those who want to smoke meat at home.
These include the added meat probe, moderate price, good temperature range, and large glass door.
Pit Boss 2-Series Digital Electric Smoker
Our #1 Recommendation
Superior insulation results in a broad available temperature range.
A large front window reduces the need to open the unit.
Four adjustable racks with multiple positions for versatility.
Included meat probe and analog on and off controls.
Get the BEST PRICE until the end of September
Was this article helpful?