As a carnivore lifestyle follower, I love adding diversity to my meals, and Japanese cuisine is a perfect way to achieve that.
I've been grilling hibachi steaks for seven years now, but with different types and variations of hibachi grills available on the market, investing in the perfect Japanese hibachi grill can be an uphill task.
Luckily, I've tried and tested quite a few of them, and here's a detailed review of the best Hibachi grills you can buy for your next BBQ session.
Let's get started.
Editor's Choice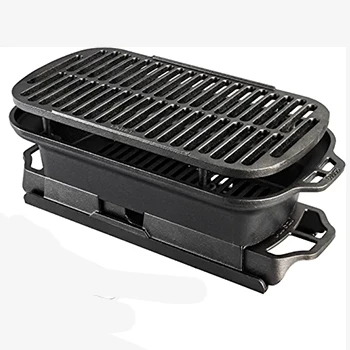 Lodge
Check Current Price
#2nd Best Choice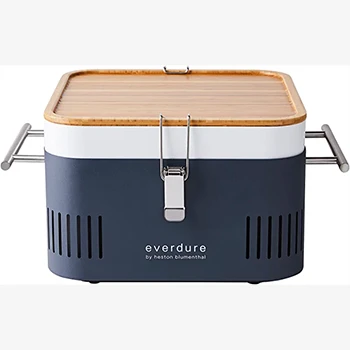 Everdure
Check Current Price
#3rd Best Choice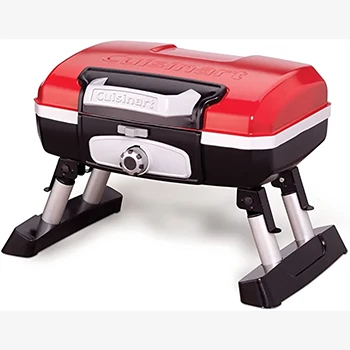 Cuisinart
Check Current Price
6 Best Hibachi Grills
Best Hibachi Grills Buyer's Guide
Here's what you should look for if you want to invest in a top-quality hibachi grill that will stand the test of time if you're a frequent griller.
1. Type of Material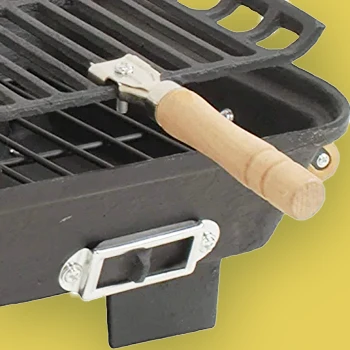 Several materials are used to make the best hibachi grills, and each has pros and cons. These materials include cast iron, aluminum, and stainless steel.
If you're a camper or like to grill on the road, I recommend using aluminum grills because they're way lighter. However, note that these aren't as strong as the other materials.
Stainless steel is heavier and slightly more resilient, although it has limited heat distribution capabilities. If you want the best of all worlds, consider and hibachi grill with this material.
Cast iron is the most favored and suggested choice of the three. If this is your preferred material, you can go for Cajun, Lodge Sportsman's, or Bruntmor Pre-Seasoned Cast Iron Grill. Despite being heavy, cast iron grills have good properties for distributing heat.
Cast iron's sole drawback is the possibility of rusting, which you can easily avoid by seasoning your grill well after each cooking session.
Also Read: Best Stainless Steel Grills
2. Construction Design
Because it would not be economically feasible to utilize stainless steel fully, grill manufacturers frequently use painted steel for other parts and porcelain-enamel cast iron for the grates.
Examine the grill parts well and go with the most sturdy construction design.
Get an adjustable coal bed grill if you want to switch between direct and indirect cooking. With this function, you can quickly increase or reduce the flame of the food on the grate so that you may either sear it or let it slowly cook to perfection.
If you probably stoke the fire frequently while cooking, choose a grill with simple access to the coal bed so you may add or remove coal to make life simpler.
The air vents, also known as dampers, are another thing to look for. This will help with precise temperature adjustments during cooking.
3. Maintenance and Cleaning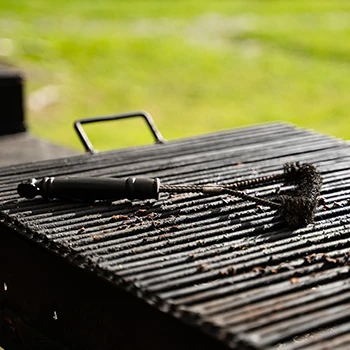 Despite the unrivaled cooking power of hibachi charcoal grills, some people find the cleaning trade-offs to be too much.
After every cook, ash, soot, and burnt food will build at the bottom of the grill; therefore, choosing a barbecue with an easy-slide ash pan or tray to collect residues is a good idea.
Hand cleaning is the only alternative because charcoal grills have large grates that can't fit into sinks and standard dishwashers.
Among the most popular materials for grates, I recommend going for stainless steel that is strong, resistant to corrosion, and easily cleaned with regular dish soap.
4. Portability
Hibachi grills are often relatively lightweight. You should invest in one that is portable and has a handle for easier lifting and carrying around. One of the main benefits of a hibachi grill is that you can bring it along for picnics or camping trips.
Typically, it is not worthwhile to purchase a large hibachi grill because someday, you may eventually buy a bigger standard gas or charcoal grill barbecue for more cooking space. So it's best to buy a small, lightweight hibachi grilling appliance for distant cookouts.
5. Size
Before making a final purchase, please verify the entire cooking surface area of a particular Hibachi portable grill. Your cooking style and the quantity of food you can grill at one time largely depend on the total surface area of the hibachi grill.
I recommend going for larger grills, such as Lodge cast iron hibachi grill,  with separate places for hot charcoal in the basin.
These areas allow you to load or remove charcoal and have varying heat levels in different areas of the grill. With this option, you can sear certain dishes while warming others simultaneously.
6. Convenient Add-ons
It takes a lot of work to man the BBQ station. As a griller, invest in useful add-ons and extra features on a cast iron hibachi grill that may enhance your overall performance and comfort to make things simpler and more pleasant.
Many hibachi grills come with add-ons like racks, hooks, smokestacks, and casters. So, ensure you inquire if these features come with the package or if you'll buy them separately.
7. Pricing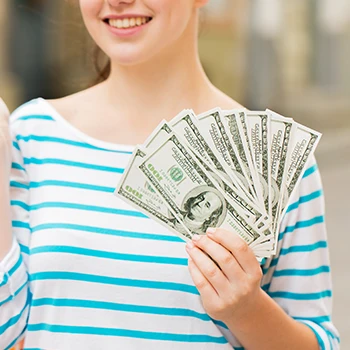 Your budget is another crucial thing to consider when buying a portable charcoal grill or an electric hibachi grill.
Hibachi grills tend to be less costly than comparable appliances. However, that doesn't mean you can't set a budget or a spending cap for one.
While choosing the highest quality portable grill is recommended, you may readily opt for alternatives that are both less expensive and of excellent quality.
It goes without saying that you should consider different brand alternatives and what they offer, particularly if you're on a limited budget.
Related Articles:
Who Should Buy a Hibachi Grill?
People who don't have plenty of space or only need to cook for a small group should buy a hibachi grill.
They save space but still provide enough intensity from the charcoal most hibachi grills use as fuel. Most importantly, these grills are extremely affordable and fit any budget.
Who Shouldn't Buy a Hibachi Grill?
People who want to try indirect cooking, smoking, and searing shouldn't buy a hibachi grill. These grills also produce a lot of smoke and generally have poor heat control.
FAQs
Is a Charcoal Hibachi Grill Better Than a Gas Hibachi Grill?
Yes, a charcoal hibachi grill is better than a gas hibachi grill. Nothing beats the smoky flavor that charcoal infuses to food grilled on a charcoal grill.
Should I Season My Hibachi Grill Before or After Grilling?
You should season your Hibachi grill before grilling. This is a great maintenance practice to prevent food from sticking to the surface and help with easier cleaning.
Is It Advisable To Cook Large Meat on Hibachi Grills?
No, it's not advisable to cook large meat on hibachi grills because they lack a lid to trap enough heat to cook the meat through.
What Is the Best Hibachi Grill for You?
Lodge Sportsman's Grill is the best hibachi grill for you if you're looking for a portable device.
For starters, the classic hibachi grill has an indestructible design, is rust-resistant, and is climate-versatile. Plus, it comes with vents and two grilling heights for precise temperature and heat adjustments.
I recommend this hibachi grill as it heats up pretty fast, so you can be up and grilling in virtually no time.
Lodge Sportsman's Pro Cast Iron Grill (Best Overall)
Our #1 Recommendation
Excellent hibachi grilling performance
Streamlined grill design
Durable cast iron hibachi grill
Easy charcoal swap and clean out
References:
https://raleighnc.gov/education-and-learning/news/smells-great-grilling-safety-tips-successful-cookout
Was this article helpful?