As a carnivore lifestyle follower, I love adding diversity to my meals, and Japanese cuisine is a perfect way to achieve that.
I've been grilling hibachi steaks for seven years now, but with different types and variations of hibachi grills available on the market, investing in the perfect Japanese hibachi grill can be an uphill task.
Luckily, I've tried and tested quite a few of them, and here's a detailed review of the best Hibachi grills you can buy for your next BBQ session.
Let's get started.
Editor's Choice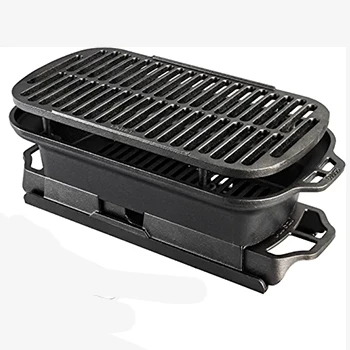 Lodge
Check Current Price
#2nd Best Choice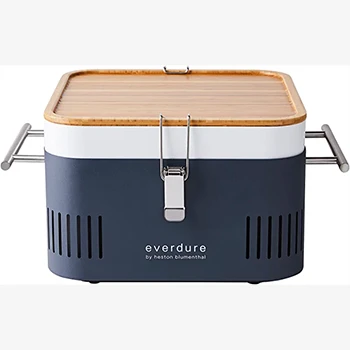 Everdure
Check Current Price
#3rd Best Choice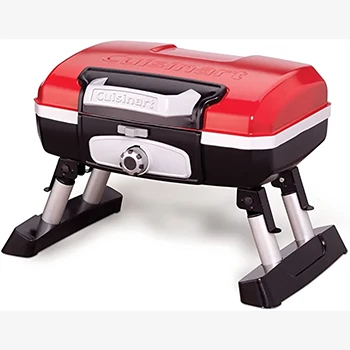 Cuisinart
Check Current Price
6 Best Hibachi Grills
1 - Lodge Sportsman's Pro Cast Iron Grill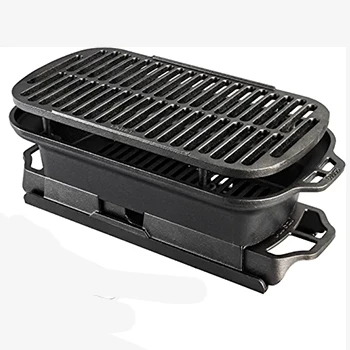 The Lodge Sportsman's Grill is a high-end traditional hibachi grill. Although the seasoned cast iron requires routine servicing, most owners adore this tiny grill and use it for picnics and BBQ tailgating.
To my surprise, I discovered that the Lodge cast iron hibachi is large enough to cook for my whole family, and the grill is also portable, which made it a great addition to my tailgating sessions.
I love that the cooking grate is naturally pre-seasoned with no chemicals. The cast iron hibachi grill also has a flip-down door to feed the coals, a draft door to manage heat, and a slide-out ash tray for cleaning once you've finished cooking.
This charcoal grill is also a fuel-saver because of its superior heat retention. But because there is no lid to extinguish the fire, you would have to shovel out burning charcoal into a metal container after cooking.
Pros
Excellent hibachi grilling performance
Streamlined grill design
Durable cast iron hibachi grill
Easy charcoal swap and clean out
Check Current Price
Quick Facts:
Total cooking space : 360 square inches
Dimensions : 19.38 x 9.69 x 7.56 inches
Max temperature : 425 degrees
Material : cast iron
2 - Everdure Cube BBQ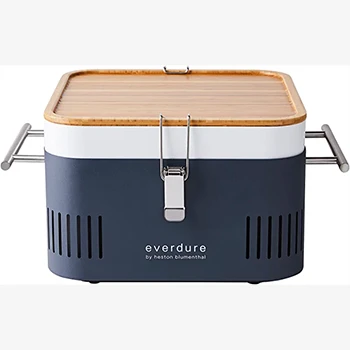 The Everdure Cube BBQ is an exquisite solution for small families, couples, or anybody with limited outside space.
It is simple to operate, and, most importantly, it looks fantastic in your yard. This charcoal barbeque, which comes in various colors, sits attractively on a table and makes cooking a breeze.
It's tiny and portable and great for cooking burgers, sausages, and smaller pieces of meat or vegetables.
This portable BBQ has handles for convenient movement, and the grips keep it cool to the touch while charcoal grilling. Every time I use it, I find it simple to light.
I had no trouble cooking up to 6 hamburgers at a time, and it held heat quite well. This makes it versatile to be used for numerous rounds of cooking over a long period.
I love that this hibachi grill has simple user instructions that show how to check the grill's temperature before placing food on it.
The only drawback to this barbeque grill I discovered was that it lacks a cover that you can utilize for slow cooking and smoking.
Pros
Good value for money
It is lightweight
Has an integrated storage tray
Check Current Price
Quick Facts:
Total cooking space : 115 square inches
Dimensions : 13.7 x 16.7 x 9.1 inches
Max temperature : 176 degrees
Material : Alloy steel
3 - Cuisinart CGG-180T Portable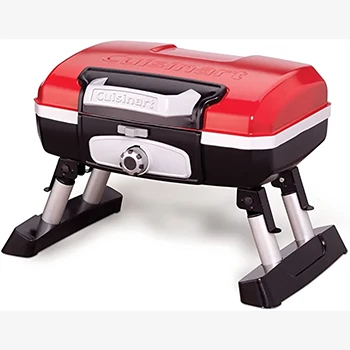 Unlike other charcoal hibachi grills, the Cuisinart stainless steel propane gas grill is sturdy and long-lasting. It's small but cooks just as well as a full-size barbecue.
It runs on propane gas and has a twist-turn ignition for quick hibachi grill lighting.
The Cuisinart petit gas grill is ideal for tiny decks and patios and any other area with limited space. I appreciate that because of its small size, the heat is kept closer to the grill grate, making it more fuel efficient than larger gas grills.
I recommend this tabletop grill if you want something ideal for seaside BBQs, tailgating, or camping.
It's disappointing that this authentic hibachi grill only has one burner and a small cooking surface area; it isn't an excellent fit for holding large cookout sessions.
Pros
Easy to light
Heats up pretty fast
Great fit for limited spaces
Check Current Price
Quick Facts:
Total cooking space : 145 square inches
Dimensions : 17.6 x 18.6 x 11.8 inches
Max temperature : 200 degrees
Material : Stainless steel, porcelain enamel
4 - Bruntmor Pre-Seasoned Cast Iron Grill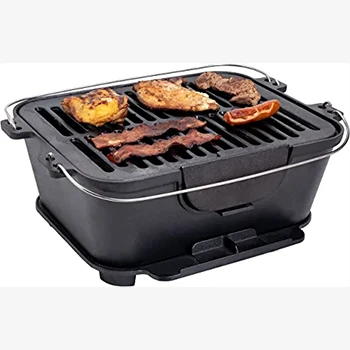 The Bruntmor pre-seasoned cast iron hibachi grill is equipped to handle your cooking needs, whether you enjoy charcoal grilling your steaks, fish, or poultry.
Installation and disassembly of this cast iron tabletop grill are very straightforward and convenient for portability.
To provide the highest level of safety possible, the charcoal box/ fire bowl of this traditional charcoal grill is made with premium cast iron and is excellent for both indoor and outdoor cooking at home.
This Bruntmor hibachi grill is composed of premium cast iron to provide enduring and secure outdoor grilling.
Thanks to a robust cast iron construction, you can enjoy optimal heat dispersion even over an erratic fire.
With the multi-stage air temperature control design of this charcoal grill, you can easily regulate the airflow, aid in the evaporation of the charcoal, and uniformly cook your foods.
I like the charcoal access door on the front and the damper on the bottom plate that facilitates easier temperature control. However, the handles get pretty hot during cooking.
This can be an inconvenience if you don't have extra thick oven mitts to hold them with.
Pros
Easy to assemble and disassemble
Even heat distribution
Durable cast iron construction
Cons
Handles get hot when cooking
Check Current Price
Quick Facts:
Total cooking space : 168 square inches
Dimensions : 13.98 x 18.98 x 10 inches
Max temperature : 170 degrees
Material : Cast iron
5 - Cajun Classic Seasoned Charcoal Grill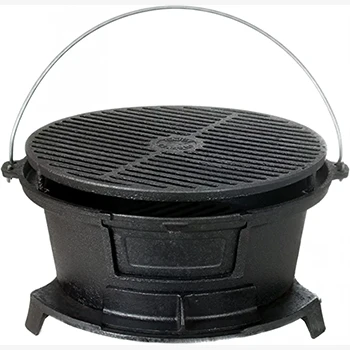 With its circular pre-seasoned cast-iron cooking surface, this mini-hibachi grill is highly portable, weighing only 40 lbs and measuring only 15 inches wide and 8 inches tall.
Even though the ultra-compact cooking surface might not always be ideal, those who appreciate their Cajun grill's mobility are compelled to pay the price for convenience.
In my view, despite its diminutive size, the grill feels much larger than anticipated while in use.
It is also widely renowned for being fairly sturdy, and on top of that, it cleans up quite simply and quickly produces delicious grill marks on food.
I love that it has a helpful tool for grate raising, damper setting, or stoking the coals without getting your fingers burned.
You can control airflow through a front vent, which enables you to change the heat as needed. However, I didn't appreciate that the grate is set in one position for cooking, which limits your control.
Pros
Sturdy handle
Durable 100% cast iron construction
Efficient air control
Check Current Price
Quick Facts:
Total cooking space : 168 square inches
Dimensions : 15 x 8.0 inches
Max temperature : 150 degrees
Material : Cast iron
6 - Mars Allen Hibachi Grill
The Mars Allen hibachi grill utilizes charcoal and features two barbecue grates that make up the 157-square-inch grilling surface. Each grill grate has a lovely wooden handle that keeps the grates cool to the touch.
I was pleasantly surprised to see the three different height adjustments for the two barbecue grates, which makes producing various temperatures pretty simple.
This cast iron hibachi grill takes some time to heat up, but once it does, it can hold onto the heat for several hours. I advise applying butter or oil to the surface before preheating to avoid food adhering, which will make your cleaning process even easier.
This hibachi grill includes two air vents intended to control the airflow entering the grill, but in my experience, they didn't do anything to change the temperature.
Note that manual cleaning is required since the grates are cast iron. So, before storing this grill, please give it a quick cleaning, a thorough wipe with paper towels, and an oil coating.
Also, this charcoal grill gets hot on the bottom, so I wouldn't advise using it on a plastic patio table or surface.
Pros
Well-joined cast iron
Easy to put together
Movable cast iron grate
Cons
Wooden handles are prone to cracking
Check Current Price
Quick Facts:
Total cooking space : 157 square inches
Dimensions : 10 x 18 inches
Max temperature : 180 degrees
Material : Cast iron
Best Hibachi Grills Buyer's Guide
Here's what you should look for if you want to invest in a top-quality hibachi grill that will stand the test of time if you're a frequent griller.
1. Type of Material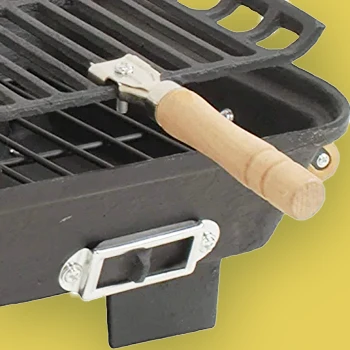 Several materials are used to make the best hibachi grills, and each has pros and cons. These materials include cast iron, aluminum, and stainless steel.
If you're a camper or like to grill on the road, I recommend using aluminum grills because they're way lighter. However, note that these aren't as strong as the other materials.
Stainless steel is heavier and slightly more resilient, although it has limited heat distribution capabilities. If you want the best of all worlds, consider this.
Cast iron is the most favored and suggested choice of the three. Despite being heavy, it has good properties for distributing heat. It's also the choice with the most robust material out of the three.
Cast iron's sole drawback is the possibility of rusting, which you can easily avoid by seasoning your grill well after each cooking session.
Also Read: Best Stainless Steel Grills
2. Construction Design
Because it would not be economically feasible to utilize stainless steel fully, grill manufacturers frequently use painted steel for other parts and porcelain-enamel cast iron for the grates.
Examine the grill parts well and go with the most sturdy construction design.
Get an adjustable coal bed grill if you want to switch between direct and indirect cooking. With this function, you can quickly raise or reduce the flame of the food on the grate so that you may either sear it or let it slowly cook to perfection.
If you probably stoke the fire frequently while cooking, choose a grill with simple access to the coal bed so you may add or remove coal to make life simpler.
The air vents, also known as dampers, are another thing to look for. This will help with precise temperature adjustments during cooking.
3. Maintenance and Cleaning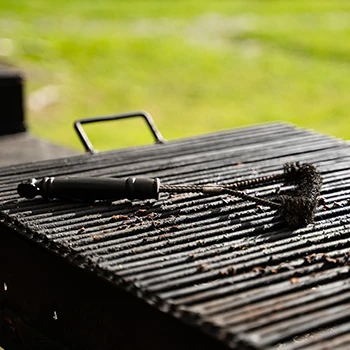 Despite the unrivaled cooking power of hibachi charcoal grills, some people find the cleaning trade-offs to be too much.
After every cook, ash, soot, and burnt food will build at the bottom of the grill; therefore, choosing a barbecue with an easy-slide ash pan or tray to collect residues is a good idea.
Hand cleaning is the only alternative because charcoal grills have large grates that can't fit into sinks and standard dishwashers.
Among the most popular materials for grates, I recommend going for stainless steel that is strong, resistant to corrosion, and easily cleaned with regular dish soap.
4. Portability
Hibachi grills are often relatively lightweight. You should invest in one that is portable and has a handle for easier lifting and carrying around. One of the main benefits of a hibachi grill is that you can bring it along for picnics or camping trips.
Typically, it is not worthwhile to purchase a large hibachi grill because someday, you may eventually buy a bigger standard gas or charcoal grill barbecue for more cooking space. So it's best to buy a small, lightweight hibachi grilling appliance for distant cookouts.
5. Size
Before making a final purchase, please verify the entire cooking surface area of a particular Hibachi portable grill. Your cooking style and the quantity of food you can grill at one time largely depend on the total surface area of the hibachi grill.
I recommend going for larger hibachi grills with separate places for hot charcoal in the basin.
These areas allow you to load or remove charcoal and have varying heat levels in different areas of the grill. With this option, you can sear certain dishes while warming others simultaneously.
6. Convenient Add-ons
It takes a lot of work to man the BBQ station. As a griller, invest in useful add-ons and extra features on a cast iron hibachi grill that may enhance your overall performance and comfort to make things simpler and more pleasant.
Many hibachi grills come with add-ons like racks, hooks, smokestacks, and casters. So, ensure you inquire if these features come with the package or if you'll buy them separately.
7. Pricing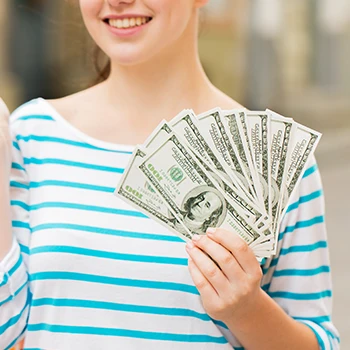 Your budget is another crucial thing to consider when buying a portable charcoal grill or an electric hibachi grill.
Hibachi grills tend to be less costly than comparable appliances. However, that doesn't mean you can't set a budget or a spending cap for one.
While choosing the highest quality portable grill is recommended, you may readily opt for alternatives that are both less expensive and of excellent quality.
It goes without saying that you should consider different brand alternatives and what they offer, particularly if you're on a limited budget.
Related Articles:
Who Should Buy a Hibachi Grill?
People who don't have plenty of space or only need to cook for a small group should buy a hibachi grill.
They save space but still provide enough intensity from the charcoal most hibachi grills use as fuel. Most importantly, these grills are extremely affordable and fit any budget.
Who Shouldn't Buy a Hibachi Grill?
People who want to try indirect cooking, smoking, and searing shouldn't buy a hibachi grill. These grills also produce a lot of smoke and generally have poor heat control.
FAQs
Is a Charcoal Hibachi Grill Better Than a Gas Hibachi Grill?
Yes, a charcoal hibachi grill is better than a gas hibachi grill. Nothing beats the smoky flavor that charcoal infuses to food grilled on a charcoal grill.
Should I Season My Hibachi Grill Before or After Grilling?
You should season your Hibachi grill before grilling. This is a great maintenance practice to prevent food from sticking to the surface and help with easier cleaning.
Is It Advisable To Cook Large Meat on Hibachi Grills?
No, it's not advisable to cook large meat on hibachi grills because they lack a lid to trap enough heat to cook the meat through.
What Is the Best Hibachi Grill for You?
Hibachi grills are great for the hot and rapid cooking of smaller food items, and they may also be used collectively as a centerpiece for guests to grill their delicacies directly at the table.
Lodge Sportsman's Grill is the way to go if you're looking for a portable hibachi grill for your camping sessions or patio use. For starters, this classic hibachi grill has an indestructible design, is rust-resistant, and is climate-versatile.
Plus, it comes with vents and two grilling heights for precise temperature and heat adjustments.
I recommend this grill as it heats up pretty fast, and you can be up and grilling in virtually no time.
Lodge Sportsman's Pro Cast Iron Grill
Our #1 Recommendation
Excellent hibachi grilling performance
Streamlined grill design
Durable cast iron hibachi grill
Easy charcoal swap and clean out
Was this article helpful?