There is no shortage of meat companies, but finding one that you can trust to provide quality products at a fair price can be challenging. One option I had heard about was the Best Choice Meat Company.
So, I ordered multiple items over a month to try them out. Here are the results from my taste test and research.
What Is The Best Choice Meat Company?
The Best Choice Meat Company is a locally owned business in Fort Pierce, FL, in existence since 1989.
They offer a wide range of meat products, including chicken, beef, and pork. They also serve some less common meats and prepared foods, such as sandwiches, dips, and sides.
Benefits and Highlights
The Best Choice Meat Company offers several reasons to make it worth considering as your go-to butcher.
Quality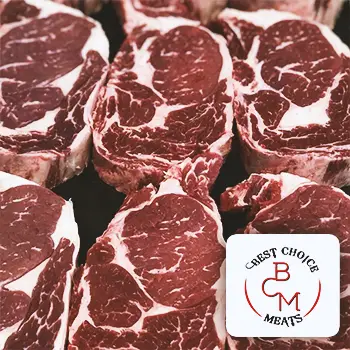 Best Choice is very clear that the quality of its product is a top priority. It ensures that the animals are raised humanely and considers the environmental effects when selecting suppliers.
USDC, FDA, and USDA procedures and guidelines are followed faithfully in preparing all its products, and it handles everything under industry best practices.
I appreciate that the company's master butcher has over ten years of experience working in the industry, including two years as the meat manager for a major grocer. Because of this, I know he prepared my meat selections safely.
Menu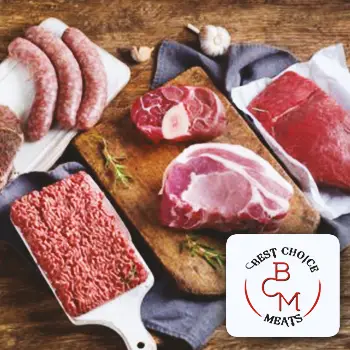 Best Choice has a selection of multiple meat options. Many beef, pork, lamb, veal, and poultry cuts are available. Beyond the common meats, they also offer gator, goat, and local seafood.
Best Choice offers more than just meat. They also have a selection of prepared foods, including a wide variety of subs and sandwiches. Further, you can order deli meat and cheeses to bring home with you.
As someone who appreciates an old-fashioned family butcher shop and deli, I liked that Best Choice has daily specials ranging from steak subs to tacos, sloppy Joe's, and chili dogs.
Game Meat
Best Choice dresses and processes game animals you have harvested. They specialize in deer and hogs but will also butcher a cow or make sausage from your animal.
My favorite thing about this service is that Best Choice only works with one customer at a time. This means I know that whatever I drop off with them will be identical to what I pick up.
Pros and Cons
Pros
Excellent selection of staple meats plus a few uncommon choices
Full-service butcher who can process wild game
Quality-conscious
Cons
No shipping available
Unclear sourcing
Shortfalls

Of course, not everything is perfect, even with a local butcher.
Shipping
My main issue with Best Choice is their shipping. They are a true Ft. Pierce enterprise and do not ship any of their products.
You can do a local pickup after ordering online if you are in the local area. Otherwise, you need to find someone to get the meat for you and ship it quickly in an insulated container with dry ice.
Sourcing
My other minor complaint is that Best Choice is not very clear about which farms they work with. Thus, it is hard to know if the meat came from animals that were pasture-raised, antibiotic and hormone-free, organic, etc.
Comparison To Other Products

ButcherBox
ButcherBox is a national meat delivery service that offers a wide variety of meats, including chicken, beef, pork, and lamb. You can choose from multiple subscription plans or build your box of mixed meats.
"Our cattle are humanely raised, 100% grass-fed, and free to roam on grassy pastures throughout their entire lives."

- ButcherBox official website
With ButcherBox, you get delivery to your door of pasture-raised, additive-free meat sourced from Australian cattle and American heritage-breed pork. ButcherBox is much more transparent about this than Best Choice.
Crowd Cow
Crowd Cow is a high-end meat delivery service specializing in the finest cuts of Japanese wagyu beef and kurobuta pork [1]. They offer a la carte services or the option to become a member and receive regular deliveries.
Compared to Crowd Cow, Best Choice's fare is more pedestrian. That said, it is also far more economical and will not put as large a bite in your wallet.
Snake River Farms
Snake River Farms is another meat delivery service - specializing in American wagyu beef and kurobuta pork [2]. The company raises all its animals on its ranch in Washington state and guarantees that they range freely and are given no growth hormones or antibiotics.
Best Choice's offerings are broader in scope than the limited beef and pork options of Snake River Farms. Also, Best Choice's prices are more reasonable, making it a better everyday choice for most people.
Related Articles:
Where To Buy And Pricing
You can order either at the shop on Orange Street in Ft. Pierce or online for local pickup.
The price list is too long given the wide selection of offerings, so here is a representative sample:
Bone-in ribeye - $16.99/lb
Boston butt - $2.99/lb
Boneless pork chops - $4.99/lb
Chicken breast - $3.85/lb
Lamb chops - $19.80/lb
Gator - $16.99/lb
Shrimp - $18.99/lb
Who Should Use Best Choice?
Anyone who lives in the Ft. Pierce, Florida area or has someone they trust who can do a local pickup and then ship the meat to them via expedited service should order from Best Choice.
Who Shouldn't Use Best Choice?
Anyone who doesn't live in Fr. Pierce or has someone who can pick up their order shouldn't order from Best Choice.
User Testimonials
The locals who go to Best Choice have this to say about the company:
"Always a great place to go. Friendly staff and excellent meats. Great lunch stop as well."

- Bill H., Ft. Pierce
"Awesome, picked up a couple of tomahawks today, I've never tasted anything like it, it melts in your mouth...highly recommended."

- Dan D., Ft. Pierce
FAQs
​​What Payment Forms Does Best Choice Accept?
Best Choice accepts cash and all major credit cards.
What Is the Minimum Order Amount for Best Choice?
There is no minimum order amount at Best Choice.
Best Choice Meat Company
Best Choice is an excellent local butcher and deli that offers excellent-tasting meat and many menu options. Unfortunately, it is not accessible to anyone outside the local Fort Pierce area.
If you are searching for a meat service that delivers to all the contiguous states, I recommend looking at ButcherBox. You can learn more about them by clicking here.
We Recommend This Instead
ButcherBox
Click For Best Price

Pros
Grass-fed and grass-finished beef delivered directly to your door
Without antibiotics or added hormones
Customizable boxes available
Select from up to 21 different cuts
Get the BEST PRICE until the end of December
Was this article helpful?