My carnivore and grilling journeys go hand in hand. I started with small indoor grills and made my way through 2-burner grills, but 4-burner grills quickly became my favorites.
I use a 4-burner grill as an all-in-one device for all my grilling needs, including smoking.
I've tried different kinds of 4-burner grills during the last decade, including Weber, Char-Broil, Napoleon, and others. I tested their cooking capacity, searing power, and ease of maintenance.
Here's my selection of the eight best 4-burner gas grills that can meet all your grilling needs.
8 Best 4-Burner Gas Grills
4-Burner Gas Grill Buyer's Guide
Make sure you know what to look for when buying a 4-burner.
1. Natural or Propane Gas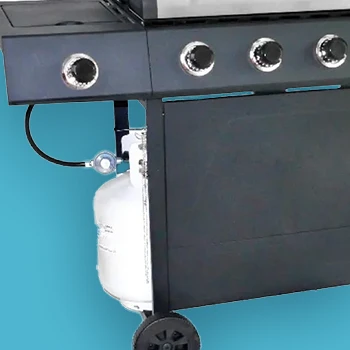 You can choose between 4-burner natural or propane gas grills.
Propane comes in tanks that you place next to or inside the grill. This is a portable version because propane tanks are available in various sizes, and you can travel with them.
You have to remember to check the gas level to make sure you don't run out in the middle of cooking. Propane is a more expensive option.
Natural gas is a constant gas supply because you can connect the gas grill to a home gas line, the same as other utilities. You don't have to check the gas level because the supply is constant. This is a more affordable version.
However, this also means the natural gas grill isn't portable.
Also Read: Natural Gas vs Propane Grill Comparison
2. Grilling Capacity
When thinking about grilling capacity, consider how much food you need to prepare at once.
You don't need a large grilling space if you cook for a small family. But, if you have a big family or like to entertain, go for a grill with a lot of cooking capacity.
Choose a grill with multiple cooking areas and a sear burner. For example, Blackstone 36-inch has over 700 square inches.
3. Material
Stainless steel is most commonly used for gas grills. It's resistant to rust and easy to clean. However, it doesn't conduct heat as well as iron, which is why you should get a grill with cast iron grates. They are also best for searing steaks.
Moreover, you don't have to clean cast iron as often as stainless steel because it develops flavor over time. On the other hand, stainless steel can break down when used over high heat for long periods of time.
Also, consider what the propane grill lid is made of. A lid lets you turn the grill into an oven, so you can even do indirect cooking. A stainless steel lid is durable and has good heat retention.
Also Read: Best Stainless Steel Grills
4. BTUs
BTU stands for British Thermal Units. This is a way to measure the heat output of a grill and is relative to the surface size of gas grills.
Generally, a good grill should have between 75 to 100 BTUs per square inch of the grill surface.
FAQs
Is a 4-Burner Grill Worth It?
Yes, a 4-burner gas grill is worth it. It has a larger cooking area compared to 2 and 3-burner grills, so you can cook more food in less time.
What Is the Best Brand of Gas Grill to Buy?
The best brand of a gas grill to buy is Weber. Weber grills have quality build, excellent heat retention, and distribution, and patented Weber features that make the use easy, such as the Grease Management System.
What Is the Most Reliable Gas Grill?
The most reliable gas grill is Weber Genesis E-410. It has four burners that give it a lot of power and top-notch cooking results thanks to reliable heat distribution.
What's the Best 4-Burner Grill for You?
4-burners offer amazing versatility and capacity for your grilling sessions. All the brands I've mentioned did their best to win this race, but my honest vote still goes to Weber Genesis E-410.
It has four burners that have a lot of power. The cooking area is massive, with 646 square inches, plus a warming rack that comes in hand for keeping the food warm before you eat.
Weber Genesis has a durable build. This is stainless steel grill with cast iron grates. It's rustproof, and it'll last for years to come.
Overall, this grill has one of the best value-to-price ratios, and you'll have delicious food with every grilling session.
Weber Genesis® II E-410 Gas Grill
Our #1 Recommendation
Fuel gauge to check fuel level
Foldable design
Side prep work area with storage hooks
Flavorizer bars for better meat taste
Get the BEST PRICE until the end of September
Was this article helpful?