As a team of carnivore lifestyle enthusiasts, chefs, and nutritionists with over a decade of learning about the ins and outs of meat, we were eager to give ButcherBox a try after reading dozens of rave reviews online.
To give you an honest and unbiased review, we subscribed to ButcherBox's meat delivery plans and switched our boxes until we tried every possible cut they offered.
In this review, we'll walk you through their subscription boxes and quality, but we'll also look at their sourcing, affordability, and overall perks compared to other meat delivery alternatives.
Overall: 4.9/5
Quick Highlights
Sells sustainably sourced meats from local farm outlets

Animals aren't given hormones or additives

Offers five subscription boxes

Choose between a delivery every 4, 6, or 8 weeks
Brand information
Online quality meat delivery

Sells grass-finished beef, ground pork, free-range chicken, and seafood

Sells grass-fed meat sourced from the US, and beef from Australia

Offer a one-time purchase, or a subscription plan
Advantages
Free shipping on all orders, even for the classic box

Free ground beef for the duration of subscription

Flexible proportion and delivery frequency

Good pricing when buying in bulk
Click For Best Price
LIMITED-TIME OFFER FOR NEW BUTCHERBOX MEMBERS:
sign up now and get A BONUS PACKAGE OF MEAT absolutely FREE with your order!
What Is ButcherBox?
ButcherBox is a quality meat delivery subscription service from Boston, MA, offering subscription boxes containing various ingredients, such as beef, pork chops, sirloin steak, whole chicken thighs, and a whole chicken.
ButcherBox started delivering boxes of free-range organic chicken, beef, and heritage breed pork to its members around the United States in 2015.
The best meat cuts are reputed to have exceptional taste and nutrition, particularly the all-time popular grass-finished beef and free-range organic meat.
They also carry free-range chicken, heritage-breed pork, and wild-caught seafood.
They offer the same quality boneless pork chops, grass-finished beef, boneless skinless chicken breasts and chicken thighs, and seafood that you can't normally find at any local grocery store or local farmers market, albeit at premium prices per pound.
You can also save money by ordering meat in bulk and setting up a regular subscription plan for humanely-raised chicken, pork chops, and other high-quality meat.
How Does Butcher Box Meat Delivery Service Work?
ButcherBox works by sending meat boxes to their customers at a frequency of their choosing. Once you build your box, you can select to have it shipped every 4, 6 or 8 weeks. The boxes vary in size and cuts.
Menu & Plans
The first big box we tried for this review had limited grass-fed steaks, unlike their curated box.
But over the years, their excellent grass-fed meat selection has improved based on demand, and if you select their big custom box, you have numerous options to choose from, aside from the steak.
Here are a few examples of their menu options:
Ribeyes

Pork loin roast

New York strip steaks

Chicken tenders

Organic chicken breast

Top sirloin steaks

Chuck roast

Lamb (seasonal)

Ground sirloin

Wild-Caught Salmon (Sockeye)

Uncured bacon

Whole Turkey (seasonal)

Boneless pork chops

Grass-fed Ground beef

Heritage pork chops and hormone-free bacon

Italian and Breakfast Sausage

Baby-back and St. Louis Style Ribs
The main thing a real carnivore might still be missing is grass-fed organ meat and a wider range of seafood you can find with other meat delivery companies, like US Wellness Meats and Chop Box.
Pros
Organic grass-finished beef
Humanely-raised heritage breed pork
Free-range organic chicken
Flexible proportion and delivery frequency
Good pricing when buying in bulk
Types of Meat Box You Can Have Delivered
Mixed Box - It can be a mix of grass-finished meat cuts, free-range heritage-breed pork, free-range organic chicken breasts, and marine produce. If you wish to learn which meat delivery box we think is the best, visit this link.
Curated Box (Beef, Pork & Chicken) - This mixed ButcherBox beef option contains a varied selection from ground beef to pork chops and boneless skinless chicken breasts.
Curated Box (Beef & Pork) - The combo provides about a 50/50 split in weight per pound between ground pork products and grain-fed beef cuts.
Curated Box (Beef & Chicken) - It provides about a 50/50 split in weight per pound between beef fed with grass, free-range organic meat, and chicken breasts.
Custom Big Box - It allows you to handpick your cuts of meat and a couple of add-ons, like ButcherBox bacon, grass-fed ground beef, and ground pork. Neat, isn't it?
Gift Box - ButcherBox gift boxes include Game Day Box, Steak Lovers' Box, ButcherBox Favorites, Mixed Box, Wild-Caught Salmon Box, and ButcherBox Beef & Chicken.
The first 4 ButcherBox options are pre-selected, meaning you can't pick the cuts of meat you'll receive, especially for the pork-beef combo ones.
Custom boxes are the only alternative where you can make a selection to your liking, whether it's free-range chicken wings, steak tips, or bottom-round roast meat.
We would get customized packaging each month at Carnivore Style because we like to prepare different steak or chicken breast recipes.
9 to 14 lbs box - Suitable for couples and small families.
18 to 26 lbs box - Suitable for families with 4-5 members or people with enough storage room in their freezer.
For larger families or people who rely on an entire chicken, chicken breasts, boneless pork tenderloin, steak, pork butt, ground pork, pork chop, and ground beef combo deals, ordering the Big ButcherBox option may be the best solution.
While we order a customized package every month, we also order curated cuts of meat boxes from time to time.
It's cheaper by more than $20, yet it still offers a good product selection. Over time, most of the curated items have become our favorites, such as the pork-beef combo.
Before checking out your chosen cuts of meat box, they give you the option to select add-ons at an extra fee, including the ButcherBox bacon, ground-free turkey, ButcherBox ground beef, and chicken breasts.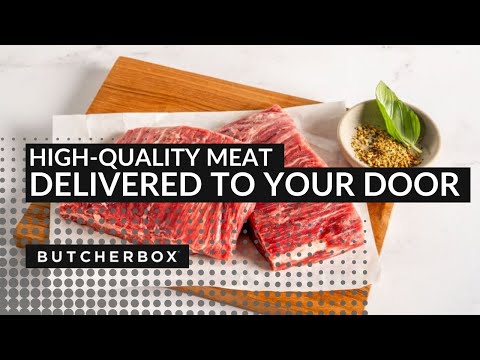 How Much Does ButcherBox Cost?
ButcherBox costs $169 for a custom plan classic box. It contains 9 to 14 pounds for roughly 25 meal plans.
Or you could get one of the best ButcherBox deals - a big classic box that costs $306 and contains 18 to 26 pounds, equivalent to 49 meals. Here is an overview of all the plans:
ButcherBox Prices
Custom Small Box (9-14 lbs) - $6.30 average per meal - $169 per month
Custom Big Box (18-26 lbs) - $6.10 average per meal - $306 per month
Curated Box Classic (8-11 lbs) - $5.71 average per meal - $146 per month
Curated Mixed Beef, Pork & Chicken Box (8.5-11 lbs) - $5.71 average per meal - $146 per month
Curated Beef & Pork Box (8-11 lbs) - $5.71 average per meal - $146 per month
Curated Beef & Chicken Box (8.5-11 lbs) - $5.71 average per meal - $146 per month
We chose to order a small custom box that included steak and steak tips, 100% grass-fed beef, and ground pork products to try ButcherBox for the first time.
The prices per cut were comparable to most local grocery stores near us, with a small difference of $1 to $2 per pound.
How to Afford ButcherBox on a Budget?
Choose your subscription plan wisely and make the most out of your package, even if it's just the classic box. Make sure to subscribe during promotions and get great deals on your favorite type of meat.
Once you get the classic box package, use it to the maximum. That means you can use the bones for homemade broth, make use of the hormone-free bacon grease or reuse leftovers after cooking. Opt for whole pieces and large roasts because you'll be able to get more meat cuts for a lower price.
Shipping
The company has a straightforward shipping plan. As of the moment, it delivers to all US states except Alaska, Canada, and Hawaii.
During your first month, they will get your cuts of excellent meat straight to your door within 3-7 days of ordering.
In our experience, ButcherBox exceeded our expectations in terms of ease, reliability, and quality of service and products.
We particularly love their free shipping policy because we get to spend more on high-quality meats every week.
How Does ButcherBox Arrive?
When our first classic box arrived at the office, we got an email from ButcherBox confirming the delivery.
The orders were placed inside a 100% recyclable cardboard insulated big box and each piece of meat was secured and vacuum-packed in a freezer bag to ensure that it didn't get above 40°F.
Even after waiting an hour at ambient temperature, the packaging kept the cuts of meat partially frozen, so when I opened the classic box package, I immediately placed the meat inside the freezer.
How Long Does It Take to Ship Your ButcherBox Order?
It takes about 3 to 6 business days to ship your ButcherBox order.
This mainly depends on two things - your volume of orders and your location.
As long as you continue with your subscription, ButcherBox meat will immediately ship so that your next package arrives precisely when you want it to.
Our experience was extremely positive; our first classic box arrived three days after placing the order.
Delivery Frequency
Lastly, you can also set the frequency of your ButcherBox delivery. Available options include every 4, 6, and 8 weeks.
If you change your mind, you can always cancel or change the frequency of your boxes.
You can skip subscriptions by delaying or pausing the service every other month or for up to 6 months without any extra cost or fees. Make sure you do this before your next order or before billing.
In our case, we set the delivery frequency of a Custom Big Box to 4 weeks with a mix of our favorites and recurring add-ons.
The packages arrived in due time without exception, and the meat we received on each big box order was superb.
How Long Does Butcherbox Last?
How long ButcherBox lasts will depend on the type of meat in question and the conditions it's kept in, even within a big box.
Chicken can stay fresh between 3 to 5 days in the fridge as long as the vacuum-seal packaging remains intact, even chicken breasts. Otherwise, it's best to follow the standard 1 to 2-day recommendation for poultry.
If the original packaging remains sealed, steaks and roasts can stay in the fridge for almost two weeks. But if the packaging is torn or the 100% grass-fed beef is removed from its original container, it's good for only 3 to 5 days once defrosted. Ground beef stays fresh for 1 to 2 days once defrosted.
Larger pork cuts in vacuum-sealed packages can last for up to two weeks defrosted in the fridge. Smaller cuts in individual-cut packaging will stay fresh for 3 to 5 days if it remains vacuum-sealed and 1 to 2 days if the packaging seal is broken or if the humanely-raised pork has been removed from its original packaging. The hormone-free bacon will stay good for seven days once defrosted.
Lastly, fish will be fresh for one to two days after being defrosted in the refrigerator. Make sure to take the wild-caught seafood directly out of its packaging before defrosting to prevent bacteria growth.
How to Get the Best ButcherBox Deals?
Here are a few strategies to get the most out of your ButcherBox package:
Choose Your Big Box Wisely - Choose cuts of meat that can give you a great deal per pound, e.g., chicken breasts, chicken tenders, boneless pork butt, steak, and breakfast sausage.

Custom boxes get

you 9 to 14 pounds of meat that's good for about 25 meals on average.

Check Membership Deals -

As members, we've had the chance to get several tasty promotions, like the ButcherBox ground beef for life. The deals in your cart will stay until your next box is billed, even if the deals are no longer showing as available when your box is billed.

Check Your Email Before Your Bill Date -Three days before your bill date, ButcherBox will send you an email letting you know of available member deals, so don't miss out on those.
Use Add-Ons for Extra Savings - Sometimes, you can get quality meat for a lower price when you buy them as an add-on. Add whatever you use the most, whether it's chicken breasts or humanely-raised pork chop. Keep in mind that the add-ons change month to month.
Use Discount Codes - ButcherBox offers discount codes that you can apply to your order if you refer someone to order from them. If you sign up for the email newsletter, you'll be at the front of the line for exclusive promotions, discounts, and perks.
6 Reasons Why Butcher Box Is Worth It
After ordering from ButcherBox and reading countless customer reviews, we've boiled down all the benefits of using this meat delivery service.
1. Value For Money
A very important benefit we want to mention is the value for money you get with each classic box, given their high-quality prime meat.
Organic meat comes with a hefty price tag, and ButcherBox does a wonderful job of offering premium cuts at a reasonable price.
2. Convenience
Another thing worth mentioning in most ButcherBox reviews is the convenience you get.
Our first big-box order came without issues - and we got to enjoy servings of grass-fed ground beef for life and a pack of ButcherBox hormone-free bacon.
We received free packs of burgers, breakfast sausage, and hotdogs from time to time.
You'll get an email with a tracking number that contains the approximate delivery time. ButcherBox orders are fulfilled by either FedEx or UPS, depending on where you live.
3. Customer Service
We also wanted to share some information about customer service in our ButcherBox review.
We've only had to deal with a customer service representative twice.
The first time we needed to delay the shipments for one day as we were unexpectedly away from home.
The second instance was a minor issue with the delivered amount that was immediately rectified.
Their customer service reacted promptly and was happy to help.
4. Sourcing
Butcher Box obtains its meat from trusted partners who show dedication and passion for farming.
They only work with farmers who follow specific rules and regularly inspect their facilities by the USDA.
This way, only the best meat is shipped to you.
5. Taste
I have tried almost all their hormone-free beef, whole chicken wings, ground pork butt, and seafood options, and every item was of the highest quality.
Although it is hard to pick out my favorites, I admit that the ButcherBox bacon was absolutely to die for. It had just the right salty flavor, fat, and leanness.
The sirloin was also impeccable and almost melted in my mouth. Although it had less fat than a conventionally raised steak, the flavor and juiciness were beyond comparison.
6. Website Experience
When we first clicked on the ButcherBox website, we were met with an offer too good to refuse.
Our favorite words, "get them for free," were highlighted in red. Once we clicked the button, we were redirected to a page that made my mouth water.
If we signed up right there and then, we would get a pound of hormone-free ground beef for every order as long as we continue our membership, free of charge.
And they even added an extra pack of bacon on our first order.
BUTCHERBOX NUTRITION INFORMATION
ButcherBox specifically sources each type of meat to meet stringent criteria:
Beef - only 100% grass-fed and grass-finished beef cattle humanely and pasture-raised are approved. No hormones or antibiotics are given to these animals.
Pork - only pigs raised crate-free are accepted, and they must have been given only 100% vegetarian feed without antibiotics or hormones.
Chicken - all birds must be raised free-range with only USDA-certified organic feed. They must also be Global Animal Partnership (GAP 3) certified.
Seafood - must be wild-caught and sustainably harvested. No artificial additives or colorings are permitted.
Alternative Meat Delivery Services
There are some alternative options to ButcherBox that you may want to consider.
Costco
Many love Costco because they do not fall short of offering healthy staples. Costco is undoubtedly inexpensive, but the meat's quality is different.
Costco does not necessarily offer 100% beef fed with grass, whereas ButcherBox does.
And if it isn't 100% grass-finished cattle, then it's loaded with unhealthy fat per pound and plenty of fillers from corn and soy at the end of production.
This practice limits the better health benefits, proteins, and vitamins you would otherwise get from pasture-raised, free-range chickens and beef.
Omaha Steaks
Omaha Steaks has a huge selection of meat, and you can choose between monthly and bi-monthly subscription plans.
This is somewhat less preferable than the plans ButcherBox offers (4, 6 and 8 weeks delivery frequency).
On the positive side, Omaha Steaks offer a wide selection of one-step meals and quality wines to accompany their cuts.
What we don't like is the fact their products are not additive-free, and they don't offer free shipping, unlike ButcherBox.
US Wellness Meats
US Wellness Meats don't focus exclusively on meat. Instead, they also offer pet food and dairy. Similar to ButcherBox, they offer grass-fed, locally-grown beef and support humane farming practices.
Although they offer organ meat which ButcherBox hasn't introduced yet, their packages are pricey, and they don't have a subscription option.
Costco
Pros
A large selection of pork and beef
Responsive phone and email support service
Sells high-quality prime beef
Offers good deals on bulk purchases
Cons
Steaks are blade-tenderized
No clear sourcing policies
Omaha Steaks
Pros
Huge selection of meat
Bi-monthly or monthly shipping
Wide selection of one-step meals
Large wine selection
Cons
Doesn't focus on additive-free meat and clean eating
No free shipping
US Wellness Meats
Pros
Offers meat cuts, pet food, organ meats, and dairy
Grass-fed, locally-grown beef
Humane farming practices
Insulated styrofoam packages
Cons
No subscription options
Pricey
Happy Butcher Box Reviews from Customers
FAQs
How Long Can a Butcher Box Order Stay Outside on the Front Porch?
According to the company, your Butcher Box order can stay on the front porch for about 6 to 8 hours upon delivery, depending on the time of the year and direct sunlight exposure. It's packaged using dry ice to maintain a constant temperature for the frozen meats.
Is ButcherBox Less Expensive Than The Grocery Stores?
No, Butcher Box is not less expensive than grocery stores. However, given the product quality, texture, and convenience of having fresh organic meats delivered to your doorstep, it is worth it.
Does Butcher Box Accept EBT?
No, ButcherBox doesn't accept EBT cards at this time. However, this could change at a later date.
Does Butcher Box Have Wagyu?
ButcherBox doesn't have wagyu. However, they offer other beef cuts such as bottom round roast, culotte, flat iron, filet mignon, ground beef and ribeye steak.
ButcherBox is healthy. The company offers high-quality, organic meat that includes grass-fed beef, wild-caught seafood, heritage pork, and free-range chicken. All of their products are free of hormones and antibiotics.
How Many Calories Are in a Butcher Box Filet Mignon?
There are 150 calories in 4 ounces of ButcherBox filet mignon steak.
What Percent Fat Is Butcher Box Ground Turkey?
Every 4-ounce serving of ButcherBox ground turkey contains 8% (1 gram) fat.
Yes, you can gift ButcherBox. You can buy one-time boxes for someone else or purchase gifts for your clients or employees under their corporate gifting option.
What Are Butcherbox "for life" Deals?
ButcherBox "for life" deals are valid for the duration of your ButcherBox membership. That means you will continue to receive that product for free for every box you order. Once you stop your membership, your "for life" deal also stops automatically.
How Do I Track My Butcherbox Order?
You can track your ButcherBox order by visiting the Order History tab on your account page. Once your box has been shipped, you will receive an email from [email protected] detailing your tracking information.
Can You Cancel ButcherBox?
Yes, you can cancel the ButcherBox subscription provided that you unsubscribe before the bill date (your next month's subscription). To cancel your subscription, log into your account or simply contact the support team at (855) 981-8568. Your request will be completed before the expiration of the next bill date.
What Source Does ButcherBox Use?
ButcherBox only uses certified sources of meat, including trusted ranches and dedicated local farmers with a focus on sustainability and raising the animals humanely. Their high-quality beef mostly hails from Australia while heritage-breed pork, wild-caught seafood, and free-range organic chicken are sourced from North America.
Who Is ButcherBox Good For?
ButcherBox is good for anyone looking for a customizable and steady intake of premium-quality meat and protein variety delivered straight to your door.
Is ButcherBox Worth Trying Out?
After this thoughtful and honest review, we believe this meat delivery subscription service is worth trying.
One of the main highlights is the excellent selection of high-quality meat. In our opinion, meat raised correctly always has a better taste, so it's a no-brainer there.
The best benefit of all is the affordability of their subscription package. Not only do they give you the option to curate your product box with all manner of savory items, but they will also be shipped to your front door free of charge.
And considering that we don't need to visit grocery stores whenever we feel like getting beef box - we'd say that's one huge plus.
We hope our ButcherBox review provided enough information to decide to give it a try.
Let us know how ButcherBox worked out for you.
#1 Meat Delivery Services
ButcherBox
Click For Best Price
Pros
Beef fed with grass from a local farm delivered directly to your door
Without antibiotics or added hormones
Customizable boxes available
Select from up to 21 different cuts
Get the BEST PRICE until the end of June
Was this article helpful?