Bluetooth technology has won the BBQ world by storm, and with so many high-tech smokers with temperature controllers available, it's difficult to know which ones to choose.
I've been on a carnivore diet for over a decade, and smoking is my favorite way of cooking meat. I usually use a smoker at least once a week.
Having tried countless smokers over the years, I'll give you my selection of the top seven smokers with a PID controller.
Our Top 7 Smokers with a PID Controller
Buying Guide for Smokers with PID Controllers
Here's everything you need to know about PID control when buying a new pellet grill.
1. What is a PID Controller?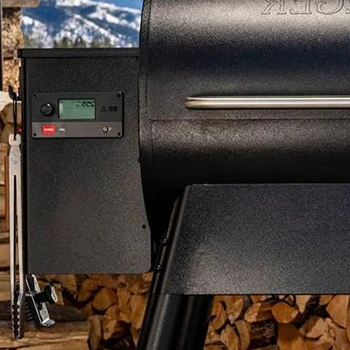 A PID Controller stands for Proportional, Integral, and Derivative [1]. This means PID Controllers are advanced tools that control the actual temperature in the pellet grills.
PID controllers produce a stable desired temperature while cooking food. They do this by constantly making adjustments to the pellet feed auger and fan speed.
Some of the most advanced PID controllers can maintain a temperature within five degrees of the temperature you set (for example, Camp Chef pellet grills).
"A PID controller makes sure that the temperature swings are minimal or nonexistent. They're ideal if you want consistent, perfect results each time you use your grill or want to be as hands-free as possible during the cooking time."
- Z Grills Blog
PID controllers are especially useful when you grill in cold winter months because they can deal with external temperature and compensate for lost heat when you open the pellet grill lid. They adjust the airflow and fuel to maintain the temperature.
Overall, PID controllers use a lot of math to control the timing of the feed, so pellet grill smokers have stable temperatures in all conditions.
2. PID Controllers and Smoke
PID controllers affect smoke. The more efficient combustion in pellet grills, the less smoke you get.
PID controllers balance pellets through the auger speed very efficiently, so you get less smoke. However, you can set PID controllers to produce more smoke. For example, some pellet grills have Super Smoke (Traeger) or SmokeBoost (Weber) features.
These options make the pellet grills produce more smoke for a certain amount of time.
To sum up: a PID controller maintains a stable temperature but can affect the smoke output. That's why you should choose pellet grill smokers with options to boost smoke production.
3. Smart Technology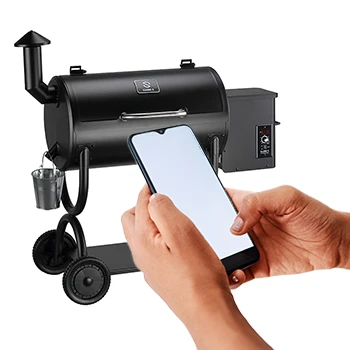 PID Controllers and WiFi or Bluetooth connectivity go hand in hand. Most pellet grill smokers that have a PID controller also have a WiFi connectivity option.
You download the corresponding app and control pellet grills from your smartphone. You can set the temperature and check the internal temperature of the cooking chamber or the meat.
Probes constantly measure actual temperature and let you know if there's an unexpected change. But, even if a change happens, the PID controller can make adjustments to maintain correct heat and smoke levels.
You can relax and monitor the pellet grill from your phone.
Related Articles:
FAQs
Which Pellet Grills Use a PID Controller?
Most pellet grills use a PID controller. Traeger PRO series pellet grills have PID controllers; most Camp Chef, Webber, Memphis Grill, Green Mountain, and Grilla Grills have it too.
What is a PID Controller Smoker?
A PID controller smoker is a tool that provides stable temperature in pellet grills. Some pellet grills with PID controllers can keep the temperature from variating more than five degrees.
Do Z Grills Have PID Controllers?
Yes, some Z Grills have PID controllers. These are Z Grills Pioneer 450B, Z Grills 600D3E, Z Grills 7002C2E, and Z Grills 700D4E [2].
Is Traeger PID Controller?
Yes, Traeger is PID controller. Traeger has the PRO series, which comes with PID controllers.
Does Pit Boss Make a PID Controller?
Yes, Pit Boss makes a PID controller. Pit Boss has a Platinum series of pellet grills with Smoke IT controllers with PID technology.
Do Green Mountain Grills Have a PID Controller?
Yes, Green Mountain Grills have a PID Controller on all of their grills.
What's the Best Pellet Grill with a PID Controller for You?
Although all of the grills I've mentioned will give you a unique BBQ experience, my vote for the best pellet grill with a PID controller goes to Traeger PRO 575.
This pellet grill lets you preheat the grill quickly.
WiFi control lets you set the temperature and walk away from the smoker. You can check the internal grill temperature anytime via a smartphone app.
Finally, the PID keeps the temperature stable and creates even smoke for delicious, smoke-infused food. Check it out, and get your pellet grill today.
Traeger Pellet Grill Pro 575
Our #1 Recommendation
Set It & Forget it feature means there's no need to stay next to the smoker
PID temperature control for consistent temperatures during cooking
Creates even smoke
All-terrain wheels make it easy to move
Get the BEST PRICE until the end of September
Was this article helpful?